12 of the Highest Paying Survey Sites to Make Money Online
If you have some time to spare and the want to earn a few extra bucks, there are tons of survey websites that tie up with companies who are willing to pay you cold hard cash to help with their research. These paid online surveys are a great way to make free money online.
How do you make money by taking surveys?
Certain companies like Swagbucks or Survey Junkie pay people to finish surveys that they later pass on to their clients who use the results for company (product) research. These companies normally reward people like you by giving out gift cards or plain old cash.
Everything is anonymous and it is really simple to do if you have the time.
Some of these companies give out over 10,000 gift cards every day which can be used for anything from buying Christmas presents to going shopping.
This is something really easy that you can do while flicking through Netflix
I have compiled a list of some of my favorites. I think the more the better because offers change but the first three on this list are the best in my opinion.
Some of the links below are affiliate links. You can read my full disclosure here.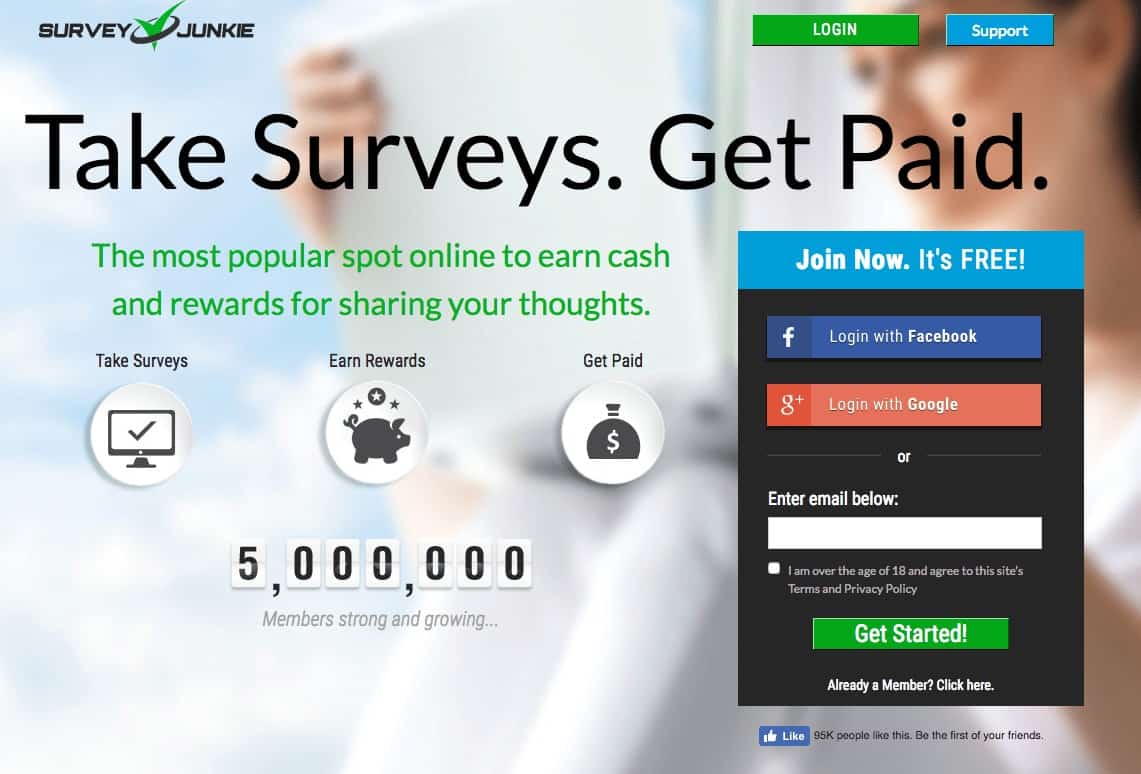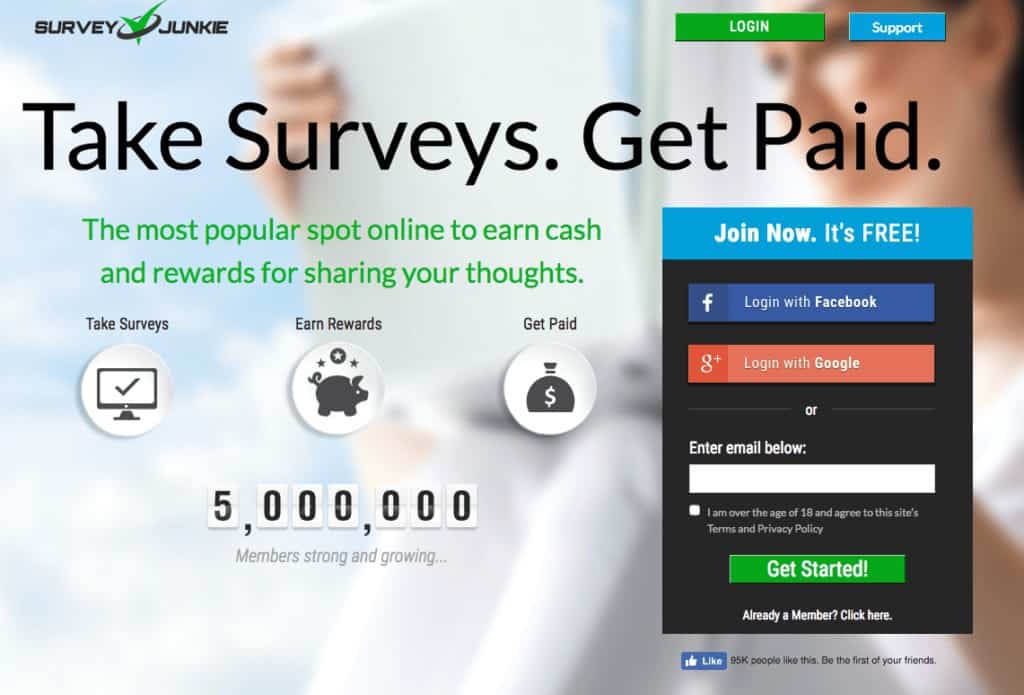 My favorite survey site by far is Survey Junkie. It has surveys that pay up to $50 and sometimes even more if you are lucky. They also have 5 million monthly users so you can bet it is well known.
Essentially what Survey Junkie does is connect you with companies that want to survey people in your demographic and are willing to pay you for that. They are focused on only surveys and do nothing else so you can bet they are good at it. Some people have made up to $100 per survey but that is rare. However, earning a few bucks from a survey is pretty common.
You only need to reach the $10 minimum to be able to withdraw your cash and you will earn that by completing just one survey.
You can withdraw the cash into your Paypal account and earn a couple of hundred dollars every month from surveys that pay into your PayPal account.

Swagbucks is a customer favorite because it gives you a $5 bonus the moment you sign up. That in itself is rare. You can make cash in the usual ways of course. This includes product testing surveys, panels, and more.
You earn points every time you complete a survey and can then redeem those points for rewards that include gift cards from Amazon, Starbucks, and Paypal.
Swagbucks is one of the most well-known survey companies and tons of people use it every day. It is also one of the easier ones to use with the process being much more streamlined compared to others.
Swagbucks has paid out over $398 million over the years! They also give out over 7000 gift cards every damn day.
Similar to Survey Junkie, Opinion Inn allows you to join up for free and even offers a $10 welcome bonus to new sign-ups.
After you sign in and fill out a few basic details, you can start taking surveys and earning cash. You can redeem your earnings through PayPal once you reach the minimum limit of $25 but there are also other payment options.
Opinion Inn sends new products and invitations you may be interested in directly to your email. Their incentives for taking surveys or reviewing products go from $0.50 to $100.
Another cool part about Opinion Inn is their $500 lucky draw for active members. You need to have completed 5 surveys in the past month to be eligible. The winners' names are announced on the 7th of every month.
Much like Swagbucks, Inbox Dollars also pays you $5 just for signing up. You can earn money online from home through the usual methods:
Product Testing
Reading emails
Downloading Apps
Playing Videos
Surveys
After your $5 bonus, you can earn a consistent $10-$15 for every survey you complete.
American Consumer Opinion is really good for earning some cash but the surveys aren't as frequent as I would like (works well alongside Survey Junkie).
They are really famous and pay well so that may be part of the reason why surveys aren't as frequent. They have over 7 million users and have paid out over $30 million.
Something that is REALLY NICE about this option is that they will send you emails with surveys that you are eligible for (meaning- the company wants people in your demographic) which means you do not have to waste time looking.
Any survey that you can fill out will be sent to your email. It is a great way to earn a few extra bucks.
Here is a customer's review that really says it all: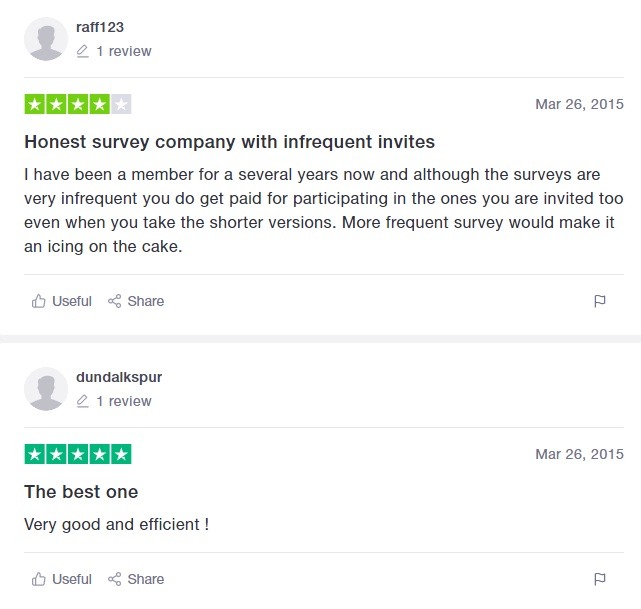 Prize Rebel has over 12 million users registered globally and is popular in the survey space. The longer and more complicated a survey is, the more you can earn. It is free to sign up and you can redeem your points earned for PayPal cash or gift cards.
Panel Place connects you with companies and brands that allow you to earn money and rewards by taking surveys or engaging with companies in other ways.
You could be part of a trial, a research group, clinical trial opportunities, etc, and get money or services in return.
My Points has really simple surveys and you are eligible for all of them. You also get a $5 bonus the moment you finish taking your first 5 surveys.
You can withdraw your points as cash via PayPal or by receiving an Amazon gift card.
Survey Savvy pays users in cash and notifies you every time you are eligible to take part in a survey. You will get more invites if you have a more completed profile with as much information as possible.
The surveys can be about anything from products to current events so most people are eligible.
You only need a balance of $1 to redeem your cash which is paid to you via check in U.S dollars. As you have probably guessed, this survey website is only available to U.S users.
The best and most unique feature they have is Savvy Connect which is a program that can be installed on any device of your choosing. (This is just an additional program available. It is not compulsory)
Essentially Savvy Connect privately monitors your internet usage (it is completely anonymous and is done with technology that makes sure of this) so that the stats can be used by companies. Each device that you have installed it on will be an extra $5 a month. So, for every month that you have it installed on any device, you will get $5.
3 devices?= $15
You can also earn money through referral methods. So, for every person you refer, you get a bonus amount in cash and a percentage of the earnings they receive with every survey. Every time someone signs up through your link, you automatically get $2.
Survey Savvy is great because of its multiple options to make extra cash.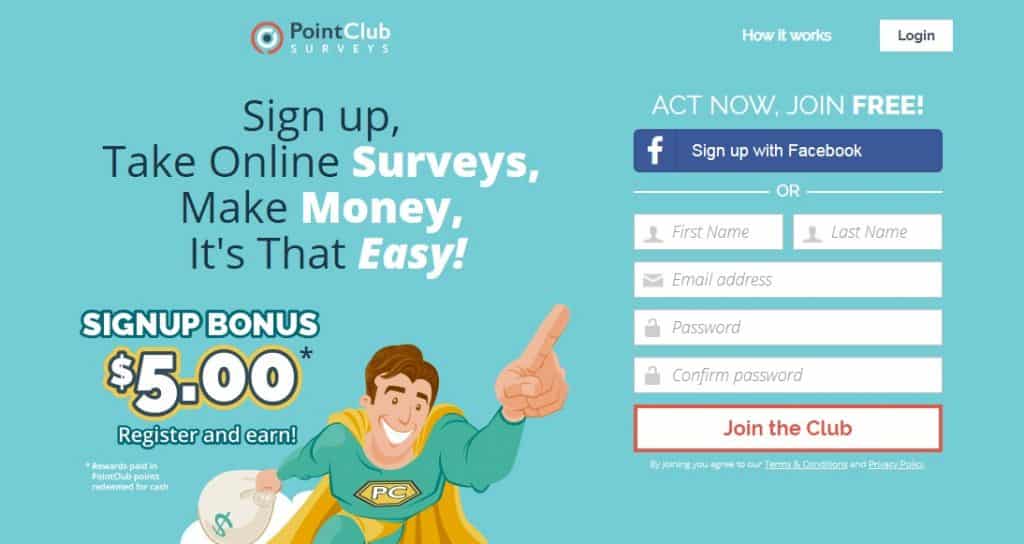 PointClub is easy enough to use. You create an account and fill in a 'basic demographic' form before you can start filling out surveys.
There is a huge variety which is one of the pros of this website. Point Club follows the point system of 1000 points= $1 which is a little annoying but still bearable.
You need at least $25 to withdraw your points for rewards. The rewards available are in various forms such as cash or gift cards. You also get a 1000 points bonus when you sign up.
Creations Rewards has a large number of surveys to choose from, free registration, and a point system. The point system is a little complicated because it does not directly add up to dollars.
For example, 200 points are equal to $1. So, $5 is 1000 points. Pretty easy to understand. Though sometimes it gets weirdly complicated because some gift cards are priced differently: Paypal's $5 gift card needs 1020 points instead of the normal 1000 because this is cold hard cash.
You need at least $5 or 1000 points to be able to redeem rewards which are normally in the form of gift cards from Amazon, Paypal, Walmart, or Starbucks.
Creations Rewards also has a pretty neat referral program where you earn 10% of the earnings of any person you refer. You also get a $5 bonus if you earn 5000 points in your first 60 days which is pretty easy to do.
YSense has multiple earning options with the two major ones being taking surveys and completing small tasks from the comfort of your own house.
So, if money is not the only priority and you just want something to do as well- YSense is a good option.
You can also earn money by trying new products, downloading apps, trying a company's services, watching videos, etc. YSense has a list of ways you can earn money from home and does not focus only on surveys. You can try whatever works best for you.
---
FAQs about making money with surveys
These are some of the most frequently asked questions when it comes to survey companies and how to take paid surveys online. I have done my best to answer them as thoroughly as possible.
What is the highest paying survey site?
If you are looking for some of the highest paying survey sites, Survey Junkie and Swagbucks make it to the top of the list. It is not the type of money that is an instant way to get rich but you can earn up to $50 per survey which is pretty good- those are incredibly rare though.
Realistically, you can expect to make less than $20 per survey but they also take barely any time to do. You have to remember that this is a side hustle, not a 'get rich quick scheme.'
The money is good enough to start a little emergency fund or pay down debt. It also adds up pretty fast and you can learn how to make $200 in a weekend!
You can also use Personal Capital to keep a track of your finances. It is one of my favorite budgeting apps and is free to use.
Are paid surveys worth it?
There aren't tons of ways to make $100 in a day while you are sitting on your couch but surveys bring you pretty close.
Paid surveys are a good way to make a few extra bucks and to manage unpaid bills but it is obviously not a full-time thing. Is it worth it? Yes. All you are doing is sitting on your couch while you take them so you might as well be productive.
Can you really earn money from surveys?
Taking surveys online can be a minefield because you can earn anything from $1 to over $20 per survey depending on where you go. The key is to be using a site that is trusted and well-known so that you can get the best options.
Some of the best-paying survey sites out there are a great way to make extra cash on the side but it is imperative that you pick wisely. That is what this whole list is for: to make sure you go for a survey site that can really help you earn money.
Are paid online surveys real?
Yes they are, they are an easy side hustle that has gained a lot of interest in recent years since everyone has become more obsessed with making money online. You cannot make loads of money off a survey but it is a decent way to spend an evening to earn a few extra bucks.
If you want a serious source of extra cash and are looking for ways to make an extra $1000 or more every month, you should look into things like starting a freelance business or getting a passive income stream started.
How do I maximize my earnings?
The easiest way to maximize earnings is by going for sites that have good reviews, a constant stream of surveys to choose from, and a good reputation that they need to protect. There are tons of unheard sites out there that claim to be amazing but they are best left alone.
Focus on sites that have been tried and tested.
Secondly, you should focus on signing up for a few survey sites that have high payouts rather than a hundred different sites that are going to pay you in pennies. Get the best amount you can for the time you are putting in by narrowing down on sites that have good payouts.
How do paid online surveys really work?
Paid survey sites connect two parties that are both looking for something. Here is how it works:
A company or brand that wants to know more about its target consumers will reach out to a market research company.
The market research company prepares questions that will target any issues that the company has been having and pass them along to a survey company.
The survey company will then take a cut of the total payment the market research company is offering and give you your share.
The aim of the entire process is for companies to have dependable and easy-to-process data to pour over when they are thinking about their products.
Why do companies pay you to take surveys?
Companies want to have the most accurate data possible on their target market. They can do this by gathering information from consumers themselves. The little money that they pay out to get surveys done is nothing compared to what they can make when they launch a product that is perfect for their audience.
How to get paid with online surveys?
Most survey companies will give you a certain amount of points for every survey you take. These points can then be redeemed for cash or gift cards when you reach the minimum payout amount which is normally something like $10.
Swagbucks pays you to take surveys online and is one of my favorite survey websites because of its countless survey options and trustworthiness. They pay you via PayPal or gift cards if you take surveys through their website. You also get a $5 welcome bonus using this link.
CIT Bank offers high yield savings accounts and term CDs that are great for people who are looking to invest their cash and earn interest. One of the reasons they are so famous among savers is because they have one of the nation's top rates- 6x the national average (your typical savings account earns you just 0.09%).
FlexJobs is great if you are looking for remote work opportunities. The team at FlexJobs monitors every job posting to make sure the standard is maintained so you will find well-paying job opportunities and zero scammy ones.
For wise parents with their children's futures in mind, an early tax-advantaged investment account specifically tailored for children is a fantastic idea. Programs such as UNest are designed to help you achieve this goal of
crafting a better future for your children.
Credit Saint is my top pick when it comes to credit repair agencies. It has a 90-day money-back guarantee, an A+ rating from the BBB, affordable pricing and it has also been voted the best credit repair company by consumer advocate. Credit Saint