4 Ways to Get a Free Carfax Report
A Carfax report is a detailed account of a vehicle's history after its manufacture. It provides valuable information that guides buyers on vehicle purchases.
Buying a car is a pretty hefty investment. For first-time car owners, a new vehicle delivers an exciting feeling of possession and significant convenience. A free carfax report is crucial before deciding on your next valuable purchase. This write-up will give you concise details on how to get a free carfax report and how to use it.
What is a Carfax Report?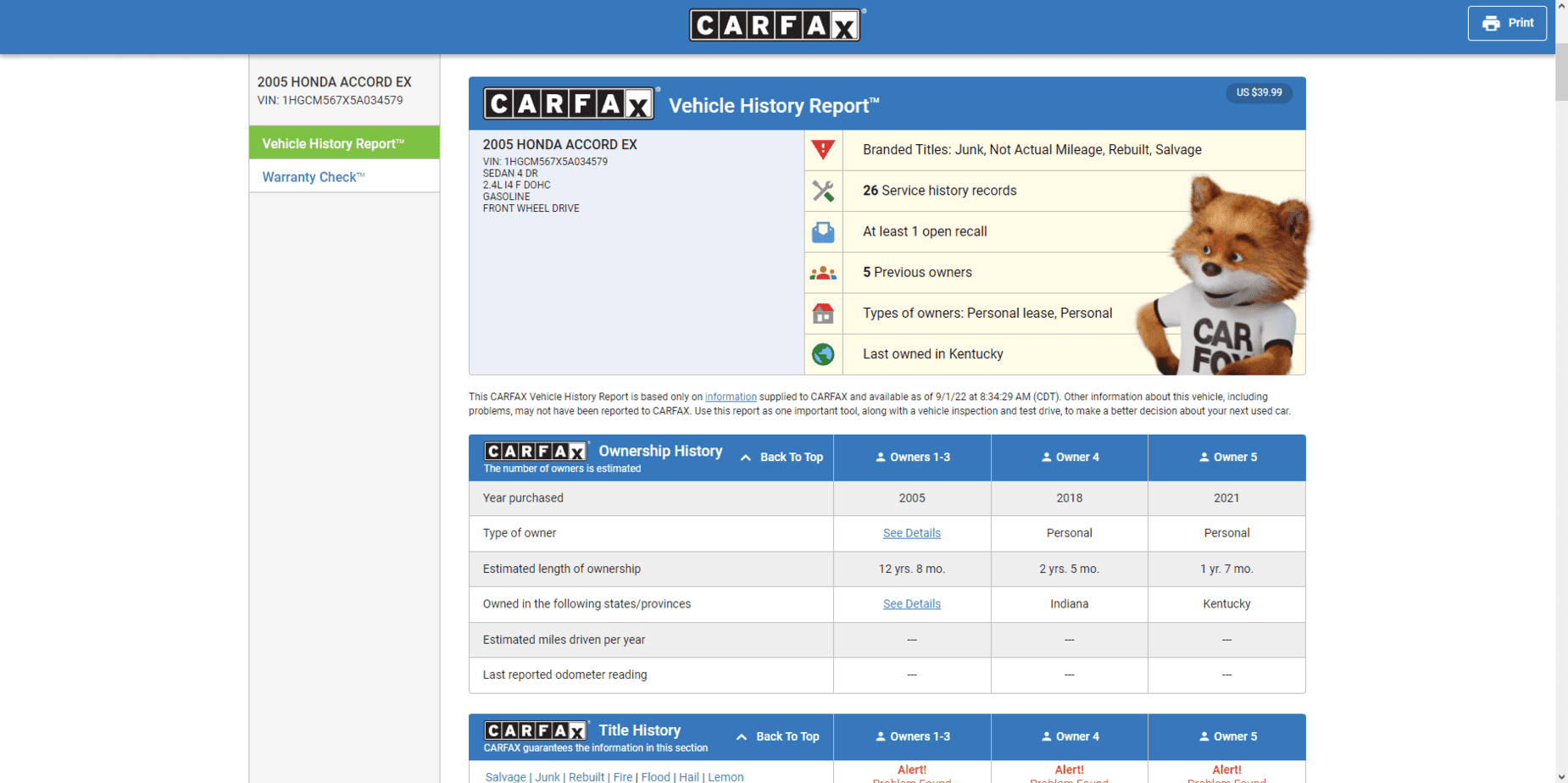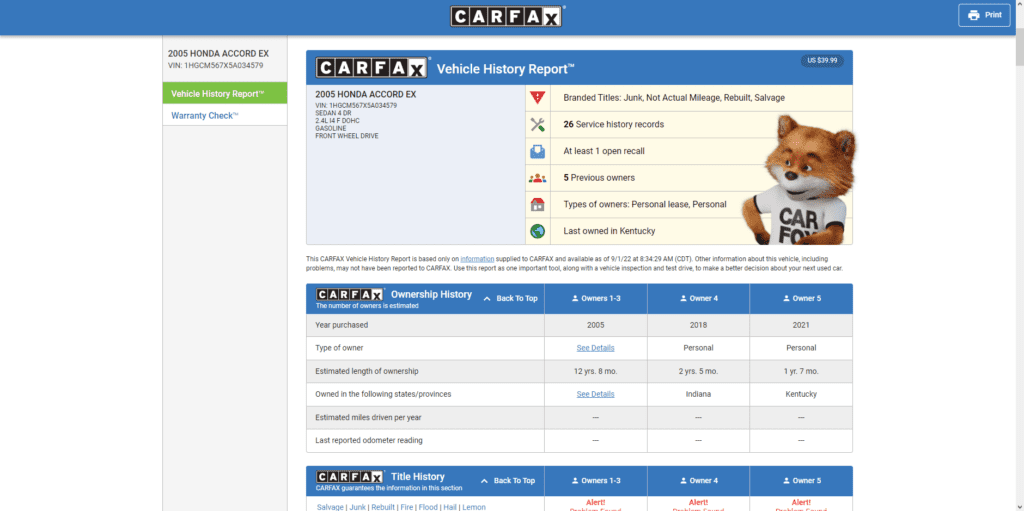 A Carfax report is complete and comprehensive in detail on a vehicle's history. The report is publicly accessible and helps you get value for your money when buying a car. It includes information on all previous owners, repair and maintenance, accidents, or any activity that may have affected the vehicle's functionality.
Carfax maintains a database of over 26 billion cars in Canada and the U.S. The web-based service provides information on all light trucks and used cars from more than 131,000 data sources.
These data sources include police and fire departments, collision repair centers, and rental and fleet services. So if you're in the market for a used vehicle, a Carfax report should be a helpful guide to consider before buying a car.
Alongside Carfax, you should also consider looking at other vehicle history reports to make sure of a couple of things: the car you are buying should have no undisclosed damages or incidents of theft reported. You should also check how it was used before your purchase (rental, taxis, personal use, etc.) and any other information that would affect whether you would want to go ahead with your purchase.
How Much is a Carfax Report?
A single carfax report costs an average of $39.99. Paying for the report can be easy if you're settling on the first vehicle you see. However, what if the car has a myriad of issues and you need to check others? Ultimately, you could end up paying more than you intended to.
Free Carfax reports help to make the buying journey a less costly process.
How to Get a Free Carfax Report?
Carfax has one of the most extensive repositories for vehicle history reports. You can reduce your vehicle purchase report by obtaining a free Carfax report. There are a few neat ways you can secure a copy, as detailed below:
#1 Check Carfax's Car Listings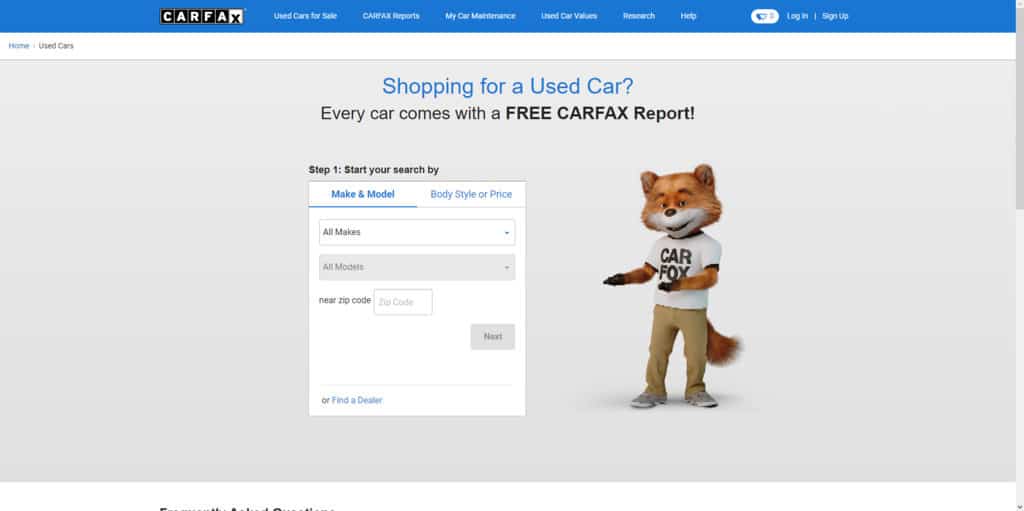 Buying a used car from Carfax listings will get you a free Carfax report. All vehicles listed on the Carfax database have a complete vehicle history report. If you're uncertain about the condition of a used car, check out Carfax for a detailed report at no cost. Every vehicle listed on Crafax's website comes with a free carfax report.
#2 Car Dealers
Car dealerships are an excellent place to start when hunting for your next ride. However, placing your trust in the salesman's integrity can be wanting. To eliminate doubt, you can request your dealer for a free Carfax report on the used car you intend to purchase.
You can retrieve free carfax reports from the dealer's website if you're online shopping. If you miss it, you can obtain one by visiting the dealership.
#3 Online Used Car Listings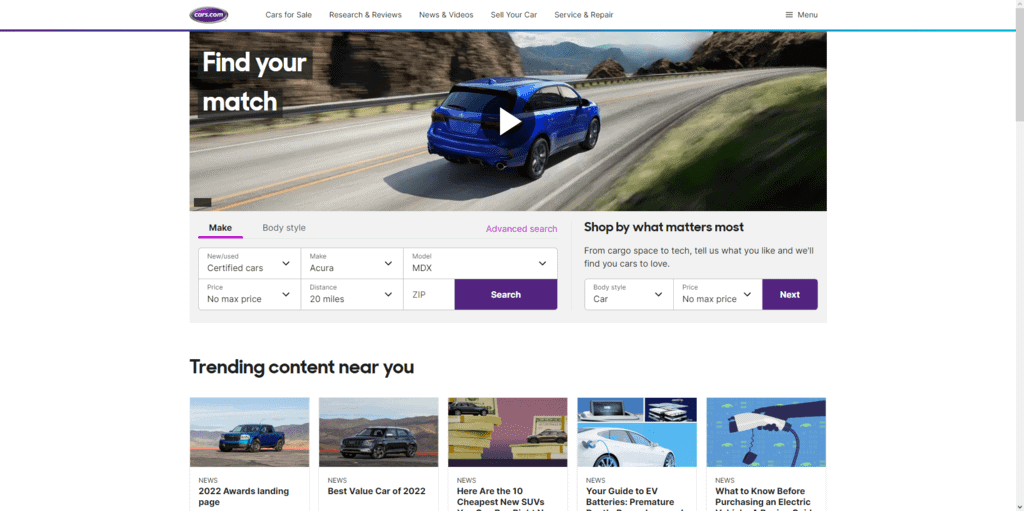 Various sites, such as Cars.com and AutoTrader.com, include free carfax reports in their listings. Look for the free vehicle history report link under the listed vehicle. If you don't find it, the dealer doesn't have an updated run for the car. You can contact the dealer and request one or purchase a copy from Carfax.
#4 Private Sellers
Buying from a private seller has its perks and a sufficient number of risks. Foremost, a direct private sale could mean the car was well maintained, and you will get a fair price. However, you could be running the risk of trading in stolen cars.
To avoid this, you can request a free carfax report from the seller. If they fail to obtain one, it would be best to purchase one from Carfax. You can sign up for a Carfax Car Care Account through the Carfax website for the best deals on used car buying.
In such circumstances, the vehicle history information may not suffice. It would help if you also considered having a mechanic inspect the car and going on a short test drive.
Is there an Alternative Way to Obtain a Free Vehicle History Report?
#1 VIN Check
You can also get a free vehicle history report through the National Insurance Crime Bureau's VINCheck service. The service gives you comprehensive info on whether a vehicle has a theft claim or is condemned as declared by insurance companies.
The VINCheck service reports are not as detailed as Carfax reports. You may miss out on historical details such as the number of accidents or maintenance services, but it's still an essential guide. You will need a VIN to obtain the free report.
What is a VIN Number?
A Vehicle Identification Number (VIN) is a 17-character unique code that represents a vehicle's chassis number. The number is assigned to every car after manufacture. The unique code is devoid of letters Q, I, and O to avoid confusion with the digits 1 and 0.
A fun fact about VINs is that no two cars can share one VIN. It's pretty much like your vehicle's own fingerprint. This unique identification can reveal so much about your car. Each of the 17 characters bears a meaning related to your vehicle. This includes vehicle manufacture and assembly information, the car model, engine size, brand, car type, and the vehicle's serial number.
Where Can You Find Your Vehicle's VIN?
Car manufacturers brand VINs on three distinct parts of vehicles:
The lower side of the windshield on the driver's side. You can visibly see the code while standing outside.
The driver's door jamb. Most manufacturers include a label bearing the VIN next to the door post.
The front of the engine, right below the hood.
Alternatively, if you still can't locate your VIN, you can check the vehicle's insurance policy, owner's manual, or car title.
How to Obtain Free Vehicle History Reports Using a VIN?
Once you locate the VIN, you can use one of the websites offering a free VIN check. You can check VINCheck by the National Insurance Crime Bureau, CarsForSale, or the National Highway Traffic Safety Administration (NHTSA).
The process is straightforward. All you need to do is input the number on the website and then run the check. The vehicle history report will provide information on make, model, year, and country of assembly.
#2 LemonChecks.Com
An alternative way to get a free carfax report is through LemonChecks.com. The service allows you to run a free VIN lookup on their website. It also assures you that the car you intend to buy is, in fact, not a lemon!
The report includes information on major vehicle damage from accidents or catastrophic events such as floods or fires. Additionally, the report details odometer rollbacks, auction records, and much more.
#3 iSeeCars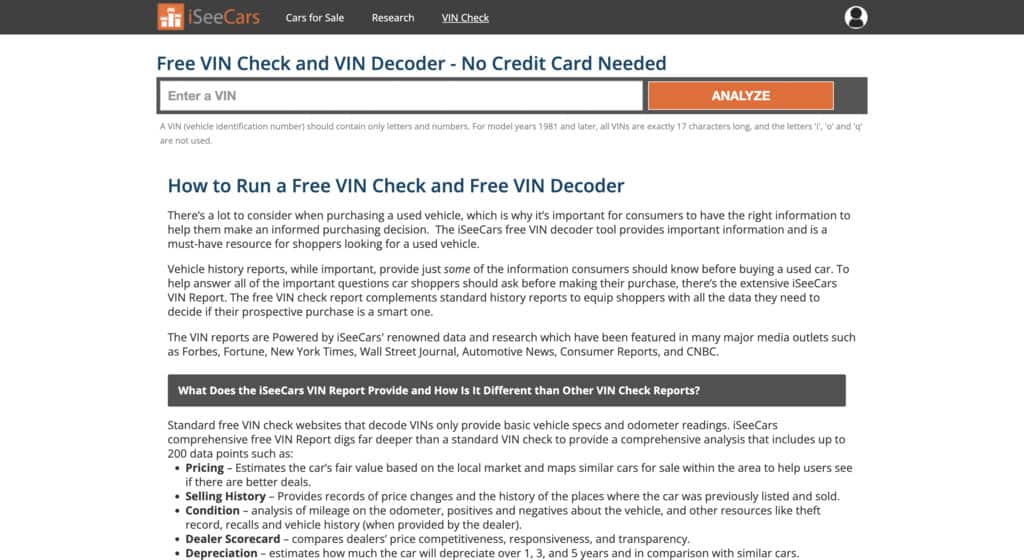 iSeeCars provides a comprehensive view of a used car's history. The platform allows you to perform a free VIN check and is more detailed than other Carfax alternatives. The report will provide information on the car's price history, analysis, depreciation, and the optimal time to buy or sell the vehicle.
#4 Free Carfax Hack
Although obtaining your vehicle's report from Carfax's website is advisable, here is a carfax hack that can get you a free report in minutes. Try out the following steps.
Use your search engine (Google, Bing, etc.) and type in " dealer autocheck inurl:vin."
A link will pop up on your screen. Before clicking, check whether it relates to what your search is.
The link will redirect you to a different page. Check the address bar for the VIN.
Remove that VIN, replace it with your vehicle's VIN, and then run the search.
A detailed vehicle history report will pop up for the VIN you just entered.
What to Look for in a Vehicle History Report
Now that you know that a vehicle history report gives details about its history, it is prudent to know what to keep a keen eye on. Let's first dive into what vehicle history reports contain.
#1 What Information Can You Find on a Carfax Vehicle History Report?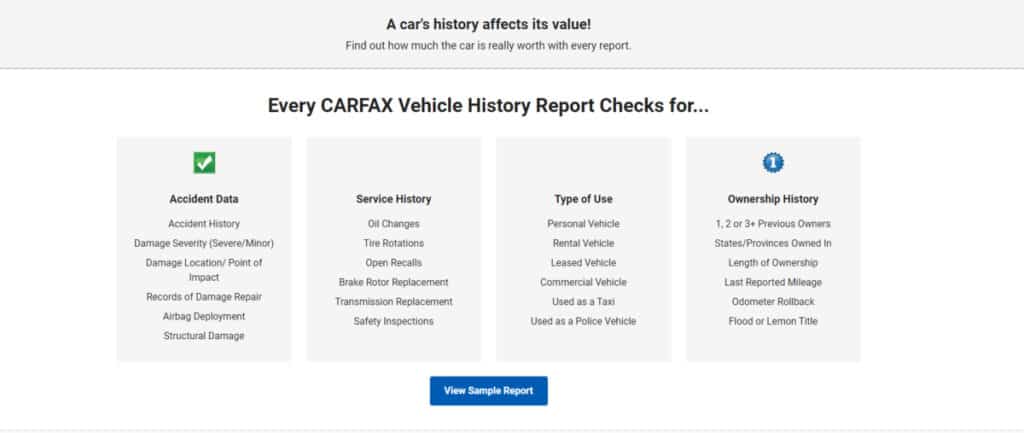 A vehicle history repeat will reveal details about the car's past and its use. It will contain basic information such as:
Previous ownership and car utilization
Recall notice
Mileage rollback
Damage and Accident History
Airbag Deployment
Major accident or structural damage
Warranty information
Weather damage, e.g. hail or flood damage
With the above in hand, you can make an informed decision on whether to buy a used car or not. However, while a used car may have some elements missing or repairs, here are vital factors you should consider when reading through the vehicle report.
#2 Title and Liens Information
Title information reveals the ownership history of the vehicle. Essentially, purchasing a used car with single ownership is advisable. A vehicle with multiple previous owners could have more risks and an inconsistent maintenance routine.
Furthermore, titles include salvage labeling for vehicles considered a total loss through theft or accident insurance claims. Such cars may require a hefty sum to repair. What's more, some states ban the driving of salvage-title vehicles.
Additionally, liens on a vehicle can be problematic, especially if you don't want to see your car getting impounded. A lien is a temporary hold on a vehicle by institutions such as creditors. The lien acts as collateral if the owner cannot pay back an auto loan debt.
In such circumstances, the creditors repossess the vehicle with much less regard to the ownership transfer. To avoid such embarrassing situations, check the vehicle history report for any existing liens.
It is illegal to sell a vehicle with an existing lien since the owner has to seek permission from the lending party before doing so. It is common to find private sellers with cars that have a lien. The seller has to disclose whether the vehicle has an existing lien. If not, as a buyer, you can take legal action against the seller.
#3 Damage and Accident History
Finding an accident-free vehicle is a crucial factor in the used car market. While there are outright tell signs to know if a vehicle was in an accident, professional repair jobs are pretty handy for covering them up. This is where a vehicle history report comes in handy.
The report will concisely state any significant damage that the car has incurred previously. This will include flood and hail damage that will guide you on whether the vehicle is safe to drive.
Furthermore, while some accidents may not affect the vehicle's physical appearance, you can never be sure about the car's structural integrity. You can steer clear of such vehicles by using a free Carfax report that will provide all the details of damage and repair.
#4 Mileage Readings
A vehicle's mileage gives an idea of the distance the car has covered. Certain individuals alter the odometer readings in a world full of unethical activities. A vehicle may have covered 20,000 miles. However, the odometer reading may reveal a lower figure.
To corroborate this, you can check the service sheet. Each time a car goes for routine service, the number of miles it has covered is recorded on the sheet. If the miles on the odometer and the service sheet don't add up, this is a serious red flag. Therefore, you should consider looking at another vehicle.
#5 Recall Notices and Service History
The NHTSA issued a recall notice over a safety concern that they deem an "unreasonable risk to safety". Such unsafe vehicles have a defect that affects the car's safety, which warrants a recall.
Using the vehicle's VIN number, you can check whether the used car has an open recall notice through the NHTSA website. If your vehicle happens to have an open recall notice, you can drive to the model's authorized dealer, who will attend to the defect.
The vehicle's service history will also guide you on how well the previous owner maintained the car. An inconsistent service history may suggest that the vehicle is not mechanically sound. A professional mechanic may advise you on the vehicle's soundness in such situations.
#6 Number and Type of Ownership
The number of previous owners will also give you an idea of the state of the used vehicle. Multiple previous owners can be disadvantageous since it's challenging to know whether they routinely maintained the vehicle. What's more, a change of ownership also means a change in how the vehicle is used.
Purchasing a used car with a single previous owner seems to be a better deal. You can ask the previous owner critical questions relating to the vehicle's functioning.
On the other hand, you can choose to buy a used car from a fleet management service. However, you should keep in mind that there are pros and cons to this. For starters, most service companies may use the car until it's run down. In such scenarios, it is advisable to tread carefully. You can use the free tools that Carfax provides to discern whether such a purchase is right for you.
#7 Vehicle Registration
You may think checking where the vehicle is registered is not essential. However, multiple registrations can indicate dishonest practices. For instance, if the car you intend to buy is registered in a different region, you may not know whether it was stolen or had flood or fire damage.
A vehicle with multiple registrations is highly suspicious, and it is important to understand why it has so many registrations. In such cases, you should ask questions to find out why. If the seller fails to provide satisfactory answers, you should consider a different vehicle.
Key Challenges of Carfax Reports
As outlined, Carfax delivers immeasurable value to potential car owners shopping for used cars. However, just like every service, Carfax is not so perfect. It has a couple of challenges, as detailed below:
#1 Information is not always Accurate
Carfax does not primarily generate information about the history of used cars. They rely on secondary sources to verify this information. With such an arrangement, certain vital pieces of information can be missed.
A key source of information is accident reports from different police departments. In cases where an accident happens, and the participants fail to report it to the police, such details will not appear in the vehicle history report.
Moreover, auto shops can not declare whether the car has been in an accident. The shop will detail the repairs undertaken. You can use this information to cross-reference the Carfax report. Often, it will be an accident covered up with a professional paint job.
#2 Costly to Obtain
If you settle on a private seller, chances are that you may have to purchase a carfax report. Carfax provides free reports through subscribed dealerships and online listings. Your seller is supposed to provide you with a car history report. However, it's not mandatory. Some sellers may fail to do so, prompting you to make the purchase.
A Carfax report will cost you an average of $39.99 for one report, while five reports will cost you $59.99. The web service provides a fair deal that allows you access to unlimited reports for sixty days.
Does a Carfax Report have a Timeline?
Your Carfax report is valid indefinitely. The report is an account of the vehicle's history. Any information regarding car use from the past is valid. The report can only have amendments relating to future accidents or damage. For instance, the ownership history will now include your details if you purchase the car.
Are VIN Reports Free?
The National Insurance Crime Bureau provides free VIN checks through VINCheck.info. Alternatively, you can also run a free VIN check through LemonChecks.com. However, the disparity is that the report may not be as comprehensive as a Carfax report.
What does "Carfax Value Mean" and How is it Calculated?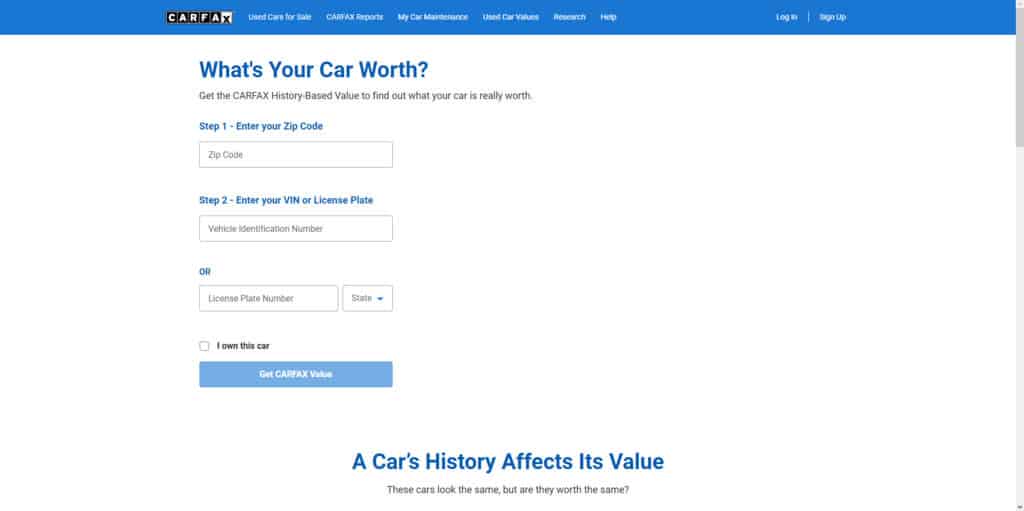 Carfax can also tell you the value of the used car you intend to buy. This price is based on the car's history, including vehicle title, accidents, maintenance history, and the number of owners. As is the norm, you don't expect to pay full price for a car that has encountered serious accidents.
Carfax value gives you an average price, also depending on the vehicle's mileage. This value can give you an estimate of what to expect when you visit a dealership. The Carfax value tool is accessible through the Carfax website. All you need to do is input the vehicle's license plate number, or VIN, and your ZIP code.
What is a Carfax Buyback Guarantee?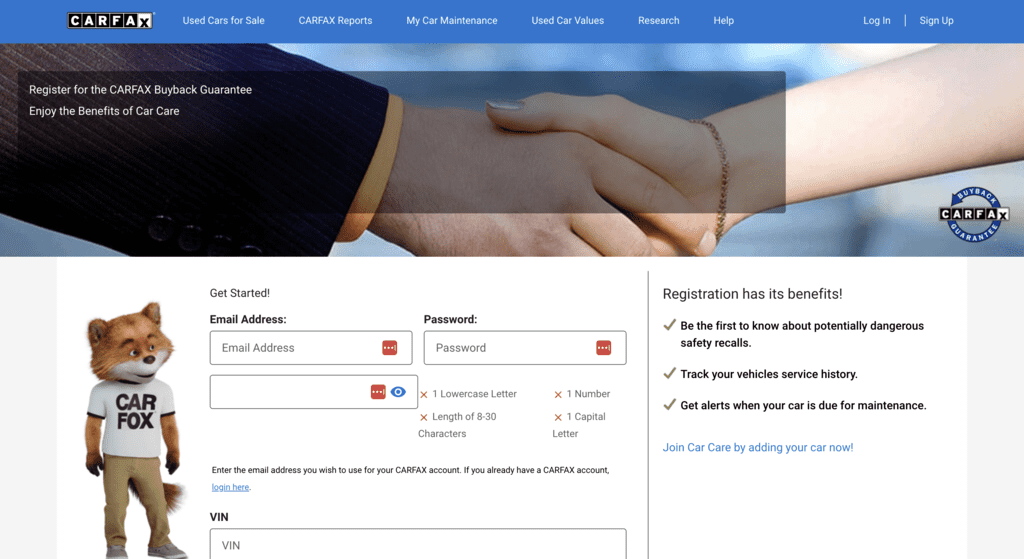 If you happen to buy a used car with a vehicle title issued by the DMV, Carfax can buy back the vehicle through a guarantee.
This guarantee protects consumers from the unknowing purchase of titled vehicles such as salvage, lemon, junk flood, hail, fire, altered mileage, or excessive mechanical limits.
To enjoy the service, you need to register with Carfax. The service also gives you the benefit of getting notifications when your maintenance is due and any potential safety recalls.
How Long Does Carfax Take to Respond?
Carfax delivers on convenience by having all the valuable information you need in one place. You can access your full vehicle's report in a matter of seconds. All you need is the car's VIN number. It's important to note that a new car will not have a Carfax report, mainly because it has no history.
Can I Buy a Car That Has Been In an Accident?
More often than not, the used car market includes vehicles that have sustained damage from accidents. Some accidents are minor enough that a simple repair job restores them to their past glory.
In such cases, you don't have to worry about the structural integrity of the car. The following accidents should not dismiss your purchase decision:
Accident claims for less than $3,000. Such claims could be bodywork repairs that don't affect the car's safety or mechanical operation.
Windshield crack or repair. A broken windshield will not affect the vehicle's operability.
Final Thoughts
A free carfax report is a must-have if you're looking to save money on your next car purchase. While the report will give you an idea of what you'll be getting yourself into, it's vital to include a second perspective in your buying process. A professional mechanic can help further assess the soundness of your future ride.
Related Article: Get Paid for Advertising on Your Car
Learn how to make money advertising on your car by tying up with car advertisement companies. The post above helps you get started.