The Kakeibo Budgeting Method Explained Step by Step (Kekeibo Template Included as PDF)
Kakeibo Budgeting Method Step-by-Step
I have always found Japan to be one of the most disciplined and mindful societies the world has to offer whether we are talking about simple table manners or amazing safety statistics with Japan having some of the lowest crime rates in the world.
This cultural discipline extends to one's private finances which is actually where the Kakeibo budgeting system comes from. While western societies are infamous for debt and over-spending, the Kakeibo budgeting system was invented over a hundred years ago and has stayed well and alive within Japanese households.
This budgeting system has now become popular in the western world as young adults across the United States are becoming more and more focused on being mindful about their finances.
Saving money challenges and budget templates are becoming more famous by the minute as well. This budgeting method is a no-frills way of making every penny count by being mindful of the way you spend. You only need some paper and a pencil to get started.
This post may contain affiliate links. You can read the full disclosure here.
What is Kakeibo?
The Kakeibo (sometimes spelled kakebo budgeting method) budgeting method was invented in 1904 by a woman named Hani Motoko and is basically the original saving challenge. The method was originally created for housewives who wanted to track their spending and save more money.
Motoko is considered to be Japan's first female newspaper reporter and during her time as a reporter, she founded a magazine that was created exclusively for women in Japan. It was during this time that she created the Kakeibo system for women to manage household expenses.
This budget has seen renewed popularity as young adults have seen money going down the tube on everything from a Netflix subscription to too many drinks on a Friday night.
While there are some great budgeting apps out there like Acorns and even companies that help you lower your bills by negotiating with your service providers like BillCutterz, sometimes something as simple as putting pen to paper can be effective.
Before you begin any saving challenge, it is important that you understand you are teaching your brain new spending habits and that can be a difficult task. Even cutting out your daily Starbucks can be an issue for some so staying on the path and allowing yourself to make mistakes once in a while is an imperative first step.
How to Use Kakeibo
Kakeibo's primary aim is to make you more aware of the way you are spending your money by asking you to document your spending habits. Think of it as you would a diary of your life- this is a diary for your finances. Just as a diary can allow you to reflect on important incidents during your day, Kakeibo helps you look at your financial decisions and learn from them
To document your financial habits, Kakeibo asks you to focus on four key questions:
How much money do you have?
How much do you want to save this month?
How much money are you spending?
How would you like to improve?
Step #1: Track your income and expenses for a set period of time
Before you can make positive changes within any aspect of your life, you need to know what you are working with which is why the first step is to document your financial habits for a period of time. You can also compare your overall income and cost of living with other cities and/or states. You can use a cost of living calculator to figure that out.
A month would be a good period to start off with. You need to document all of your fixed expenses and income for this period.
Step #2: Set your savings goal
Once you note down your fixed expenses and income, you set aside the remaining for your savings goal which goes in the saving category.
This post includes a template you can use and you can get that template delivered to your inbox by completing the opt-in form. You can download all of the pages in the printable at the end but we are going to go through each page (of the four) together while going through the Kakeibo steps.
The first two pages of the printable below will help you track your expenses during the month and ask yourself the right questions: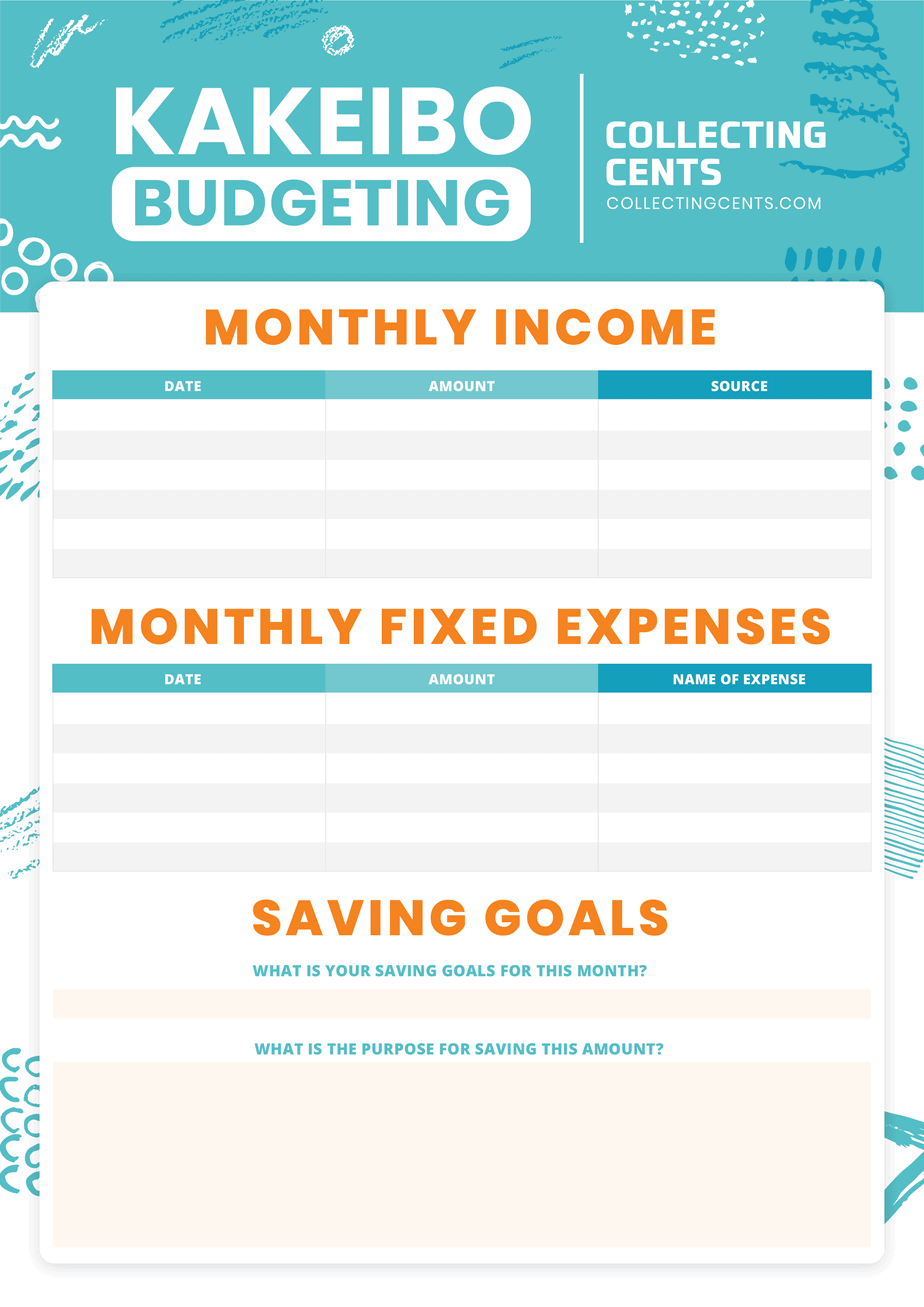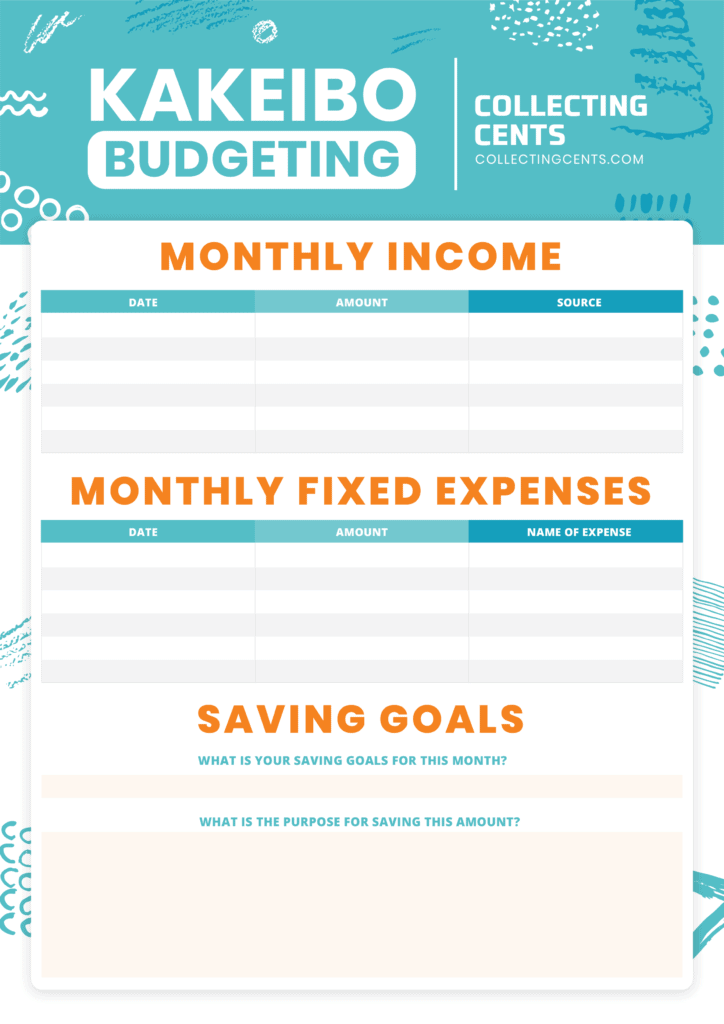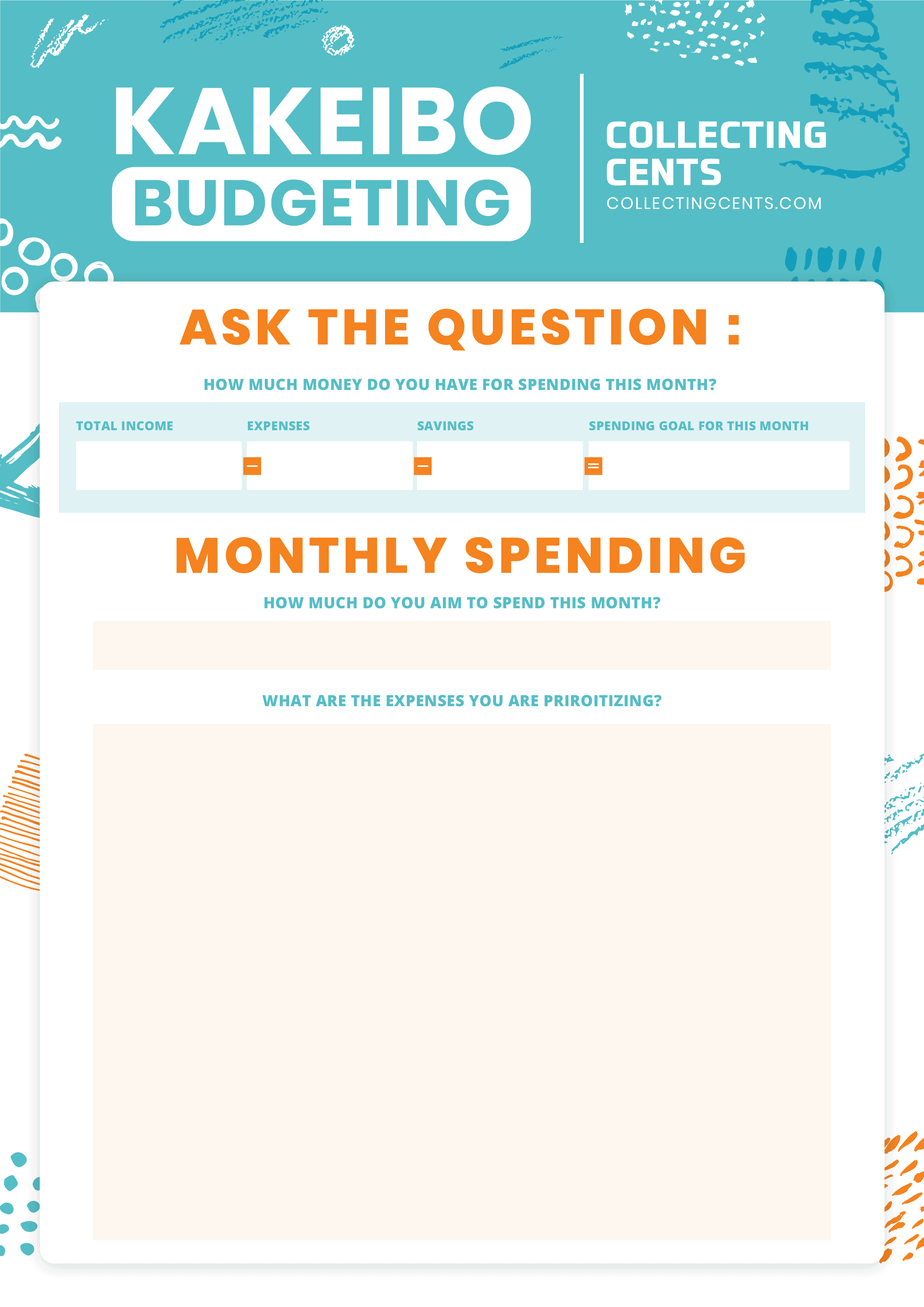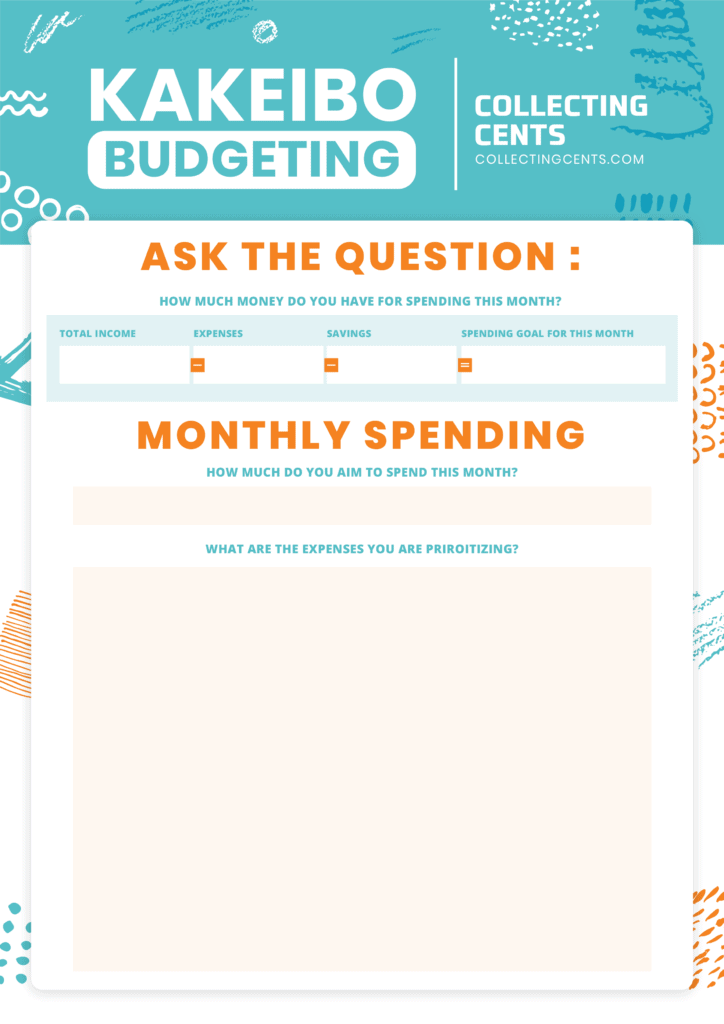 Step #3: Create categories for your expenses
Now that you know where your money is going, the next step is to create four different categories within which each expense has a home. Kakeibo includes four-pillar categories that you need to focus on:
Needs: These expenses are non-negotiable. You cannot get rid of them- debt payments, student loans, mortgage payments, rent, groceries, medical insurance, etc.
Wants: These expenses are negotiable and you can get rid of them- Starbucks coffees, takeout, drinks with friends, etc. They make you happy but there is no need for them so to speak.
Culture: Anything that entertains you would be part of culture expenses- Netflix, movies, music, museum tickets, a puppet show, a drive-in theatre, etc.
Unexpected: Self-explanatory- you have not accounted for these expenses and there is no way to account for them other than setting aside a percentage of your income every month for a rainy day. Examples would be a medical bill you did not see coming, a problem with your car engine, or a leak in your bathroom.
Step #4: Categorize all of your expenses
Now that you have your categories, you need to record all of your expenses and place them into the right category along with the amount you are spending on that expense.
This is a very important part of your spending journey because you have to give each expense a second thought when putting them into the right categories. You realize you have more wants than needs or your figure out what you are spending money on and what is important to you. It can be an eye-opening moment for any spender to see that they spend $300 a month on clothes or $400 a month on the theatre.
It shows you what your priorities are and asks you to reevaluate them. It allows you to look at your spending habits with more awareness and can even help you figure out what triggers those bad decisions.
This can of course be done through an app but sometimes the benefits of writing cannot be overstated. Putting pen to paper can often help you understand your goals better and you become more aware of what is going wrong.
You can add your fixed expenses at the beginning of the month and then jot down new ones as the month goes on. New expenses could be unforeseen ones such as medical expenses or a day out with friends.
Here are pages of the printable that you would use to track expenses and then categorize them: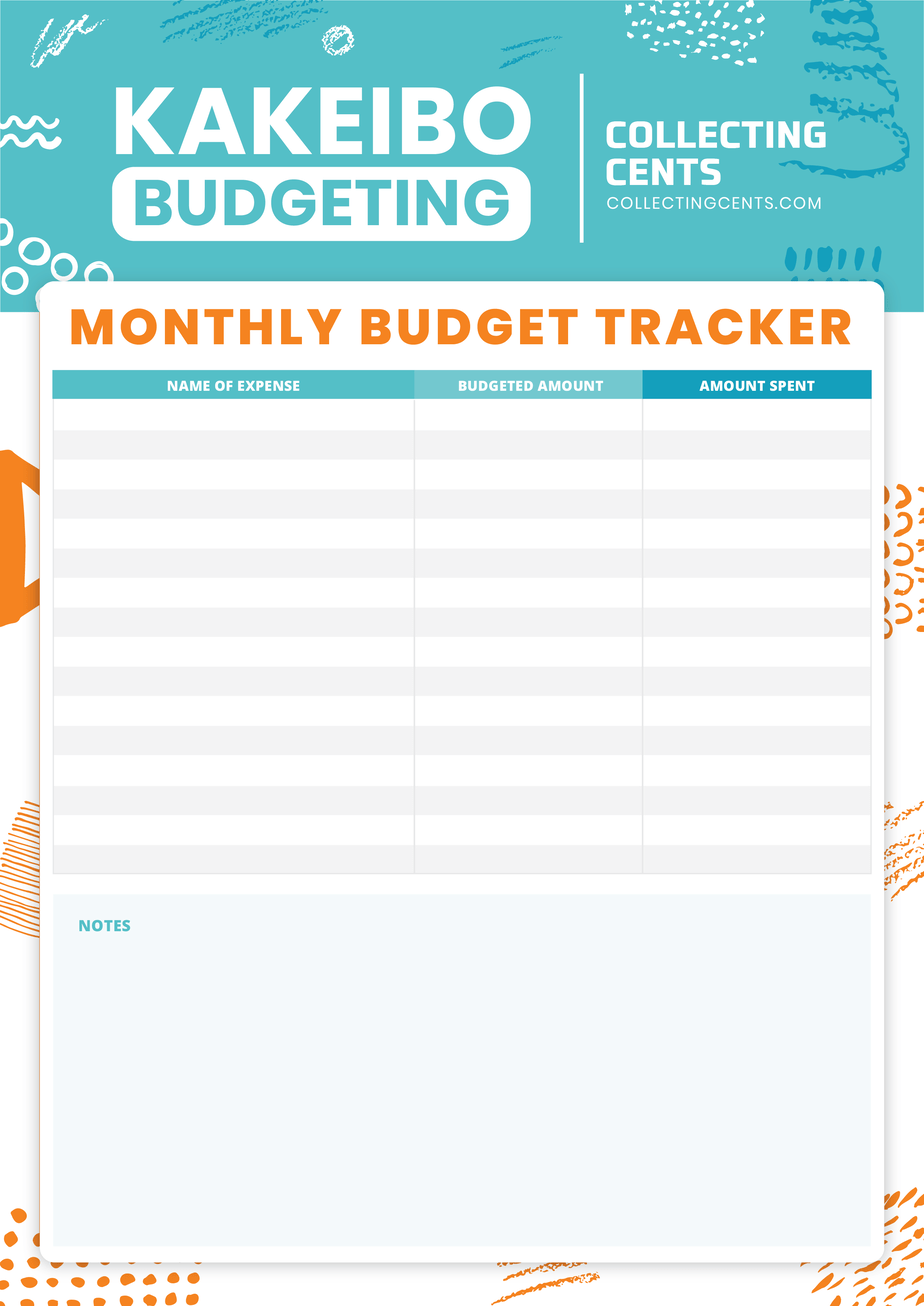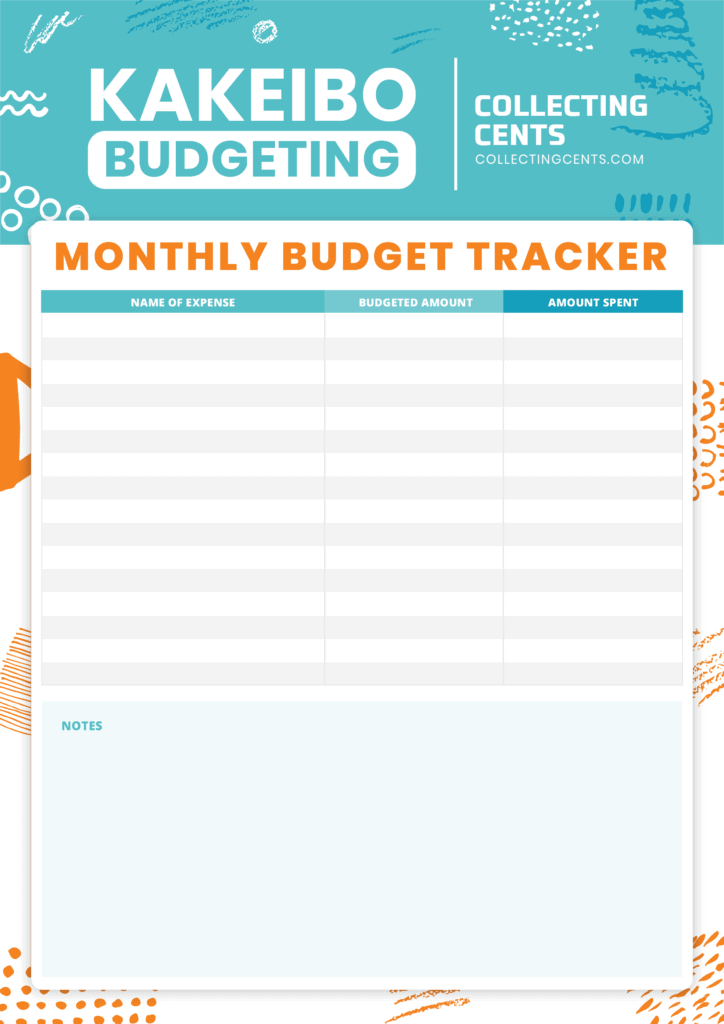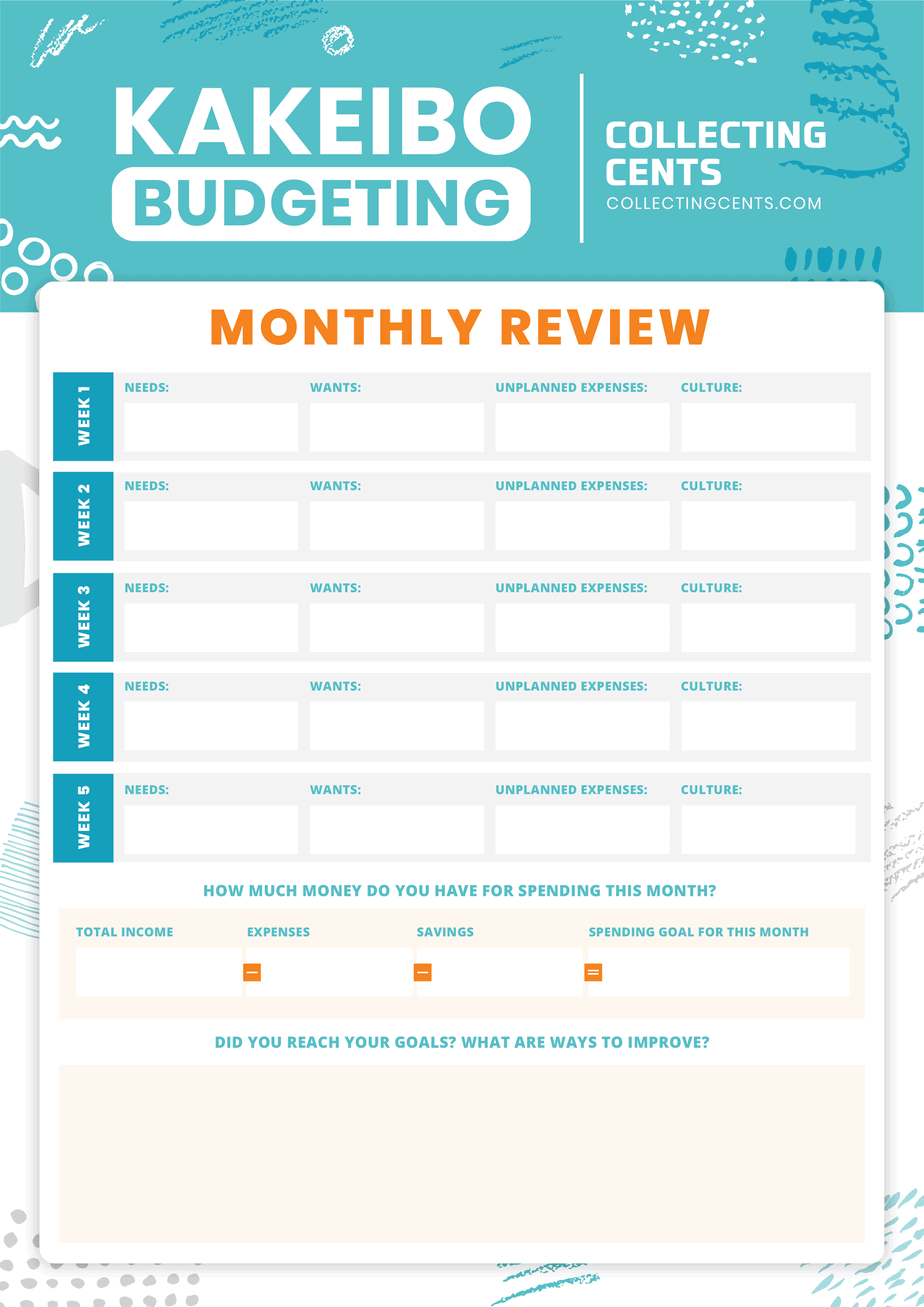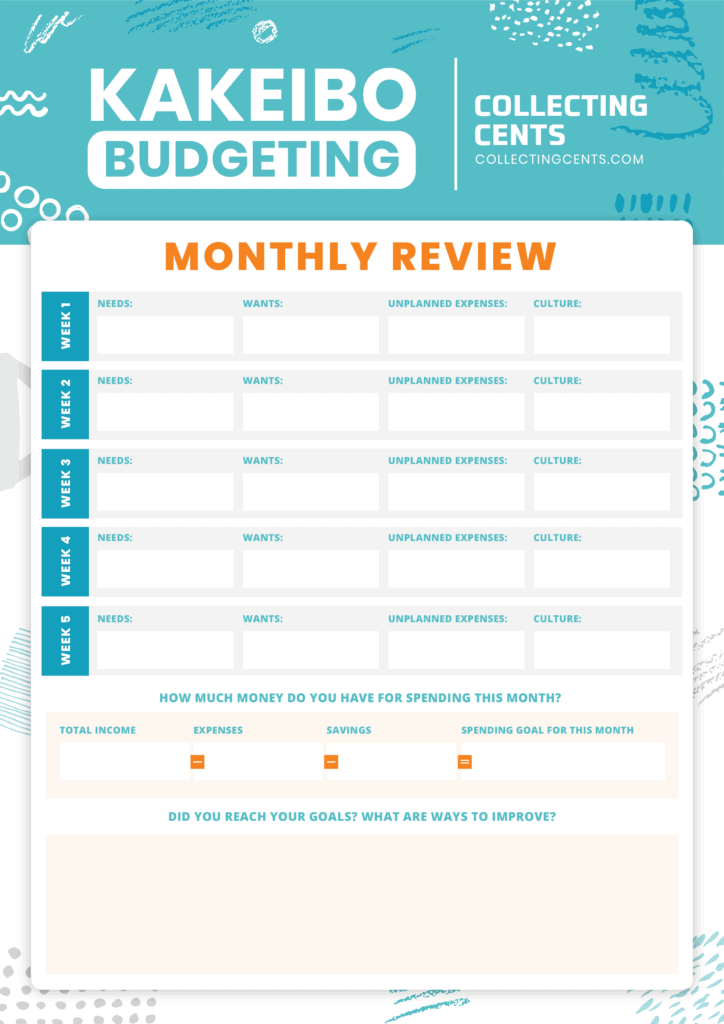 Step #5: Monthly review of your finances
Now that you have all of your expenses and all of your income listed, add it all up and see if you have reached your initial saving and spending goals. The monthly review sheet above can help you do that pretty easily.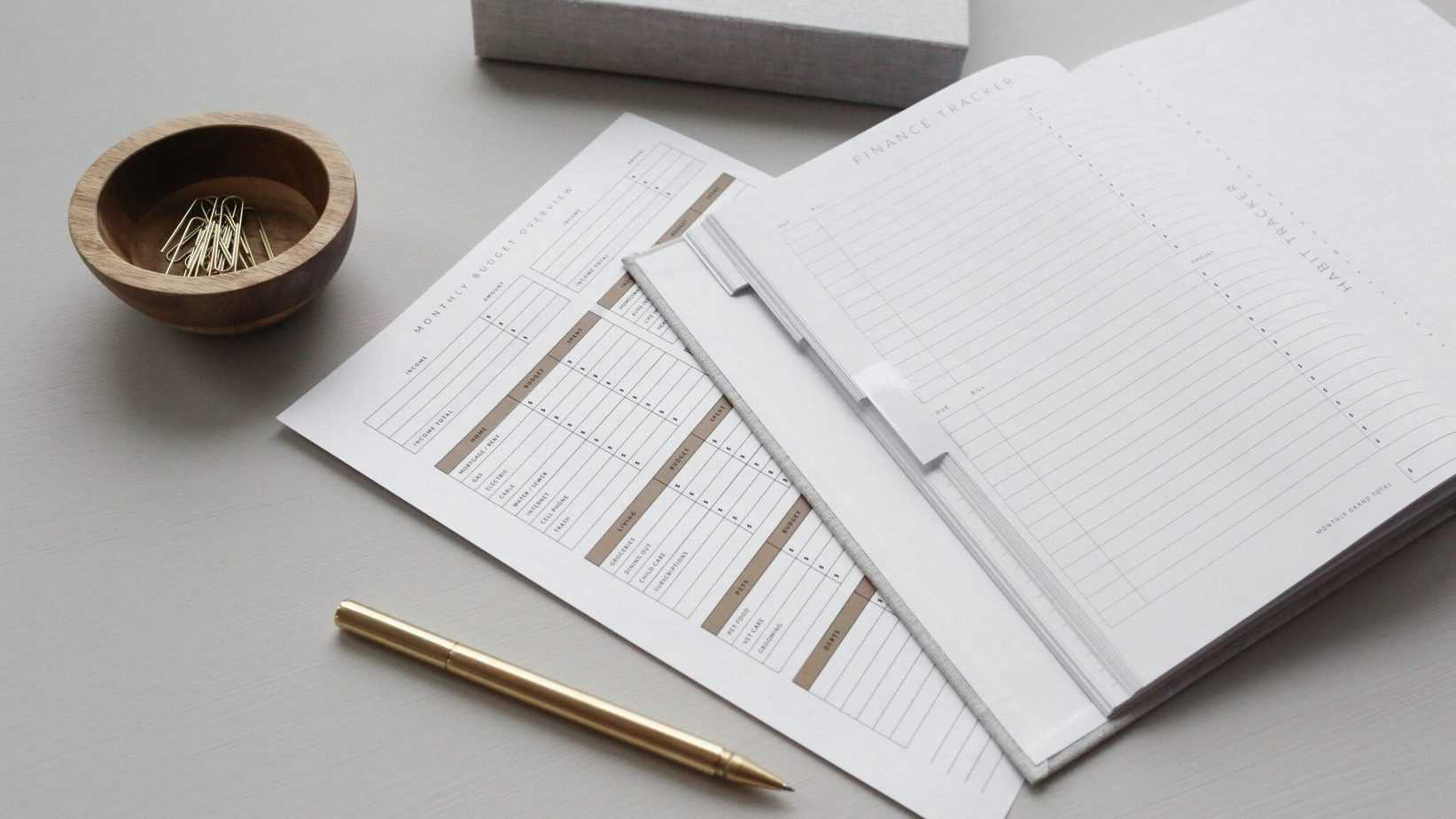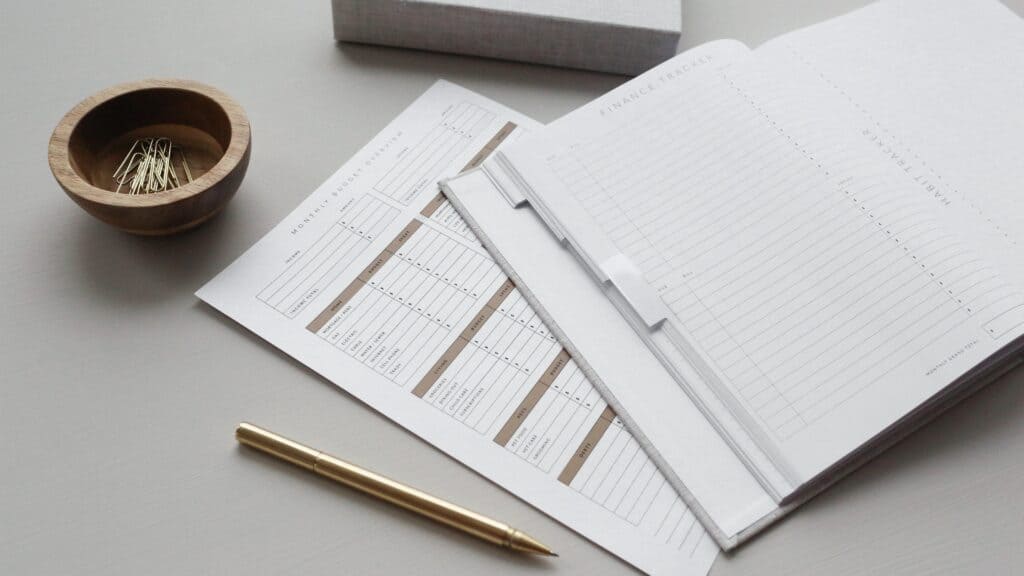 Step #6: Reflect on your spending habits
The aim of the Kakeibo budgeting method is to reflect on what went right and what went wrong in your budget throughout the month. You can take a minute to reflect on your financial decisions and note down ways you can improve in the month that follows.
If you reached your goals, give yourself a pat on the back and set new ones. If not, take a minute to identify what went wrong before moving forward. You can also access your progress by asking yourself the questions the method is centered around every few days or so:
How much money do you have?
How much do you want to save this month?
How much money are you spending?
How would you like to improve?
Asking yourself these questions will remind you of your priorities and will even show you how your financial priorities change over time.
How can Kakeibo help you save money?
Kakeibo helps you save money in a step-by-step way by helping you document your expenses and then improve your financial habits every month little by little.
The savings goal helps you stay on track and asking yourself those four questions regularly pushes you to think about your future finances.
Since Kakeibo focuses on writing your expenses down, it is also a reflective process that allows you to understand what drives your spending. The thought process you go through when you are giving each expense a second thought really helps you better judge what is important in the long run.
Questions you should ask yourself before you spend
Sarah Harvey, a contributor at CNBC, penned down her experience using the Kakeibo method and within her account, she included some questions that she believes are important to ask yourself before you spend your money on something:
Do I have the space for this item?
Can I afford to buy this item?
Will I use it?
How did I come across this item? (At a random shop I walked into? After putting some thought into it?)
What was my emotional state of mind when making the purchase? (sad and depressed looking for a quick purchase to fix things? celebratory? anxious?)
How excited am I about buying this product?
These questions can be very insightful when you are making purchases that might not make sense later. The questions force you to make more logical and thoughtful purchase decisions.
This does not mean that you never have takeout again or stop your Netflix subscription. It just means you start to make your purchase decisions with a little more thought involved.
How to improve your spending habits
Apart from tracking your expenses and progress, I have some easy ways you can improve your spending habits in general:
#1 Give it a day
Most purchases in the 'wants' category tend to be impulse buys. For these purchases, the best advice I can give you is to wait a day. People tend to get excited when they see a new shiny toy so giving yourself a day to think about it is often all you need.
#2 Use the right tools to find discounts
A tool like Ibotta can help you get cashback on your online purchases and save money with exclusive discounts. It can be really tempting to buy everything at the store and going to the store can be fun but the internet offers us some great deals that cannot be ignored.
#3 Set up automatic text alerts
Some banks will allow you to set up text message alerts for whenever you use your card. This way you know what is going out of your account and you have to acknowledge every financial decision you are making right after you make it.
#4 Keep your bank app on your phone
Keeping your bank's app on your phone allows you to check your balance any time of the day and it also allows you to have a bird's eye view of your expenses.
#5 Use services to help reduce your bills
A service like BillCutterz can help you reduce your bills with no upfront payment necessary. If you want to find a way to lower your bills and save some cash, this company can help.
Here is how it works- BillCutterz will negotiate discounts for you with your service providers (cable, internet, security, etc.). If they manage to get a bill reduction, they take 50% of what they managed to save. If not, you pay nothing. So, if they save $100, they take $50 from what they manage to save you. Pretty simple, pretty fair.
#6 Consider using budget envelopes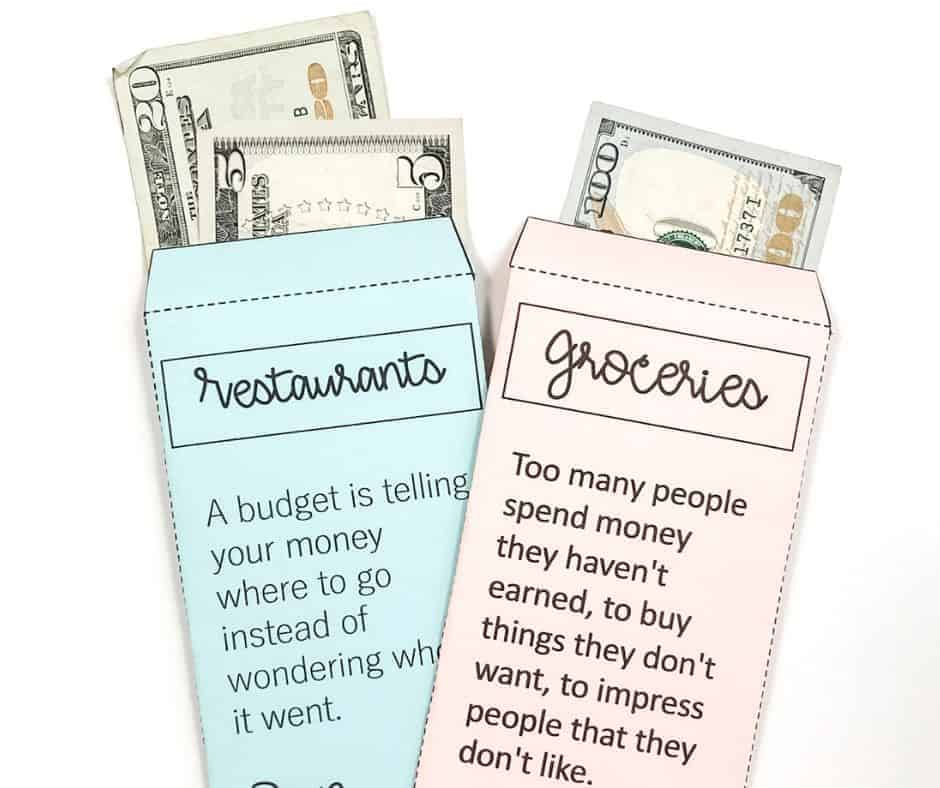 The money envelope system is a great way to keep a tab on your finances and it can be pretty fun too. You simply use marked envelopes to keep a certain amount of money for each expense category.
For example, $100 for food or $100 for beauty. You keep the amount dedicated to the category in the respective envelope and use only what you have budgeted for that category for the entire month.
#7 Leave the card at home
Spending in cash and leaving your cards at home can be a simple but effective way of limiting your spending. Somehow, seeing actual cash leave our wallets is reminder enough.
The bottom line
Budgeting is tough for anyone. You are trying to break old habits and you are also giving up a lot of tiny things that make you happy. It takes time to see the differences a simple budget can make and sometimes people give up way too quickly.
A simple savings challenge, spending tracker, or budgeting method can make things easier by giving you a much-needed roadmap. In these cases, staying on track could not get any easier- all you need is some pen and paper.
---
Swagbucks pays you to take surveys online and is one of my favorite survey websites because of its countless survey options and trustworthiness. They pay you via PayPal or gift cards if you take surveys through their website. You also get a $5 welcome bonus using this link.
CIT Bank offers high yield savings accounts and term CDs that are great for people who are looking to invest their cash and earn interest. One of the reasons they are so famous among savers is because they have one of the nation's top rates- 6x the national average (your typical savings account earns you just 0.09%).
FlexJobs is great if you are looking for remote work opportunities. The team at FlexJobs monitors every job posting to make sure the standard is maintained so you will find well-paying job opportunities and zero scammy ones.
For wise parents with their children's futures in mind, an early tax-advantaged investment account specifically tailored for children is a fantastic idea. Programs such as UNest are designed to help you achieve this goal of
crafting a better future for your children.
Credit Saint is my top pick when it comes to credit repair agencies. It has a 90-day money-back guarantee, an A+ rating from the BBB, affordable pricing and it has also been voted the best credit repair company by consumer advocate. Credit Saint