11 Budget-Friendly Toast Recipes for Breakfast
Toast is normally just limited to the 'eggs and toast' combination by most of us but it is capable of so much more.
Whether it is recipes, dinner, or easy meal ideas– there are plenty of toast recipes that can get the job done.
One of the big bonuses of toast recipes is that pretty much anyone can do it- with or without culinary skills.
Disclosure: This post may contain affiliate links. You can read the full disclosure here.
11 Easy Toast Recipes for Breakfast
1. Avocado Toast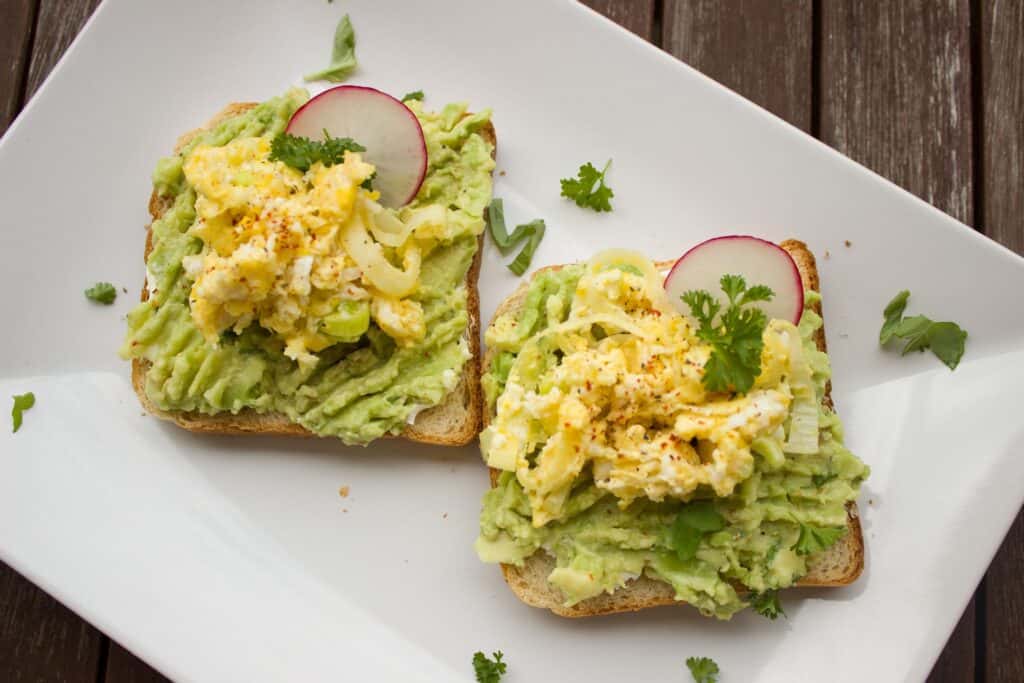 Found on cookinglight
This simple open toast avocado recipe is perfect for any millennial out there and it does not take long to make at all.
A mixture of avocado, salt, pepper, olive oil, and lemon juice mashed together make for an awesome toast topping. you can even add some scrambled eggs on top of everything if you want to try something new and full of flavor.
If you want a good open toast recipe, this is it.
2. Cauliflower Melts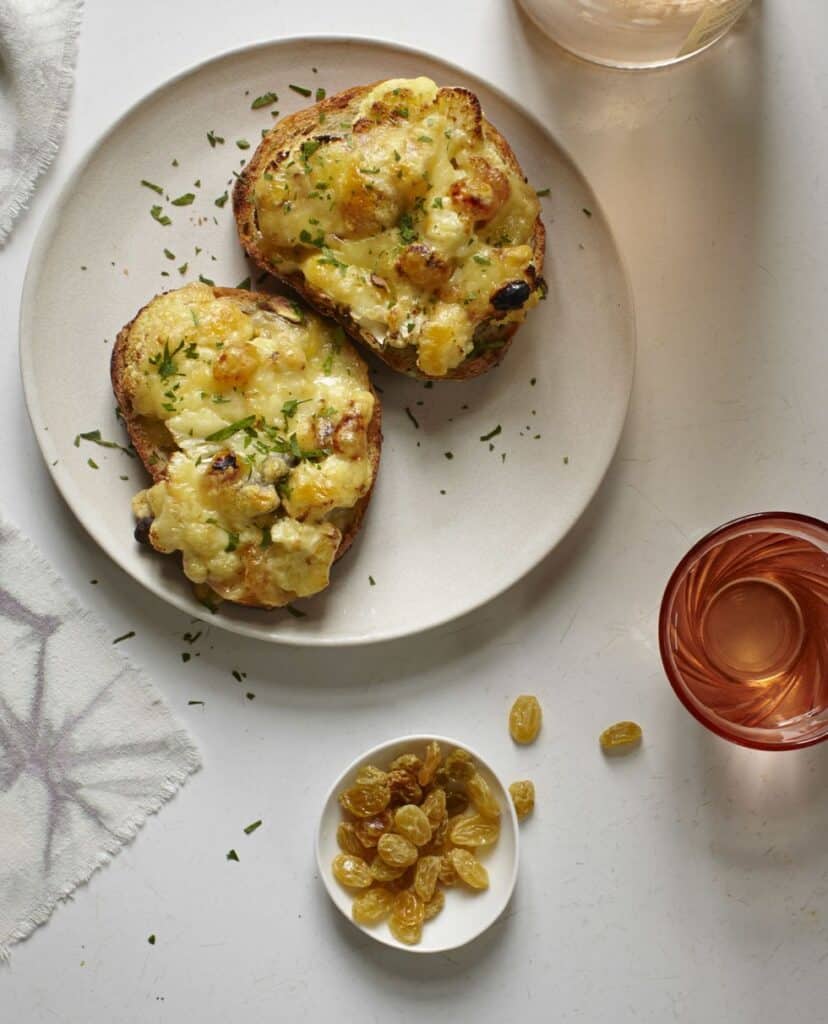 Found on countryliving
This one can work really well as a light dinner. Jill Donenfeld, writer of the book Better On Toast, talked about cabbage melts and won the hearts of hundreds with the idea.
There is some sweetness in this recipe too that comes from the raisins and it is pretty simple to make. The combination of white wine, cauliflower, raisins, cheese, parsley, and pistachios make for a pretty yummy snack.
3. Fig Bruschetta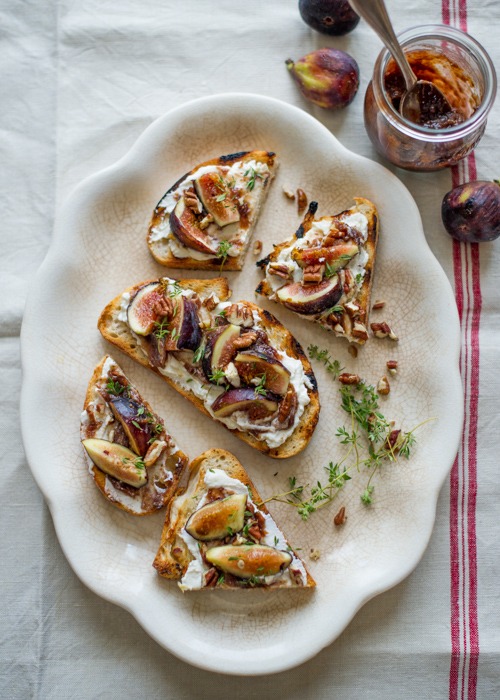 Found on whiteonricecouple
After tossing the figs into the oven with some vinegar and brown sugar, you puree it in a blender and then keep it in a fridge until it is cool. This neat little mix of ingredients makes for an amazing toast topping that is pretty innovative as well.
Check out the whole recipe here at whiteonricecouple.
4. Peach Toast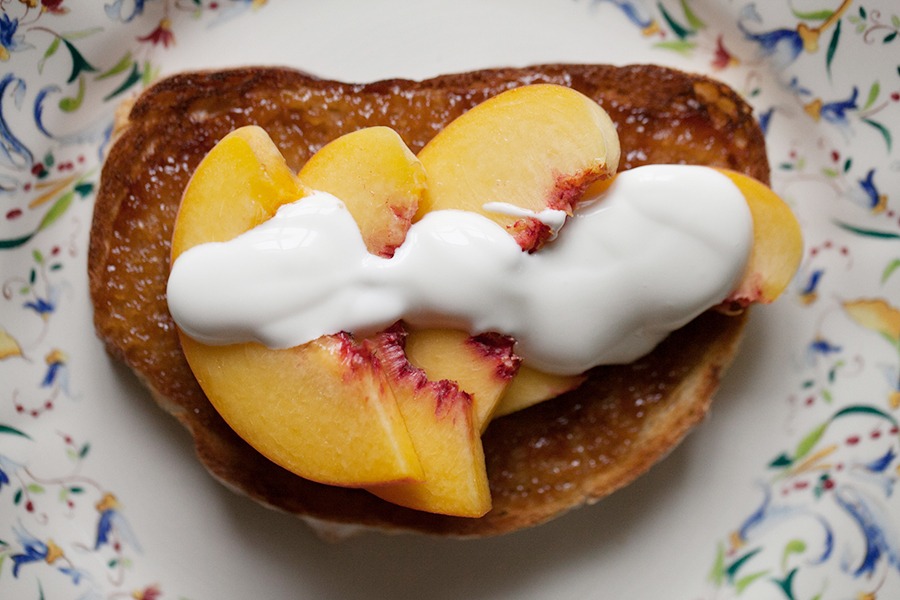 Found on themeaningofpie
When it comes to sweet toast recipes, this simple peach and sour cream combination is sweetness heaven for any breakfast lover. It is crazy simple to make and takes a few minutes at best.
Perfect for morning school runs or if you are late for work. Get the recipe here.
5. Brussels Sprouts and Ricotta Toast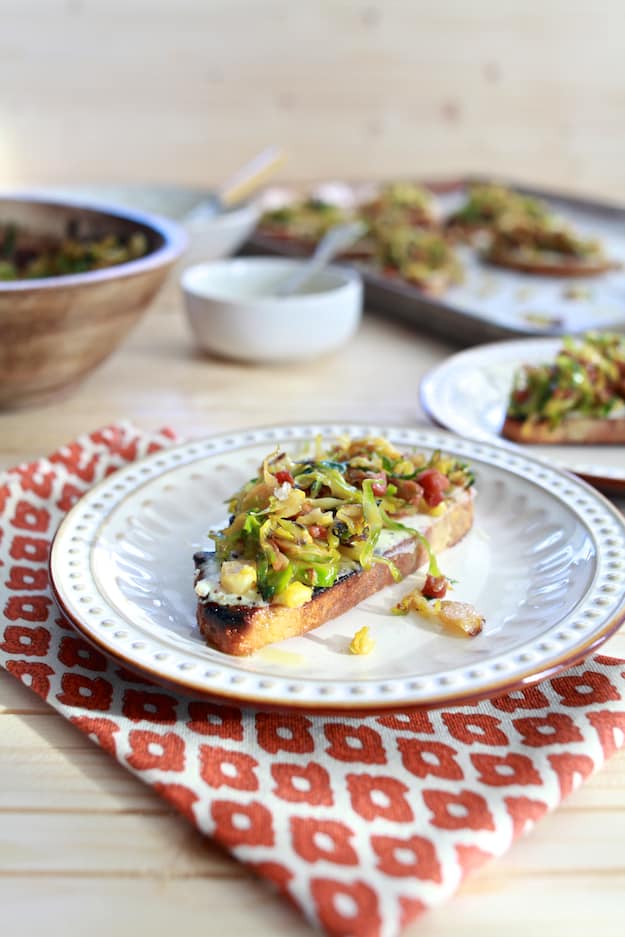 Found on thenoshery
If you are feeling like doing something healthy with carbs on the side, try this toast along with milk ricotta, some Brussels sprouts and pancetta.
It is perfect if you want something creamy and crunchy with a little sour kick on the side.
Get the recipe in detail here.
6. Spinach rarebit with poached eggs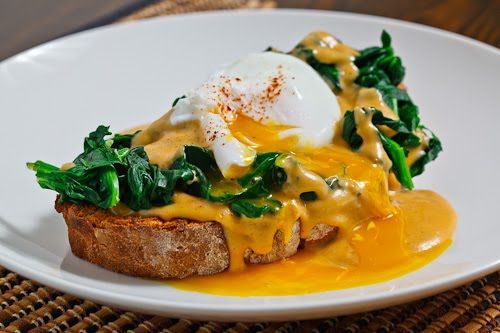 Found on olivemagazine
This soft runny egg on top of toast is heaven on a plate. Below the egg, there is a layer of rarebit mixture and the whole meal is a great veggie take on the traditional Welsh rarebit.
It takes about 10 minutes to prepare from start to finish and is perfect if you love runny eggs.
7. Marinated Piquillo Pepper & Whipped Eggplant Toasts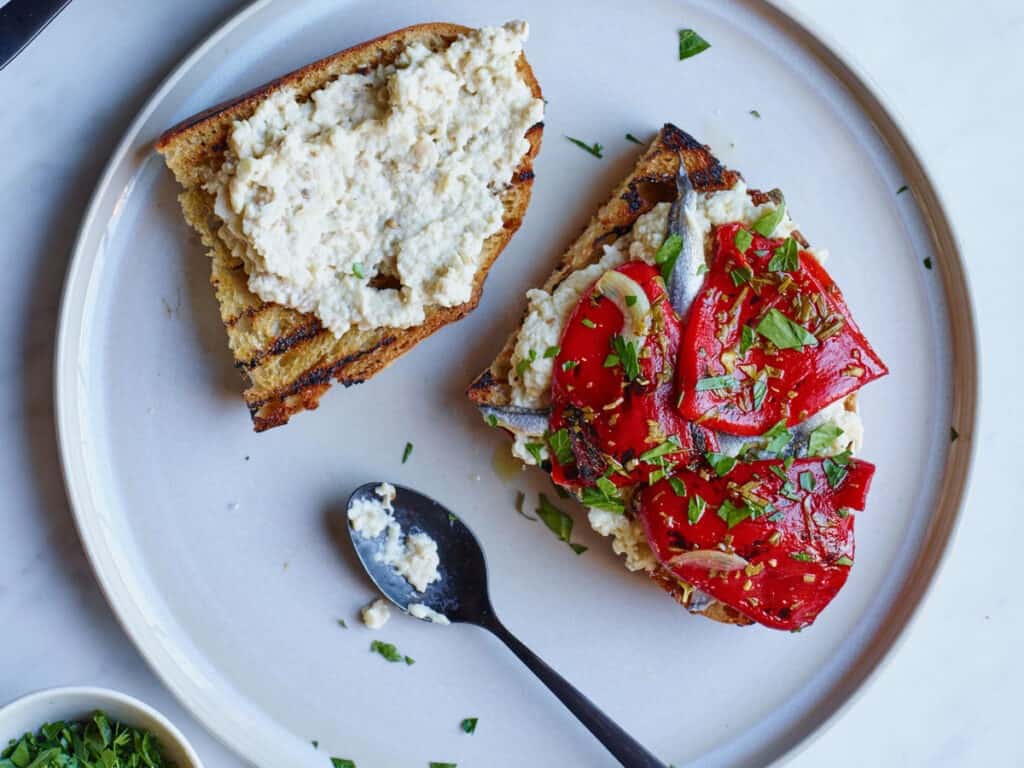 Found on foodandwine
After searing Spanish piquillo peppers and marinating them in a mixture, you add some whipped eggplant on top of toast. The peppers go on top and you get a delightfully tangy breakfast meal.
8. Chili Cheese Toast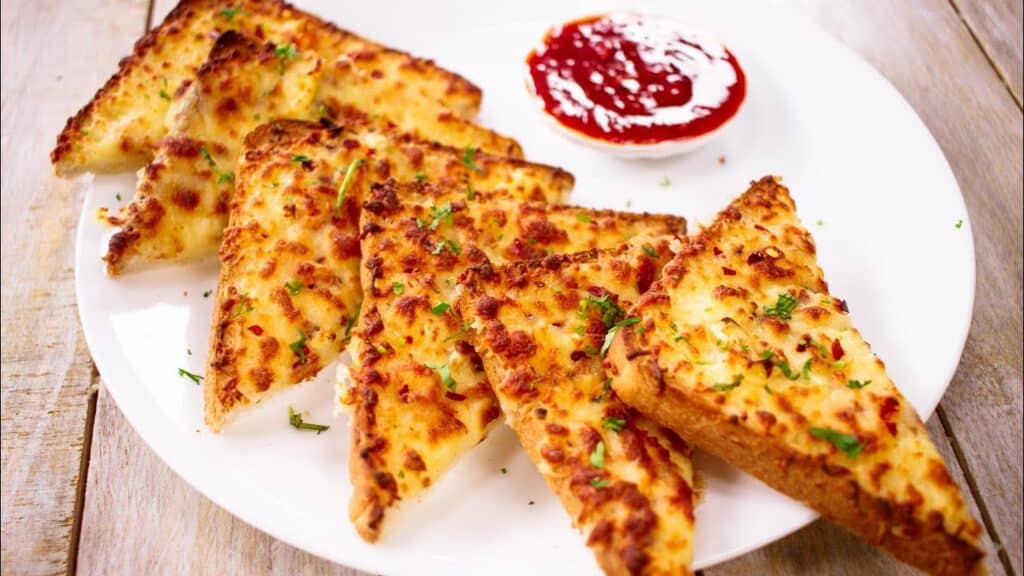 Found on spicebangla
This simple chili cheese toast is pretty much a staple in a lot of Indian kitchens and is super easy to make.
If you want a kick of spice and cheesy goodness added to your toast, try this easy toast recipe here.
9. Poached Egg and Avocado Toast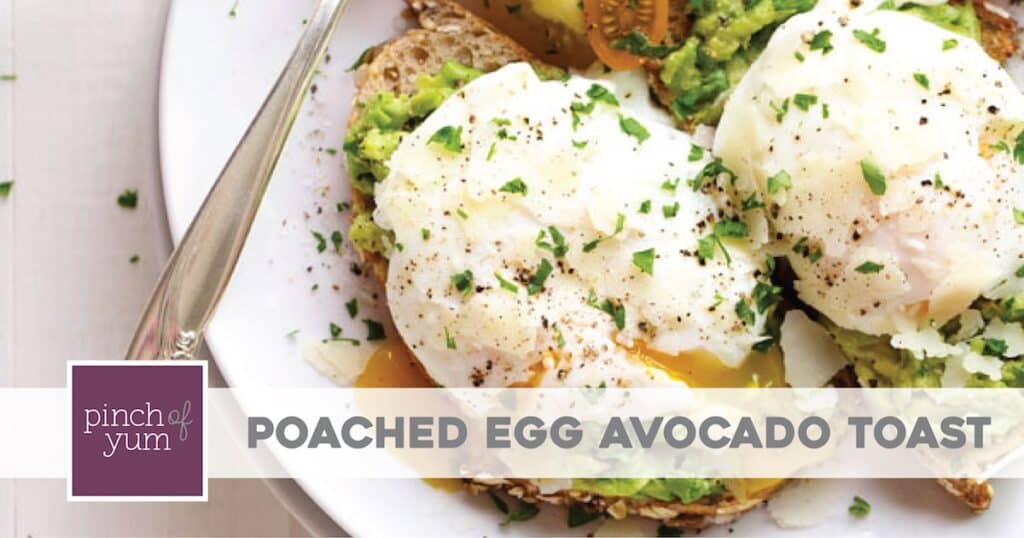 Found on pinchofyum
Another avocado recipe!
Try this poached egg avocado toast for a great morning start. The recipe from pinchofyum includes avocados, eggs, heirloom tomatoes, whole grain bread and cheese as the main ingredients.
Who knew healthy could be this tasty?
10. Challah French Toast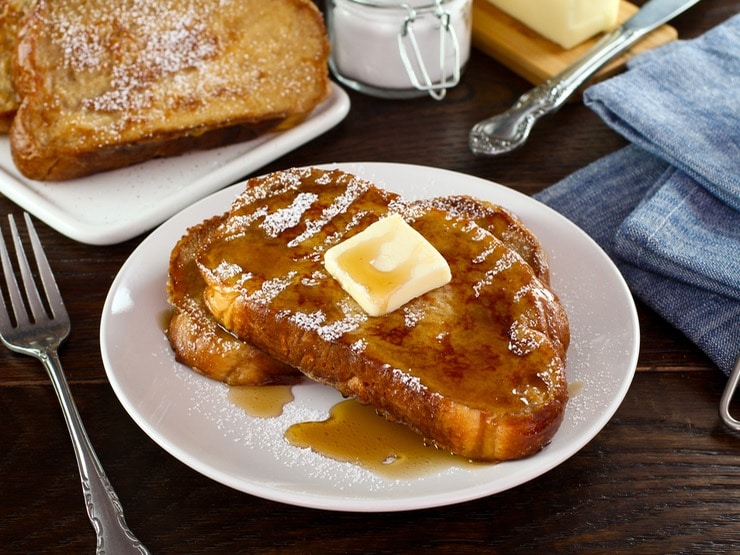 Found on toriavey
This challah french toast recipe that includes banana as its secret ingredient is a great take on the classic french toast. The banana addition to the coating makes the toast really fluffy and lovely to taste.
It is great for a weekend breakfast treat and challah goes perfectly with the french toast recipe. The fluffy challah bread soaks in the coating well and it is a step up from your average french toast.
It takes less than 20 minutes to cook and is pretty simple to make overall.
Here are some of my favorite ingredients:
Meal Prep Tools
Now that you have got some easy toast recipes, let us talk about some meal prep tools that could help you out and make your life easier. If you are looking for toast recipes, chances are you do not have much cooking time. These tools can help:
This option is great if you have no time on your hands. Freshly lets you select the dishes you want, gets it made fresh by their cooks, and sends it to you ready to eat but still as good as a homemade meal. All you have to do is heat it up.
Hello Fresh is the perfect balance between meal prep planning and cooking your own dinners. This amazing company is one of my favorites because it allows users to pay for ingredients rather than actually cooked meals.
Plans include meal kit boxes that come with easy-to-follow recipes, all of the ingredients you will need for that dish, and nutritional information. It allows you to be part of the cooking process minus all the bad bits like grocery shopping and figuring out what to cook.
Plans can be personalized by the number of people eating and the type of food ( healthy, veg, quick, family-friendly, etc.).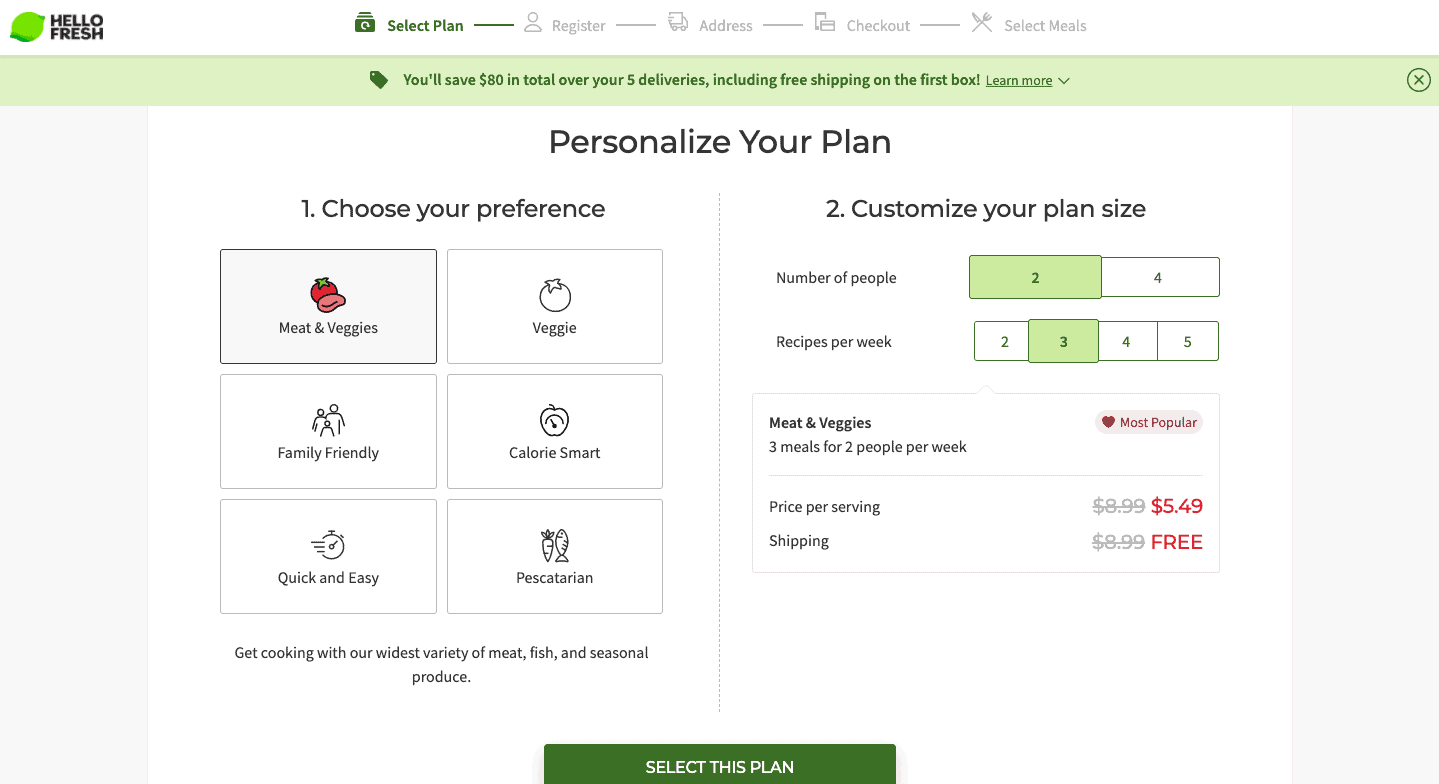 You can get started with Hello Fresh by clicking this link. At the time of writing, you can also get up to $80 off and free shipping on the first box.
The cheapest and most hands-on option- $5 Meal Plan. It sends over meal plans and shopping lists every month for just $5.
Wrapping up the list of easy toast recipes
These innovative toast ideas are great for anyone who wants to shake up their daily breakfast meal or even just have a fun and tasty brinner (breakfast dinner).
Try these recipes one by one as the days go by and make a family favorite recipe out of one of them.
Swagbucks pays you to take surveys online and is one of my favorite survey websites because of its countless survey options and trustworthiness. They pay you via PayPal or gift cards if you take surveys through their website. You also get a $5 welcome bonus using this link.
CIT Bank offers high yield savings accounts and term CDs that are great for people who are looking to invest their cash and earn interest. One of the reasons they are so famous among savers is because they have one of the nation's top rates- 6x the national average (your typical savings account earns you just 0.09%).
FlexJobs is great if you are looking for remote work opportunities. The team at FlexJobs monitors every job posting to make sure the standard is maintained so you will find well-paying job opportunities and zero scammy ones.
For wise parents with their children's futures in mind, an early tax-advantaged investment account specifically tailored for children is a fantastic idea. Programs such as UNest are designed to help you achieve this goal of
crafting a better future for your children.
Credit Saint is my top pick when it comes to credit repair agencies. It has a 90-day money-back guarantee, an A+ rating from the BBB, affordable pricing and it has also been voted the best credit repair company by consumer advocate. Credit Saint