45+ Tasty Dirt Cheap Meals for When You're Broke
According to Value Penguin, the average American family spends approximately $550 per month on food, which turns into $6,602 per year.
This number varies depending on where you live. But if you ask me, groceries are making a bigger dent in our wallets than necessary.
But even on the tightest budget, you can afford to make a list of delicious meals that's longer than you might think. Let's take a look at 49 dirt cheap meals you can add to the cart without breaking the bank.
How to Get Super Cheap Meals Easily
Before diving into these cheap dinner recipes, let's discuss how you can find your dirt cheap dinner ideas after you've made your way down this list!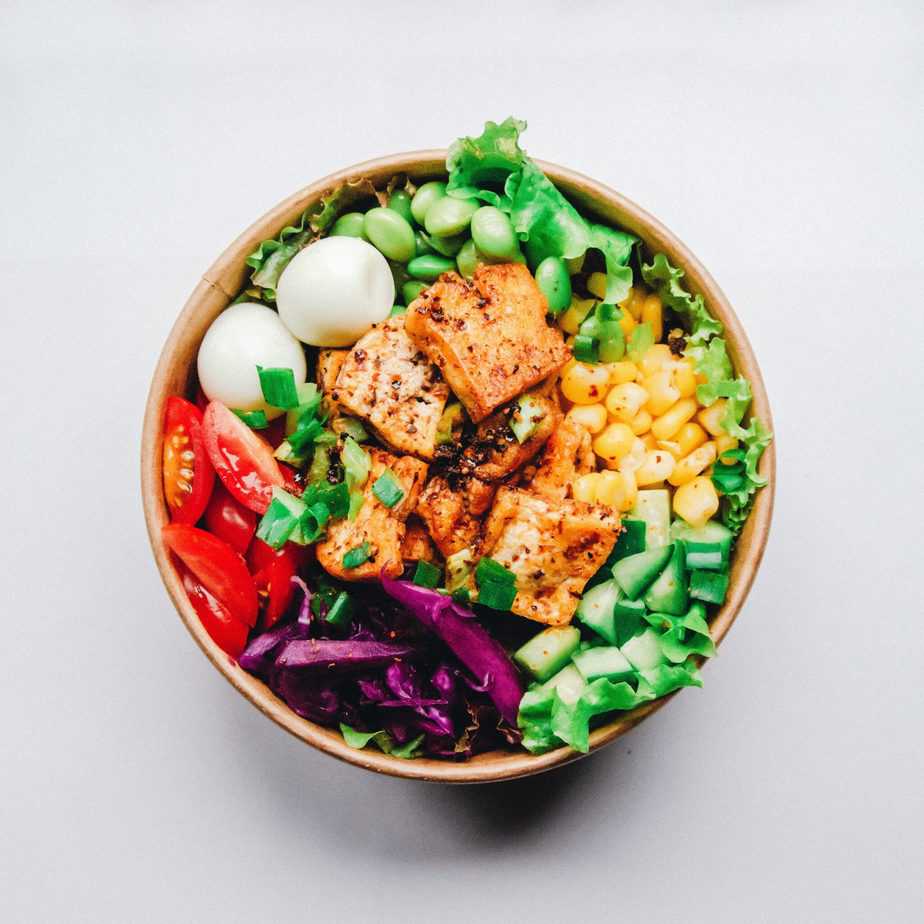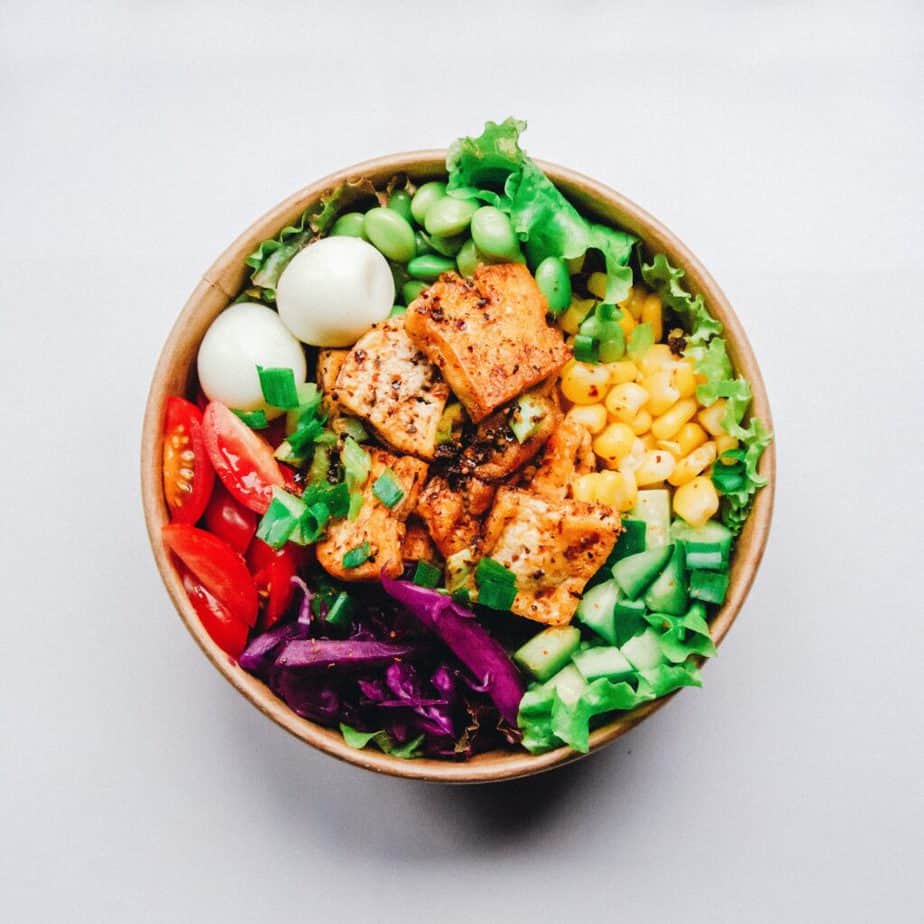 This post may contain affiliate links. You can read the full disclosure here.
1. $5 Meal Plan
Want super cheap meals that are also ridiculously easy to make? The $5 Meal Plan does all the meal prepping for you, from ingredient gathering to recipe creating.
It isn't called the $5 Meal Plan for nothing. Their subscription only costs $5 a month, and every meal on your plan costs $2 per person or less.
Aside from their extremely affordable pricing, they also offer a 14-day free trial, which gives you the chance to see 40 recipes to determine whether or not they're a good match for your family. And last but not least, there's a 100% satisfaction guarantee where they promise a refund if you find that the service isn't a good fit even after paying.
2. Meals delivered home
If you are looking for healthy, prepared meals a service like Nutrisystem might be helpful. They craft out a meal plan for you depending on your weight, height, gender, age, and goals. The meals are then sent directly to your house depending on what you have chosen from their menu. This option is specifically for people who want to drop a few pounds though. Basic meal prep options would be either Freshly or Hello Fresh.
Freshly: These plans allow you to have multiple meals starting at $11.79 per meal. The way it works is you choose a plan size which can be 4, 6, 8, 10, or 12 meals per week. You can then select a convenient delivery day for yourself. Your chef-cooked meals are then shipped directly to your doorstep. If you need to cancel a week or a certain meal, you can do that before the weekly deadline.
To give you a real-life example of what their meals can be, here is what comes up when I go through a payment plan: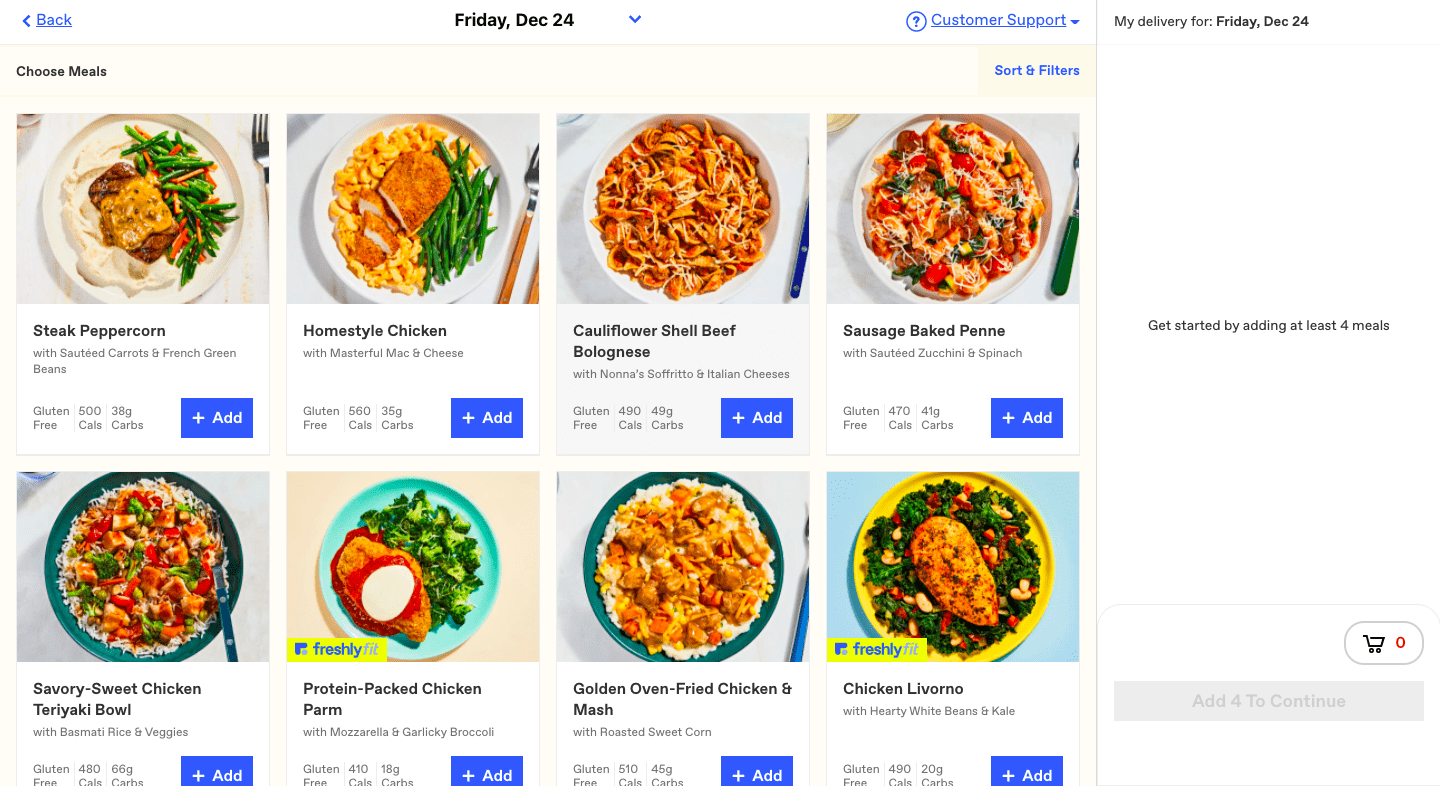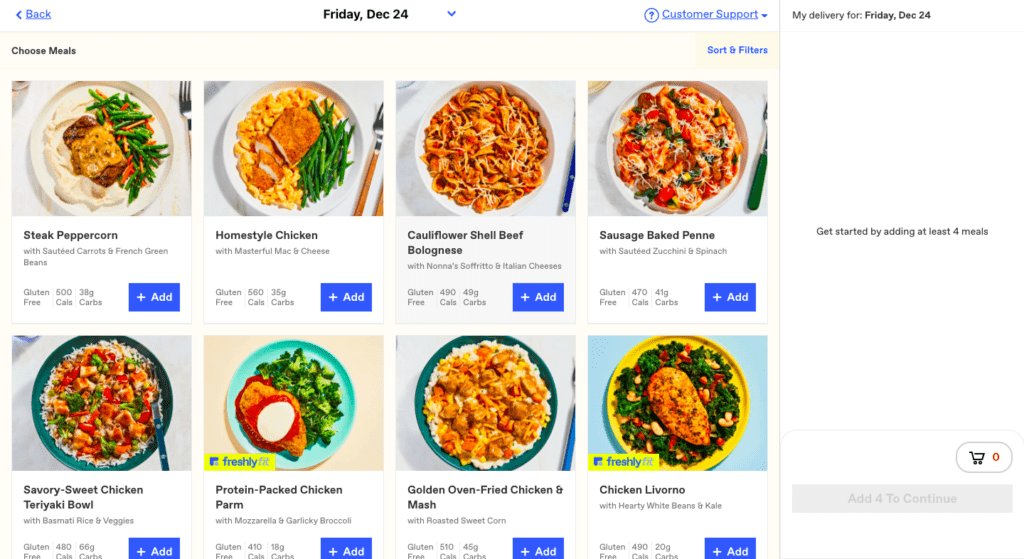 Once you select a few meals (I selected 6), you go forward to the payment page to see your total which for me came to about $11 per meal. The more meals you order, the less it is per meal. Here is what my total looked like: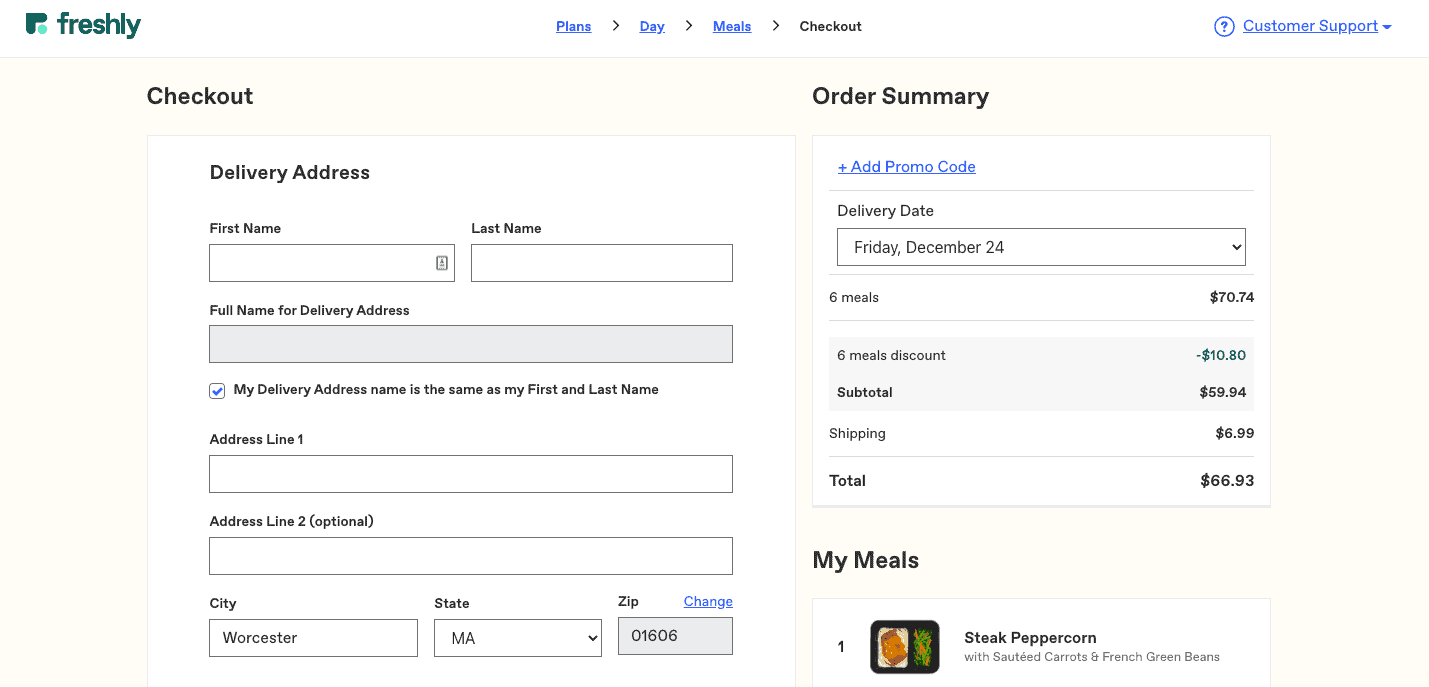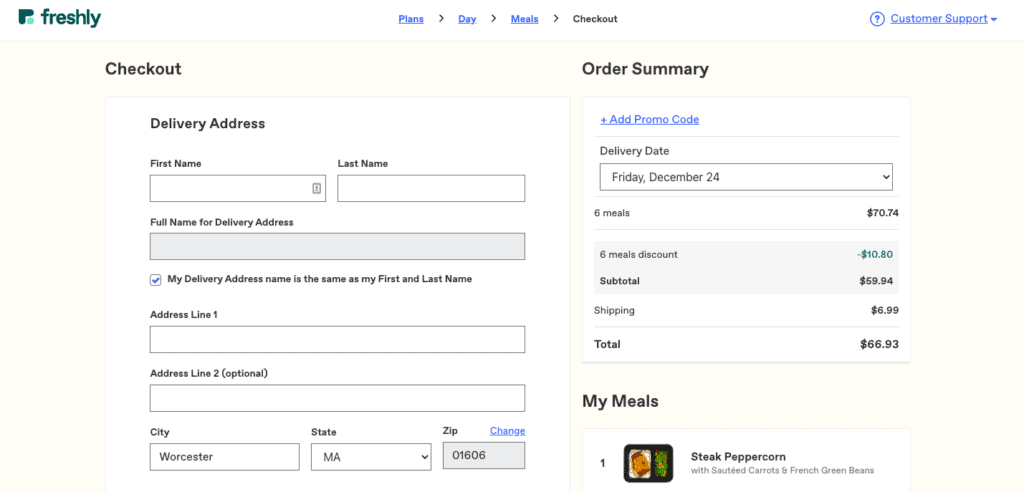 If you want to create these meals yourself but do not want to have to deal with meal planning or buying ingredients, Hello Fresh is a great option. They send boxes with your meal's recipe for the day along with all of the ingredients you will need in the right portions.


If none of these options seem like the right fit for you, let us get to 49 meal ideas you can prepare for yourself:
49 Tasty Dirt Cheap Meals for When You're Broke
With these fast and easy new grocery budgeting methods in your arsenal, let's get to the meat of this article (no pun intended).
Try these dirt cheap meals for large families that won't drain your bank account.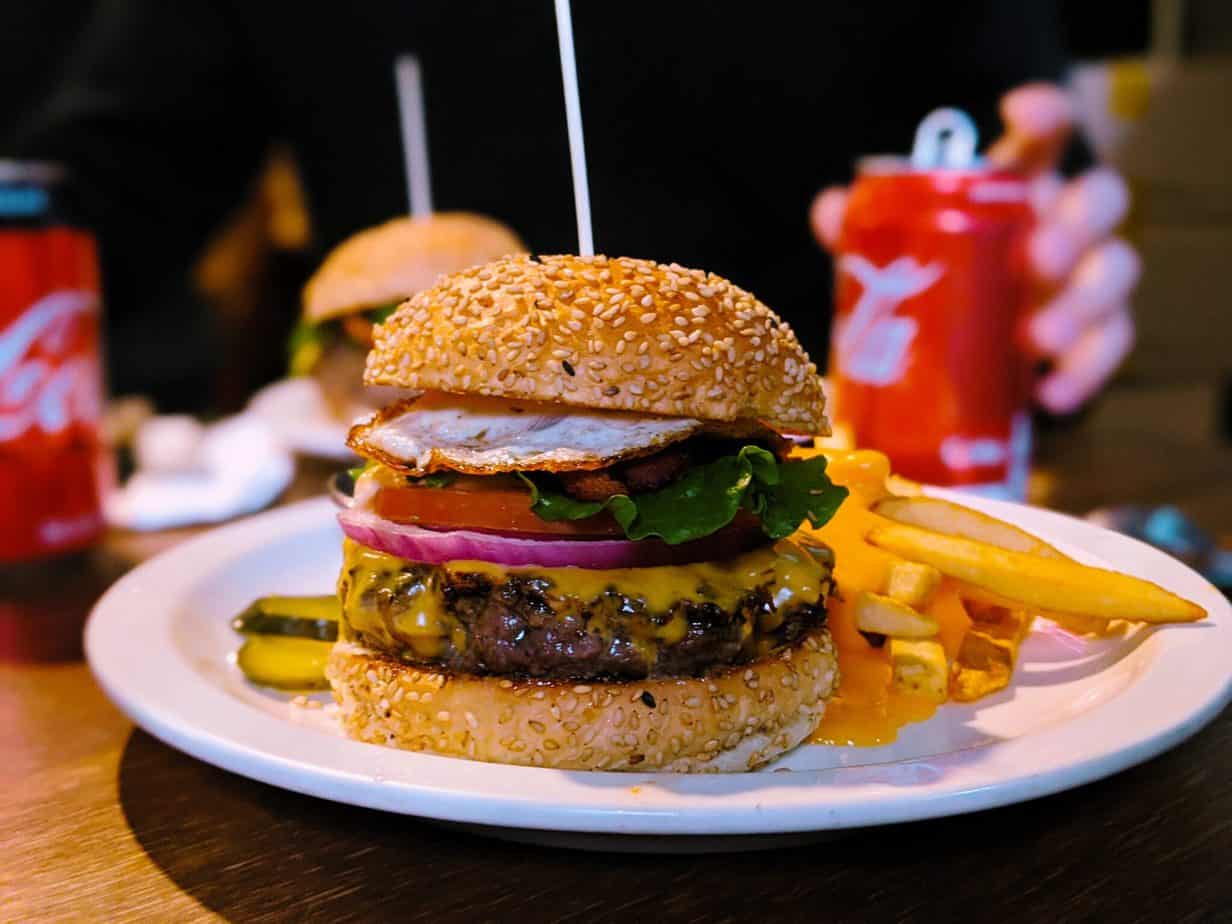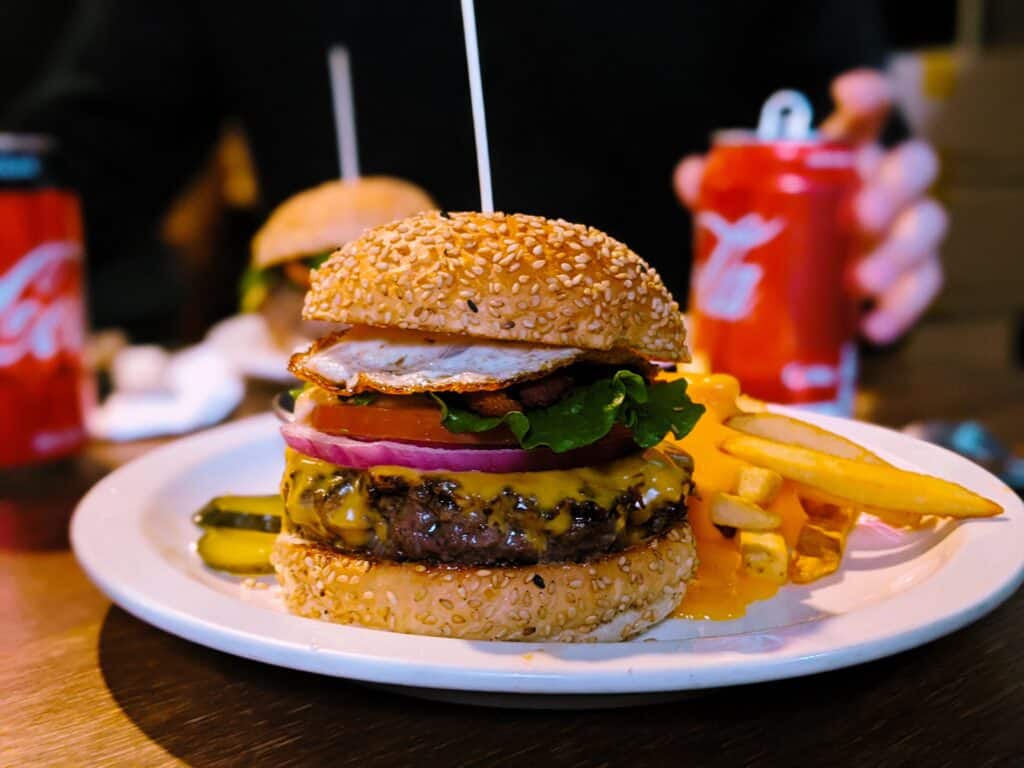 1. Chicken Meals
This might not be a specific recipe, but it's worth the number one spot. Chicken is a popular feature of many large, filling recipes and is widely known as one of the cheapest forms of meat.
If you're looking to save money but also prep healthy meals, chicken is a must-have for your fridge (or freezer). Combine it with veggies, sauces, salads, pasta, or any of the following ideas, and you've got an affordable and protein-packed meal.
2. Pasta
Who doesn't love a little Italian food?
You might spend an arm and a leg for it at Olive Garden, but in the aisles of your local Kroger, Pasta can be found for as little as $1 (of course, this also depends on where you live).
3. Chicken Pot Pie
A classic American cuisine, pot pies are among some of the easiest and cheapest meals to make.
All you need is chicken (usually rotisserie chicken or chicken breast), pie crust, and veggies.
4. Fried Rice
Ever wondered why you might prefer the fried rice from one particular restaurant over others?
Well, it's because fried rice is a highly customizable dish, and you can make it however you want.
You can add chicken or beef to add protein to the meal, veggies to make it more nutritious and filling, eggs to add even more volume and flavor–and the sky is the limit.
Enjoy this cheap dish as a side to the night's entree or as the main course itself.
5. Wraps
Like fried rice, wraps are very easy to personalize and can be filled with the cheapest of ingredients.
To make them the most filling, go for lean meat (like chicken) and tons of veggies.
I eat wraps almost every day, and my favorite combo is fajita chicken meat, lettuce, cabbage, carrot shreds, spinach, and shredded cheese.
6. Ground Beef Stew
Here's something for your next cold winter day: ground beef stew.
All you need to make it is about a pound of ground beef, beef stock, veggies, and water. And of course, whatever seasoning you want.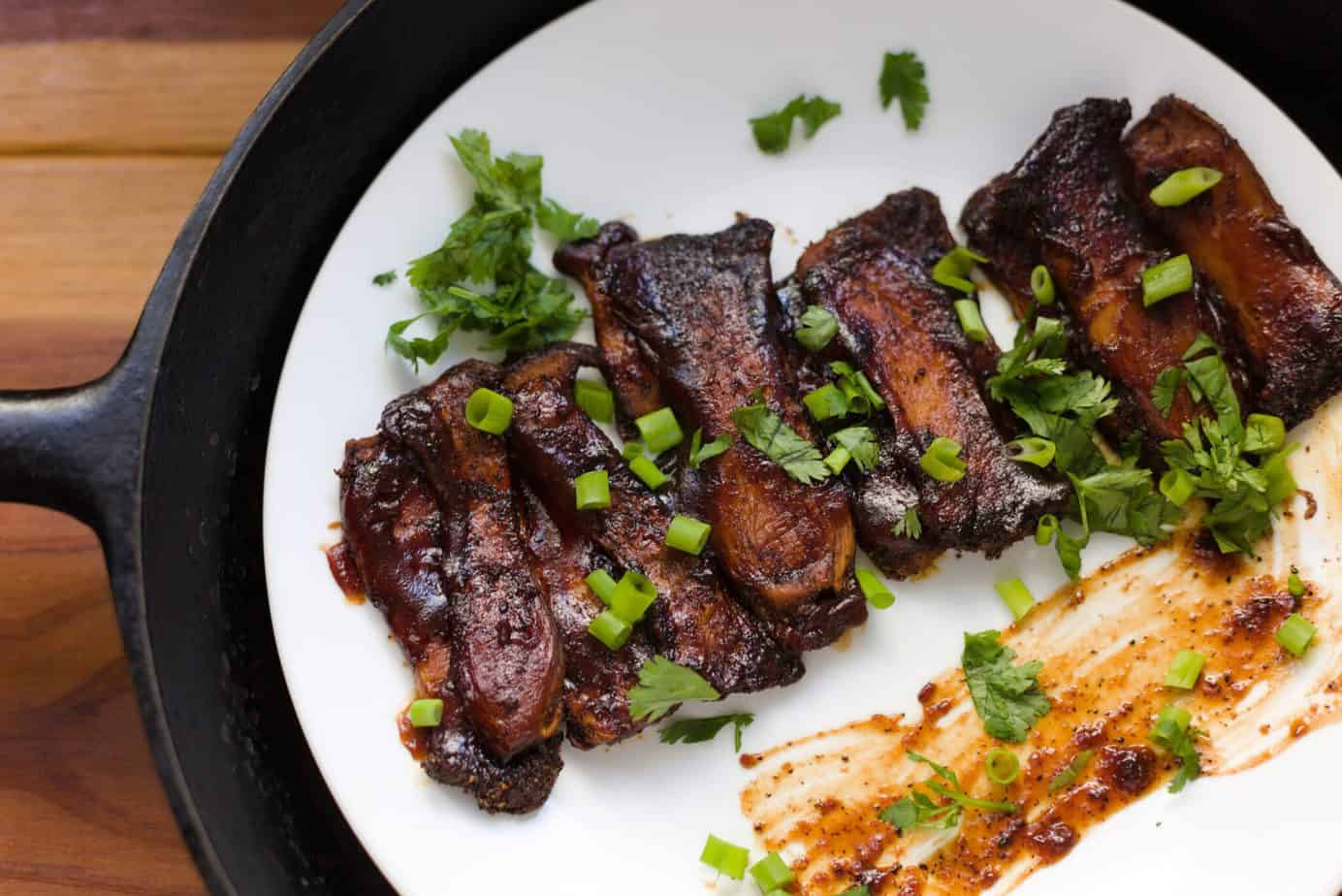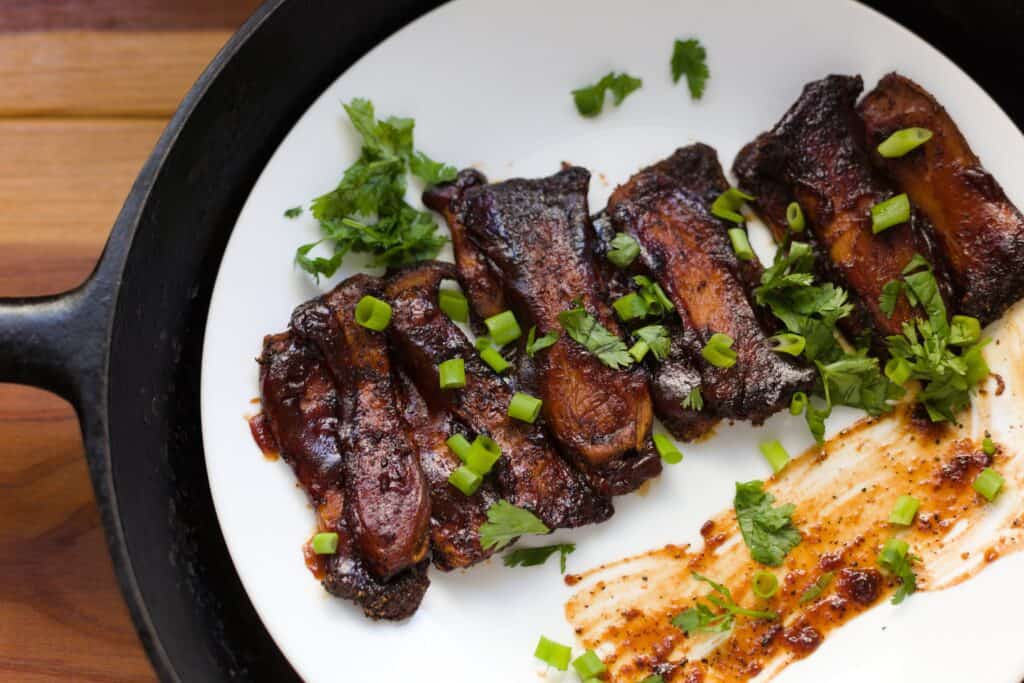 Photo by Sean Stone on Unsplash
7. Ramen
This meal isn't known as the "broke college kid food" for nothing.
You can make homemade ramen on your own, or stock up on pre-packaged instant ramen for quick and convenient meals. The reason you can find ramen so cheap is that it's cheap to produce.
8. Eggs and Bacon
Breakfast or dinner, this two-ingredient meal can be made in large portions for little money.
You can even get creative by turning them into taquitos. Just add the eggs and bacon to a tortilla, add some salsa, and enjoy!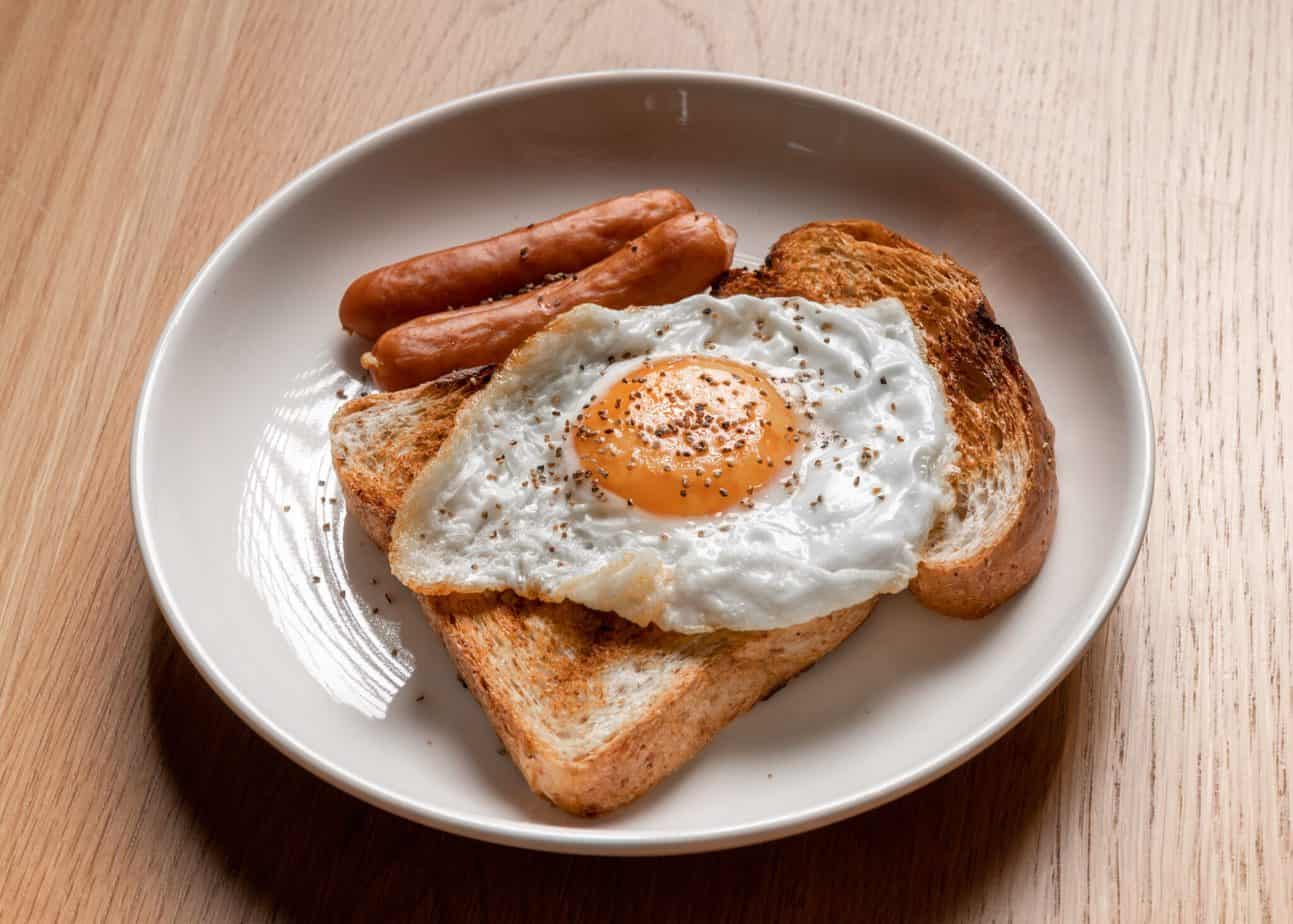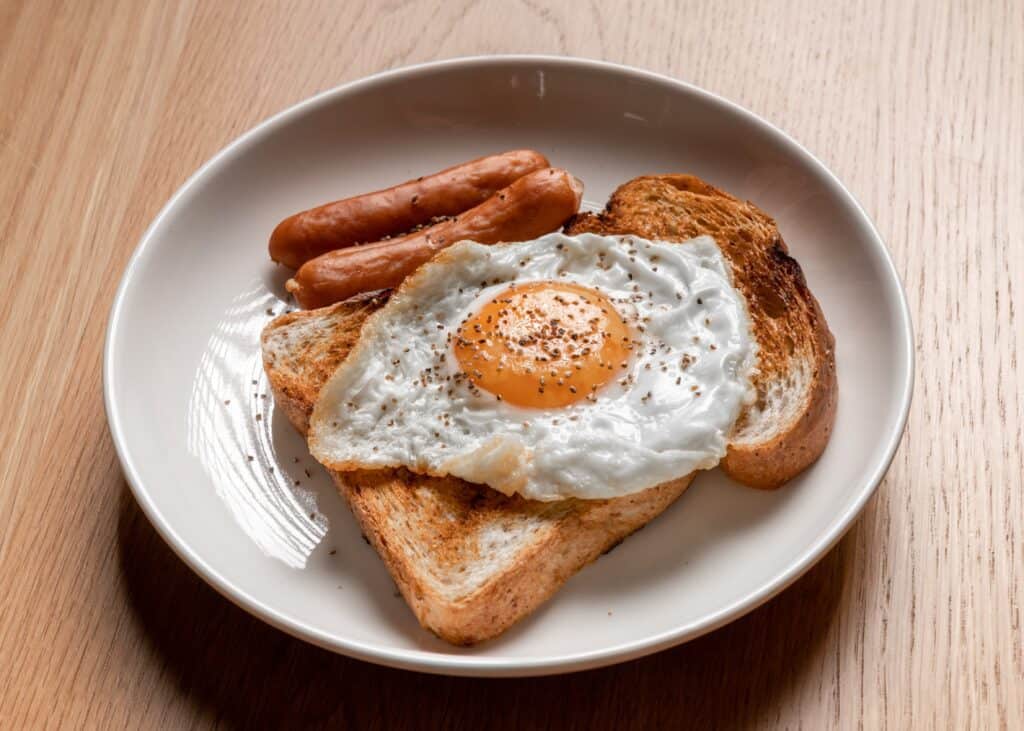 Photo by Tanaphong Toochinda on Unsplash
9. Grilled Cheese Sandwich
Who doesn't love a classic grilled cheese?
With this meal, keeping it simple and easy is a cinch, as the only ingredients you need are bread and cheese. Stock up on these two items and they can last you an entire week for $5 or less.
10. Macaroni and Cheese
Another cheesy favorite, Mac n' Cheese is hands-down one of the most beloved meals of America and also among the cheapest.
You can DIY it using noodles and shredded cheese, or stock up on the pre-packaged brands that'll take you down memory lane.
11. PB&Js
Bread, peanut butter, and the jam of your choice–that's all you need for this simple but scrumptious sandwich. A two-minute fix, PB&Js are perfect for lunches and dinners. But if I'm honest, I also love this budget-friendly meal for breakfast when paired with a glass of chocolate milk.
12. Soup
I think we can all agree that soup warms the heart and soothes the soul no matter the weather outside. It's one of the most frugal meals you can make and offers tons of variety.
Chicken noodle? Vegetable? Southwestern? Egg drop?
Pick the flavor, then it's as simple as adding stock, water, and heat.
13. Poor Man Pizzas
Growing up, my mom used to make what we called "poor man pizzas" because of how easy it was to make and how cheap the ingredients were.
Take out a pan and fill it with slices of bread.
On each slice, add pizza sauce (usually just a spoonful will do), mozzarella cheese, and whatever toppings you like.
Pop them in the oven, broil them on high, and wait for about 5 minutes. Done!
14. Chili
Like soup, chili is classic soul food that's useful for winter but just as delicious any time of year. Make it spicy, make it mild. Add meat, or go vegetarian. Put as little or as many veggies as you want. The sky is the limit, but the ingredients are affordable.
15. Tuna Fish Salad
Tuna is packed with protein, and like chicken breasts, is much cheaper than other forms of meat. You can buy a pack of 16 cans for around $7.
Tuna on its own is a taste not many people can acquire, but when made into tuna fish salad, quickly becomes a family favorite.
My favorite tuna fish salad recipe involves a can of tuna, two tablespoons of mayonnaise, and two tablespoons of relish, seasoned with garlic powder and onion powder to your liking.
And if you're feeling fancy, add a few apple slices for a fresher, fruitier taste.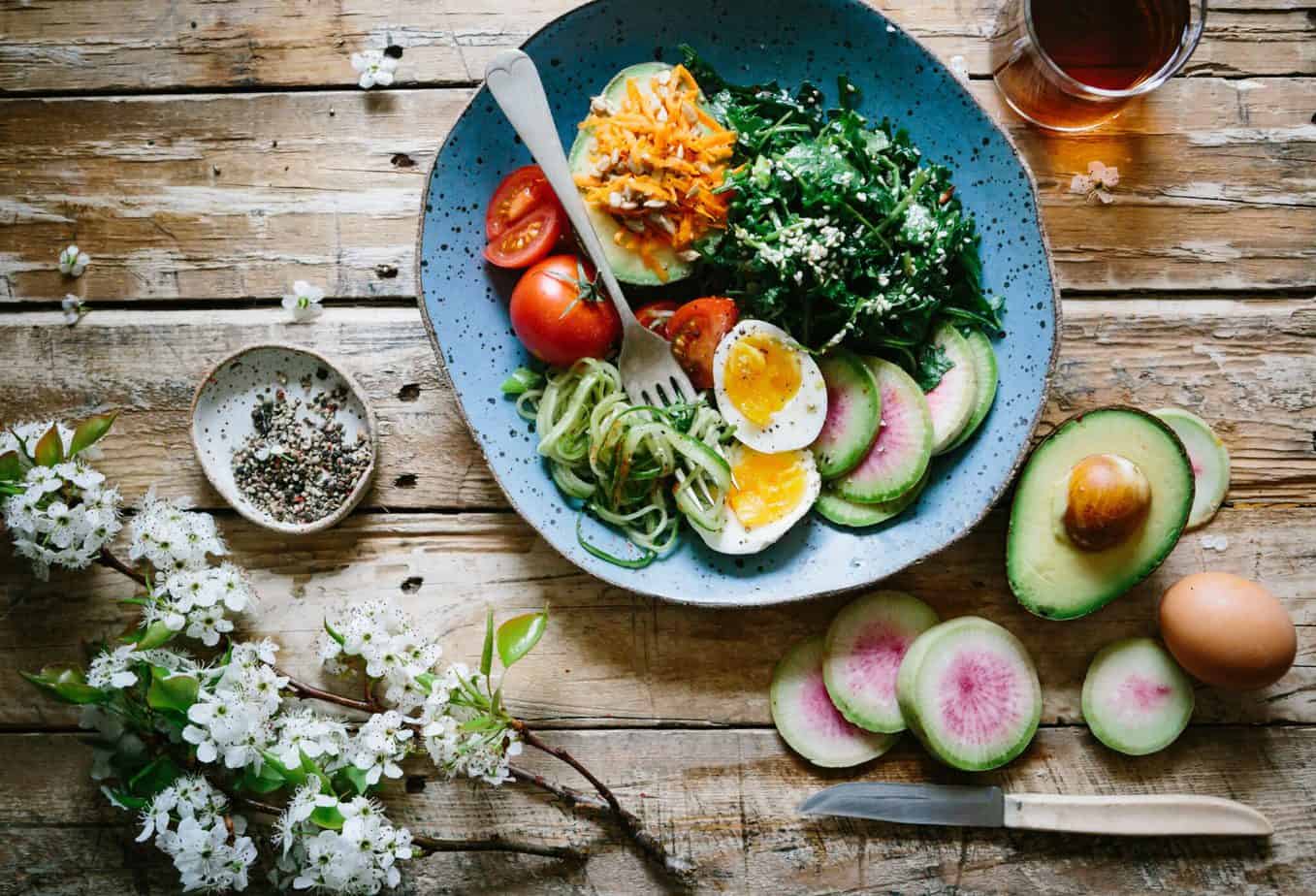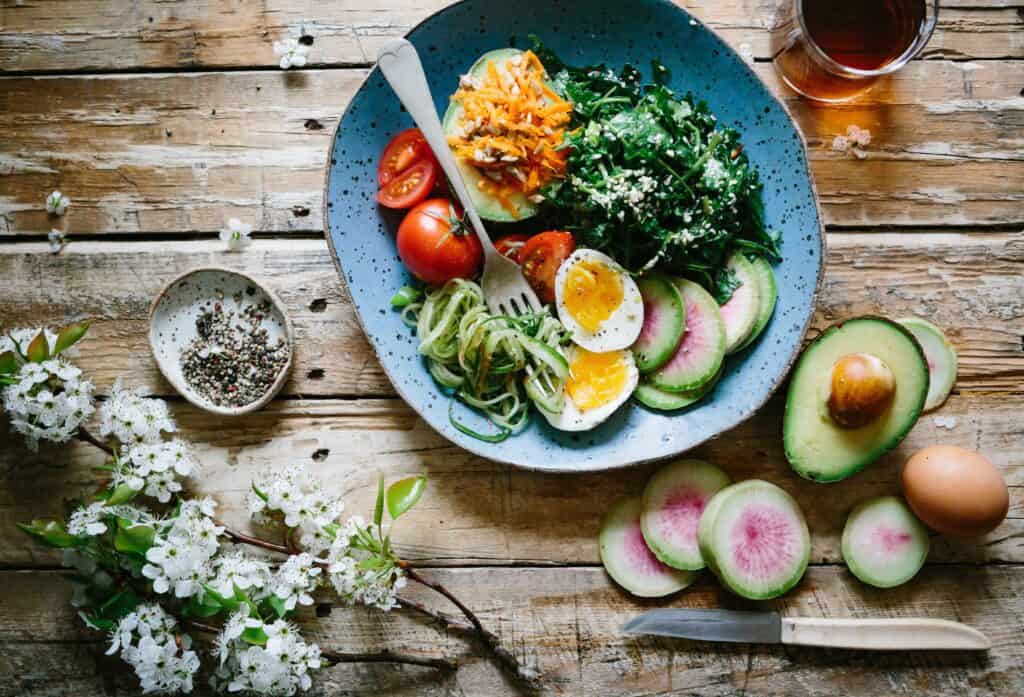 16. Oatmeal
If you're a dirt-cheap meals fanatic, then the only ingredients you need for this classic breakfast meal are the oatmeal itself and water.
But to spice it up a bit, you can also add milk (or milk substitute like almond milk), berries and fruit, sugar or sweetener, syrups, jams, protein powder, and the like.
Did you know you can order groceries from Amazon? You can stock up on your favorite items by buying them in bulk, like this 48-count of Oatmeal.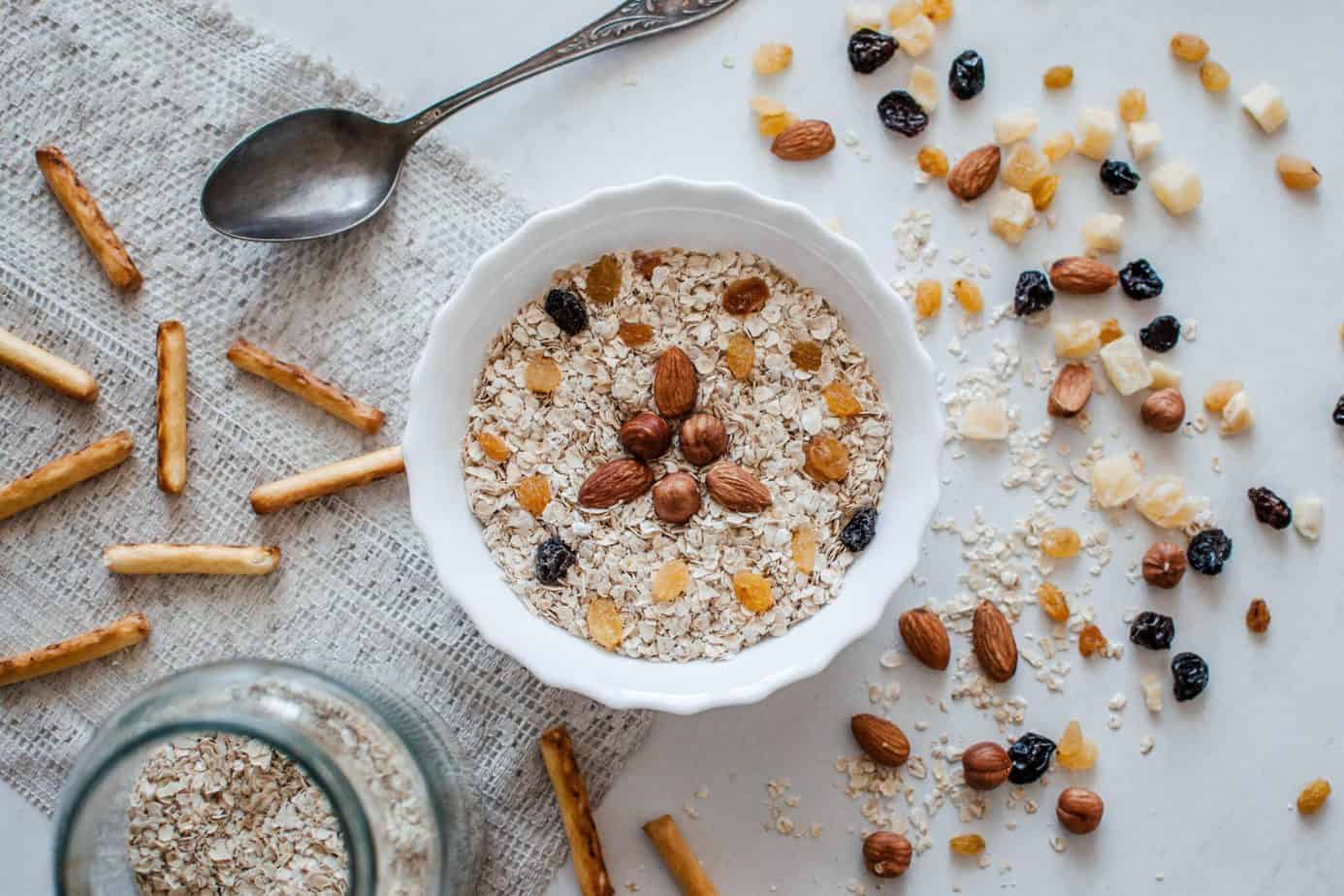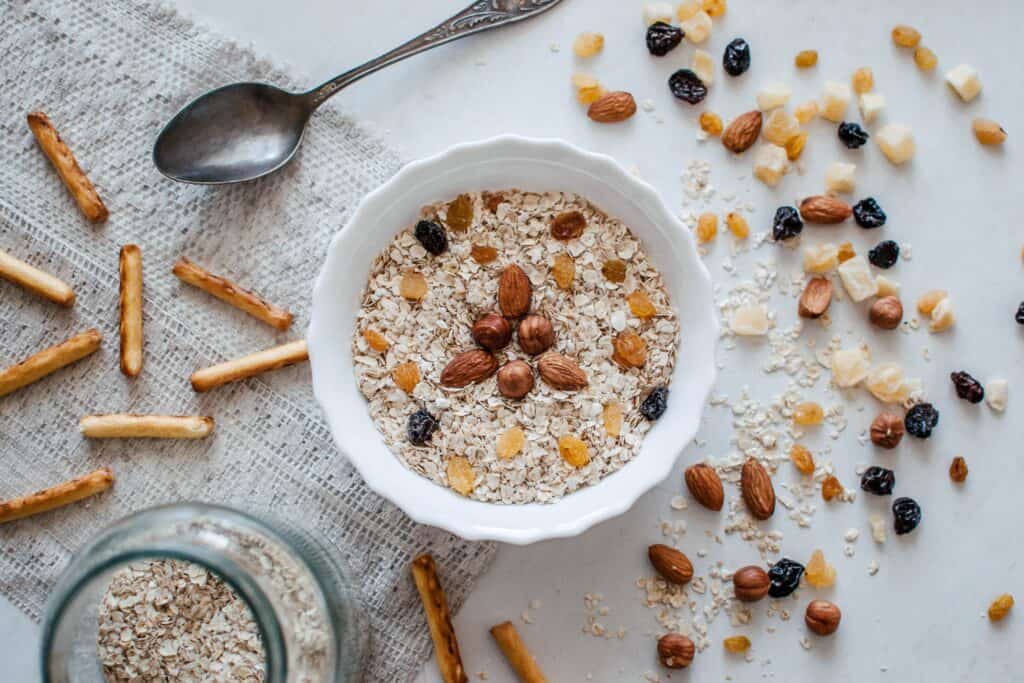 17. Broccoli Rice Casserole
A Southern favorite, broccoli rice casserole makes the perfect Thanksgiving dish and dirt cheap dinner. All you need is broccoli, instant rice, condensed cream of mushroom soup, and a jar of cheese wiz.
18. Burritos and Enchiladas
Whether you buy the ingredients separately or a box of them pre-made, burritos and enchiladas are very affordable.
For a homemade Mexican meal, all you need are tortillas, meat, cheese, and veggies. If you're feeling a breakfast burrito, add scrambled eggs to the list.
19. Pancakes and Waffles
Pancakes vs. waffles is a popular debate that's lasted a long time, but the ingredients are the same.
You can buy enormous bottles of pancake mix at your local supermarket for an affordable price, where the only thing left to do is add water.
Or, gather these cheap ingredients on your own to make them from scratch: eggs, flour, milk, baking powder, and sugar.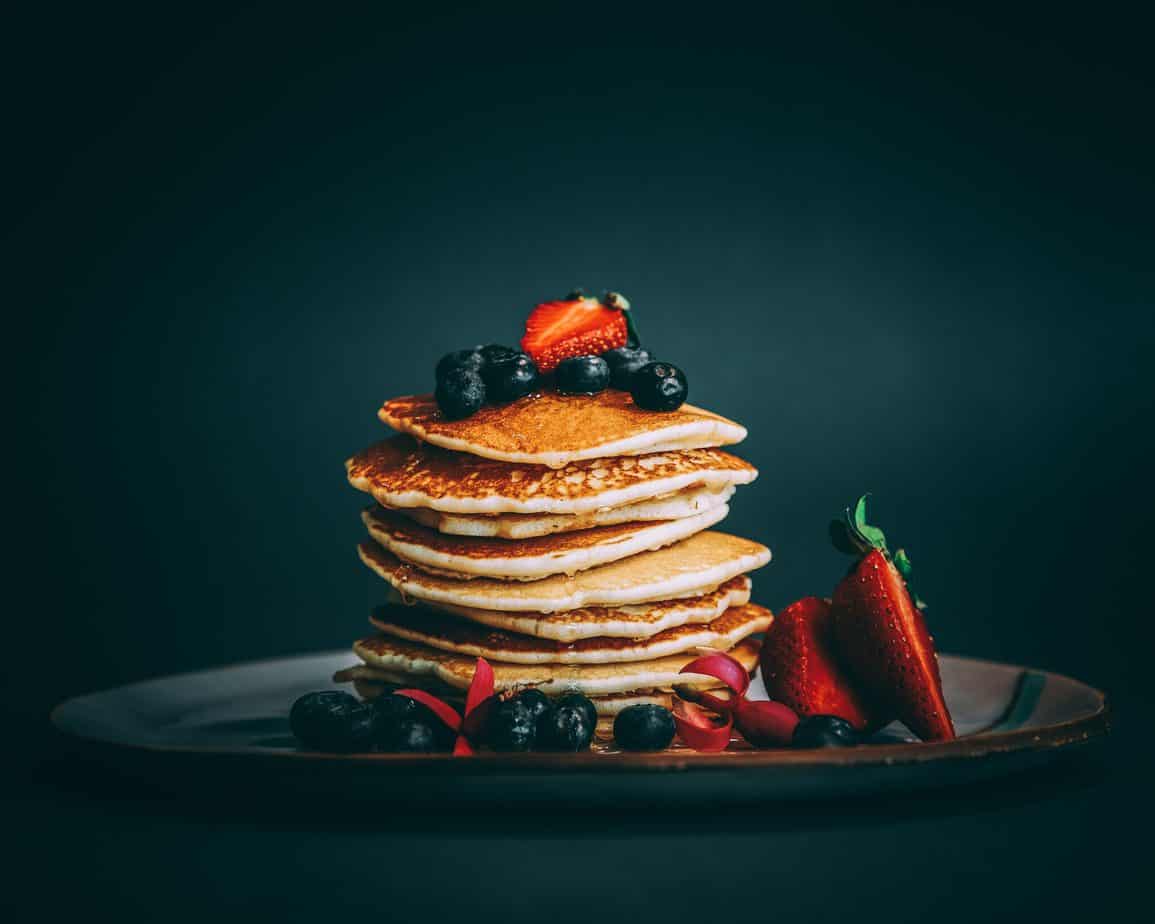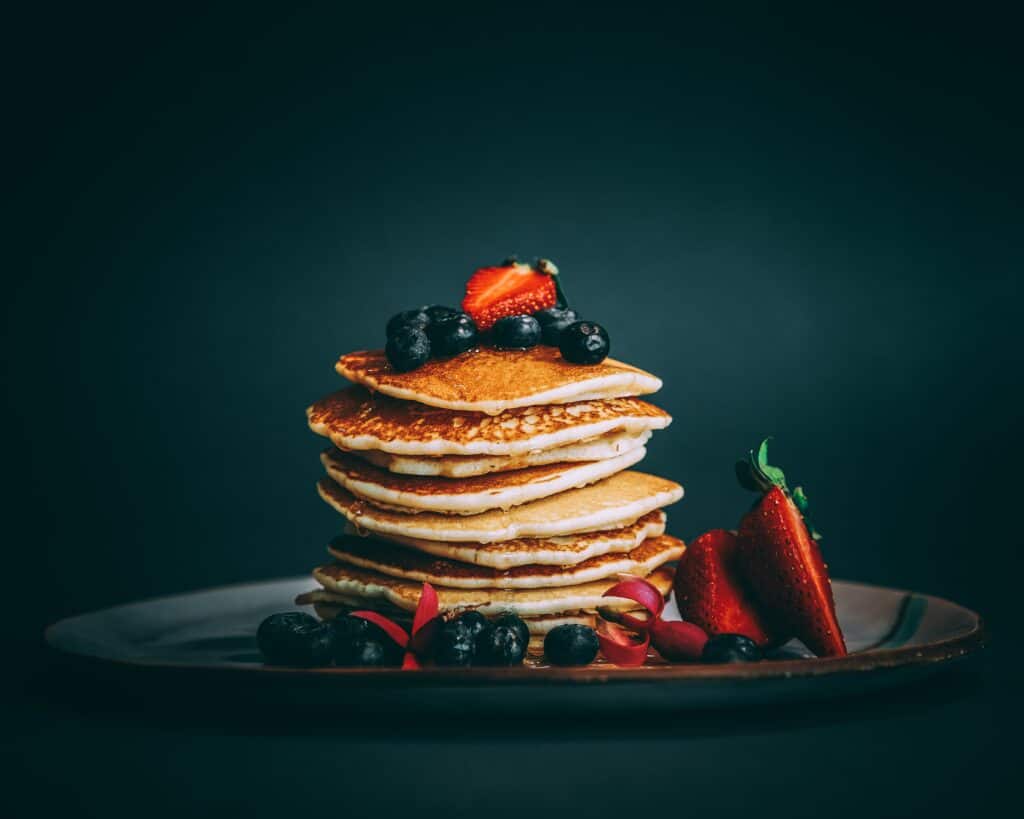 Photo by Sam Moqadam on Unsplash
20. Popcorn
Popcorn is a popular snack known for pairing incredibly well with our favorite movies and TV shows.
But did you know that popcorn is so filling that it can be a meal?
Just think about the last time you finished an entire bowl of popcorn at the movie theater–probably never!
You can pop several bags of regular buttered popcorn, but if you're looking for a healthier version but with just as big a serving size, go for a lower calorie option like Orville Redenbacher's Smart Pop popcorn. Or, simply throw a few tablespoons of kernels into an air popper.
21. Smoothies
A blender is a passport to smoothie heaven.
The base of any smoothie is ice and liquid, like water, milk or a milk substitute, or juice. Then, you can work your magic with low-price delicious ingredients like frozen berries, bananas, peanut butter, cocoa powder, vanilla extract, sweetener, and anything you want to add. I love any smoothie with a tropical flavor–think mangos, pineapples, and coconut.
The best thing about smoothies is you can usually buy the ingredients in bulk, like 3-pound bags of your favorite frozen fruits.
22. Stir Fry
You can turn this classic Chinese dish into a dirt-cheap meal with ease. All you need is veggies and your choice of sauce, but if the budget allows, you can also throw in some protein and/or rice.
23. Quesadillas
Another Mexican staple that's easy and affordable to make is quesadillas.
Fill a tortilla with cheese and if you want, add a protein like chicken or beef. Fold it, then toast it on the frying pan.
If you want to feel like you're fine dining at your favorite Mexican restaurant, side it with a scoop of guacamole, pico de gallo, veggies, and/or $1 tortilla chips from the dollar store.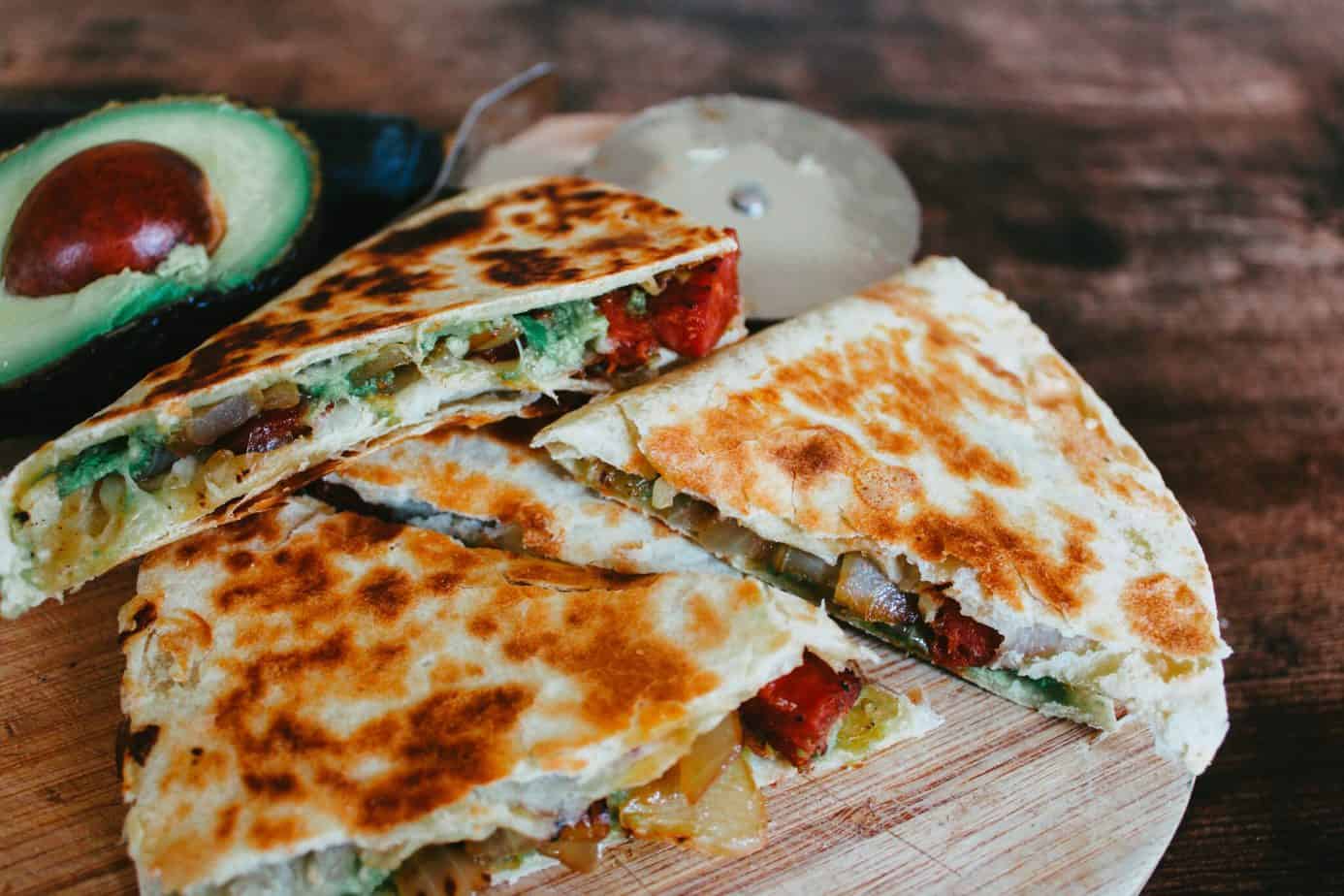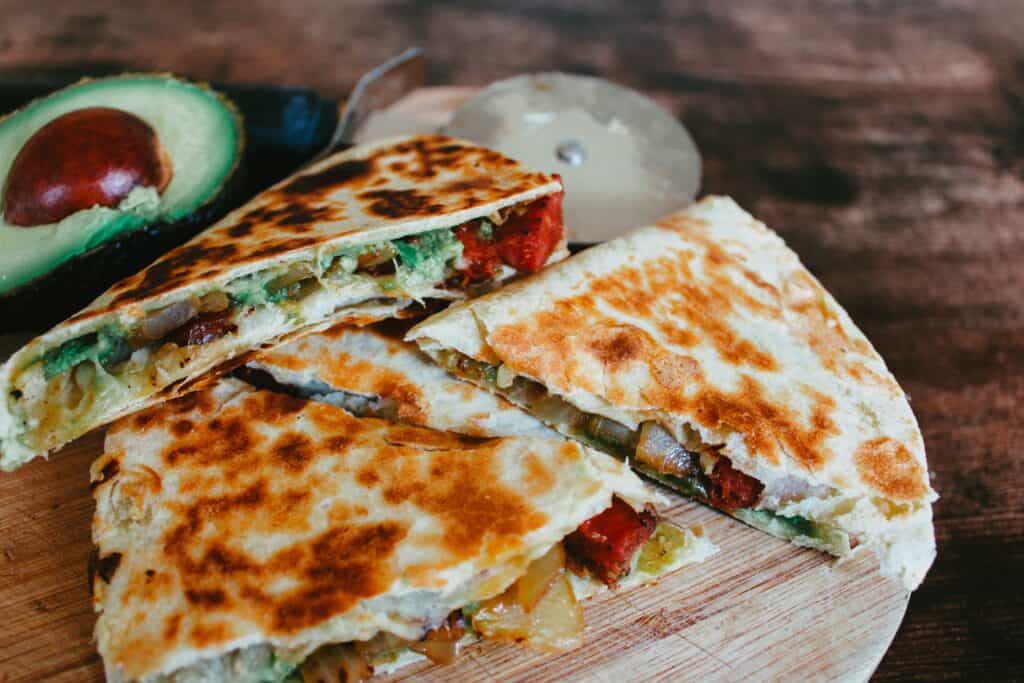 Photo by Lottie Griffiths on Unsplash
24. Chicken, Broccoli, and Rice
This simple and affordable meal is a staple in many bodybuilders' diets, mainly for its high protein content.
But just because it's easy and healthy doesn't mean it has to taste bland.
Season up the chicken and veggies and sprinkle a dash of cheese on top.
25. Tacos
Budgeting for dirt cheap meal ideas doesn't mean you have to sacrifice Taco Tuesday! It might just be the cheapest day of the week.
Pick up a bag of taco shells at your local grocery store for the same price as tortilla chips (or if you prefer soft tacos, opt for flour or corn tortillas). The toppings are cheap as well–taco meat, veggies, and a jar of salsa.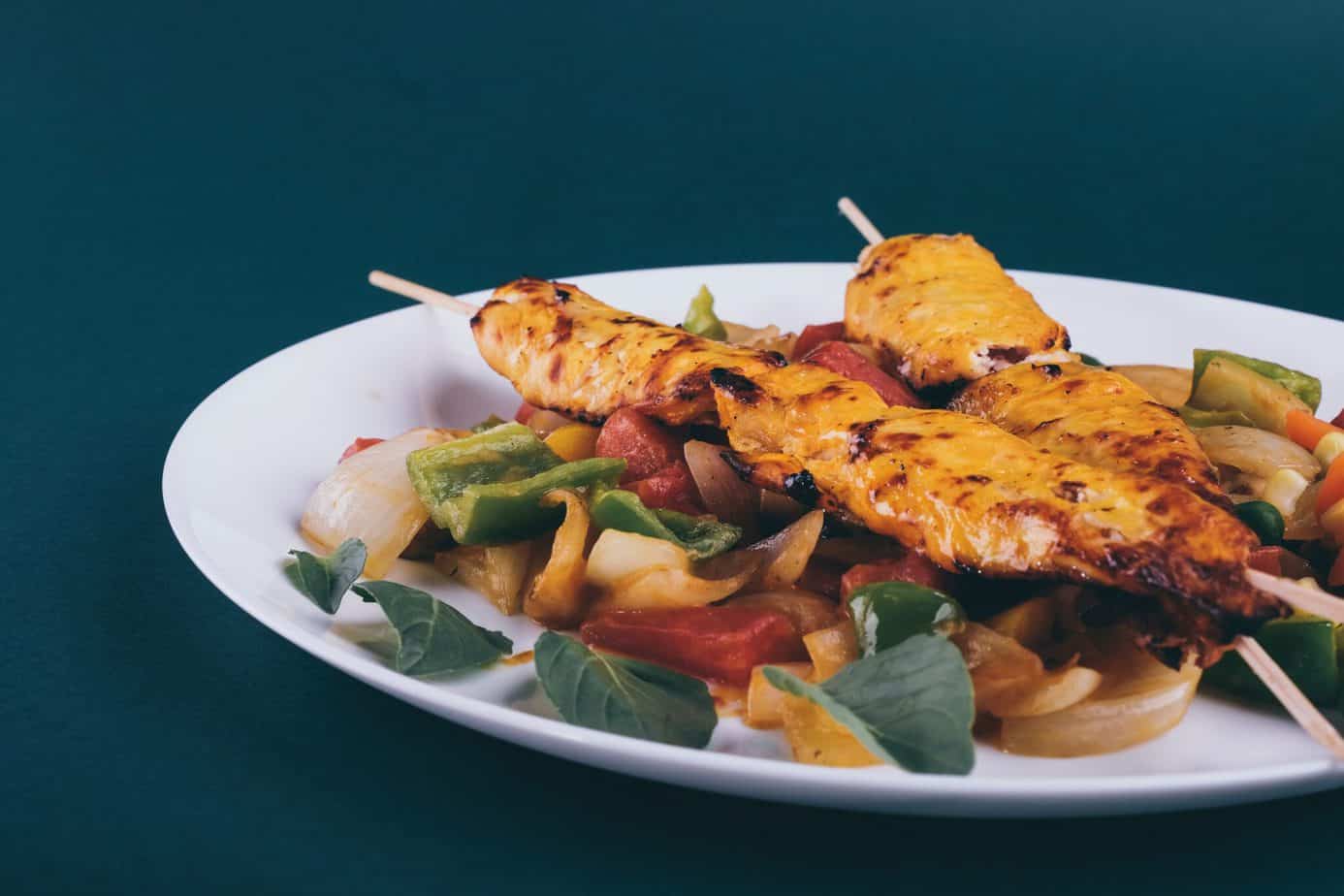 Photo by Sam Moqadam on Unsplash
26. Tater Tot Casserole
Tator tots, cheese, hamburger meat, condensed cream of mushroom soup–that's all you need to make this well-loved, budget-friendly dish.
Casseroles make perfect dirt cheap meals not just because they're easy to make and are easy to adjust to taste, but also because they make batches large enough to last you the whole week!
27. Chickpea Salad
Chickpeas (also known as garbanzo beans) are a popular plant-based protein source, and it takes as little as 10 minutes to turn them into a savory Mediterranean-style salad (for cheap!).
Load up your lettuce with chickpeas, fresh cucumbers, sliced tomatoes, feta cheese, and avocado (or whatever you like).
28. Toast and Jam
Pair this two-minute meal with another entree or enjoy it on its own.
There's a variety of amazing toast recipes you can try, but there's also nothing wrong with keeping it classic.
Pop a few pieces of bread into the toaster, then lather it with your favorite flavored jam and/or butter.
29. Cream Cheese Bagels
Here we have another traditional breakfast meal. Like bread, you can get bagels for cheap at any grocery store.
Eat them toasted or fresh with a thick layer of cream cheese, and you have a filling, satisfying meal or snack.
30. Egg Salad
Like tuna fish salad, egg salad can be enjoyed in limitless ways.
Turn it into a sandwich, eat it straight out of the bowl, put it on rice cakes.
Plus, the recipe is as easy as can be: boil your eggs, chop them up, then add in some mayonnaise or mustard, celery, and onion.
31. Chicken Fajitas
Tired of eating plain chicken breasts?
Spice it up by turning them into fajitas!
Season the strips of chicken to your heart's desire, then add in some bell peppers and onions. Wrap it all up in a tortilla with a dash of cheese, and you have a mouthwatering Mexican meal.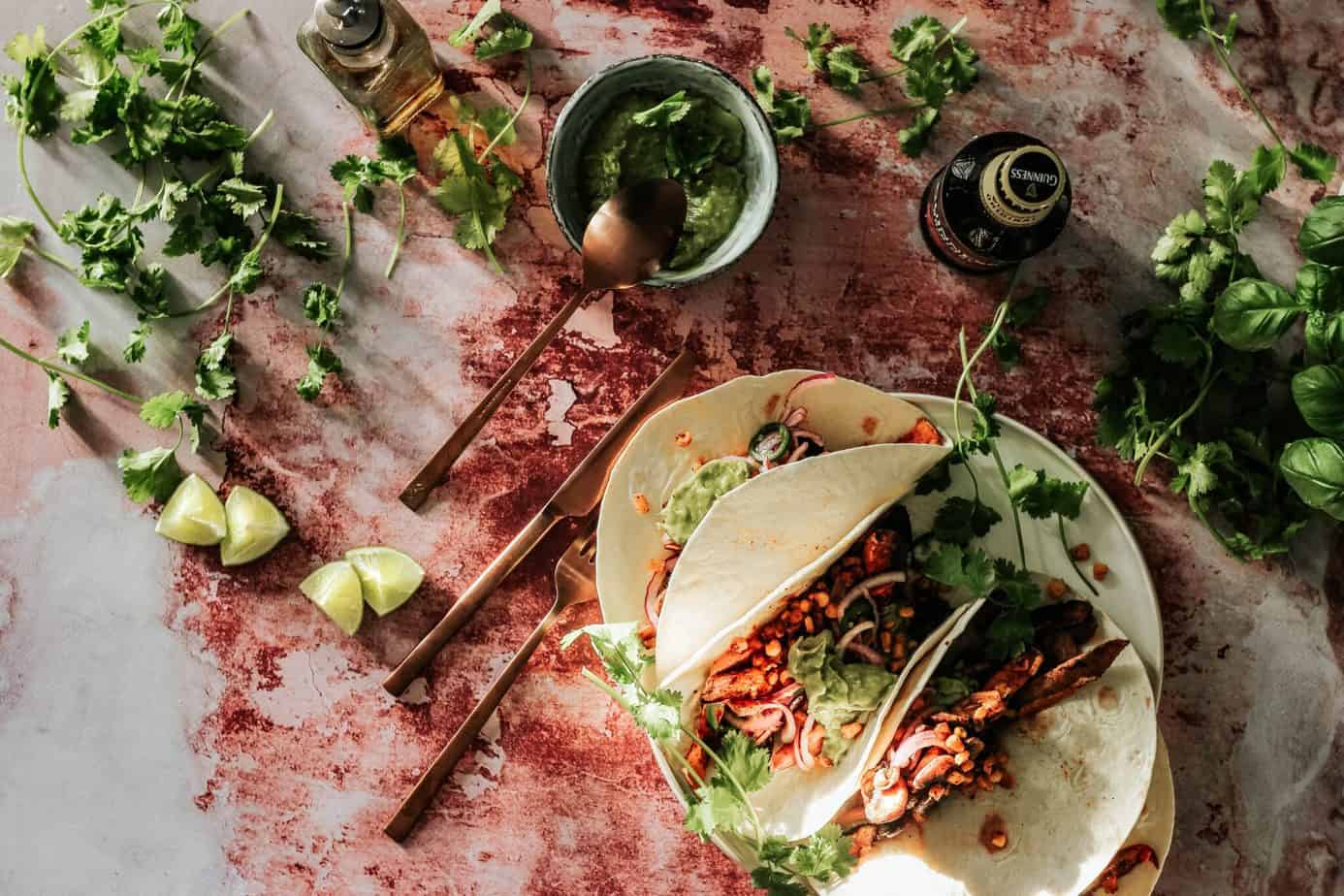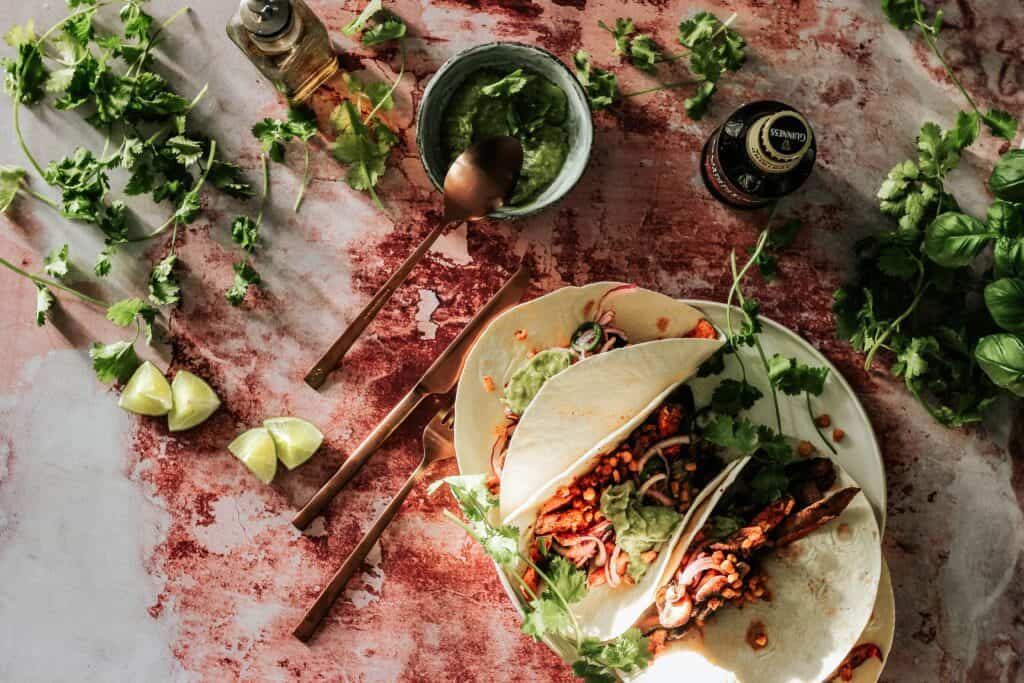 32. Pasta Salad
It seems you can always find this dish at barbecues and grill-outs, but it's also easy and cheap to make at home.
To make it from scratch, all you need are these affordable ingredients: pasta noodles (usually rotini), mayonnaise or vinegar oil, and fresh veggies like tomato and cucumber.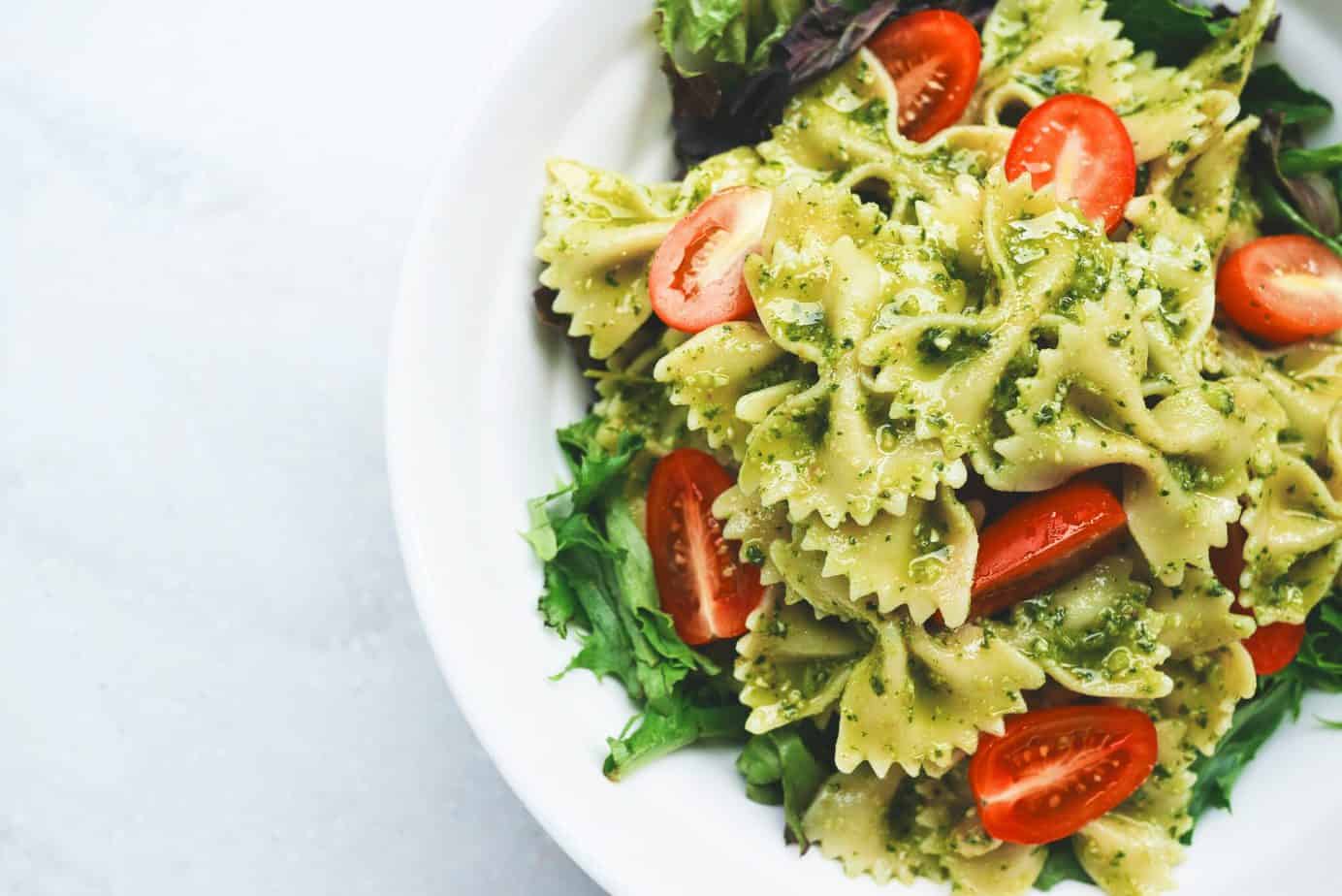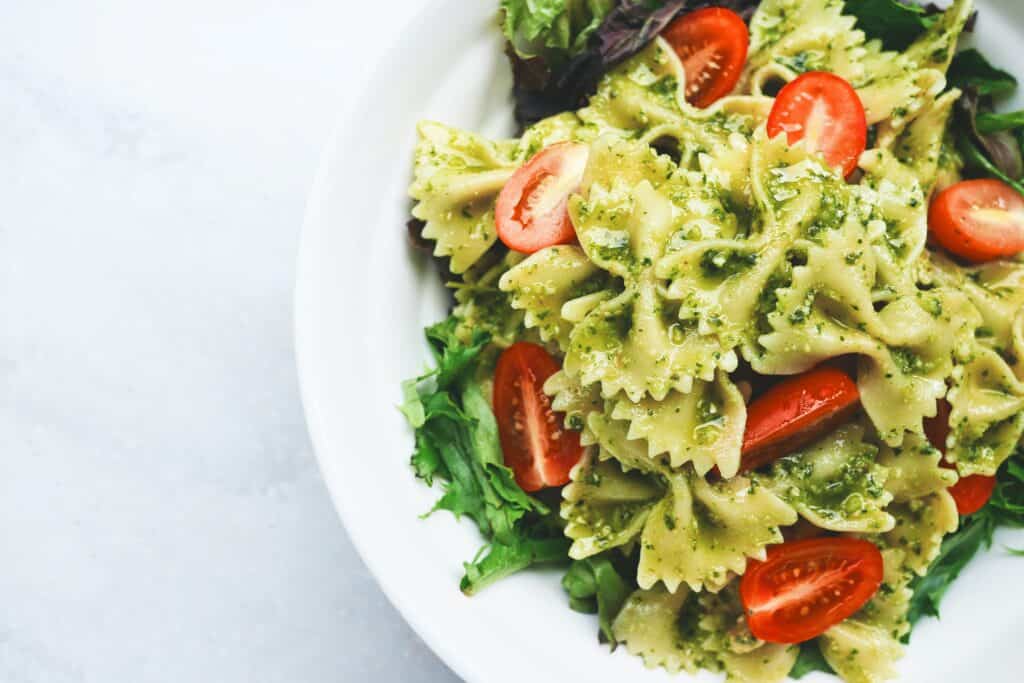 33. Rice and Beans
It might not make you salivate, but rice and beans are two dirt-cheap ingredients you can stock up on and can make the perfect side dishes.
You can fry rice or steam it, refry the beans or bake them–think outside the box!
Plus, what's a cheap Mexican meal like chicken fajitas without a side of rice and beans?
34. Chicken Tacos
One of my personal favorites, this recipe only calls for three ingredients: shredded chicken breast, a jar of salsa, and a block of cream cheese.
Throw it in the crockpot for a few hours and you've got thick, creamy chicken tacos that taste heavenly on a flour tortilla.
35. Cucumber Salad
Like chickpea salad, cucumber salad is a refreshing Mediterranean meal that can be made on the strictest of budgets.
The ingredients are few and simple: cucumber, diced tomatoes, extra virgin olive oil, and/or lemon juice (for the dressing).
36. Sloppy Joe Sandwiches
You can make sloppy joe from scratch or buy it pre-made in a can. If you're using your ingredients, you'll need ground beef, onions, ketchup, and ​​Worcestershire sauce.
37. Biscuits and Gravy
Nothing beats warm biscuits and thick gravy on a Saturday morning.
Luckily, you can enjoy this scrumptious Southern breakfast for super cheap.
Just buy a package of premade biscuits, throw them in the oven, and warm a pot of gravy to pour on top.
38. Dirty Rice
Next up we have a Cajun classic made of ground pork or sausage, white rice, beef broth, and Cajun seasoning.
Feel free to throw in a few veggies if you like, too–diced celery, bell pepper, and onion make for flavorful additions.
39. Baked Potato
Who doesn't love a thick, creamy baked potato?
Load it up with your favorite toppings like cheese, bacon, and veggies, or just eat it plain with butter. Potatoes are cheap foods, and the toppings you'd normally add can go with almost any meal.
40. Peanut Butter Banana Toast
One of my favorite toast recipes is peanut butter banana.
It's simple, and just as it sounds: toast your bread, then slather on a layer of creamy or crunchy peanut butter. Slice up a banana, then line the peanut buttered bread until you run out!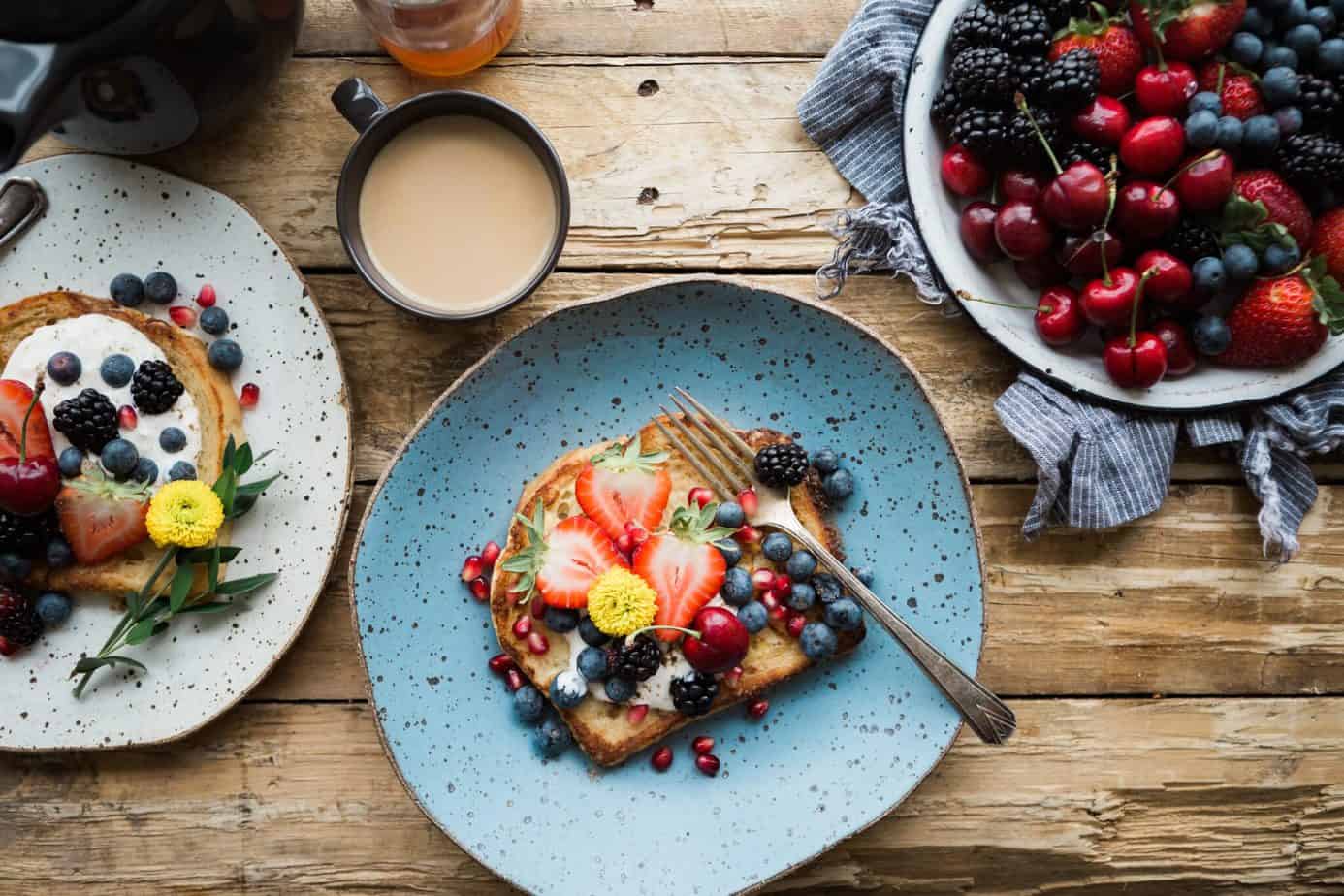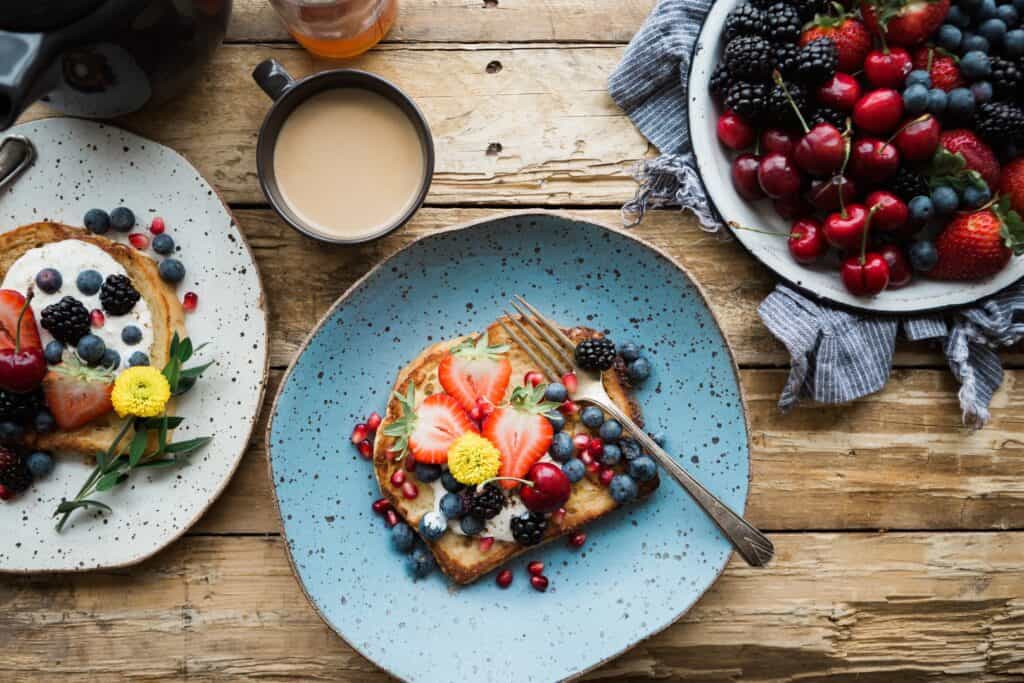 Photo by Brooke Lark on Unsplash
41. Beer Weenies
This dish is a Christmas tradition in my family.
It calls for a package or two of weenies (or little smokies, whatever you want to call them), about 12 ounces of BBQ sauce, and brown sugar.
Throw it all into a pot on the stove and let it soak as you stir. Then, enjoy this dirt cheap barbecue meal after just a few minutes of prep!
42. Shepherd's Pie
This meat dish is reminiscent of casseroles and with a large batch, your family will be eating on it for a week or more.
Recipes usually call for potatoes, vegetables (like onion and carrots), ground beef, cheese, and beef broth.
43. Chicken and Dumplings
This meal hits the spot when you're feeling under the weather, but also when your wallet has been worn out.
You can find several easy-to-follow recipes online, most of which require just chicken, chicken soup, flour, butter, and biscuit dough.
44. Breakfast Casserole
"Breakfast" might be in the name, but you can enjoy this meal at any time of day.
There are just three main ingredients: eggs, sausage, and cheese. But of course, feel free to add any veggies, bacon, or other breakfast foods you like.
45. Muffins
Muffins only take 15-20 minutes to make and the mixture can be bought for cheap at any grocery store. Usually, they only require water and/or milk.
46. Banana Bread
Have bananas leftover from the peanut butter banana toast you've been making? Don't let them go to waste!
Banana bread is a filling meal that can also satisfy a sweet tooth with its cake-like texture. Make up a batch and munch on it for breakfast and snacks!
47. Meat Sliders
Sliders are perfect for budgets because they're all about using ingredients you already have.
Take a biscuit, hamburger bun, hotdog bun, or the like, and stuff it with your favorite lunch meats, cheese, and dressing.
48. Buddha Bowls
These veggie-filled meals have become popular in recent years for being rich in nutritional value.
A vegetarian meal, Buddha Bowls feature small portions of many different cold foods like chickpeas, quinoa or rice, tofu, legumes, and fresh vegetables.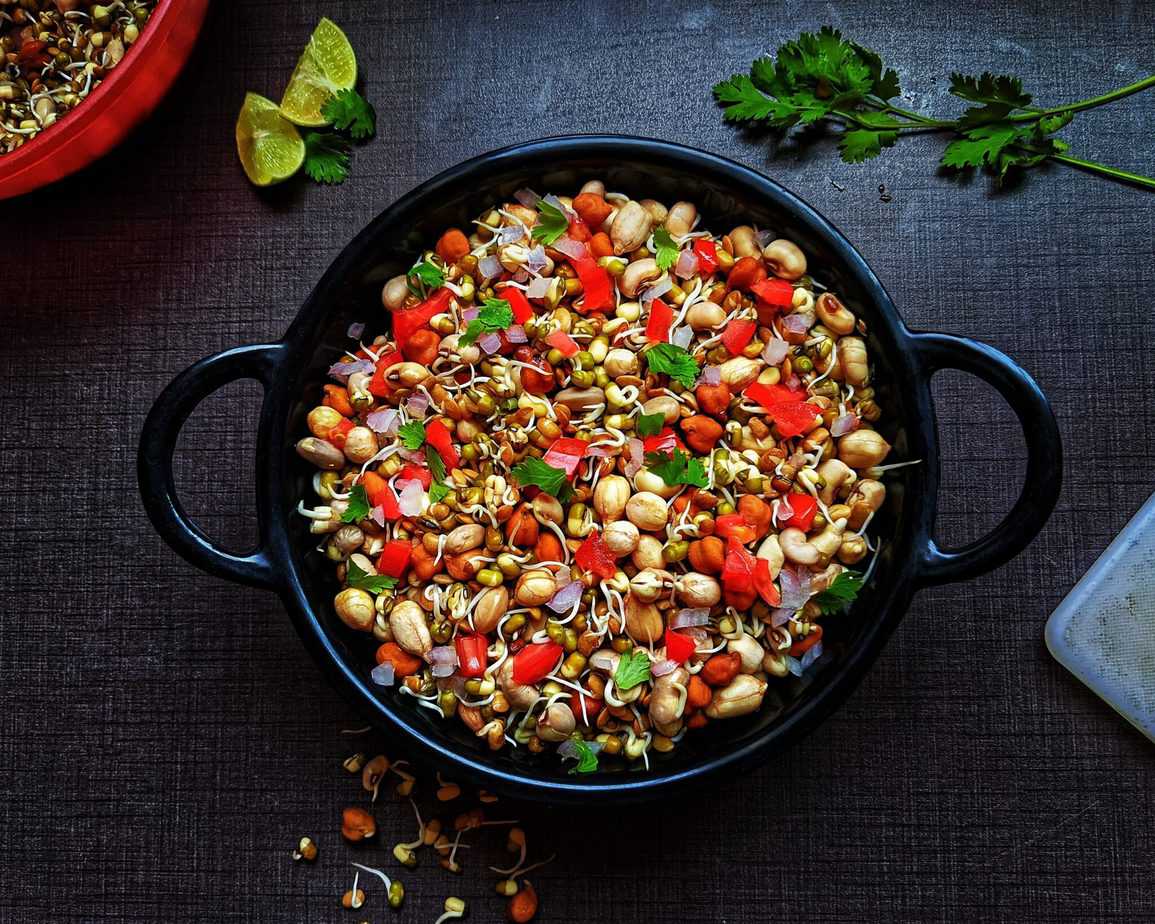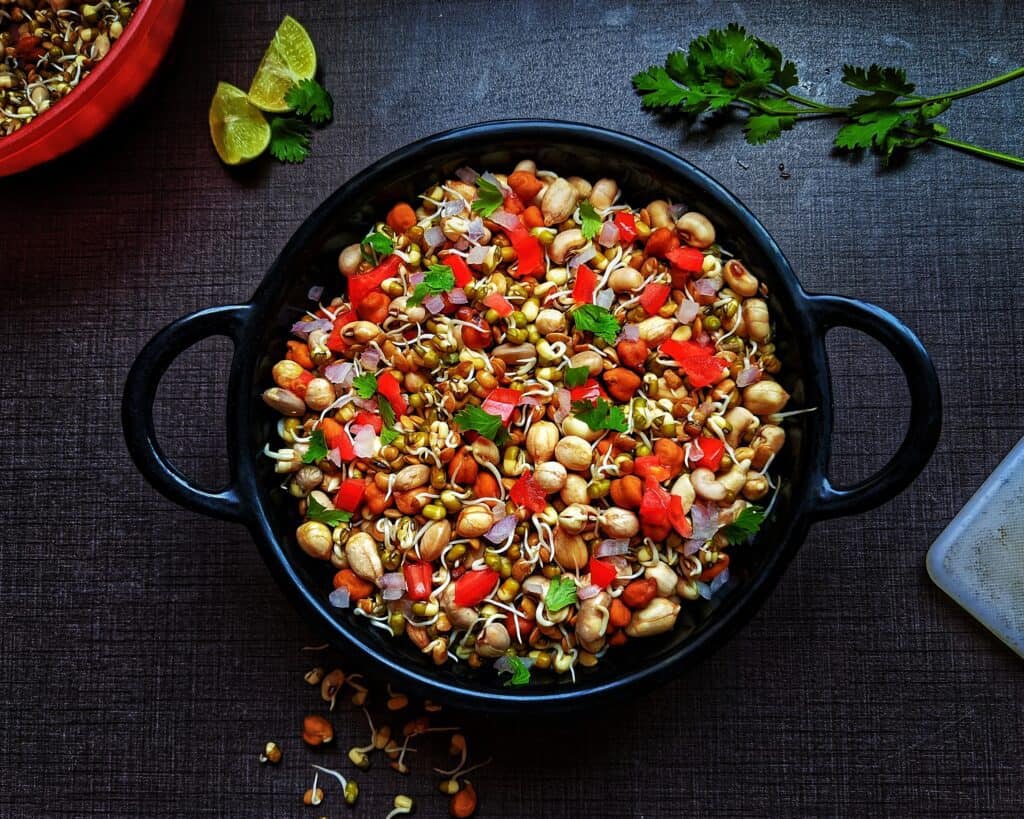 49. Frito Pie
Frito pie is one of the easiest meals to make. Pour Fritos into a bowl and add chili on top. Top it off with some cheese, and you've got a hearty dirt cheap meal that'll keep you full.
---
Final Thoughts on Cheap Meal Options
With these 49 cheap filling meals, your tummy and bank account will be happy. Try them all or pick a few–once you find your favorites, grocery shopping on a budget will be a walk in the park!
Looking to save money in other ways? Here is what we recommend looking into:
Swagbucks pays you to take surveys online and is one of my favorite survey websites because of its countless survey options and trustworthiness. They pay you via PayPal or gift cards if you take surveys through their website. You also get a $5 welcome bonus using this link.
CIT Bank offers high yield savings accounts and term CDs that are great for people who are looking to invest their cash and earn interest. One of the reasons they are so famous among savers is because they have one of the nation's top rates- 6x the national average (your typical savings account earns you just 0.09%).
FlexJobs is great if you are looking for remote work opportunities. The team at FlexJobs monitors every job posting to make sure the standard is maintained so you will find well-paying job opportunities and zero scammy ones.
For wise parents with their children's futures in mind, an early tax-advantaged investment account specifically tailored for children is a fantastic idea. Programs such as UNest are designed to help you achieve this goal of
crafting a better future for your children.
Credit Saint is my top pick when it comes to credit repair agencies. It has a 90-day money-back guarantee, an A+ rating from the BBB, affordable pricing and it has also been voted the best credit repair company by consumer advocate. Credit Saint
---