9 Steps to Start a Freelancing Business (While Working Full-Time)
In an economy where freelancers are contributing $715 billion as earnings, starting a freelance career on the side can be a lucrative business. The icing on the cake is that most freelancers believe that the industry's best years are still to come.
It has tons of benefits and working from home is only one of them. You have more time to yourself, there are no commuting costs and you get to do what you love and work with who you want.
For instance, try comparing what blogging was when it began to what it has become. The internet is bustling with opportunity and people are jumping on board. So, grab your spot.
The rewards are constant. You get to have an additional source of income, a backup plan, the ability to work fewer hours, and the chance to build your list of skills.
It is also a far cheaper investment than any other business venture so just about anyone can give it a go.
Buffer, Trello, 10up, and Edgar are among a whole list of companies that have completely remote teams. It is becoming undeniable that freelancing is the future of the job world.
According to Forbes, the majority of U.S workers will be freelancing by 2027.
The best business decision you can take now is to get a head start.
You can use the infographic below to browse through the points before going through them in more detail. Here are 9 steps to start a freelance business from scratch with no cash:
Some of the links below are affiliate links. You can read my full disclosure here.
1. Pick a profitable niche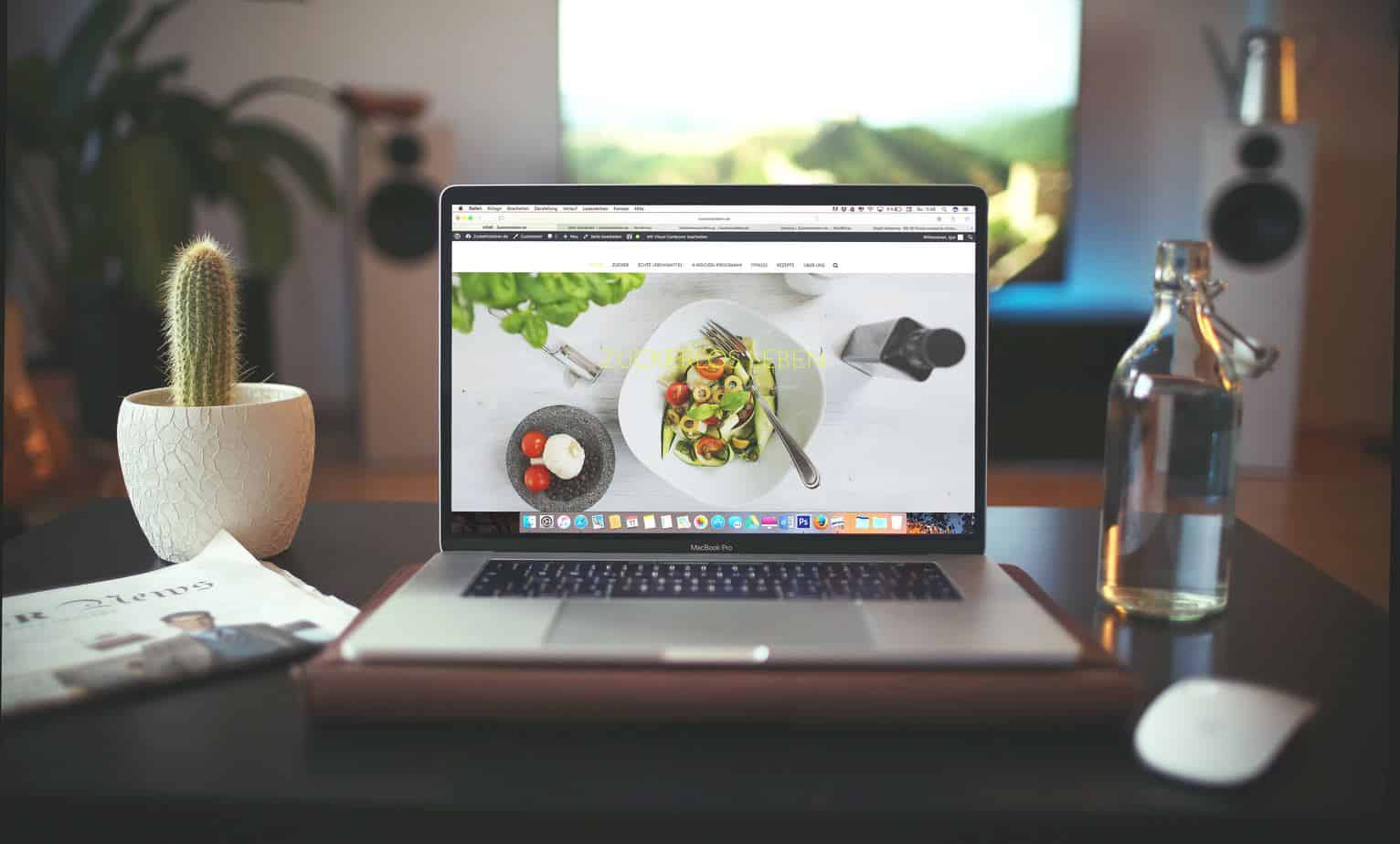 Entering the world of freelancing means you are going to be up against a lot of competition and you are going to need to figure out a way to stand out.
Whether you choose to be a graphic designer or a remote assistant, there are going to be other people that work from home that offer the same service for a whole lot less.
Your only way to escape this awful predicament is by building a client list that values your work and is willing to pay in gold to get it.
You need to create your own niche in the industry of your choosing so that you can offer your client something that no one else can.
In an average career, this is a great move that could benefit you but when you are freelancing, it becomes a necessity.
This is because you are competing with people from multiple countries with different qualifications and different living costs. The minimum wage in your state may be $11 but unfortunately, that does not cover the entire world.
Do not get defeated by this tiny bump in the road. Those stories you heard about people making $1000 for an article are true. You just need to find the right clients and give them something worth paying for.
Here is an example:
If you are a graphic designer, finding your creative niche would be a good idea. So, when you are pitching to a new employer, you can highlight a certain type of design style that you consider your specialty.
Jack of all trades, master of none is often something freelancers struggle with. The dilemma for many new freelancers is they feel as though they are closing off some of their options by focusing on only one creative niche.
While you may apply for fewer jobs, your probability of getting them is also much higher. An employer is going to be more confident in your abilities if they see that your whole career is focused on the niche that they are hiring for.
If you are trying to find a graphic design niche, for example, you should also focus on trying to find one that is profitable.
Identity design and direct-mail marketing design are probably the most profitable at the moment in this industry. These niches are the ones that have the most potential clients available which means more work to go around.
Here are some of the reasons having a niche is a great business decision:
You get to focus all your energy on the work that you are truly passionate about. This helps you improve and inevitably stand out.
Clients would be far more willing to pay you a good rate if you seem like an industry professional.
A specific niche would mean competing with only the professionals in your niche rather than the entire industry.
Quick tip if you are just getting started: Even if you work part-time as a freelancer or simply want to take on some side projects, you should still keep your business and personal finances separate. Creating an LLC lets your clients know that any work you do for them is done with a business backing it up. it allows you to sign contracts under your business name.
2. Use WordPress to Build Your Online Portfolio
Okay, so you have a niche and an industry you want to break into. Now what?
Find a place to showcase your skills and talent. If you are a website designer- link to past work, if you are a writer- start a blog ( you could even monetize it!), the possibilities are endless no matter what you are offering.
You could have an amazing testimonials page where you showcase what all of your happy clients are saying about your work with another page dedicated to your portfolio or blog.
A great example of a portfolio website is Elna Cain's Innovative Ink which is dedicated to her freelance work as a writer.
To get your website started, you are going to need a domain name (google.com, collectingcents.com, etc are domain names) and a website management system.
If your website was a car, WordPress is the engine and your domain name is the paint job. You need both to get the job done.
BigScoots offers a combination of the two by giving users a domain name of their choice AND the WordPress installation. It is what powers the website you are reading this on and more than two million other websites worldwide.
It also offers an SSL certificate which is what makes a website safe to browse.
So, when you visit a website and see a tiny lock symbol on the top and breathe a sigh of relief, it means the website is SSL certified. It makes your website trustworthy.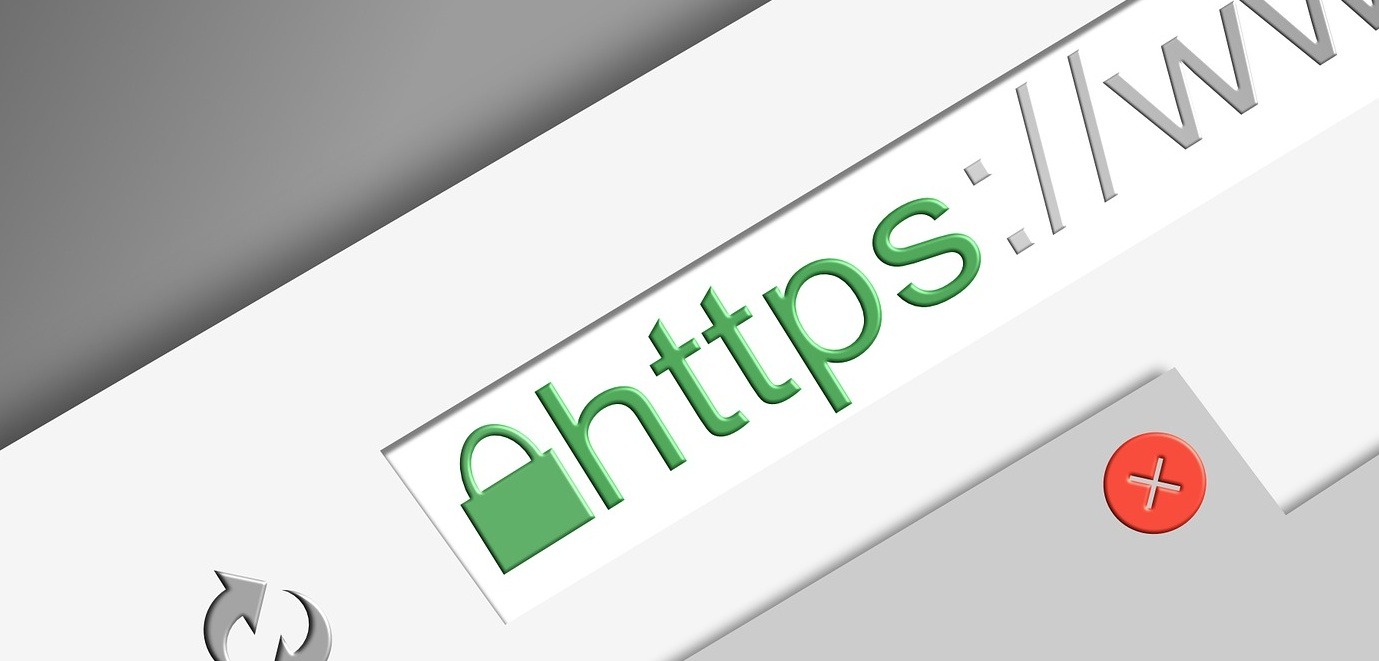 Regarding the website management system, WordPress is by far the most popular software for websites considering it powers a whopping 43% of the web. That is around 810 million websites. (This stat is current as of 2023)
Every 6 months, there are 1.1 million new registered WordPress domains.
That is not to say there aren't other options. You could also use a website builder like Wix to make the process easier since WordPress, although better, does have a slight learning curve.
TIP
I read tons of emails from people saying that they got a hosting provider and WordPress, now what? Which theme do you use?
I would suggest Optimize press for any beginner who wants a great design. It needs no coding and is a page builder so it is more customizable.
You can use this website to get new clients by showcasing your past work. Your website should ideally have these five pages:
About- Introducing yourself, your qualifications, your educational background, hobbies, etc.
Portfolio- All of your best work.
Hire Me- A page dedicated to the services you offer, your rates, package deals if any and a bright HIRE ME button at the end that leads to a contact form.
Contact- This is pretty self-explanatory. A page that is dedicated to showcasing a contact form for people to get in touch.
Testimonials- This can be from clients of yours that you have worked for. It helps potential employers trust you.
Essentially your website is an advertisement for your services and you need to sell. You can use other freelancers as inspiration and develop it day by day so that it keeps looking better.
3. Build an E-Mail List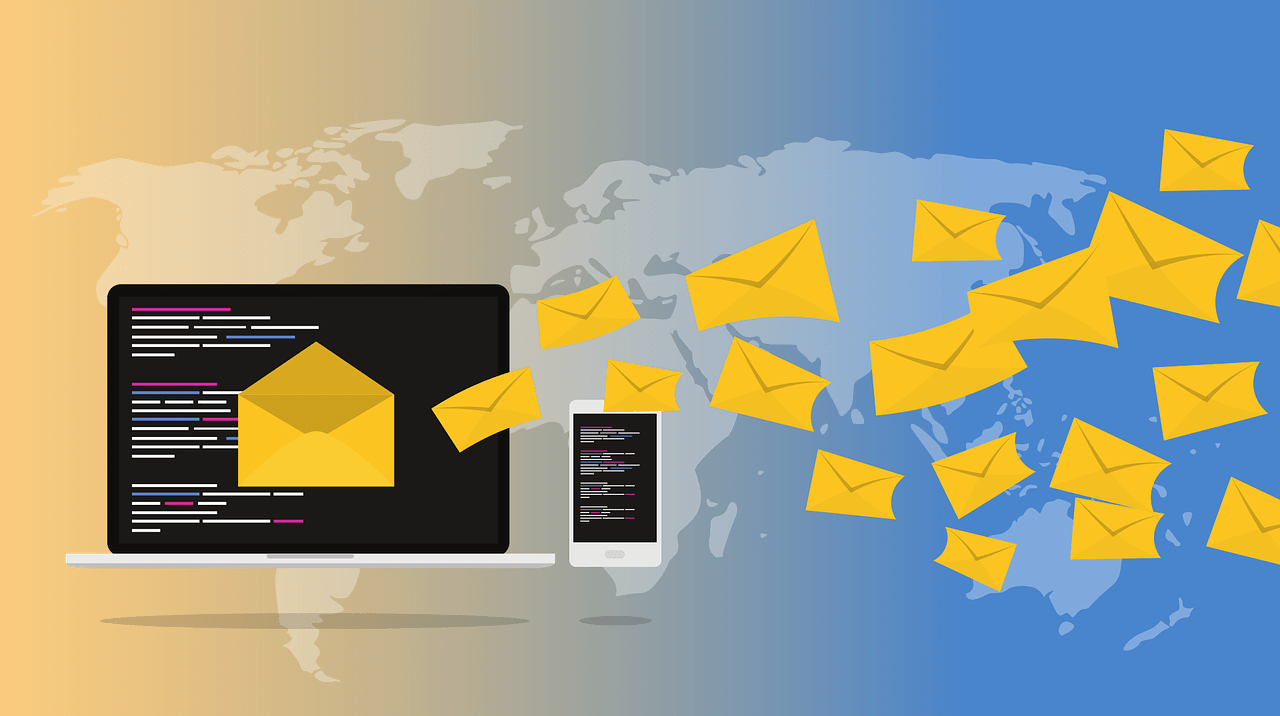 This may seem premature to you since you are just starting but no matter what industry you are trying to make your mark in, having an e-mail list is always a good thing.
It means you have a list of people that are already interested in your content. When you launch a new product or you are advertising a deal, they will want to know!
An e-mail list is a list of people who have given you exclusive permission to send them promotional offers. That list is your ticket to growing your income.
According to the Direct Marketing Association, e-mail marketing sees a 4300% return on investment. Whether you are promoting a deal or giving your subscribers a helpful tip, e-mail marketing converts!
According to Oberlo, for every $1 that you invest in e-mail marketing, you will receive a return on investment of about $32.
What is the best e-mail marketing software?
With so many options out there, it is hard not to get confused.
I am always looking for the best deal so I actually researched the pros and cons of different e-mail marketing software before coming to a conclusion.
ConvertKit is by far the best option for just about anybody. They have a 30-day trial and tons of options to suit just about anyone. You can pay on a monthly or annual basis.
While there are other options out there like MailChimp, it simply does not have the same professional touch that ConvertKit gives you.
You can tag your subscribers based on their interests which allows you to optimize your e-mail marketing. The biggest thing for me is that their automated e-mails have a personal touch and you are in so much control.
It is also one of the few e-mail marketing services that have integrations with over 80 different tools. So no matter what field you are in and no matter what tool you are using, ConvertKit can work with it.
Some well-known bloggers that work with ConvertKit include Pat Flynn and Mariah Coz.
More reasons why you should start an e-mail list?
The biggest reason you need to start building an e-mail list? The number of global e-mail users is 3.7 billion and this figure is said to grow to 4.3 billion by 2022. Most people check their e-mail account multiple times a day!
4. Freelancer costs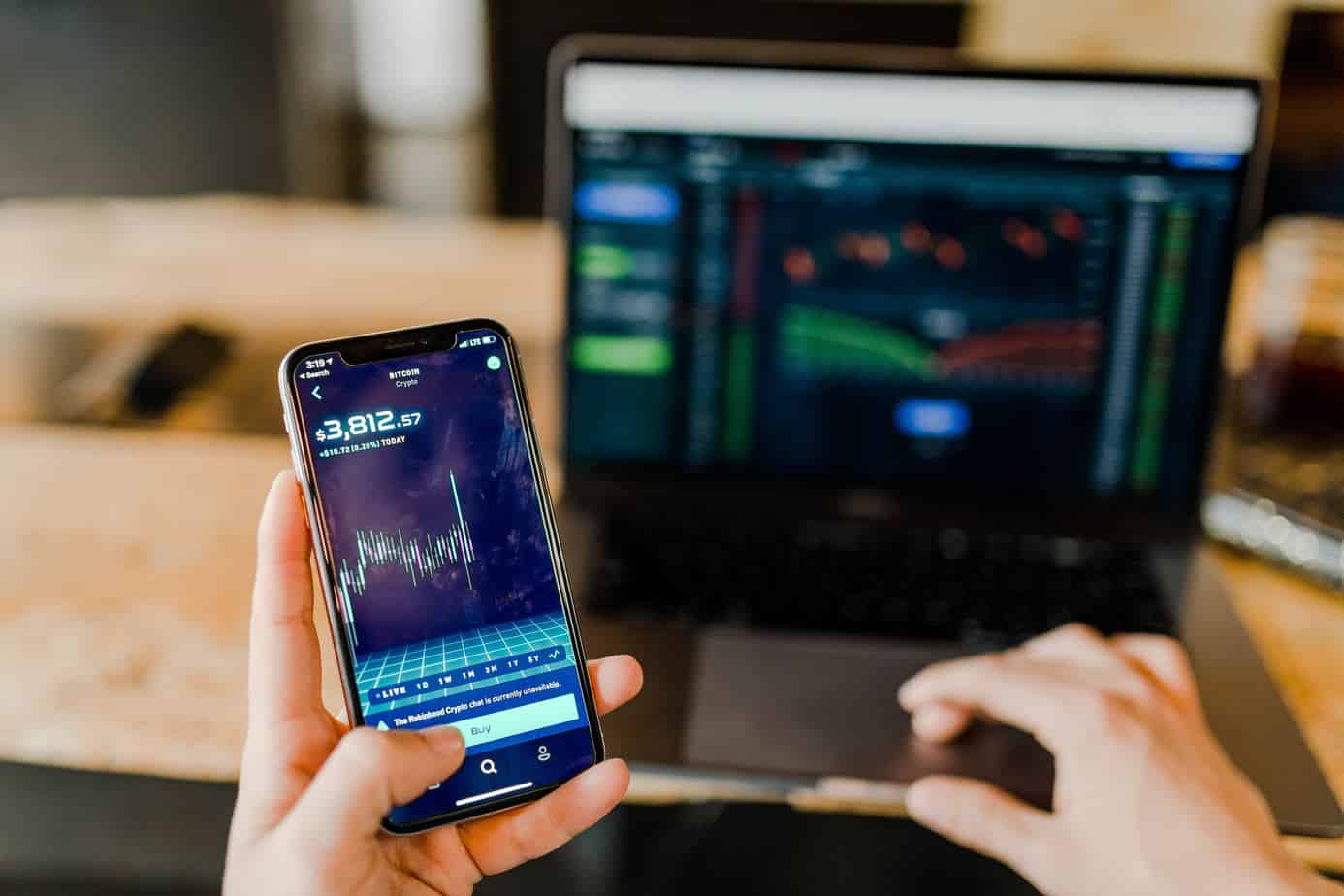 Ideally, you should be able to spend some amount of money during your first year as a freelancer.
It isn't much and there are some great deals out there but do not walk into the game wanting to spend $0. Know your costs.
Right off the bat, you are going to need the basics like a laptop, great WiFi speed, and inevitably a printer/ scanner. Most people guess that they will need a laptop and a reliable internet connection but needing a printer is often forgotten.
If you are going to be working from home, that means all of your documents are going to need to be signed digitally.
This means printing a freelancer agreement, signing it, and then scanning it. You are inevitably going to need a printer for almost every new client you take on.
Printers are relatively cheap even if you do need to buy one. Here is one from Amazon that is great for the job.
Depending on your industry you may need other tools like Photoshop or accounting software that will either have a recurring cost or a one-time payment.
A great way to cut down on these costs is by scouring the internet for free options. So if you are a writer, Google Drive could be your new best friend.
Services like Trello are absolutely amazing for keeping a tab on what you need to be doing and what is done. Trello has a free and paid version. The free version is normally enough.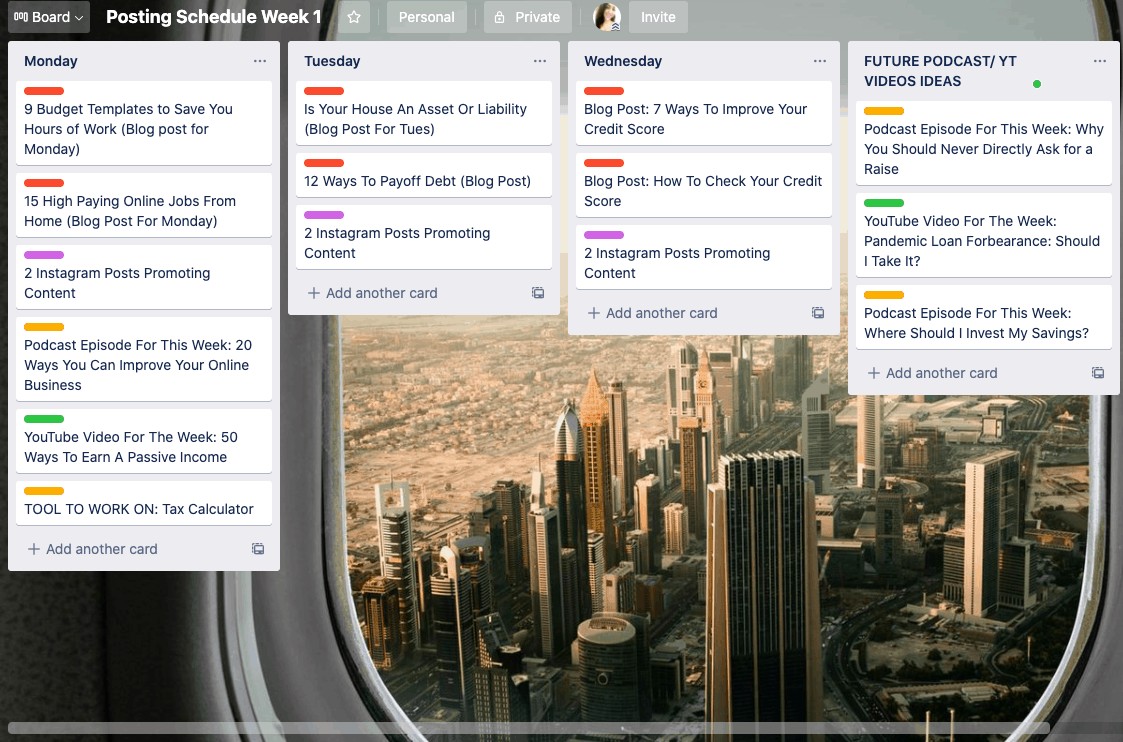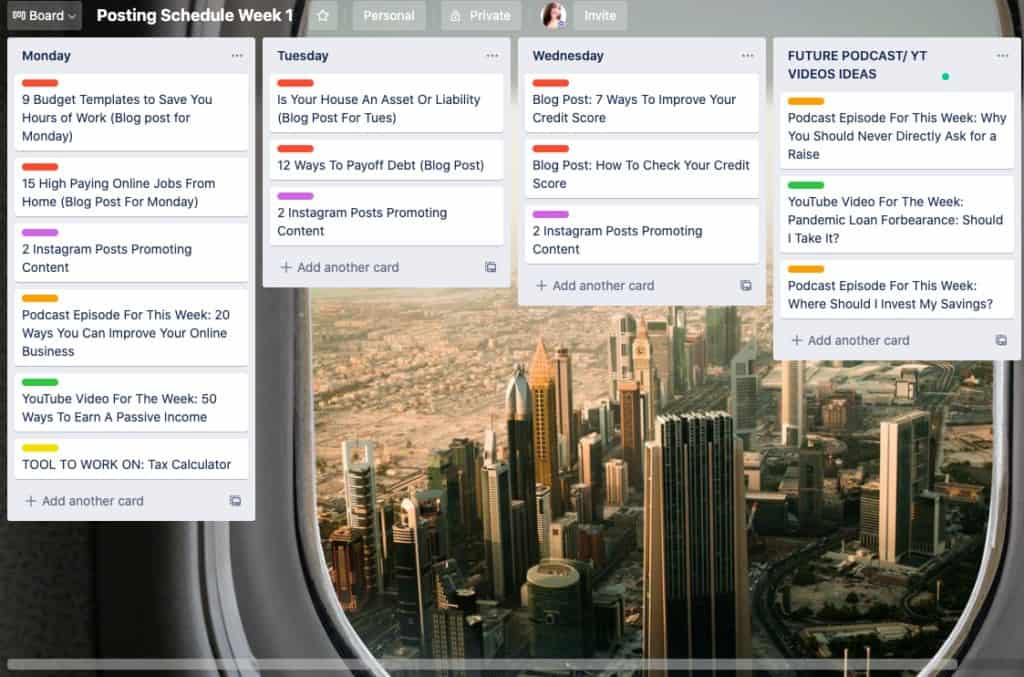 The picture above is essentially what a Trello board looks like normally.
You can create multiple lists, archive items that are done, add team members, and change the background image. You can also create multiple boards.
Here are some other expenses you may want to take into account depending on your situation:
You may need to invest in a desk and a comfy chair so that you can have some semblance of an office at home.
Your electric bills, heating, etc may increase since you will be spending more time at home.
You should ideally invest in a good hosting service, some basic tools depending on your industry, a domain name, a good laptop, etc.
Consider hiring an accountant for your taxes. It could get a little complicated. All of the expenses I just mentioned could be written off as business expenses. An accountant will be far better at judging what can be classified as business expenses. An accountant can help you lower your tax burden and deal with tax rules that are exclusively applicable to freelancers. It will quite possibly be the best money you spend.
Overall, take your time and think about what you need to get yourself started. Most of the stuff you need, you already have. So, starting a freelance business is not expensive but you do need to put some thought into it.
5. How to Get High Paying Freelance Clients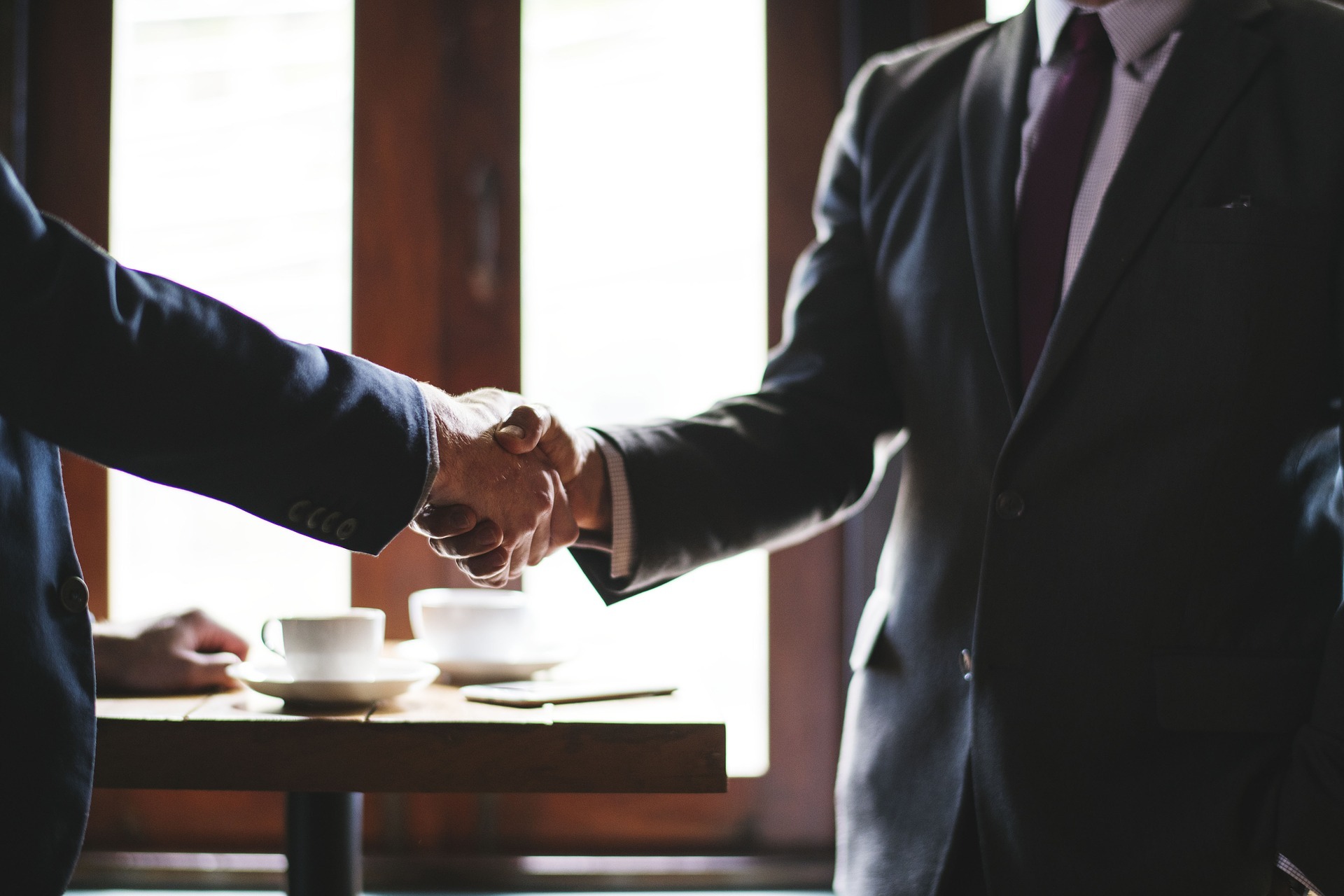 The people you choose to work with will shape how you view the industry and the world of freelancing. It is important that you find the best freelancing jobs for beginners out there and weed out the ones that are not worth it.
So, it is important that you are happy. There are plenty of scams out there with people trying to pay less for more.
A client that always stays in contact, pays promptly, answers all of your questions about the project and gives you tons of advice should not be a rarity for you.
Other than that, there are a few things you should keep your eye out for when you are working with a new client.
Make sure they are not asking you to wait for ages for payment. If someone is asking you to work for 14 days before receiving any money, something is fishy. You should ideally be asked to do a PAID test before you begin. After this, you can sort out a payment schedule that can be article-based or weekly. If there is a lot of work to be done for one piece, asking for about 25% of the amount as a down payment may be a good idea. This will normally happen as you grow your number of clients.
If they ask you to sign a freelancer agreement- Good Sign. They have standards they expect you to live up to which normally means they live up to those standards as well.
Constant e-mail support, having a slack group with the company you are working for, etc are also good ideas. It helps you stay connected and you do not have to worry about being ghosted by your employer.
Keep these things in mind when you apply for freelance jobs. You will learn more as you go along and it is important to keep your spirits high.
If you are wondering how to land high-paying clients or how to get your first freelancing job, you will need to apply for freelance jobs on a job board like ProBlogger.
A great option to find new clients is FlexJobs. I really like them because they review every job posting to make sure the client is screened properly so that you do not see any below-average or scammy job postings.
They also give members exclusive discounts on products and services you may need in your work-from-home life.
6. Freelance Jobs Online For Beginners: Know where to Find Potential Employers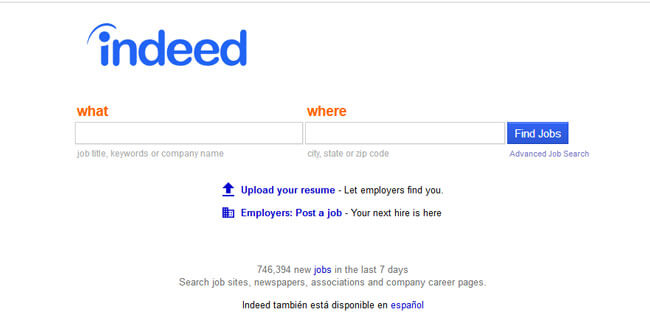 The internet is full of opportunities but not all of them are good. If you want to make money online, you are going to need to be able to smell out the scammers and people that cannot be trusted.
Heading to the right places to find work and working with the right people is key. Using some of the best freelance websites is key to you finding work you enjoy.
While sites like Upwork and Freelancer do exist, staying away from them is the best advice I can give you. The type of work rarely pays well, the clients are not always good, and the companies themselves have to be dealt with as well.
You will have to pay a monthly subscription fee to a site like freelancer.com just to bid on projects and then if you finally do manage to earn a few bucks, they take a percentage cut.
The rules are different for each website but the concept is, unfortunately, the same.
While you may feel like you have no other option, trust me- there are other options. These websites are not even a good option for getting your foot in the door because most of the work will not credit you or give you an author profile.
Here are a couple of websites that I have used to get freelance work that I recommend purely because of the quality of clients.
You will find work that you enjoy and a supportive community to build your career with.
7. Work on your freelance proposal template
So, you have found out how to make money from home, bookmarked some amazing job boards, and are ready to get pitching. Hold up for a second.
Do you know how many proposals your potential employer is going to have to go through? About 100 on average.
The best thing you can do is make your proposal short, concise, thorough, and easy to understand. Using fancy words and long sentences make employers think one of two things:
You are trying to over-compensate for a lack of experience or knowledge.
You have not understood the job description.
Neither one of these thoughts should ever cross their mind. Here are a couple of things you should keep in mind when writing a proposal:
Always make sure your first line and the subject of your e-mail are amazing. That is your chance to reel them in. Say something witty that shows you have read the job description or try finding out who you are writing to so you can address them by name.
Do not add a paragraph about your entire life and then add your samples at the end. Keep the proposal short and cut to the chase by attaching links to your best work at the beginning because that is what they are most interested in.
Try to use links as much as possible. They are always better than attaching documents. Even if you are just starting out in the freelance world, attach Google Drive links instead of documents.
If you want to include more information than what fits into the email, link to your website. You can then host whatever you want on your own website and take up as much space as you want. This could be a presentation using PowerPoint templates that shows the client exactly what your process is like when working for a new client, a page dedicated to showing off your experience, an about page, etc.
Talk about how you can help their brand. Go on to their website, mention something that makes it obvious you researched them, talk about projects the company has already done and how you could have been an asset if had you been there. All of these things make it obvious that you have done your research and make your potential employer think, " Hell, maybe I should hire him/her!"
Be professional-yes- but do not be afraid to throw in a funny joke if you have one. I cannot emphasize how much an employer would like that. It gives your proposal personality and changes it from a dull paragraph of words to something more fun.
Make sure the samples you have added are relevant. Sending in a piece about conspiracy theories to an employer who is looking for a lifestyle magazine writer is a bad idea.
You should try and make your proposal visually appealing as well. This means adding bullet points, formatting your text, highlighting important text, etc. Make it something that you would like to read.
Forbes mentions that you should talk about client goals and how you are going to help achieve them. This is the best way to prove you are valuable while also personalizing your emails.
Talk about your expected payment and how long you will take to deliver. Make sure you guys are on the same page.
End the e-mail saying something a little better than 'Regards, <your name>.' What you go for can be something funny or professional but mix it up a little.
While sending multiple proposals may seem like an absolute chore, do not take the easy route on this one.
Copy-pasting the same e-mail to every potential employer really lowers your chances. Take the time to think through a proposal and make it personal. It will be noticed and appreciated.
8. Guest post and create a network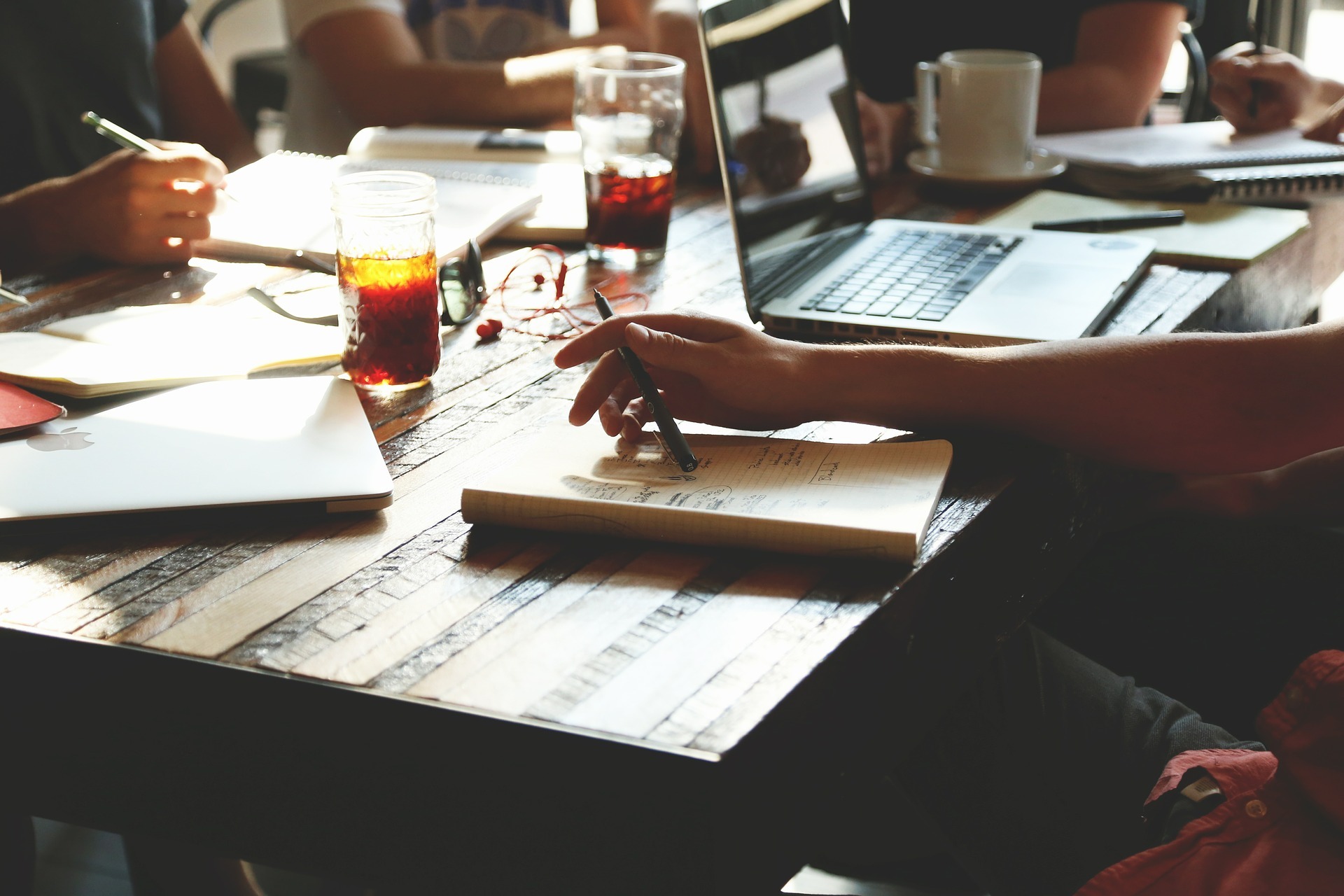 Let's say you have found some good job boards, started your website, and know how to create an amazing proposal.
Now, you need to get your name out there. Make your name something Google responds to. Guest posting for websites that are already established is the best way you can do this.
If you want to guest post for a website, you normally e-mail the editor with a pitch. You do not need experience in most cases- just a good idea.
If you feel like the website you want to write for will not take you on because you do have already published content, try sending in a completed piece. Let your work speak for itself.
If an editor really likes your article, they will take you on and you may even get a job out of it. You will also get credited for the article which means your name will show up with an author bio. This means that it will show up on Google as well which is always a good thing.
It is pretty easy to find websites to pitch to. Just hop onto Google and type in ' guest posts <<your niche>>' or 'digital marketing+write for us+ guest post.'
Something like this ought to show up: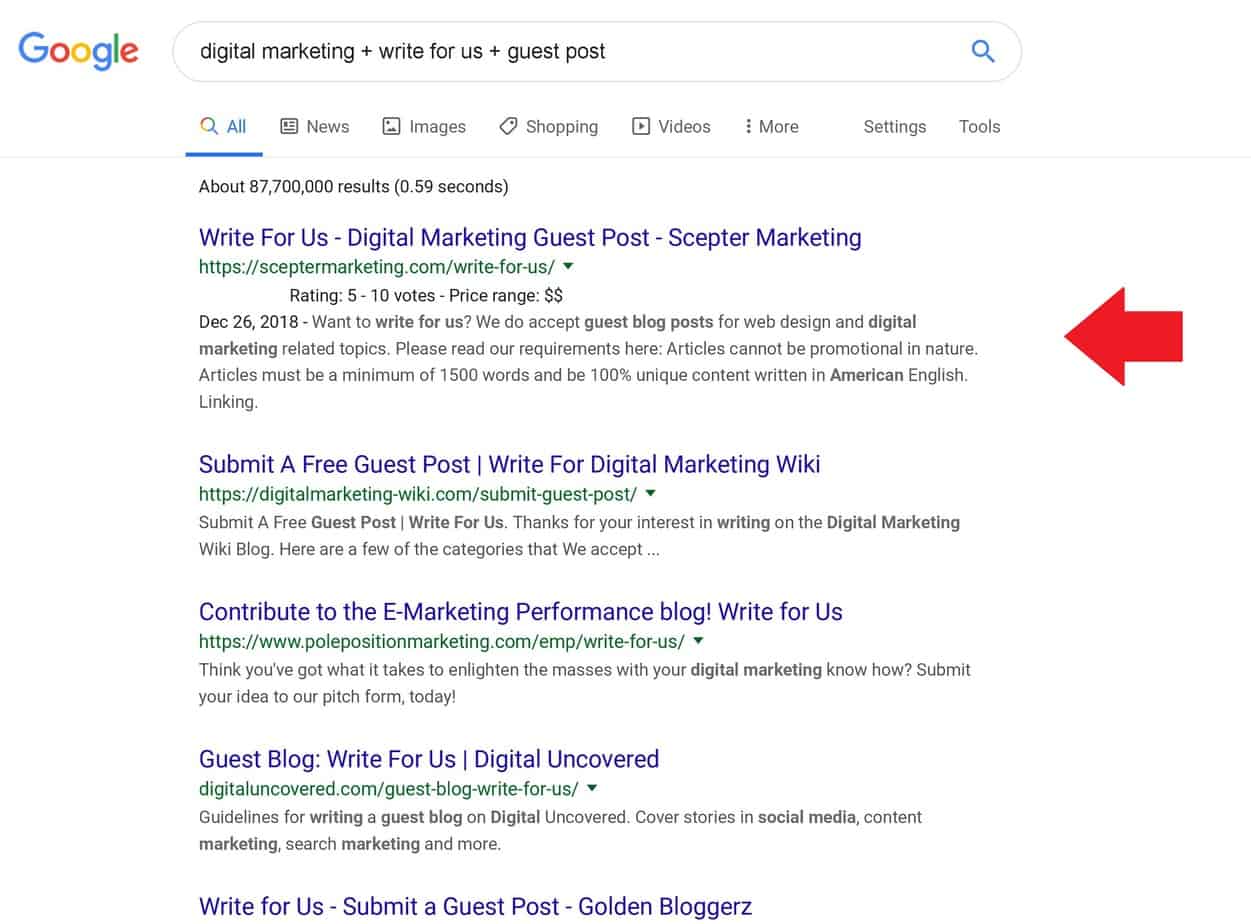 Even if you are not a writer, guest posting could be a good idea. For example, writing for a photography blog as a professional could be beneficial to a photographer.
They could feature it on their website and potential employers could take a look.
Another great way to network is to comment on other freelancers' work. This could work for any industry. You can go on to their website, their Facebook page or their Twitter and leave a comment.
This helps you connect with people in the industry and also gets your name out there. They may even return the favor and comment on your website!
Building your network has numerous advantages and you need to get started now. You could even find a role model to look up to in the process.
Freelancing does not mean you are an island with a laptop. Connecting to other people in the industry is imperative if you want to succeed.
9. Get on to Social Networks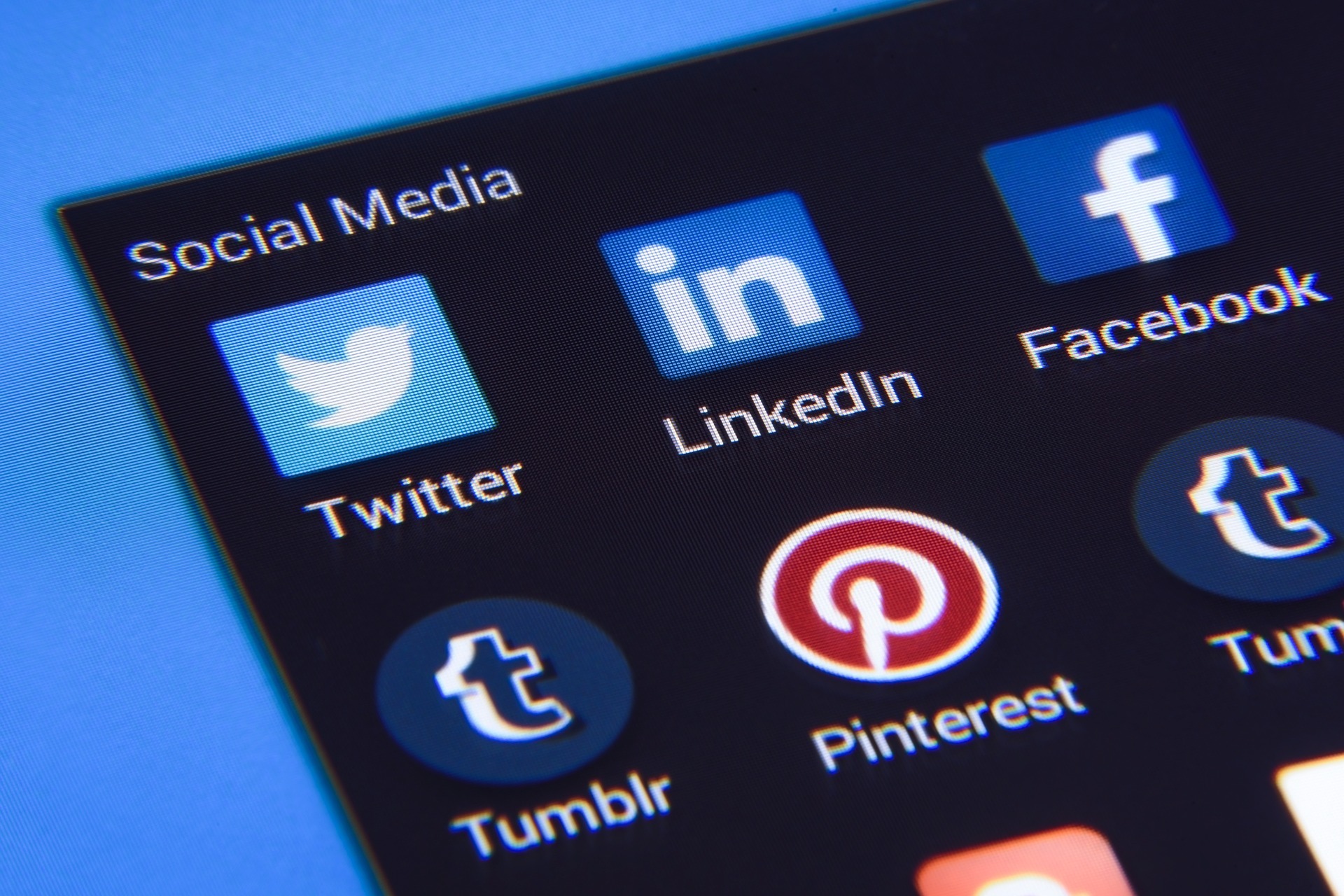 As a freelancer, social media is your best friend. It can help you get visitors, connect with the industry, learn what your competition is doing, and stay updated.
Whether you are a beginner or a long-time freelancer, having social media is a must.
If you are new to freelancing, you can use a platform like Pinterest to get visitors for your new website.
According to Statista, 34% of Americans aged 18 to 49 use Pinterest.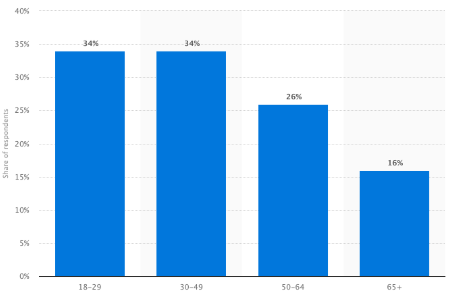 Starting a Facebook page and having a Twitter profile should also be high on your priority list. Anytime someone likes something you posted, they need to have the opportunity to share it.
Having social icons on your blog posts and connecting with your visitors on social media is imperative if you want to have a successful business.
Even for someone that just takes on freelance work and nothing more, having a social presence could be a plus when trying to find a new client or win a job.
Positive reviews on your Facebook page, for example, could convince a potential employer to pick you.
Swagbucks pays you to take surveys online and is one of my favorite survey websites because of its countless survey options and trustworthiness. They pay you via PayPal or gift cards if you take surveys through their website. You also get a $5 welcome bonus using this link.
CIT Bank offers high yield savings accounts and term CDs that are great for people who are looking to invest their cash and earn interest. One of the reasons they are so famous among savers is because they have one of the nation's top rates- 6x the national average (your typical savings account earns you just 0.09%).
FlexJobs is great if you are looking for remote work opportunities. The team at FlexJobs monitors every job posting to make sure the standard is maintained so you will find well-paying job opportunities and zero scammy ones.
For wise parents with their children's futures in mind, an early tax-advantaged investment account specifically tailored for children is a fantastic idea. Programs such as UNest are designed to help you achieve this goal of
crafting a better future for your children.
Credit Saint is my top pick when it comes to credit repair agencies. It has a 90-day money-back guarantee, an A+ rating from the BBB, affordable pricing and it has also been voted the best credit repair company by consumer advocate. Credit Saint