How to Deal With Radius Global Solutions Collectors and Get Them off Your Credit Report
Here is how to deal with Radius Global Solutions and improve your credit score:
Radius Global Solutions LLC is notorious for giving debt-ridden individuals sleepless nights with their annoying methods of debt collection.
Are you in debt? Have you received a call from them lately? Whether you have or you haven't, it's best you avoid them for your own financial safety. Collection accounts are known to damage your credit score and keep it that way for the next seven or so years. Mind you, your credit score may still suffer even if you've paid off your debt.
In this post, we'll explore how you can settle your collection accounts and clear your credit report of all collections. Let's get to it, shall we?
What is Radius Global Solutions?
Radius Global Solutions LLC is a debt collection agency that has its headquarters in Edina, Minnesota (250 Edina mn 55439).
Radius Global was established in 1982 and boasts 3,700 employees in 14 offices scattered within and without the United States.
Radius is accredited by the BBB (Better Business Bureau) with an A+ score. Despite claiming to offer top-class services in terms of account recovery, business process outsourcing, customer relationship management, etc., most customers don't enjoy their services.
In fact, most customer reviews give them a one-star rating out of five. What's more, the Consumer Financial Protection Bureau (CFPB) has more than 1,000 complaints lodged against Radius and more than 190 with the Better Business Bureau.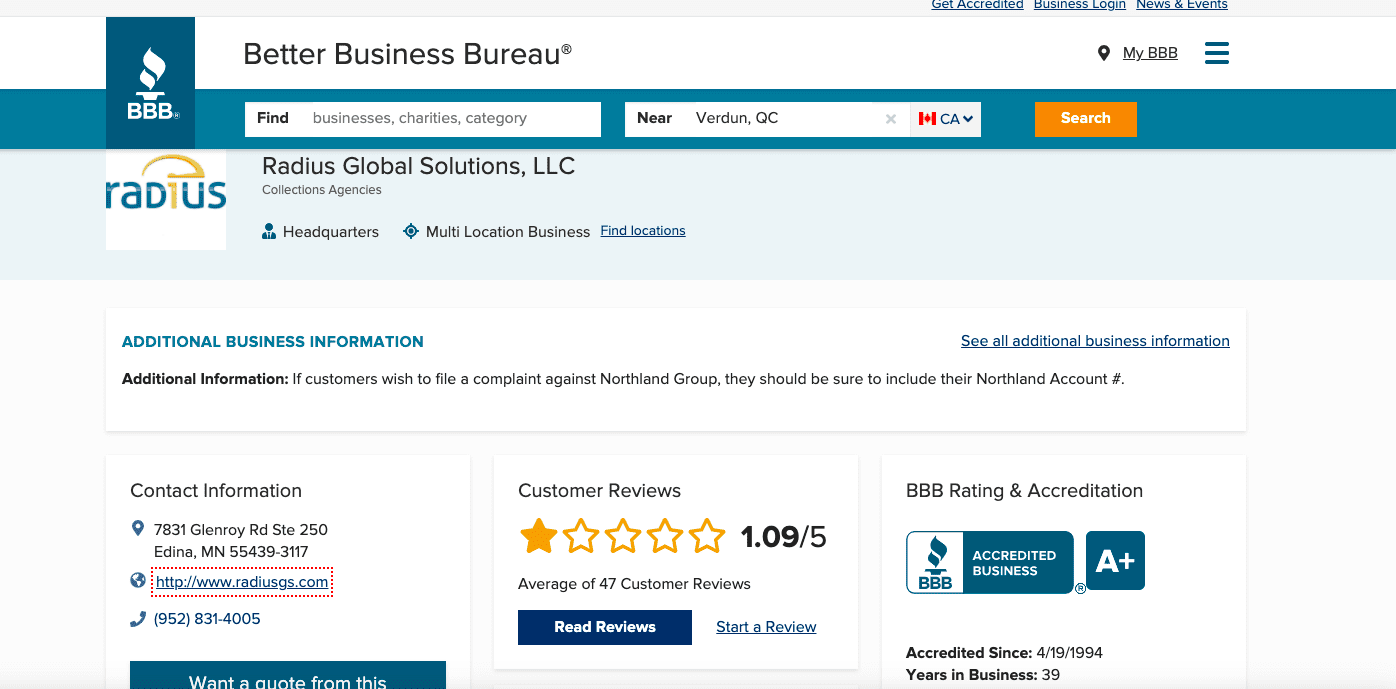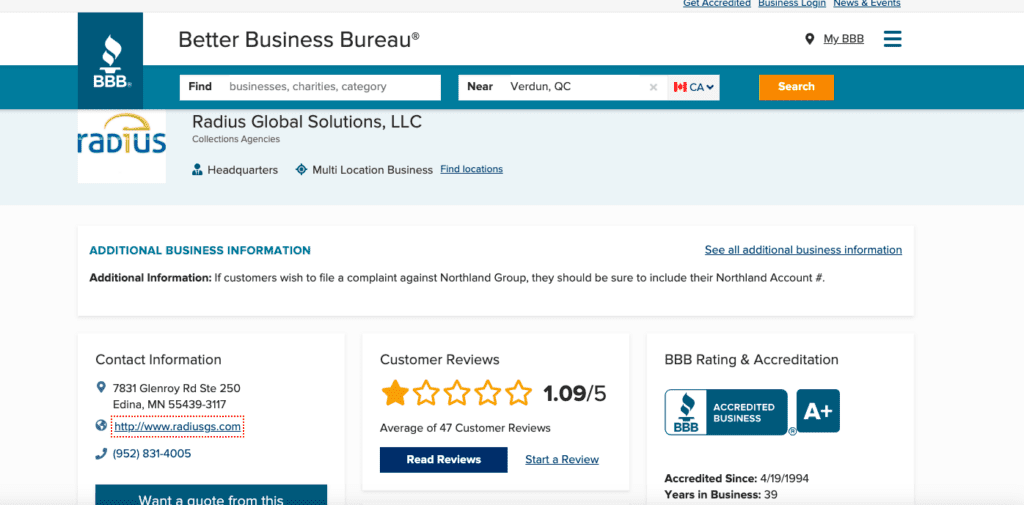 Here are some of their reviews on their Google profile:
Radius buys your debt from the creditor; it won't be long before you find out. You'll be receiving a series of phone calls and letters demanding that you clear your dues. The collection account will reflect on your credit report and, inevitably, affect your credit score in the long run.
Who does Radius Global Solutions Collect For?
Radius Global collects for a broad spectrum of agencies, including:
hospitality and entertainment businesses
healthcare agencies
transportation companies
financial services like credit/debit card companies
education and government agencies
consumer and retail goods
utilities
communications agencies
Should I Negotiate a Settlement or Pay Radius Global Solutions?
Sadly, paying your debt (partially or in full) will do very little to boost your credit score. Once your credit report is dented with the addition of a collection account, it may be difficult to restore your initial score regardless of payment.
The best you can do at this point is negotiate a deal with Solutions Radius Global. Once you negotiate a deal, they'll send you the agreement in writing.
Radius Global (and basically all other collection agencies) will accept any collection amount ranging between 40% and 50% of your total debt. Sometimes, it may go as much as 80% depending on whether you're in talks with the original creditor or a debt collector.
If they send you an offer you can easily afford to clear, ensure that you act upon the deal within the stated payment period. If you need to change the date for one reason or another, call Radius Global, suggest a new date, and they'll send you a new letter.
A commendable feature about Radius Global is that you can negotiate directly with them. The downside is that it takes a considerable level of time and effort to reach a valid conclusion. To hasten your settlement, you need to be persistent, sound convincing and have a reasonable level of calmness. If possible, convince them that you're in a tight spot financially.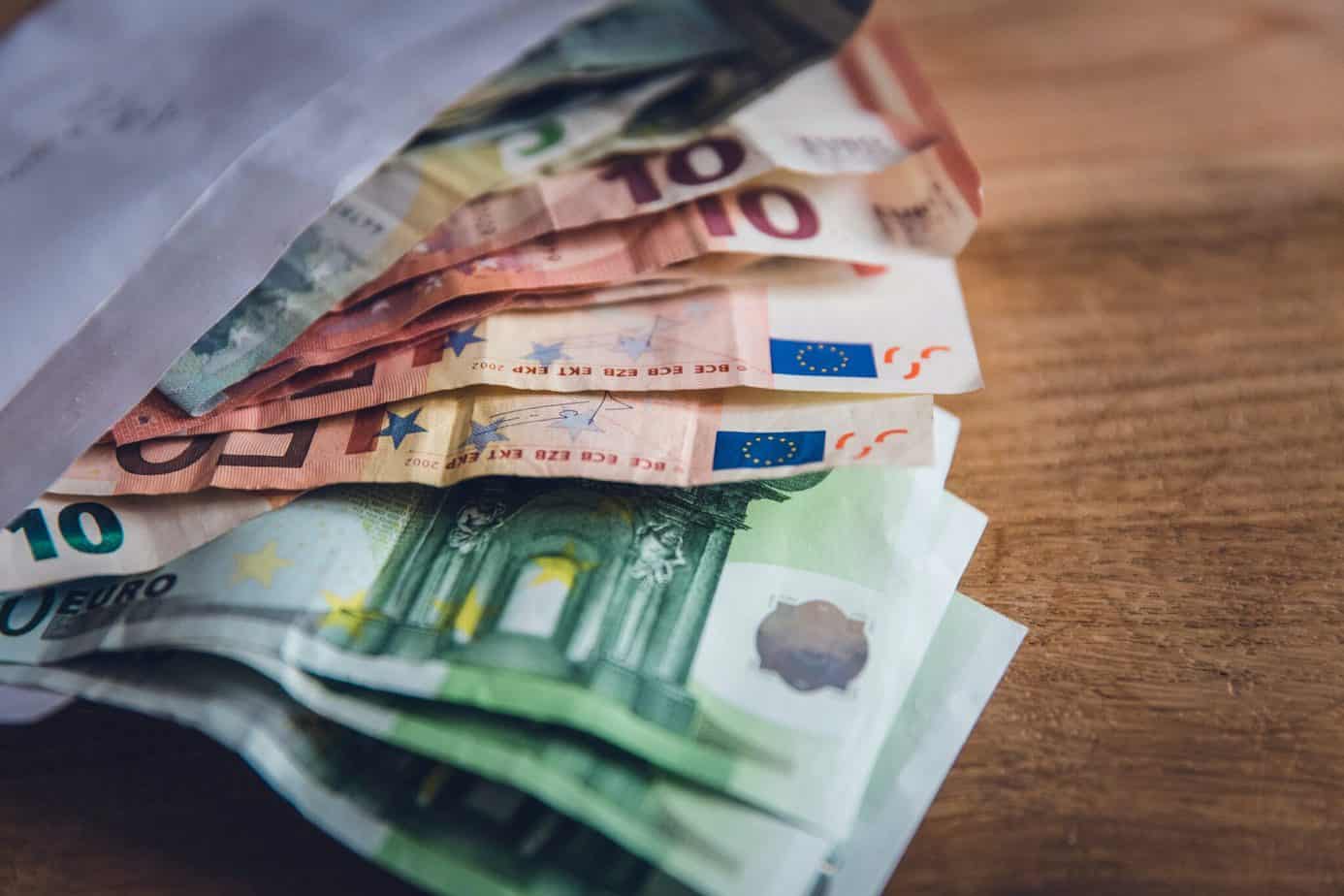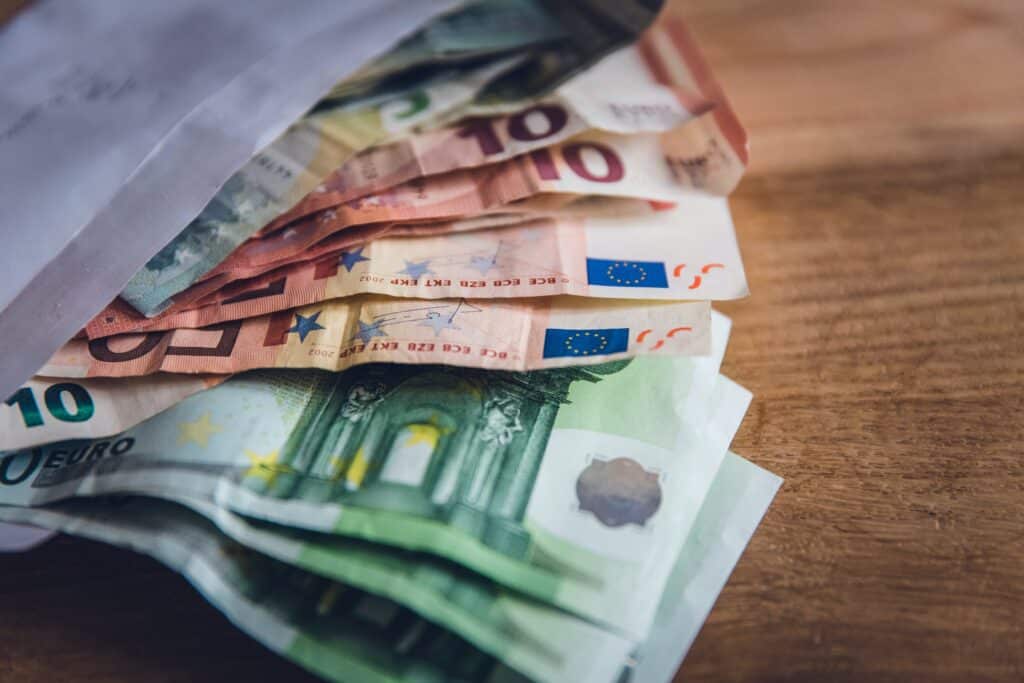 If you're not in a position to follow through with the time-consuming negotiation process, just hire the services of a debt negotiation company.
Debt settlement companies often rely on records of previous settlements. Their representatives will therefore understand the acceptable payment range of your collection agency or original creditor. This kind of data will help them reach a faster agreement with your collection agency.
How to Deal with Radius Global Solutions Collectors?
(888) 287-5711. This phone number should appear on your screen when a collector from Global Solutions Radius tries to reach you.
When they do, ensure that you can easily validate your debt. If you can't, you have about 30 days to substantiate your debt. Radius Global is under no legal jurisdiction to collect your debt if they're unable to validate it.
The next thing you want to do is check the validity of their statute of Limitations (SOL).
All debt collectors have a limited period to sue you in case you fail to pay your debt. SOL regulations basically set the period in which a creditor is allowed to sue you and collect your debt. Most states prevent any third-party collection company from suing after their statute of limitations becomes invalid.
What is the Best Course of Action for Me at this Point?
It's simple: Do all you can to pay back your debt.
On average, it's quite common for a collection agency to file a lawsuit against borrowers to get them to pay faster. If Radius Global files a lawsuit against you, you have no choice but to respond to it. A lack of response on your end might lead the judge to file a summary judgment in favor of your collection agency. When this happens, they could go as far as directly sourcing the amount from your bank account.
Generally, once a collection company sues you, it will be easier and cheaper to clear your debts than hire an attorney to settle a lawsuit that you're bound to lose.
On the other hand, if you're certain that you don't have any outstanding balances and you've tried to prove it with substantial proof, your next course of action is hiring an attorney to defend you in court.
Once you clear your debt, keep in mind that it will do very little to revive your credit score. Upon clearance, your debt status will change from 'unpaid' to 'paid.' That doesn't mean that the collection account won't appear on your credit report.
Your credit score is bound to suffer each time a collection shows up on your credit report. Yes, even if it reflects as a paid collection, it's still not good for your credit score. A collection account stays on your credit report for a total of seven years.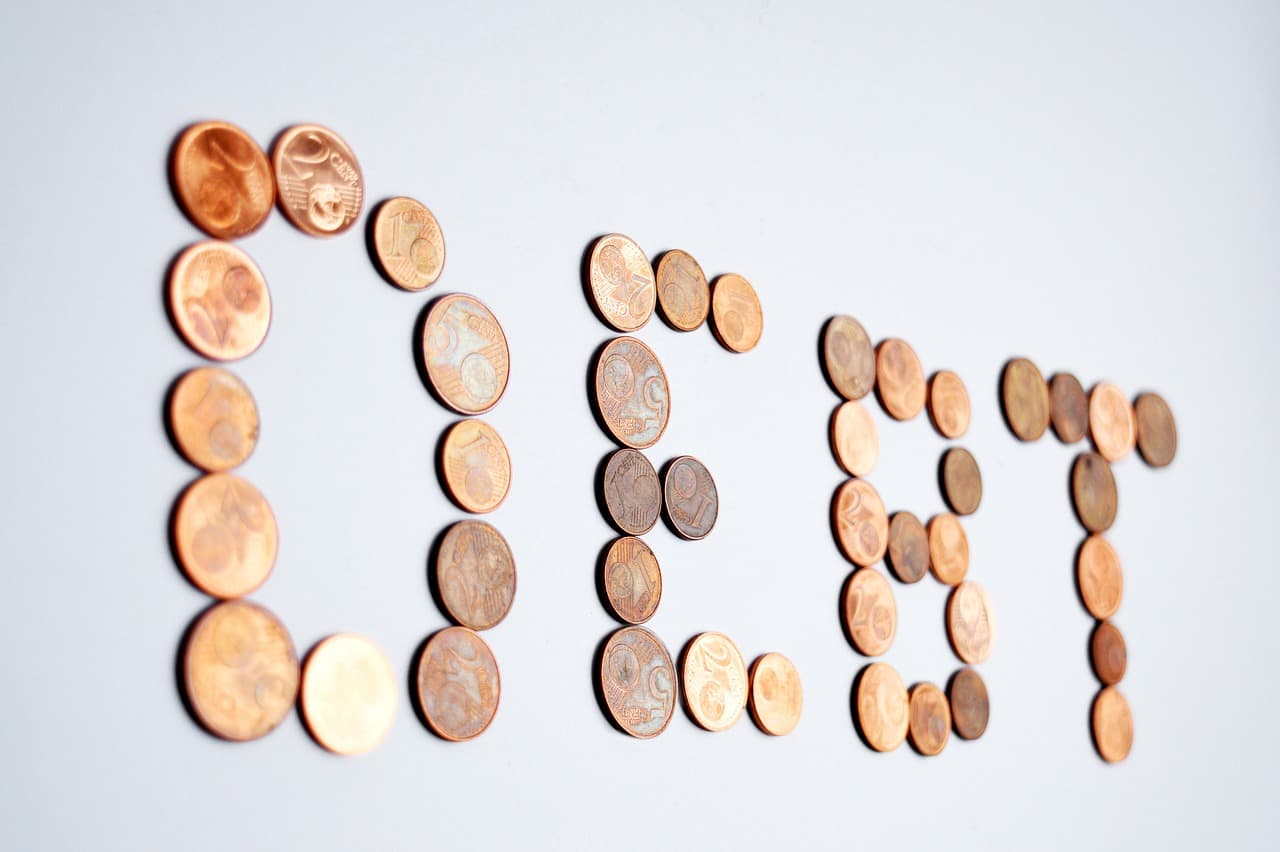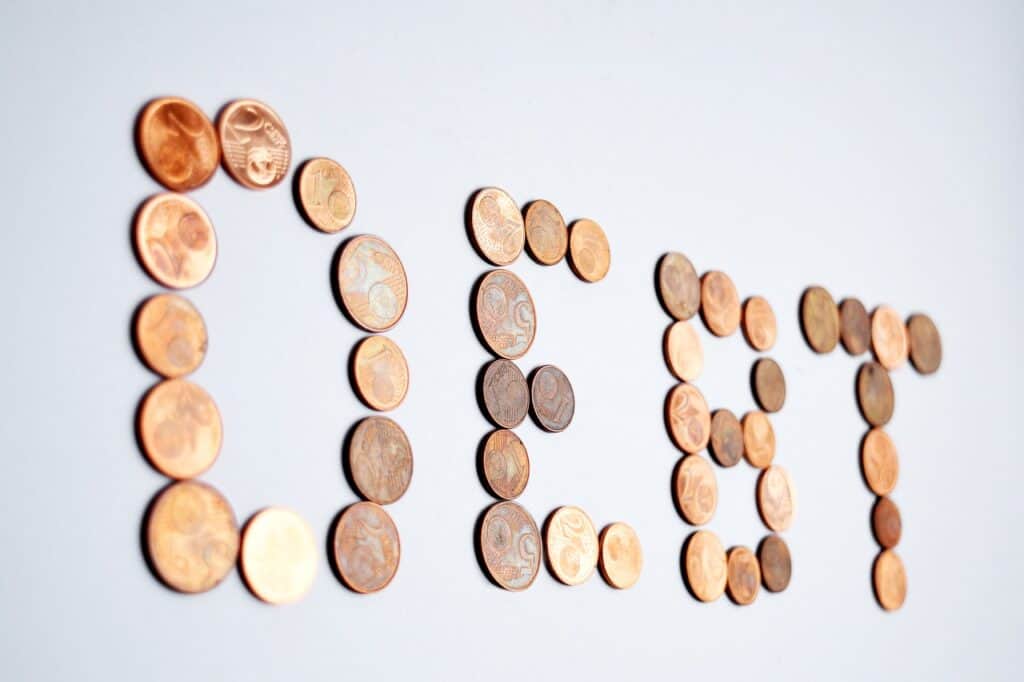 How to Remove Radius Global Solutions LLC from Your Credit Report
If a Radius Global entry reflects on your credit report, we can't stress enough how important it is for you to get rid of it at your earliest convenience.
There's a new set of federal debt collection regulations that are set to become active from November 29th, 2021. These rules are projected to have a wide-ranging impact on the debt collection sector. These rules are bound to affect those with delinquent accounts or debts in collection.
If Radius Global has contacted you or anyone you know, here are a couple of DIY steps to remove them from your credit report:
Step 1: Understand Your Rights as a Debtor
The Fair Debt Collection Practices Act (FDCPA) clearly spells out the functions of debt collectors and the rights of borrowers. The Consumer Financial Protection Bureau clearly outlines your rights as a borrower under the FDCPA.
Here are some of the regulations that protect you as a debtor:
A debt collector can't intimidate you with asset seizure or imprisonment.
A debt collector must identify him/herself along with their respective collection agency.
A debt collector should not use profane language or threaten to harm you, your property, or even your reputation.
A debt collector should not contact your family members, friends, or anyone close to you for purposes of revealing your debt status.
No debt collector should call you at your place of work.
If you have an attorney, let the debt collectors deal with them directly.
No collection agency should call you after 9 pm or before 8 am.
If a collection agency violates your rights, don't hesitate to report them to your state's attorney general, the Consumer Financial Protection Bureau, or the Federal Trade Commission (FTC).
Step 2: Authenticate Your Debt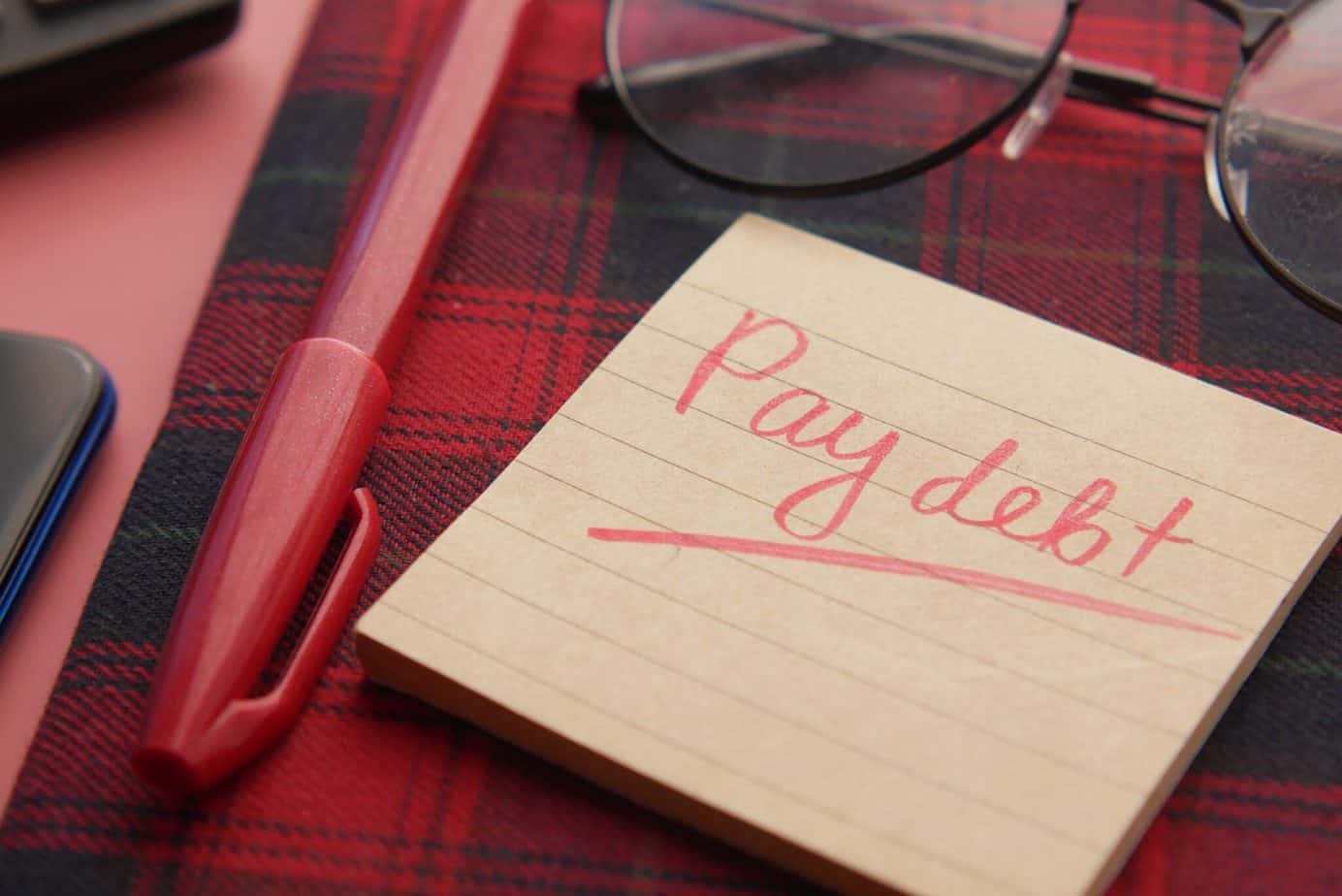 The collection agency should provide you with these three critical pieces of information within five days from the moment they start contacting you:
The exact amount you owe your creditor.
The name of your creditor.
An official notice stating that you have up to 30 days to clear your debt.
This process is known as debt validation and the information is often outlined in a debt validation letter.
Failure to dispute your debt within one month renders it automatically valid. That's why you should always dispute your debts. To do this, you'll need to draft a debt verification letter and send it to this address:
Radius Global Solutions, LLC
7831 Glenroy Road,
Suite 250, Edina MN 55439.
Your certified letter should contain the following details:
The total amount you owe your creditor.
Your creditor's name and address.
Valid proof that you owe them the stated amount.
The date on which the debt was borrowed.
Valid proof that the collector in question has legal approval to proceed with their collection efforts.
There are two letters involved in this step: the debt validation letter and the debt verification letter. The debt collection agency sends you the debt validation letter, and you send them the debt verification letter.
You have up to 30 days to draft and send your debt verification letter once you receive your debt validation letter. If the collector fails to verify the debt, they should cut contact with you. Their next step should be to notify the relevant credit bureaus that your debt is unverifiable, hence removing it from your credit report.
You must check your state's statute of limitations against your date of debt. If your SOL has expired, your collector can't take legal action against you.
Keep in mind that the statute of limitations comes into effect on the day when your debt was declared delinquent. You can easily restart your SOL by acknowledging your debt or making a payment.
The expiry of your SOL doesn't automatically eliminate an account from your credit report. Upon expiry of your statute of limitations, there's a high chance that the 7-year time of appearance of the account on your credit report is almost up.
At this point, your best course of action will just be to wait it out since your time is almost up.
Step 3: Challenge Your Debt Amount with your Credit Reporting Bureau
If you strongly believe that you don't owe the stated amount or that your collection agency hasn't validated your debt, you have the right to file a complaint with the relevant credit bureaus.
There are three main credit bureaus that you should approach for disputes of any kind: Equifax, Experian, and Transunion. Each of them has its mailing address.
For Equifax, write to:
P.O. Box 740256 Atlanta, GA 30374-0256
For Experian, write to:
P.O. Box 9701 Allen, TX 75013
For Transunion, write to:
P.O. Box 2000 Chester, PA 19016-2000
You can also reach them online: Equifax, Experian, and TransUnion.
All three bureaus are tasked with the mandate of investigating and verifying your dues. If they're unable to do that for one reason or another, they have no choice but to remove it from your credit record. This may have a positive impact on your credit score.
Keep in mind that even though your debt is cleared from your record, the credit repair company will keep tabs on your collection efforts.
Step 4: Make sure they are not calling you more than necessary
Based on data from the Consumer Credit Card Market Report data, you can receive up to 15 calls every day from Radius Global Solutions. That's quite an exaggerated number, especially for borrowers with significantly low debts.
Since you can't ask them to quit it via a simple phone call, here is an alternative way to do it:
Write a 'cease' or 'stop contact' letter informing them that they need to cut contact with you.
Make two copies and keep one for yourself and send the other to Radius Global.
Send the original letter by certified mail with the phrase 'return receipt requested' as proof that you sent the letter.
Ensure that you follow these steps as they appear. According to the National Consumer Law Center, the collection agency will acknowledge your letter and inform you of their next course of action once you do this.
You can finally get some breathing space once you put a stop to the seemingly endless phone calls. Keep in mind that the debt collectors can still take legal action once you fail to pay your dues.
Step 5: Look into a Pay for Delete Agreement
A pay-for-delete agreement is a good way to improve your credit score in some cases. It is essentially when you negotiate to remove negative information from your report by paying off the balance.
Did you know that, on average, debt collectors pay four cents for every dollar of debt they purchase? Collectors can accept a lot less than what you're supposed to pay and still make huge profits.
A recent report revealed that most collection agencies tend to settle for at least 40 to 60 percent of the total debt balance. This automatically translates to thousands of dollars worth of savings. Try offering about 10 percent and find out if they'll settle for it. They might ask that you add something on top, but don't allow them to dictate how much you should pay. At the end of the day, it all comes down to mutual pay for delete negotiation.
When discussing a settlement, inquire from the collection company representative how possible it is for them to clear your debt record once you settle the amount. Send them a 'pay for delete' letter that confirms your arrangement, then expect them to send you a written commitment.
The pay for delete arrangement is where the collection agency agrees to eliminate your account from your record upon debt settlement.
Step 6: Ask for Help from a Credit Repair Expert
Global Solutions Radius isn't what you'd consider a 'small' collections agency. Being as huge as it is, dealing with them on your own isn't such a good idea.
It won't hurt to get help from a reputable credit repair company. Such companies understand the ins and outs of collection companies, and they're more than willing to share tips and tricks that will boost your credit score.
On the downside, not all credit repair companies are worthy of your trust and valuable bucks. Keep an eye out for the disreputable ones and steer clear of any credit repair scam.
Final Thoughts on Radius Global Solutions Collectors
Solutions Radius Global may be out to ruin your credit report, but you can rest easy knowing that you have options.
A dent in your credit report doesn't limit you from realizing your financial goals. Always remember that your debt does not define you. We all make mistakes – some bigger than others.
Either way, it's crucialThe collection debt can be that you take a step to remedy your misstep by doing all you can to get out of debt.
Are you looking for ways to manage your money and better your budget? Here is what we recommend:
Swagbucks pays you to take surveys online and is one of my favorite survey websites because of its countless survey options and trustworthiness. They pay you via PayPal or gift cards if you take surveys through their website. You also get a $5 welcome bonus using this link.
CIT Bank offers high yield savings accounts and term CDs that are great for people who are looking to invest their cash and earn interest. One of the reasons they are so famous among savers is because they have one of the nation's top rates- 6x the national average (your typical savings account earns you just 0.09%).
FlexJobs is great if you are looking for remote work opportunities. The team at FlexJobs monitors every job posting to make sure the standard is maintained so you will find well-paying job opportunities and zero scammy ones.
For wise parents with their children's futures in mind, an early tax-advantaged investment account specifically tailored for children is a fantastic idea. Programs such as UNest are designed to help you achieve this goal of
crafting a better future for your children.
Credit Saint is my top pick when it comes to credit repair agencies. It has a 90-day money-back guarantee, an A+ rating from the BBB, affordable pricing and it has also been voted the best credit repair company by consumer advocate. Credit Saint