How to Monetize Your Blog Step-by-Step
I recently created a tutorial for anyone looking to start a blog. I consider this a very important Part 2 to that article if you want to monetize your website or make money blogging.
Blogging is not only the ability to write. You also need to work on your ability to digitally market your products. 
Extremely simple digital marketing techniques will be the key difference in whether you earn $2000 a month on your blog or $20,000 a month.
For example, bloggers who earn more are 4.3 times more likely to research keywords before posting.
Simple stuff like knowing that listicle articles perform better and that how-to blogs are viewed more will give you more traffic.
Do not just work on creating an amazing blog post, make sure you back it with some basic digital marketing techniques.
Some of the links below are affiliate links. You can read my full disclosure here.
1. How to make great blog content ideas come to life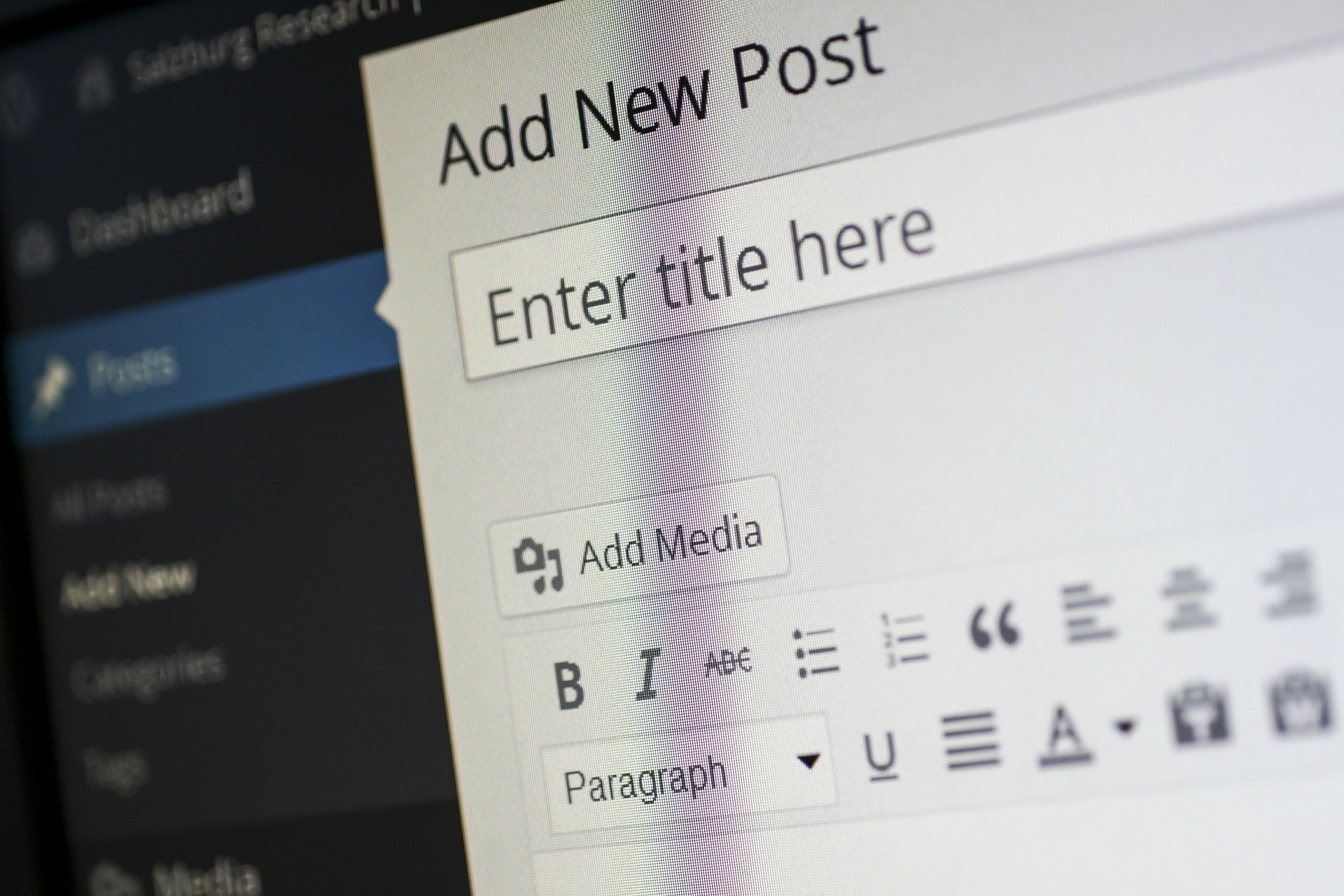 It is really important to have a blogging niche because if you do not, you just wind up looking lost. You cannot be posting about fashion one day of the week and finance the next and expect your readers to trust your judgment.
Having a niche will also help you reach your target audience. For example, if you own a parenting blog, a mom could potentially sign up for your e-mail list if she likes a certain post.
On the other hand, if your blog lacks a niche, the possibility of a reader coming back for more is significantly reduced since you are only giving them one article regarding what they are interested in.
How do I choose a blog niche?
Finding a profitable blogging niche that you can write about should be your final aim.
I have talked about the importance of having a blogging niche in my article about freelance businesses and this applies to starting a website as well. Once you narrow down on a niche, you should ask yourself these questions:
Do I know enough about this topic to create multiple blog posts?
Will I be able to make this profitable?
Am I passionate about this niche?
Here is a list of over 100 blog niche topics to get the ball rolling. Some of the most common ones are:
TravelBeautyCulture
Once you have narrowed down on what you want to write about, you need to start coming up with ideas.
Depending on your niche, you can use these websites to find blog post ideas for your website:
Once you have narrowed down on a blog post idea, you should come up with a great headline. A good headline should have these qualities:
Try starting the headline with a number like '10 Steps to…'List  articles are proven to be more  popular and they get in more leaders.
Make sure you give the reader what they are looking for in the headline. So, if your blog is about starting a website do not try to get too fancy with the headline. This may confuse potential readers. Keep it simple with something like: 'How to Start a Blog and Monetize it in 2019'
Use words that will help your content get bookmarked .'How to' articles are incredibly popular for  a reason. 
This will affect the way your site ranking on Google. You can use the CoSchedule headline analyzer. It is free and amazing. I use it for all of my blog posts. Here is an example:
( A score above 70 is what you should aim at. Do not let the tool do all the work for you though. Do not make your headline sound robotic just to get a 100)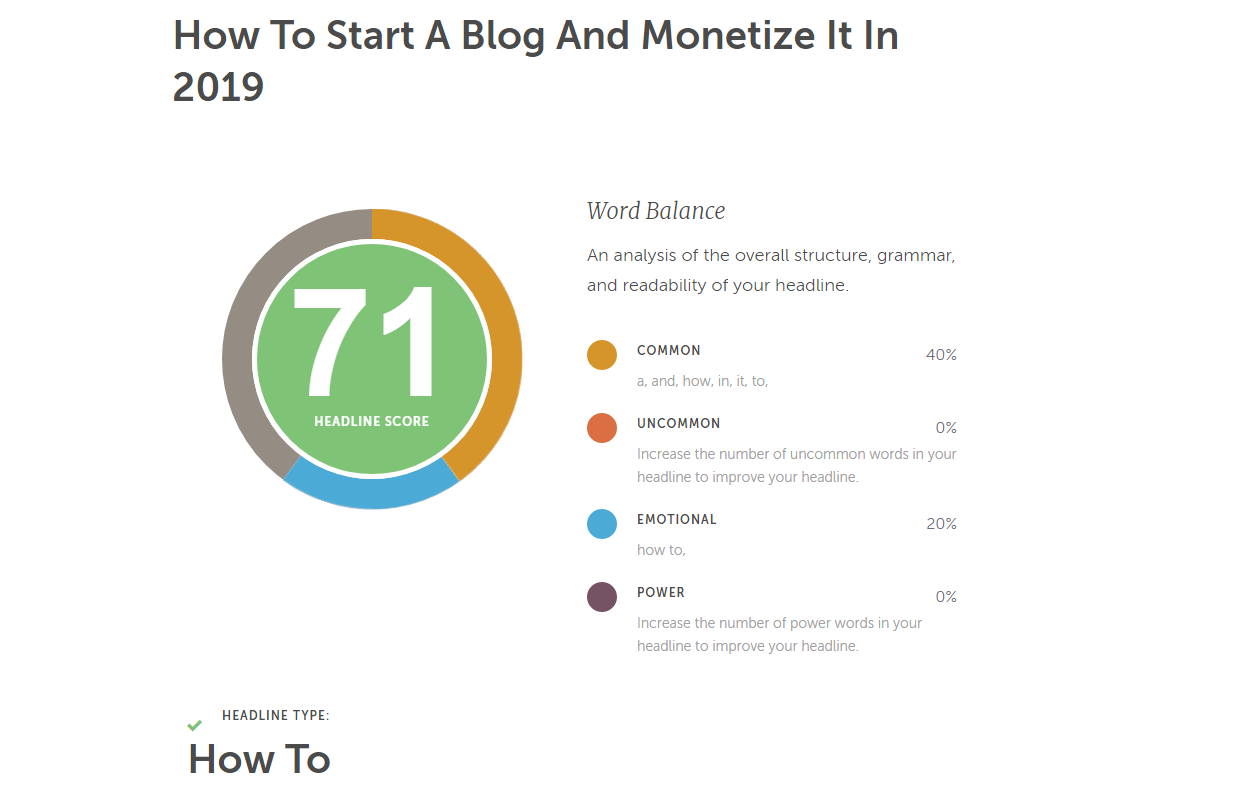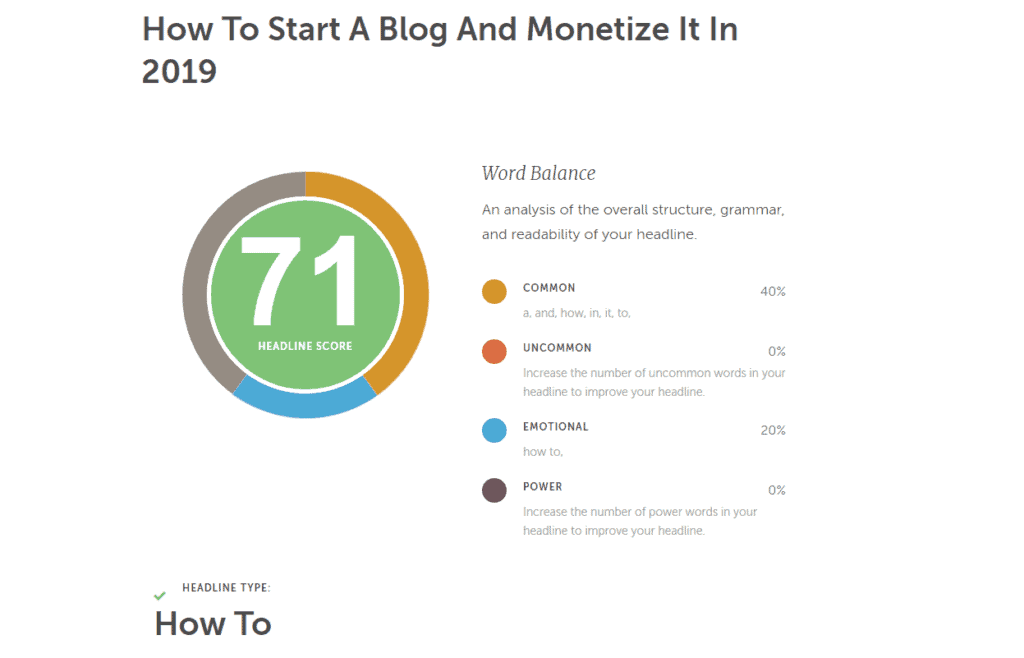 When you go on to write your blog post, make sure you include tons of great keywords. Here are some of the tools you can use:
Ahrefs (Paid)
Moz (Paid)
Keysearch ( Trial Available)
Google Search Console
Keywords Anywhere
Keywords help Google rank you better but make sure you do not add too many because then it looks unnatural and stuffed
How long should a blog post be?
According to Backlinko, a 2000 word post will receive a much higher Google rank than anything shorter. Take a look at this graph that they created to demonstrate the value a long blog post has: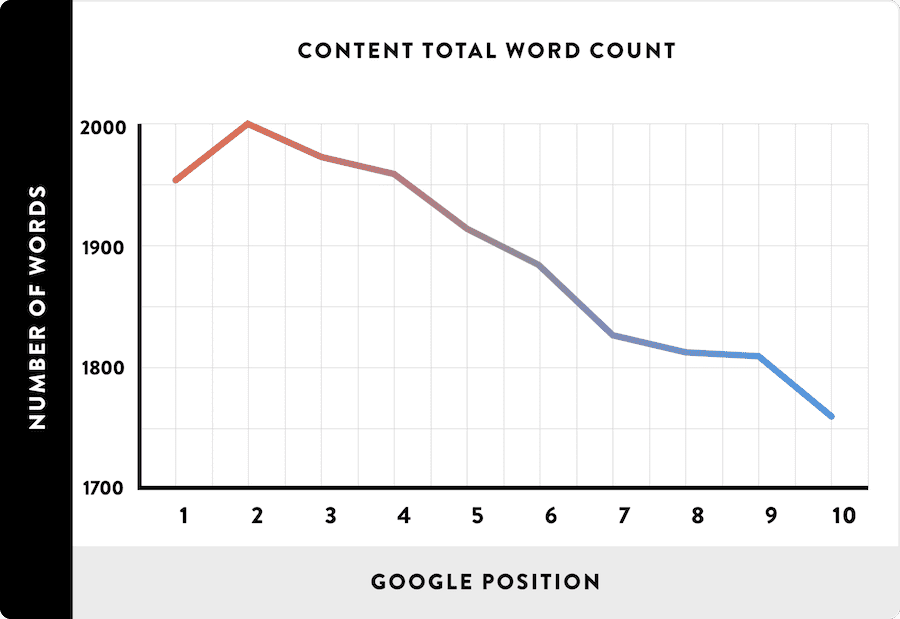 A lot of people think that having a longer blog post will mean fewer readers because of the short attention span that most people struggle with. That is not true at all.
Giving readers a thorough, long post will reign in the right readers that will actually use the products you are talking about. I have always said that having 20 good blog posts is far better than having 100 generic ones.
Use images for every post
Make sure you use amazing images for every post that you create. Make sure you do not use copyrighted images though as you may get in trouble with the owner.
A copyrighted image is an image that is owned by a certain website or company. So, all of those images that come up on Google are not exactly free to use. Here are some resources that provide free images:
Create an editorial calendar
Now that you have the right tools to write a blog post, you should also try creating a calendar of blog post ideas that you need to post.
This will keep you working by giving you a schedule to follow. You can simply use a Google excel sheet to create a month-long blog post idea calendar. You can also use this free editorial calendar template to get you started.
TIP: Make sure you change the name of your images. Your readers may not care but Google sure does. Having an image named 'random.jpg' vs 'blog-how-to.jpg' will make a difference when it comes to your ranking.
2. How to promote your blog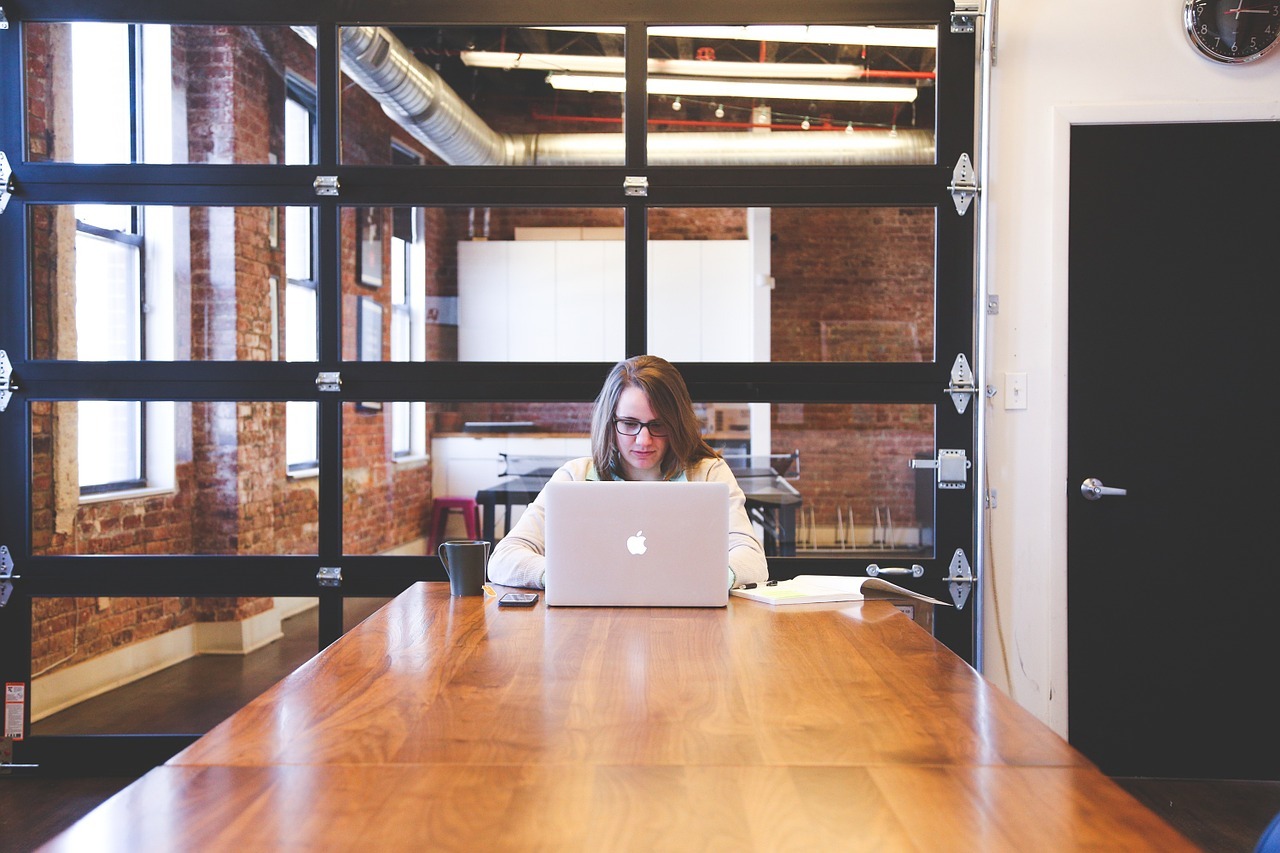 So, you have put all of this work into your blog and you have finally got it up and running along with a few amazing blog posts.
Your new problem is that you are not getting enough or any traffic. This is something every new blogger has to deal with and it can drive you insane.
Along with the tips I gave you before to rank higher, here are some things you should do to get traffic:
First of all, you need to narrow down on a few social media platforms that you want to use. Social media is a great way to grow your business and gain traffic.
Having 7 different social media profiles is just going to distract you and your readers. I use Pinterest, Twitter, and Facebook and display them like so:

These are all great platforms to depend on if you want to promote your blog online and see the best results.
Twitter
Second, on our list is Twitter. Go ahead and make a profile if you haven't already because Twitter is great for blogs.
Once you have your profile up, make sure you follow these steps to get the most out of Twitter:
1. Make sure you use keywords in your Twitter bio that correspond to your industry. This will help like-minded people find you.
2. Do not be afraid to use hashtags left, right, and center. They are amazing if you want to get people's eyeballs on your tweet.
3. Use loads of infographics in your tweets.
4. Make sure you link your website to your Twitter bio.
5. Try to have a good follower-following ratio. That means try to have more followers than people you are following. It helps with credibility.
6. Post frequently and engage with people from your industry. You may get a job opportunity out of it for all you know.
Facebook
I do not focus on Facebook as much as I focus on Pinterest or Twitter but I do think it is necessary all the same.
Creating a page is super simple if you already have a Facebook account. If you are on a desktop, go to the Create tab that is on the top and select 'Page' which is the first option.
3. Ways To Monetize Your Blog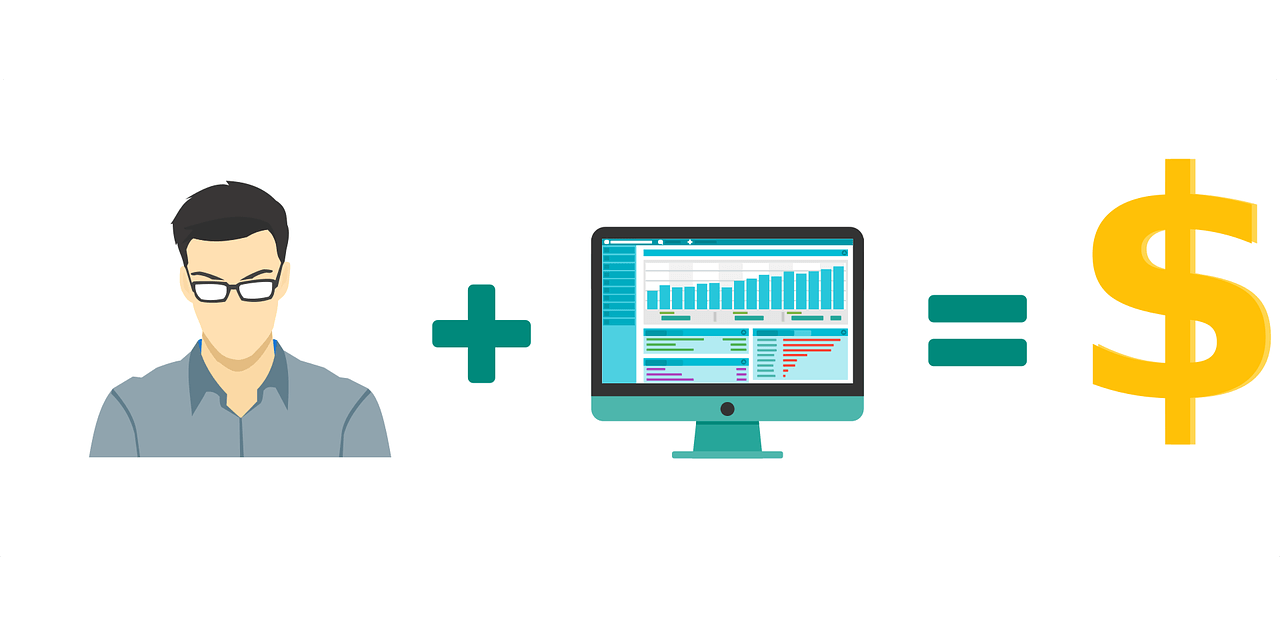 There are tons of ways you can monetize your new blog so you just need to figure out what works for you. Here are some of the most profitable ideas:
1. Become an affiliate
Becoming an affiliate for a product is the best way to make money through a blog. This is because it cuts out the middle man, for example, Google Adsense.
It is also great for new bloggers because most advertisement companies like Carbon Ads, for example, ask you to have a certain amount of traffic coming towards your blog.
Some companies also need your blog to be at least 3 months old. Most companies that offer affiliate programs do not have any prerequisites.
Here is how an affiliate program normally works: You sign up with a company whose product you have used, believe in, and want to sponsor.
They will give you a link as well as banners in some cases to use as you wish. You can sponsor the product through your content, a banner on your website, in a social media post, etc.
2. Use an advertisement company
This is probably the most well-known form of website monetization. You sign up with a company like Mediavine and allow them to post advertisements in certain places on your website.
3. Create a course/e-book
Selling an e-book or course to visitors is a great way to make cash. You do not have to split the profits with anyone else and you are promoting something you created.
Take some time to create a great e-book and it could profit you for years.
4. Sell Products
Creating a product of your own and selling it through your website can be super profitable.
For example, if you are a fashion niche website, you could sell your own clothing that you have designed via your website.
5. Sell Ad Space
If you reach a considerable amount of traffic, you could sign up with a certain company and give them an agreed-upon place on your web page to advertise their services.
6. E-mail list
Once you grow your list to a considerable amount, you could send e-mails to your subscribers sponsoring certain products within informative content. You will be reaching people that have already shown an interest in your website which means there is a better chance that they will respond. According to HubSpot, e-mail generates 38$ for every 1$ invested. This means that it has a 3800% Return On Investment- higher than most other forms of advertisement. 
I would suggest using Convert Kit because it is the best option out there and I can bet most bloggers would agree with me. 
Wrapping up
No matter what monetization method you have in mind, remember that you should diversify your income as much as you can.
Do not put all of your eggs into one basket because if the program that you are an affiliate for suddenly shuts shop, you are doomed.
Make sure your income is coming from multiple sources so that you are never too dependent on anybody else.
Looking to save money in other ways? Here is what we recommend looking into:
Swagbucks pays you to take surveys online and is one of my favorite survey websites because of its countless survey options and trustworthiness. They pay you via PayPal or gift cards if you take surveys through their website. You also get a $5 welcome bonus using this link.
CIT Bank offers high yield savings accounts and term CDs that are great for people who are looking to invest their cash and earn interest. One of the reasons they are so famous among savers is because they have one of the nation's top rates- 6x the national average (your typical savings account earns you just 0.09%).
FlexJobs is great if you are looking for remote work opportunities. The team at FlexJobs monitors every job posting to make sure the standard is maintained so you will find well-paying job opportunities and zero scammy ones.
For wise parents with their children's futures in mind, an early tax-advantaged investment account specifically tailored for children is a fantastic idea. Programs such as UNest are designed to help you achieve this goal of
crafting a better future for your children.
Credit Saint is my top pick when it comes to credit repair agencies. It has a 90-day money-back guarantee, an A+ rating from the BBB, affordable pricing and it has also been voted the best credit repair company by consumer advocate. Credit Saint