24-Hour Check Cashing Near Me: 6 Places to Cash Checks After Hours
Desperate times call for desperate measures, especially when you need cash quickly. If you work alternate hours, like the graveyard and early morning shifts, you have probably experienced firsthand how hard it is to find a place to cash a check that is near you and open at odd hours.
Convenience is necessary in our hectic, busy lives, and banking is no different. Whether you need to run to the grocery store once you get off shift, work a side job to save money that keeps you going non-stop, need to deal with emergencies, or want to handle your money when it suits you, being able to cash a check around the clock is non-negotiable.
The problem you may have quickly found is that the world does not preferentially cater to the needs of people on an alternate work schedule. You have probably gone out more than once looking for places that are open 24/7 so you could take care of your life needs and discovered that most places only are open during the more traditional work hours. This can be especially and understandably frustrating when you have things you need to do.
In this article, we'll look at 6 places to cash a check when you most need it.
Let's dive in!
What do I Need to Cash a Check?
You typically need to take a few things to cash a check at a bank, check cashing store, or other location. Here are some of the items that are frequently required to cash checks:
The check: The first and most obvious requirement is the actual check you want to cash. Ensure that it's properly filled out and signed by the payer.
Valid identification: You'll need a government-issued photo I.D. Common forms of I.D. include a driver's license, state I.D. card, passport, or military I.D. Make sure your I.D. is current and not expired.
Endorsement: On the back of the check, you will need to endorse it by signing your name. Some check cashing locations may require you to endorse the check in their presence.
Fees: Some locations charge fees for their services, so be prepared to pay a fee if applicable. Banks typically do not charge fees for cashing checks for their account holders.
Verification: Be prepared to answer some basic questions about yourself, such as your address and contact information. This helps verify your identity and may be required by the check-cashing store.
Social Security Number: Certain check cashing stores or banks may request your Social Security Number as an additional verification measure. This is more common for larger checks or in cases where fraud is suspected.
Remember that specific requirements can vary depending on the institution and the check amount. It's a good idea to call ahead or check the bank website or check cashing store you plan to visit to confirm their specific requirements, especially if you're dealing with a large check, need credit repair, or have any doubts about the process.
How to Cash a Check?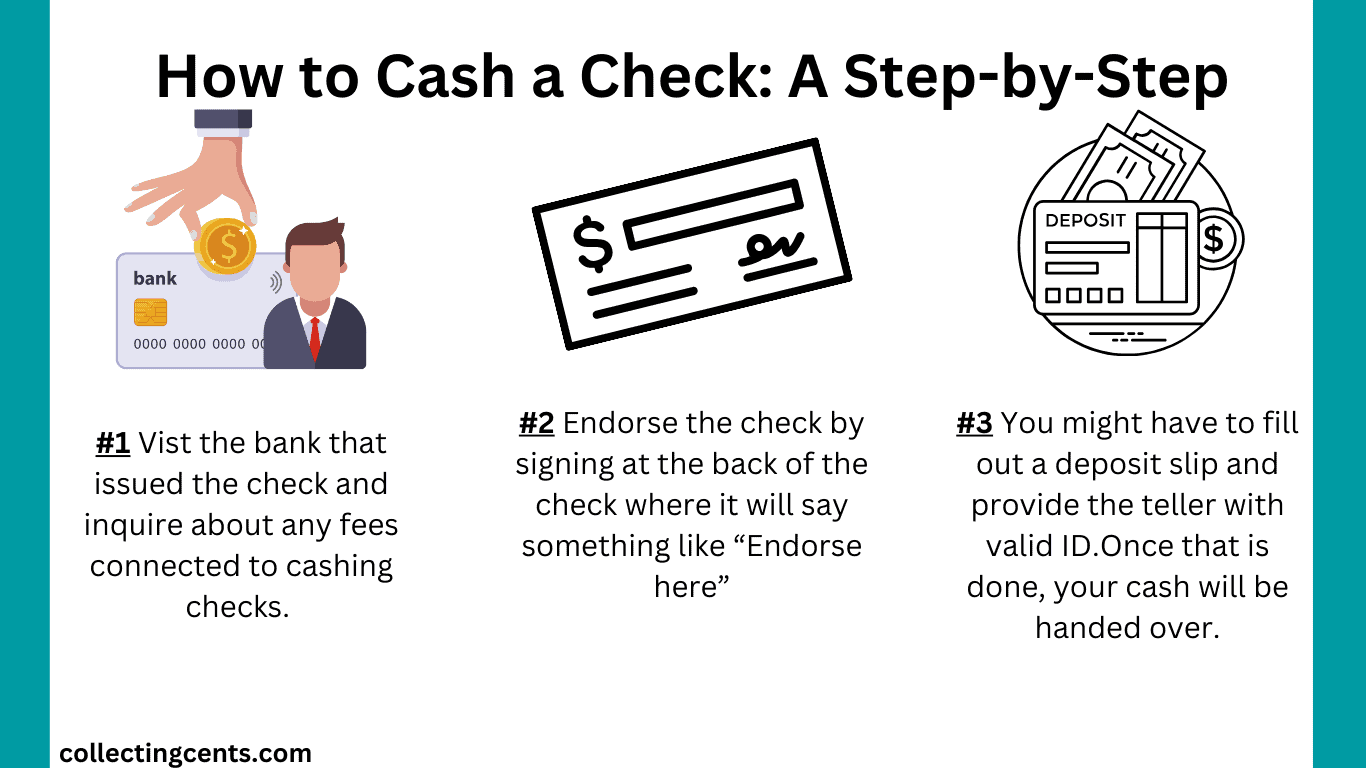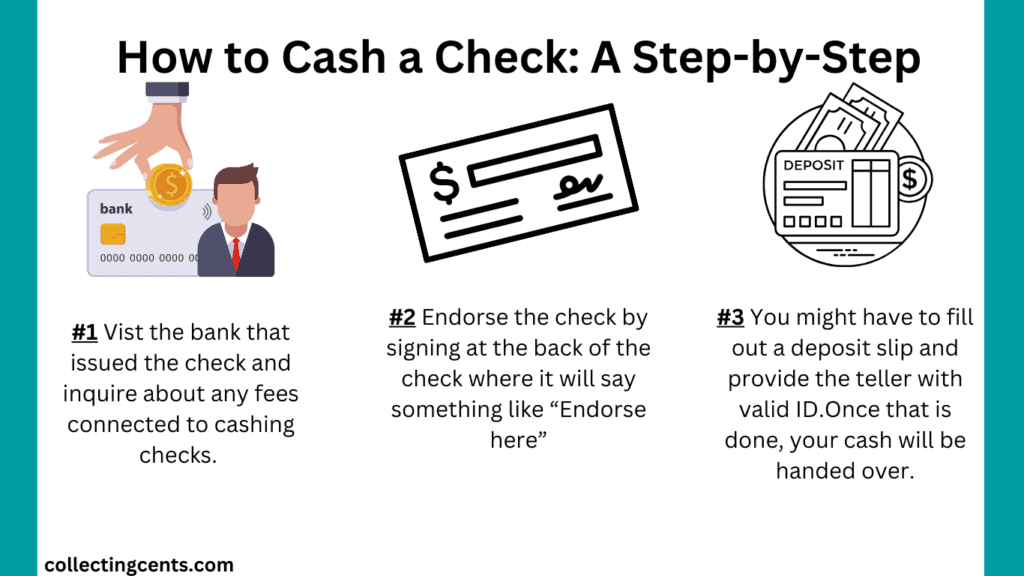 Once you have everything you need, the first step is to make sure the check is cashable. This means that the person drawing the check should verify their phone number, address, and name on the check.
After that is done, you can even call the bank that they are drawing the check from to verify that there are funds in the account. Most banks will verify that the account exists if you provide them with the account number.
The next few steps involve visiting the bank to get your cash checked. Here is how to get that done:
The best bank you could visit to get the cash checked is the bank that the check has been drawn from. So, if the check has been drawn from Wells Fargo, it would be simplest to go there to cash the check.
Once you are there, you will be asked to endorse the check by signing the back of the check. Endorsing a check helps verify you as the receiver of the funds and it gives the bank permission to complete the transaction.
You will have to then fill out a deposit slip and provide a valid I.D. to prove you are the recipient.
Your cash is then handed over to you.
6 Places to Cash Checks After Hours
Many places are available in 2023 to cash your check past traditional hours. To find the closest one near you, you should Google Cash check near me open now to find out what your closest options are. Here are some of the top places you should consider and why they are noteworthy.
#1 Traditional Banks
Your best bet to cash a check is your own bank or the bank where the check is drawn from. Sometimes you can cash a check at a bank or credit union that is not your personal bank for a fee, but you should always call ahead to see if that is an option.
Emergencies don't follow a schedule and traditional banks tend to offer 24/7 ATM services or online banking. Access to your emergency funds, so you can have cash immediately around the clock, ensures you can promptly respond to unexpected situations. Plus, if you are going after hours or depositing through your phone, you can avoid long lines at the bank, which can be a huge time-saver.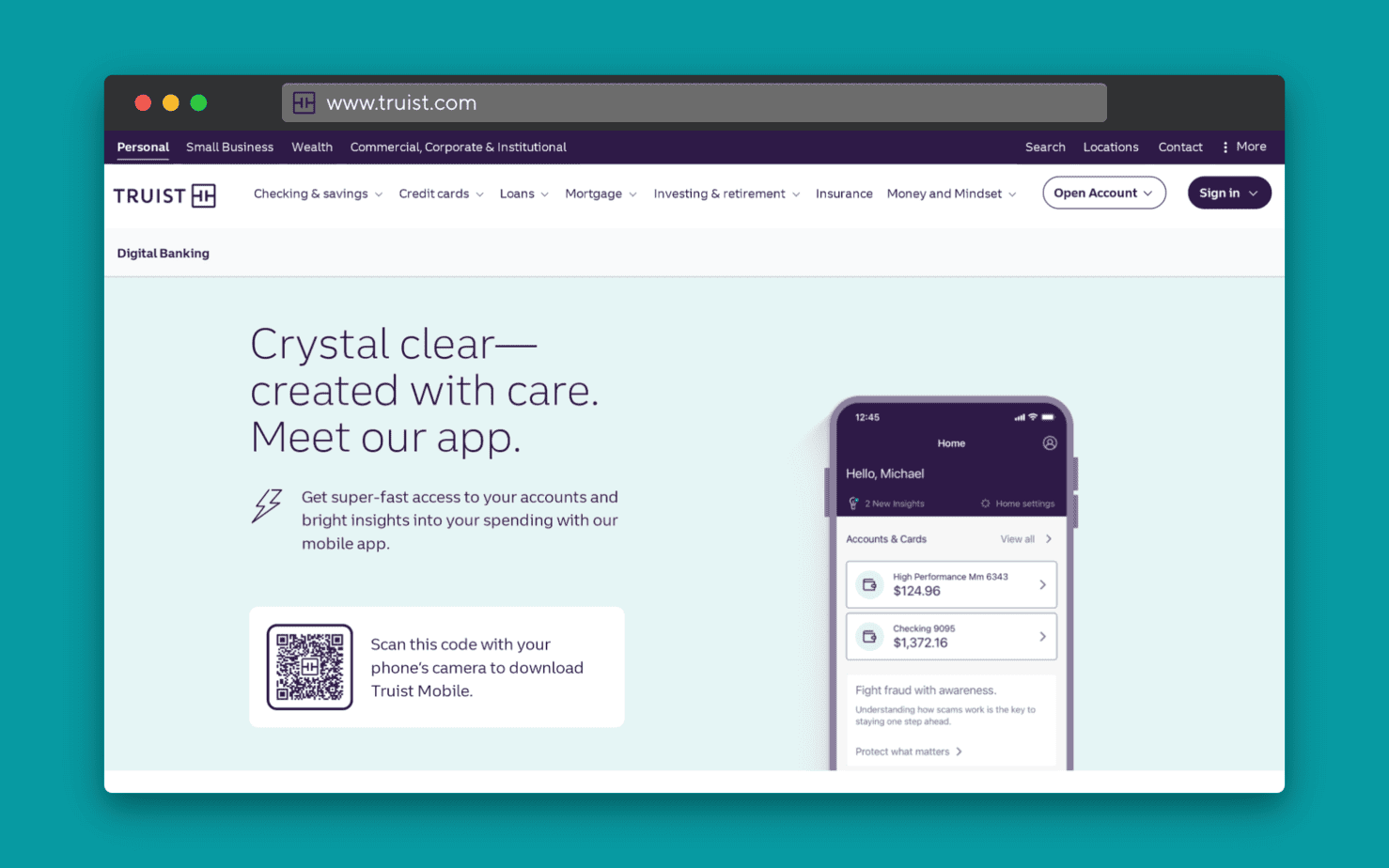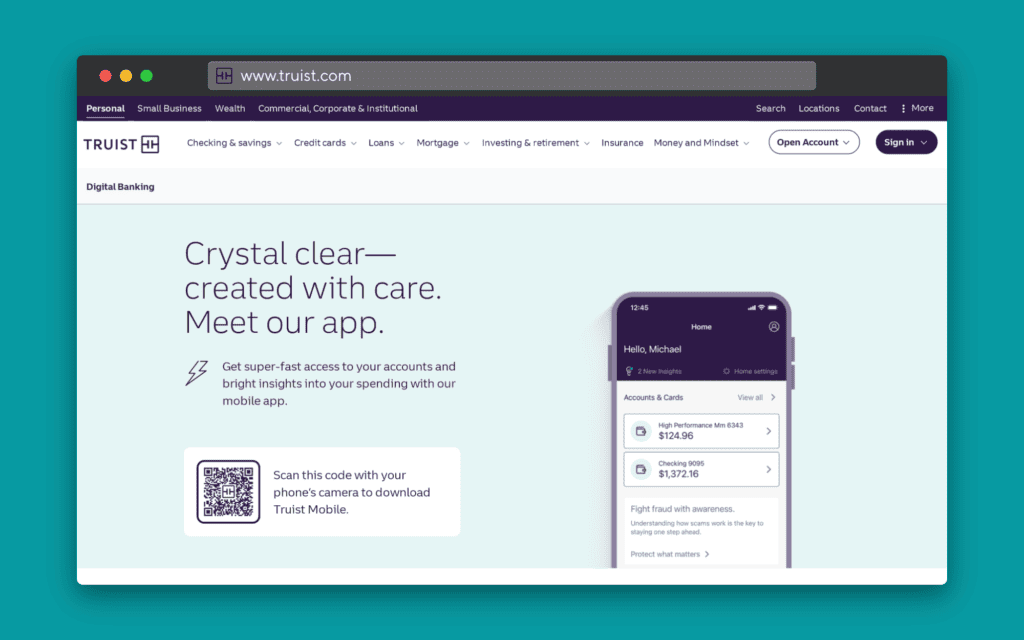 Although you won't find a bank teller available at all hours, you can conveniently deposit a check or withdraw cash from an ATM at any time. Additionally, some banks offer mobile apps that allow you to deposit checks using your smartphone, making the process even more accessible.
Some of the top banks people use to cash checks through 24/7 ATM or mobile services are:
Bank of America
Chase
TCF Bank
U.S. Bank
Truist
Wells Fargo
#2 Community Financial Services Center
Community Financial Services Center is a company focused on providing financial services. One of the key services CFSC provides is check-cashing. Check-cashing stores have grown in recent years. In fact, the global Check Cashing Market size accounted for USD 40.7 billion in 2022. It is also projected to surpass USD 56.4 billion in 2032.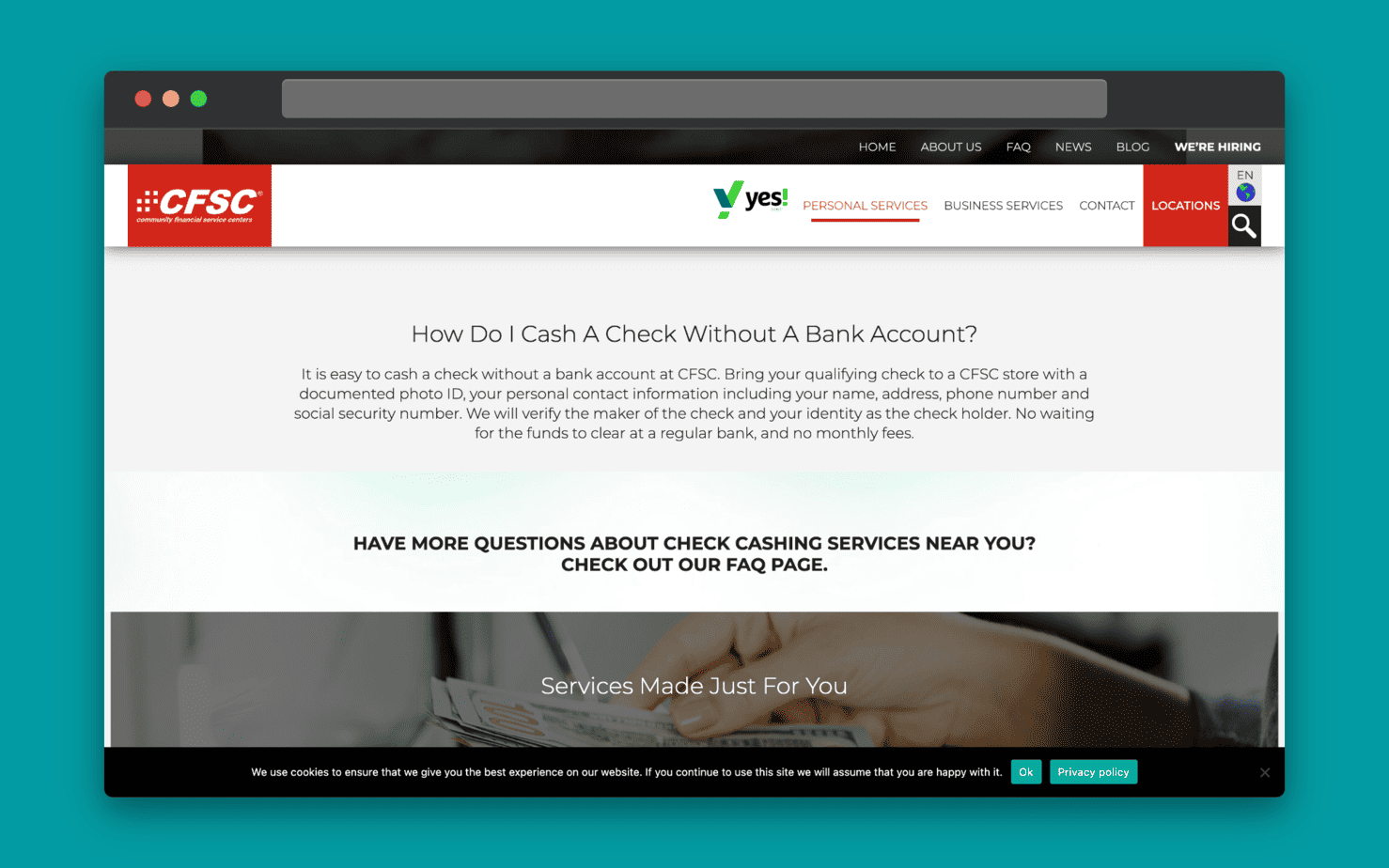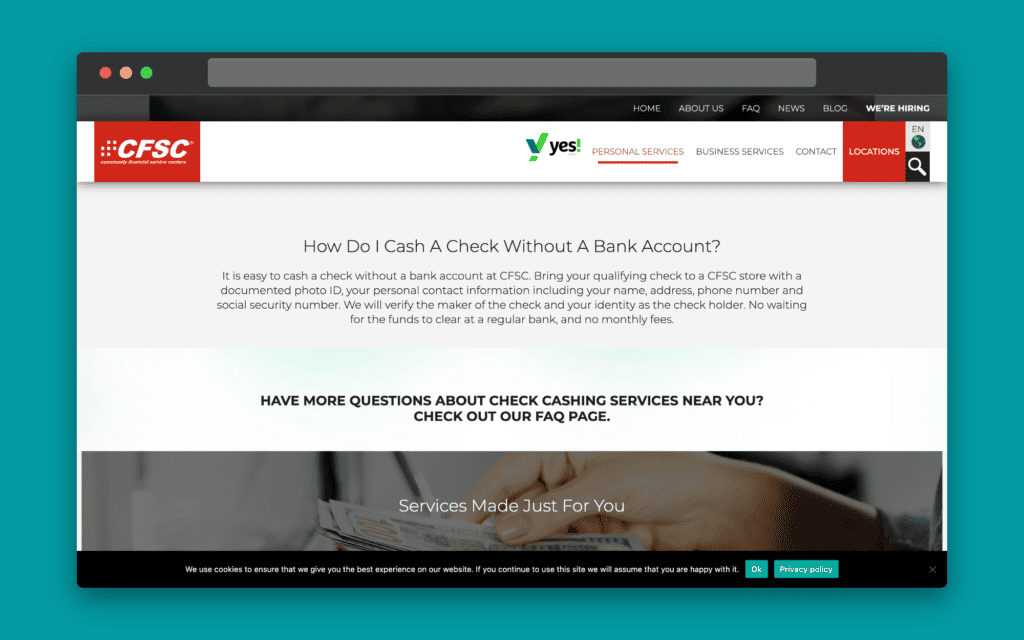 Obviously, with such exponential growth projected, CFSC is here to stay. CFSC now has more than 200 locations, so be sure to check out which one is closest to you. Check-cashing is available for a fee for a wide variety of checks. Some of the main checks they'll cash are:
Payroll Check
Government Check
Stimulus Check
Social Security Check
SSI Check
Unemployment Check
Veteran's Benefit Check
Income Tax Refund Check
Using a check-cashing service like CFSC is an awesome choice because it is designed for quick transactions, which will save you time. It will also give you an added layer of privacy, and no bank account is needed. This is definitely a great option to consider when you need to cash a check quickly.
#3 Shell
In 2023, there are more than 12,000 Shell locations in the U.S. Many of these locations are independently owned, so they operate a bit differently from one another.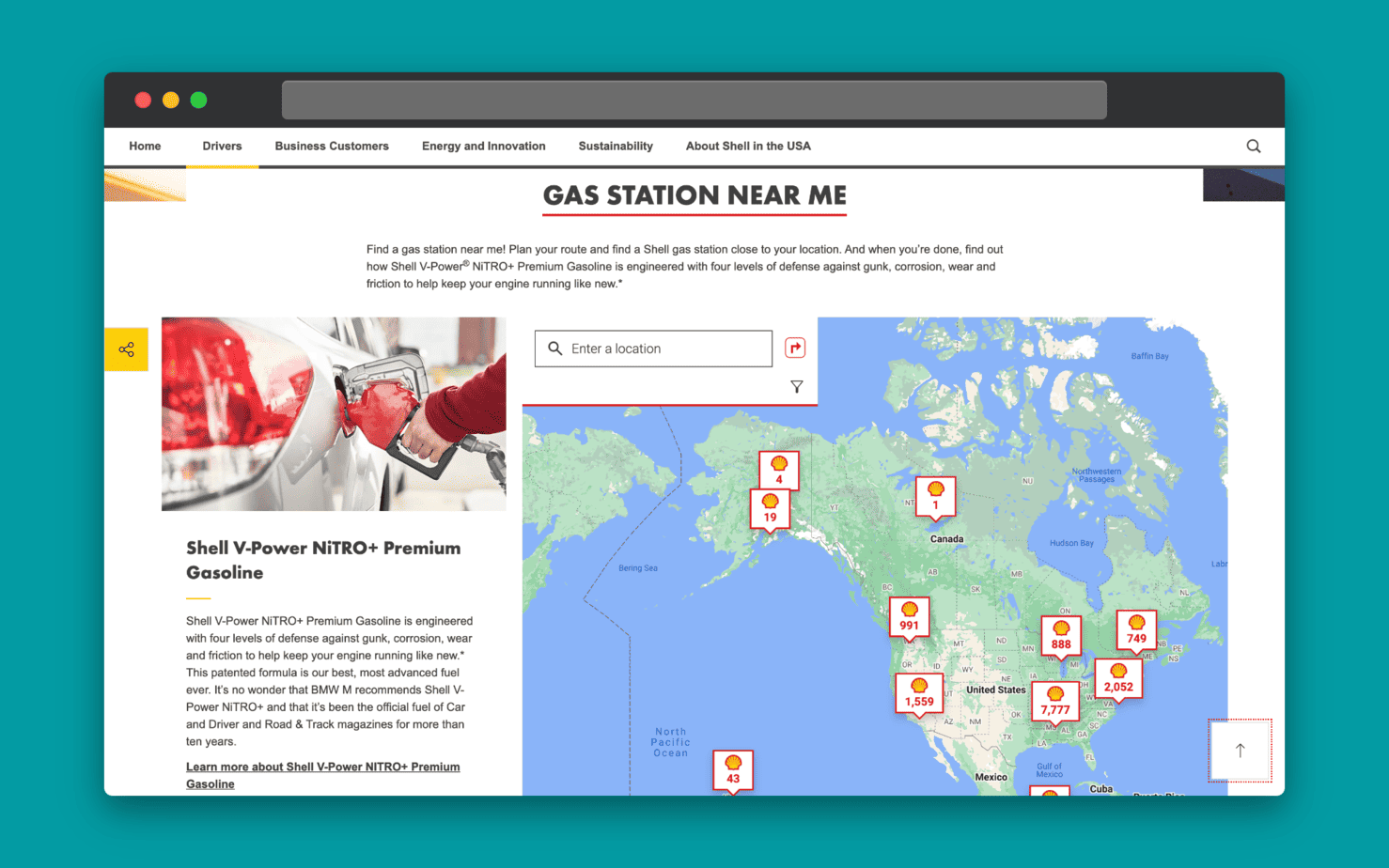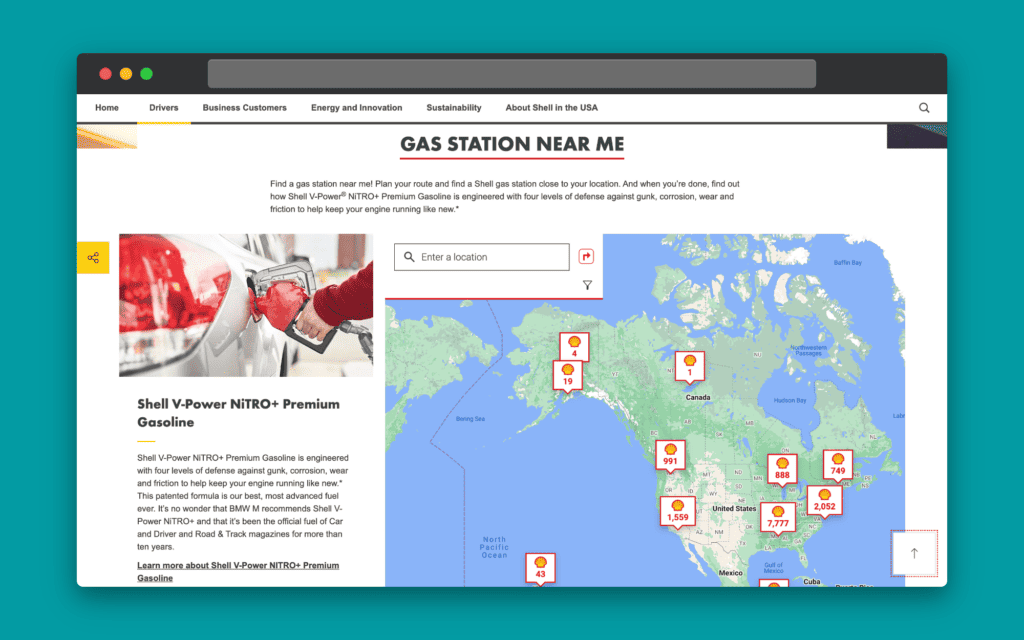 Shell gas stations are one place you should check out to cash your check in the middle of the night.
Each location can decide whether they will do this or not, so be sure to call ahead and see what their policy is before going in. If they do cash checks at a Shell near you, be sure to take your I.D. so the process can be as smooth as possible.
#4 Walmart
Walmart is another grocery store that cashes checks. It stands out as it offers so many different money services. Cash-checking is one of the top services provided for cash immediately and is quite popular for the store.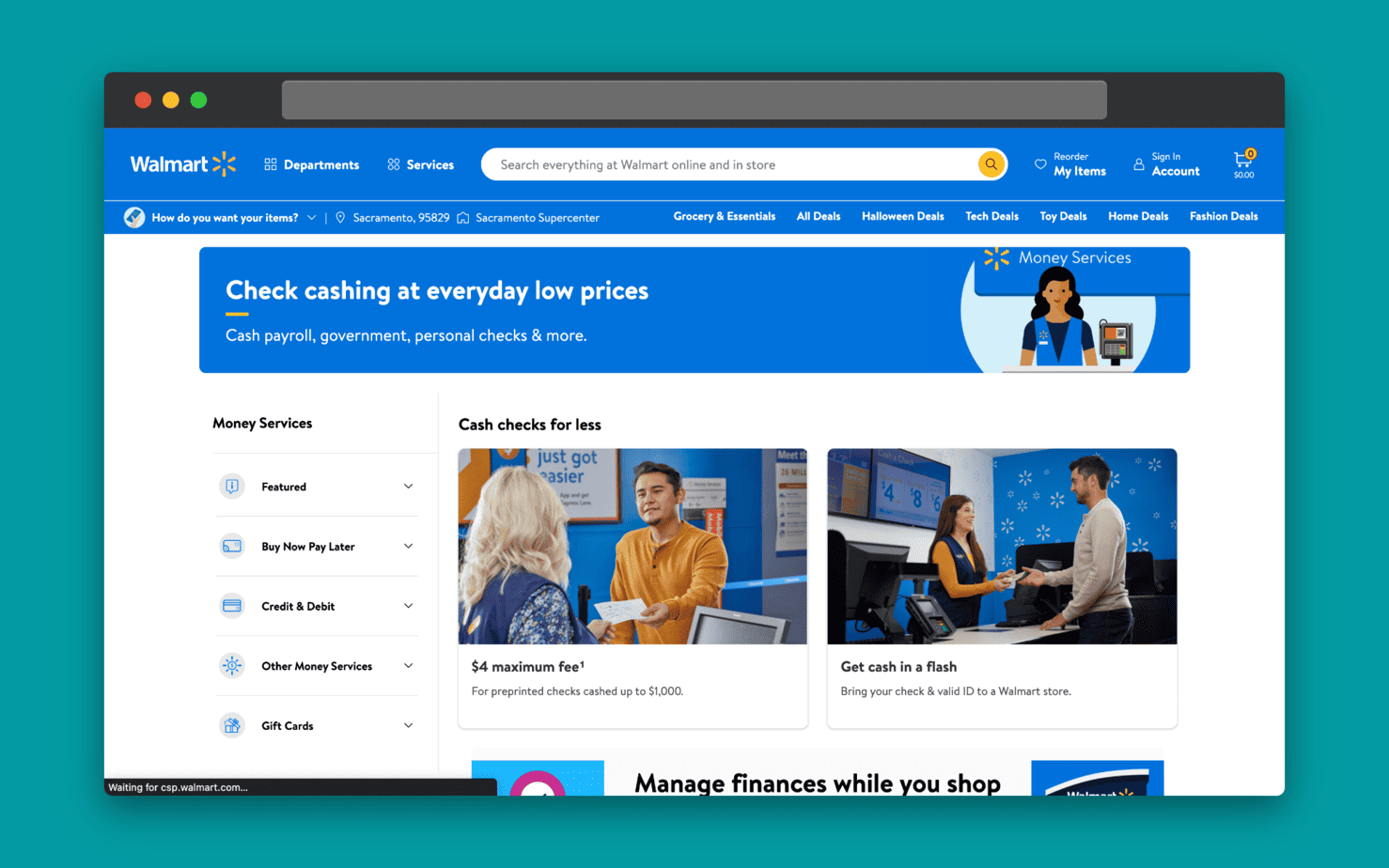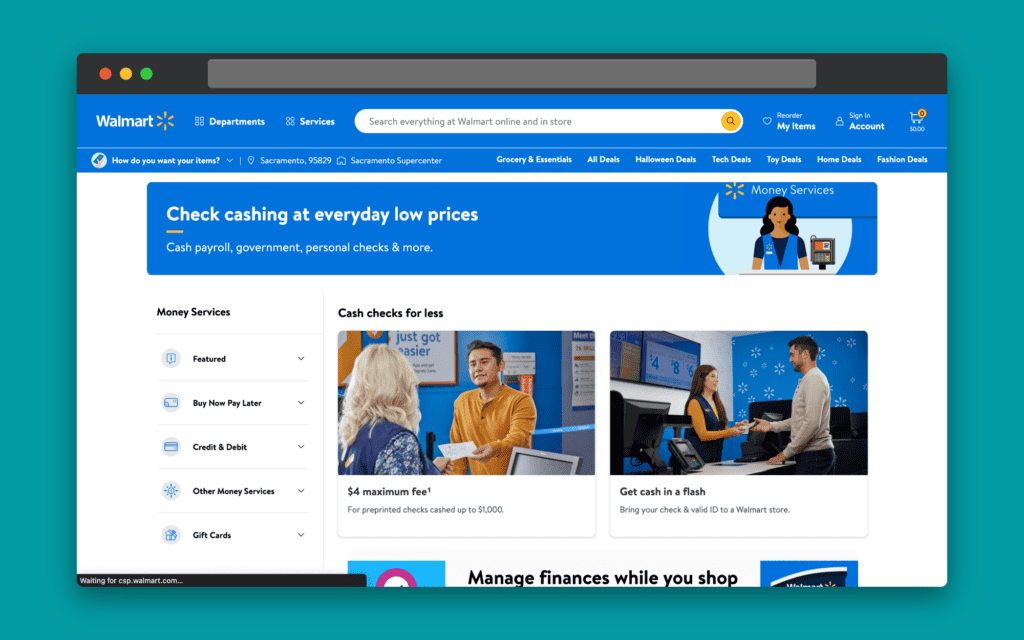 Walmart currently offers a max fee of $4.00 on checks up to $1,000 and a max of $8.00 for other amounts up to $5,000. The low rates are definitely something to consider when choosing where to go.
Some Walmart Money Centers offer different hours. Most of the Money Centers are generally open from 6:00 a.m. to 11:00 p.m.
Here are some of the top checks that Walmart will cash:
Payroll checks
Government checks
Tax refund checks
Cashiers' checks
Insurance settlement checks
401(k) checks
#5 7-Eleven
If you find yourself needing to cash a check at 2:00 a.m. in the morning for some speedy cash, you may just want to go ahead and head over to 7-Eleven and open their Transact card. The convenience store and gas station is a pretty convenient option for late-night and early cash checking services as it is open 24/7 and partners with Transact for money services. All you need to do is sign up for the card, use the app to deposit checks, and then cash out the funds at your nearest 7-Eleven ATM.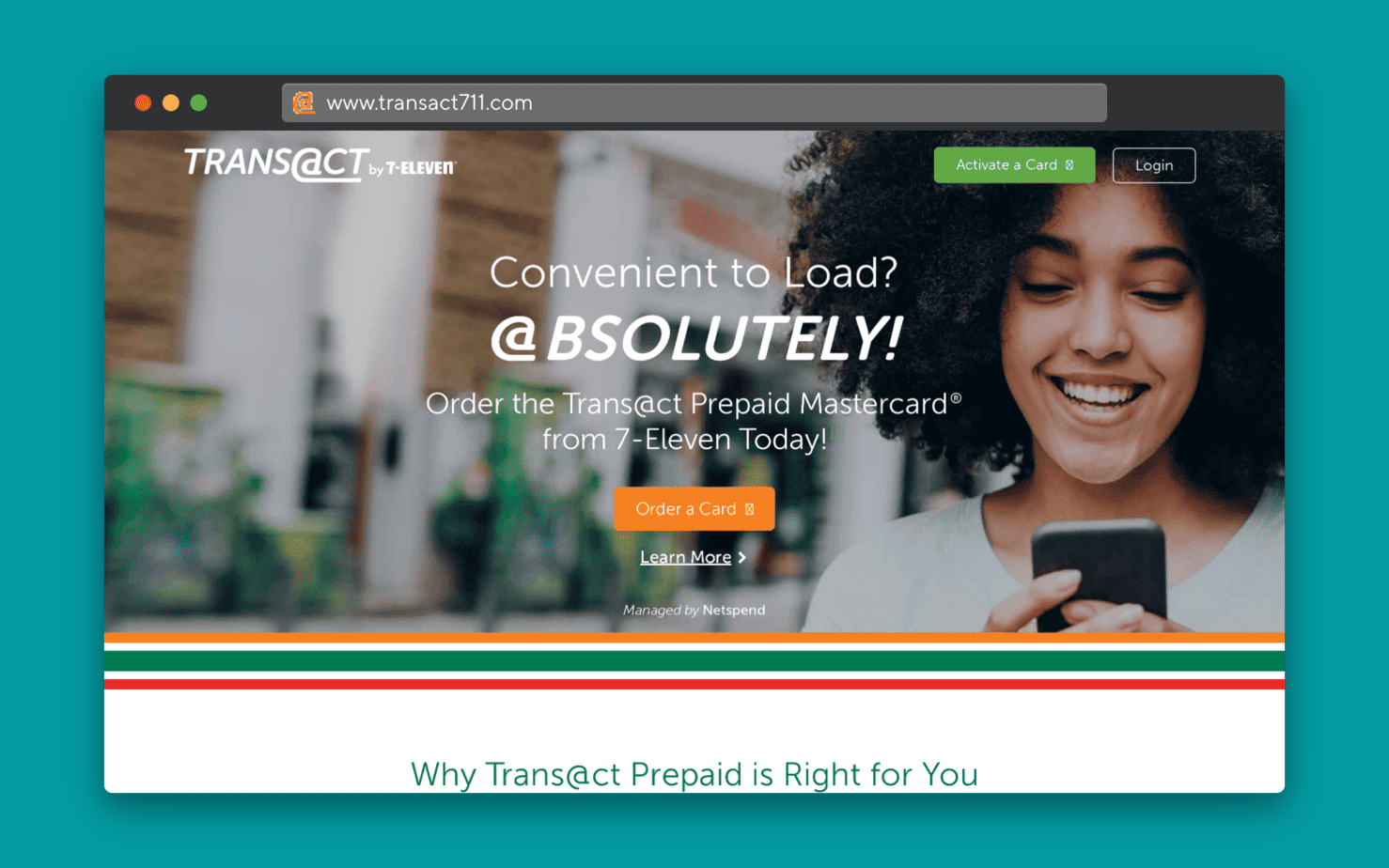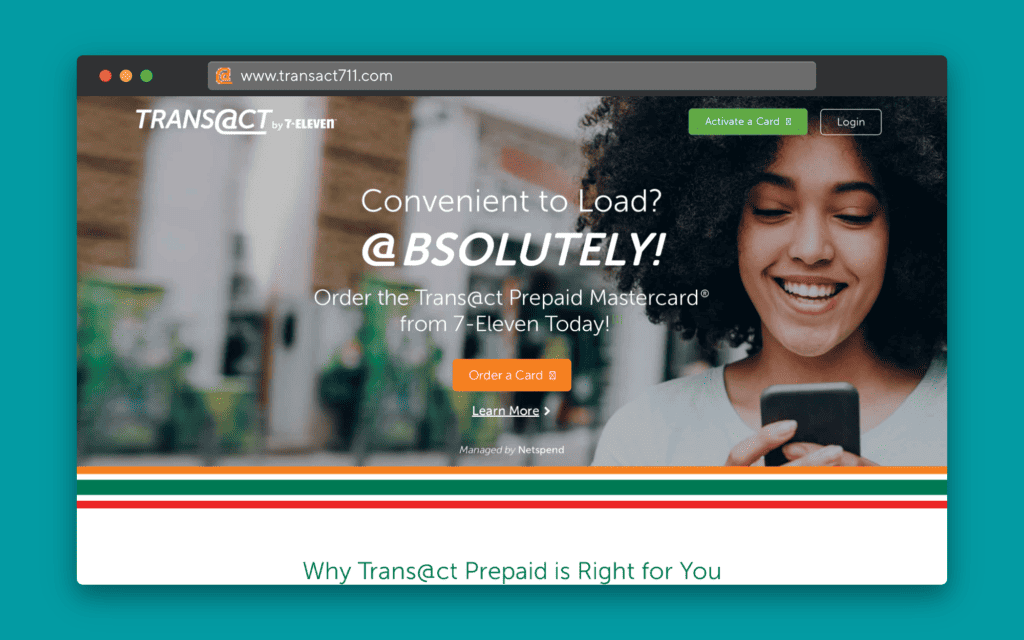 In 2023, 7-Eleven has more than 13,000 locations. So, this option should be readily available near you when you find yourself needing to cash a check quickly or some emergency cash.
Here are some of the checks that Transact will accept:
Government benefit checks
Payroll checks
Insurance settlement checks
Cashier's checks
Tax refund checks
#6 Kroger
Many grocery stores now offer check cashing services as part of their customer convenience initiatives. Kroger is no exception to this initiative and is a popular location for check-cashing services.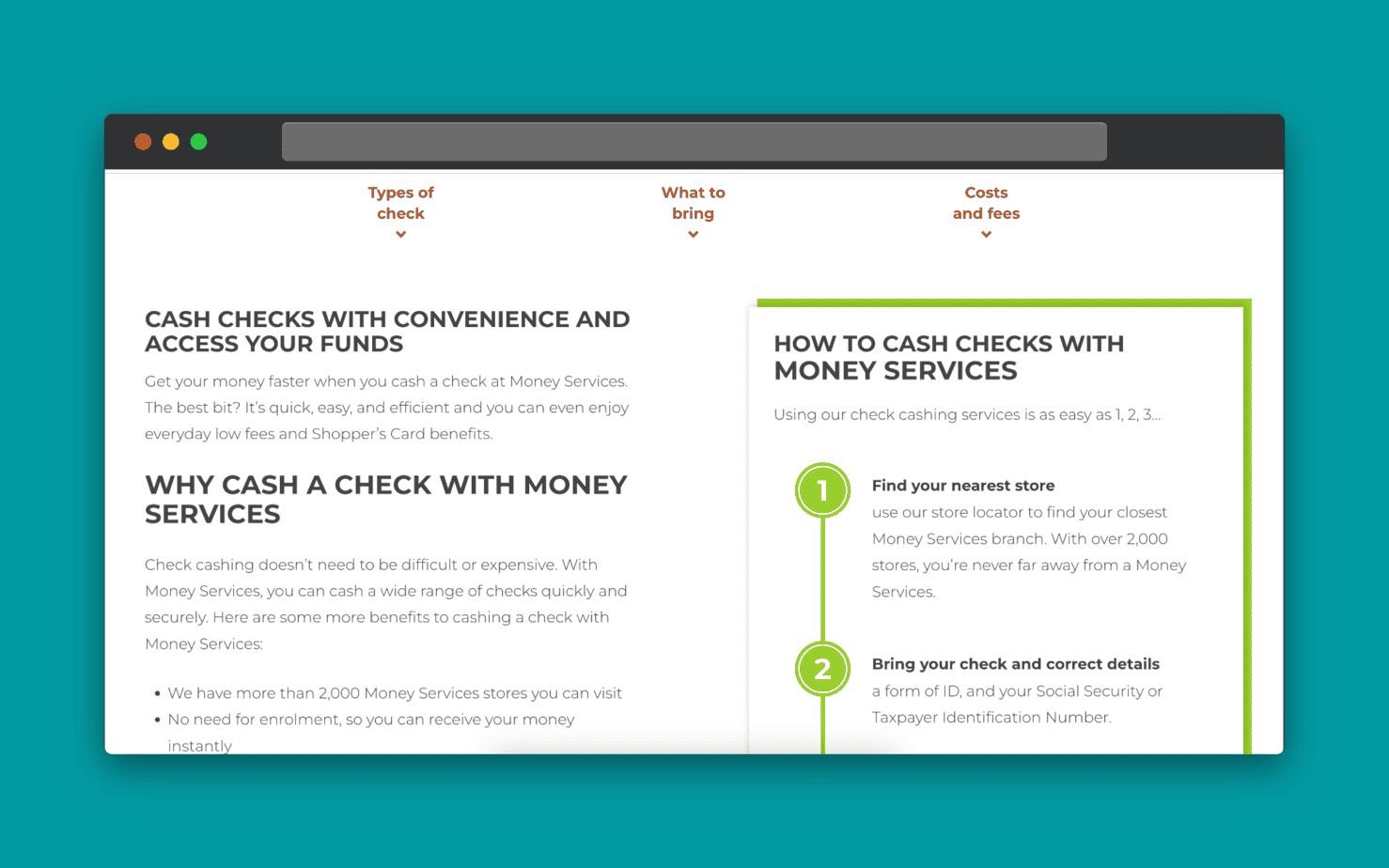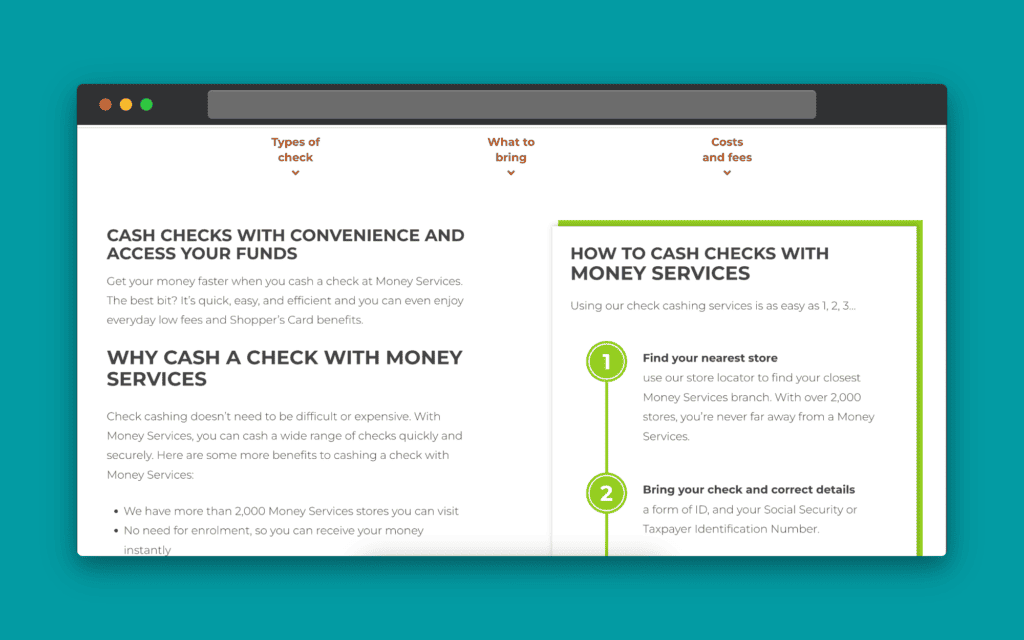 In 2023, Kroger offers more than 2,000 locations for you to choose from to cash a check. Although Kroger is not a 24/7 cash checking service, Kroger Money Services are open from 8:00 a.m. to 8:00 p.m., so the extended hours can be helpful when you work an alternate schedule.
Kroger does charge a small fee for cash checking that varies by location. Still, the added convenience can be worth it, especially if you need money fast to catch up on bills.
Here are some kinds of checks that Kroger will cash:
Payroll checks
Government checks
Tax Refund checks
Insurance Settlement
Business checks
Child support checks
Debit card cashing
Frequently Asked Questions (FAQs)
What If I Need to Transfer Money?
If you are cashing a check because you need to transfer money internationally, you can rest assured, there are several options nowadays for how you can transfer money once you have cashed your check.
If you plan to travel internationally, you should especially be informed of the best exchange options. For example, XE is primarily known for its simple international currency exchange. The service is very straightforward and simplifies the process of having to transfer money to another country.
Plus, you can transfer money 24/7 using the app on the phone, so it's readily available for your use.
Does the type of check matter when cashing it?
Yes, banks are only obligated to make $200 available to you in cash within one business day. This is for commercial and personal checks. However, if it is a government-issued check the bank will make the full amount available to you within one business day.
Can you cash a check without a bank account?
Yes, this is typically done at the bank from where the check was drawn since they will be able to verify that the funds exist in the account of the check writer. You can also try retailers and stores like the ones we mentioned above.
How long do you have to cash a check?
180 days is the typical duration for how long payroll, personal, and business checks are valid. A bank will honor the check if you cash it or deposit it within this period of time.
However, you should remember that the quicker you cash or deposit the check- the better. This is because the check writer may close their account, change their bank, or not have enough funds in their account if you delay depositing the check.
Final Thoughts on Alternative Hours Check Cashing
In our increasingly fast-paced world, having access to financial services 24/7 is essential. Emergencies, unexpected expenses, and diverse work schedules make it imperative to have banking options that cater to our needs at all hours.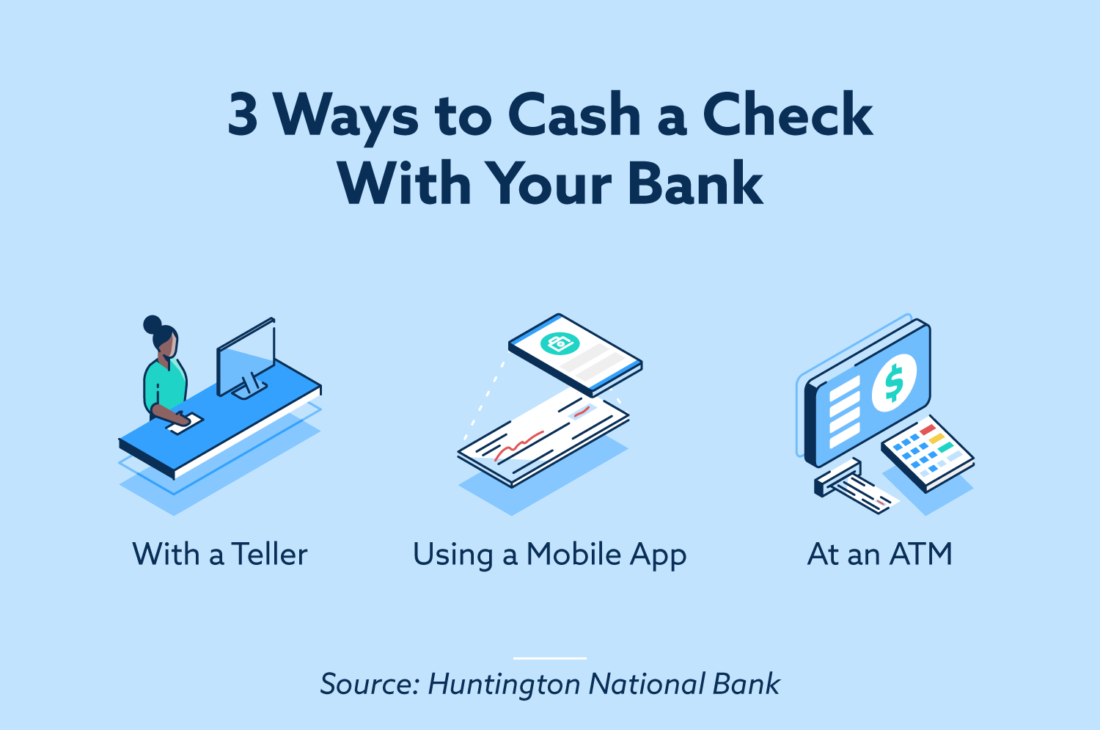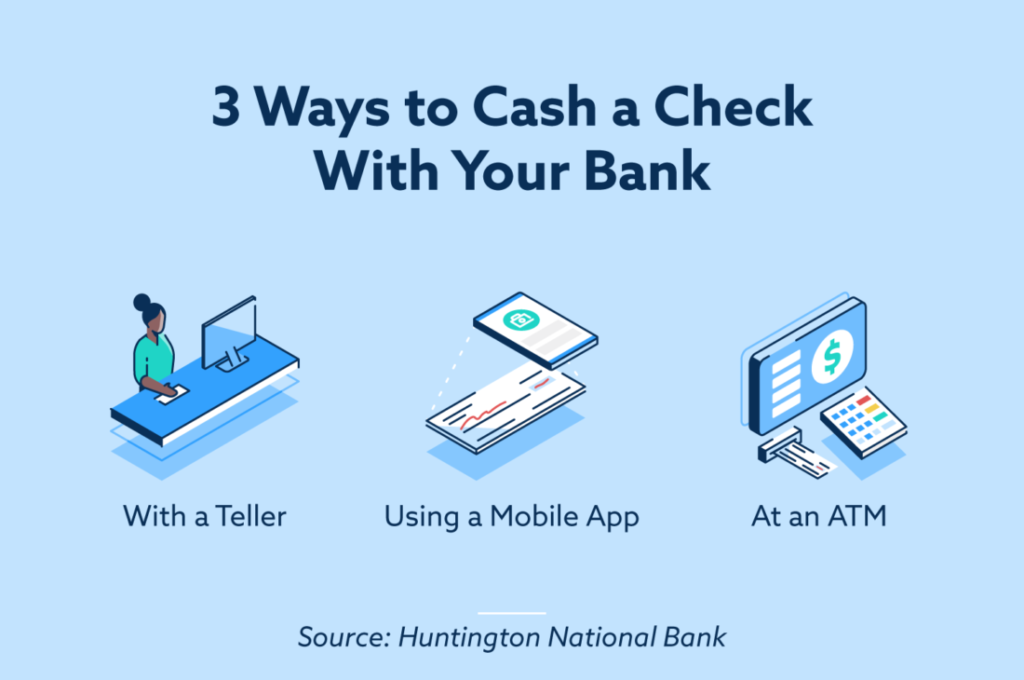 The availability of 24/7 banking services at various locations near you is a valuable resource that empowers you to manage your finances effectively.
As technology advances, the options for accessing your funds anytime and anywhere should grow, making financial transactions more convenient and efficient than ever before.