The 9 Best High-Risk Merchant Account Processors: Payment Processing Gateways
Being a high-risk merchant can mean delayed approval times, trouble securing a merchant account, and, in many cases, even rejection from payment processors.
But it doesn't have to.
Enter high-risk merchant processors.
A high-risk merchant processor works specifically with businesses considered "high risk," so they understand your increased likelihood for chargebacks. As a result, they also provide insightful, money-saving software features like chargeback and fraud prevention.
In this blog post, we'll help you find the best high-risk payment processor for your needs by exploring the nine best ones on the market.
What Are the Best High-Risk Merchant Account Processors?
In this article, we'll explore the following high-risk merchant processors in depth:
Payline — Best for businesses looking for affordable interchange rates and who use Visa and Mastercard.
PaymentCloud — Best for businesses looking for completely customized payment packages, fraud prevention tools, advanced payment gateways, and merchant funding.
HighRiskPay.com — Best for any high-risk business, with a 99% approval rate, no credit score requirements, 24-hour approval, and chargeback prevention.
Soar Payments — Best for high-risk merchants looking for an instant online quote and industry minimum pricing with many eCommerce integrations.
National Processing — Best for businesses looking for a reputable payment processor with 20+ years of experience and transparent pricing.
Payment Depot — Best for businesses who need a simple, monthly subscription-model pricing plan without sacrificing equipment or features.
Durango Merchant Services — Best for businesses looking for tons of shopping cart integration options, comprehensive reporting, and many options for collecting payments.
SMB Global — Best for finding high-risk merchant processors with the lowest rates and fastest approval times.
Host Merchant Services — Best high-risk merchant processor that guarantees your credit card rates never increase.
#1 Payline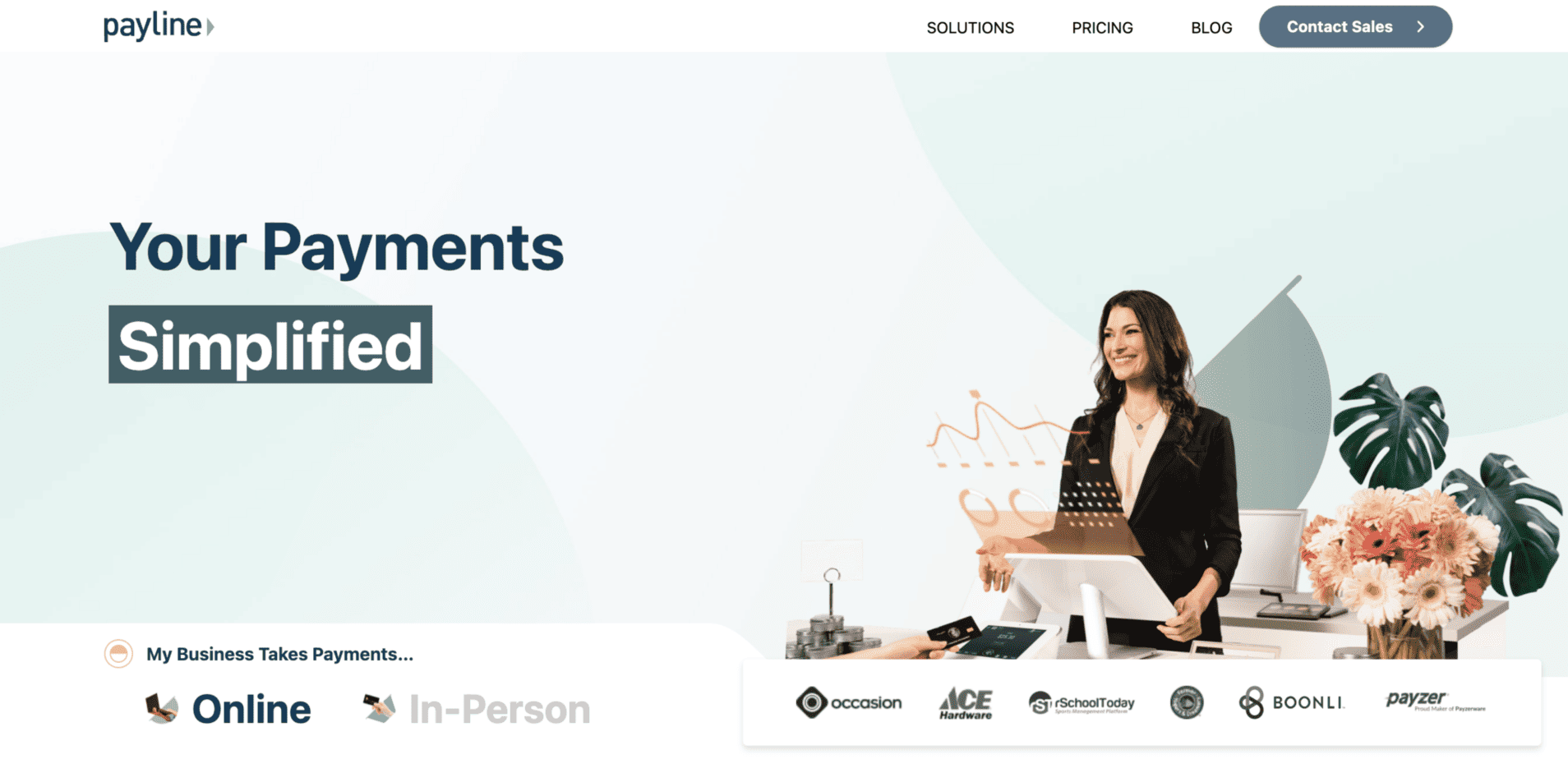 Overview
Payline lets high-risk merchants process payments online or in person with their simplified technology.
Online merchants get features like shopping cart integrations, custom reporting, and next-day funding. Whereas in-person brands have access to mobile options, point-of-sale systems, and multiple hardware options.
Highlights
Payline lets you see exactly what you'll pay monthly with its transparent monthly price calculator.
See all your payments in one place with Payline's Virtual Terminal (VT) and online dashboard. You can accept all payments here, too.
Use Payline's cart integration and payment page feature to accept payments through your website easily.
Send simplified electronic invoices with the ability to schedule payments and set up recurring billing.
Take advantage of Payline's open-faced API and Developer docs to customize your integrations to native or third-party software.
Save money with Payline's interchange optimization, which gives you the best Visa and Mastercard interchange rates (starting from .20% and getting up to .90% per transaction).
Put your mind at ease with secure tokenizing and data storage thanks to Payline's Hosted iFrame Tokenizer.
Pricing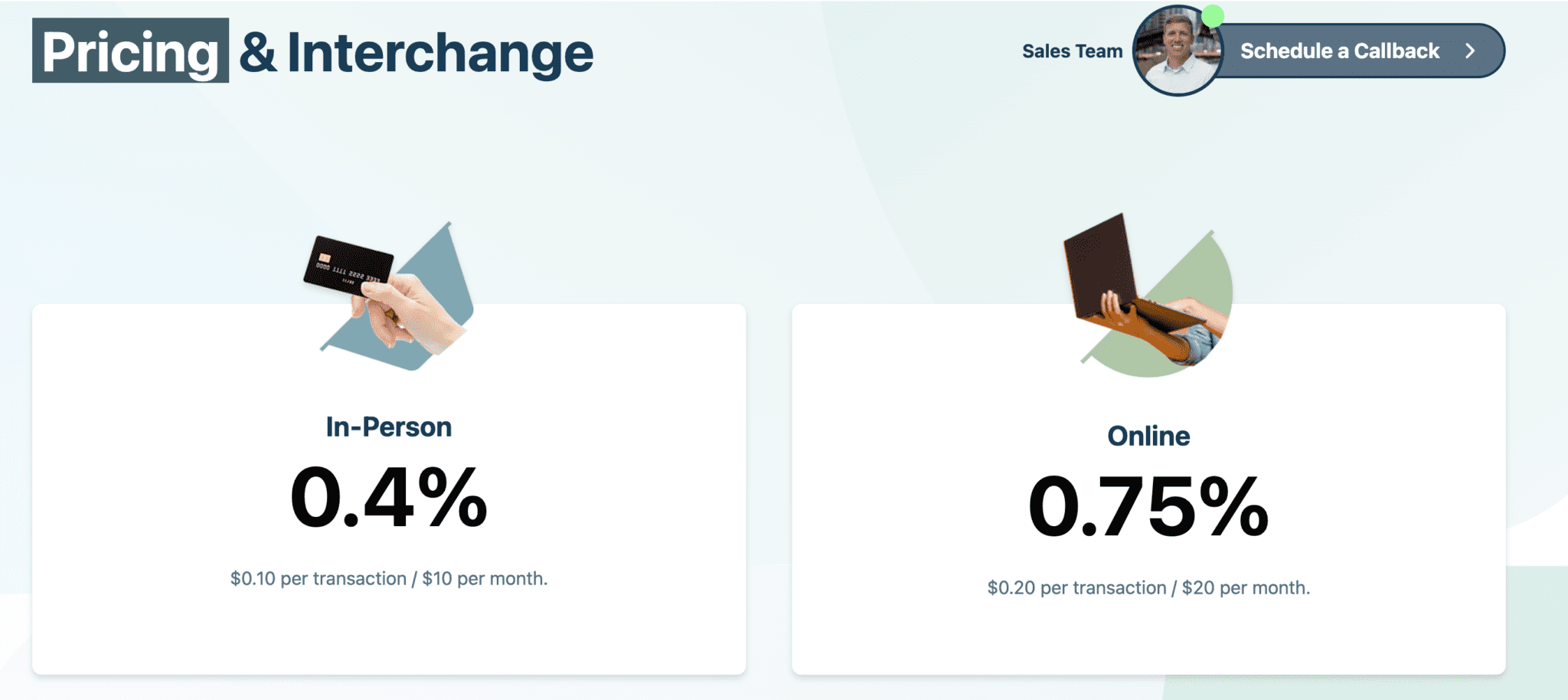 Payline's pricing starts at 0.4%, $0.10 per transaction, and $10 monthly for in-person merchants. And 0.75%, $0.20 per transaction, and $20 monthly for online merchants.
Use their monthly cost calculator to see exactly how much you'd pay each month, including interchange pricing.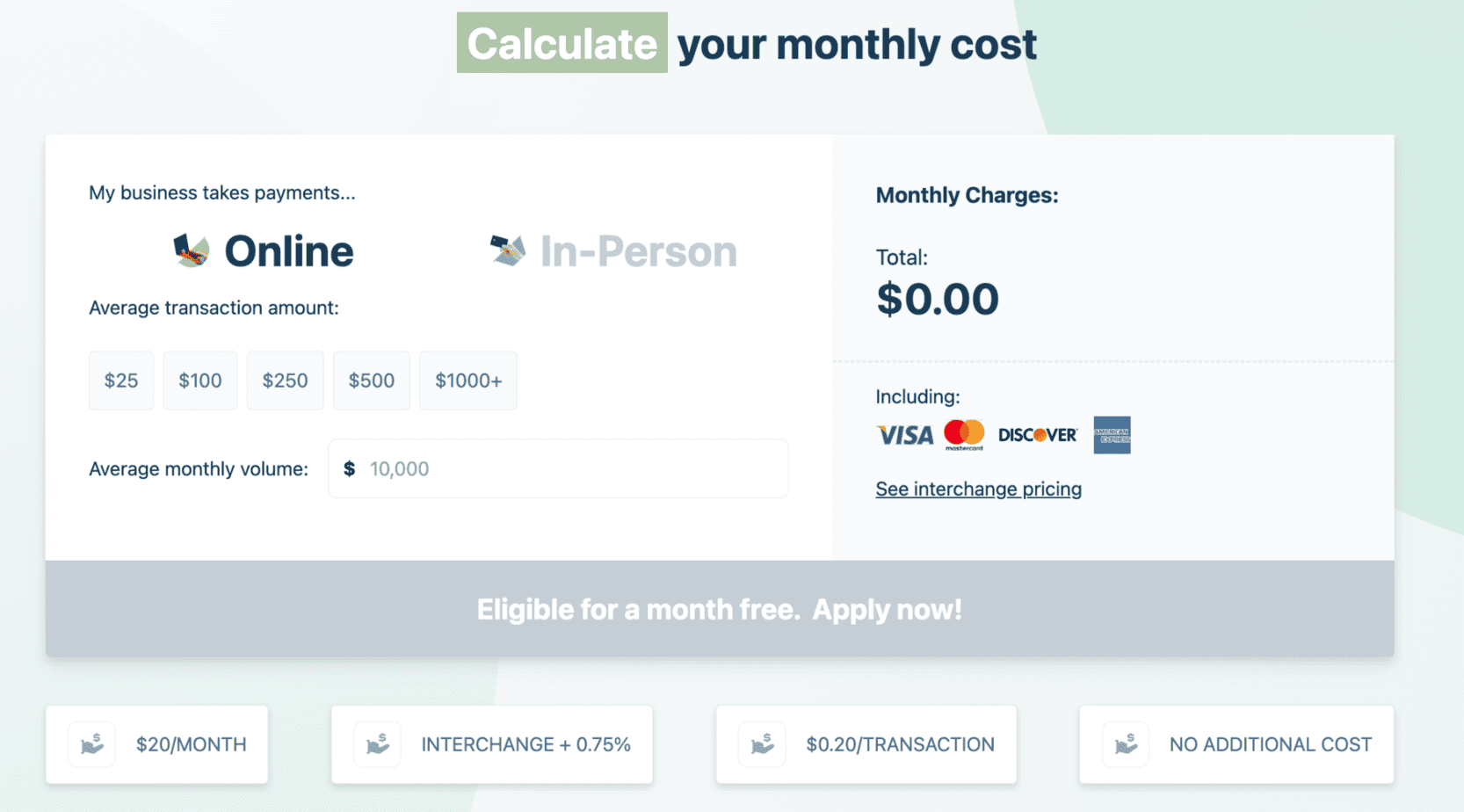 Bottom Line
Payline is best for in-person and online high-risk merchants who use Visa or Mastercard for payments and are looking for the most affordable interchange rates.
Sign up for a free trial and get your first month free. Plus, you get access to a dedicated account manager, a statement analysis, and 24/7 support.
#2 PaymentCloud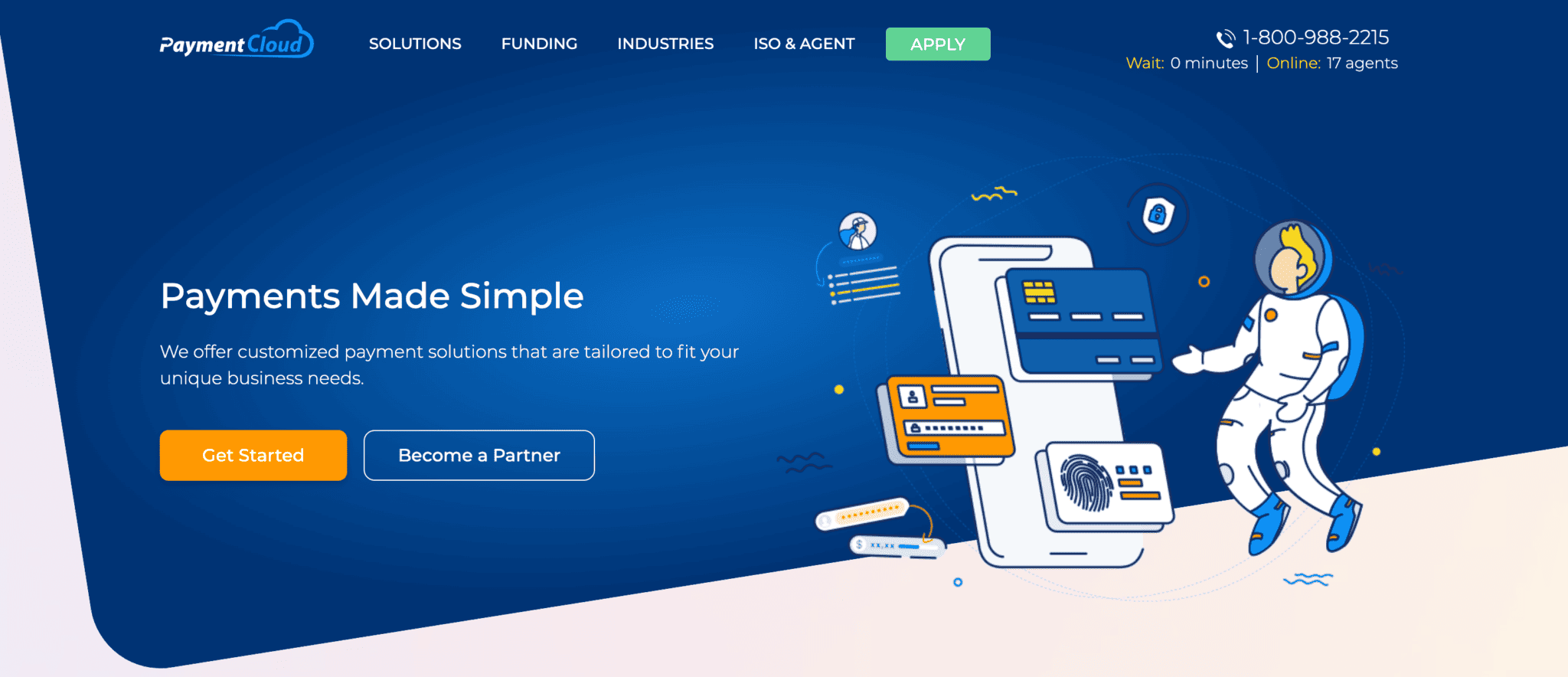 Overview
PaymentCloud offers high-risk merchants a payment processing system with custom payment solutions.
Their state-of-the-art, unique features help you ensure customer satisfaction after you've collected payment and include perks like fraud prevention tools, advanced payment gateways, 100+ integrations, merchant funding, and more.
Highlights
Set up your account hassle-free with PaymentCloud's merchant account services. After you sign up, a representative will immediately guide you through the setup process.
Accept payments using the three popular and convenient payment methods: credit cards, online, and mobile.
Keep your business's reputation clean and lower liability risk with PaymentCloud's fraud and chargeback prevention. This feature detects and defends your brand from fraudulent activity.
Take advantage of PaymentCloud's various funding options, like business loans, so finances aren't keeping you from growing.
Simplify how you receive payments with PaymentCloud's complete check processing features, which allow you to set up ACH and eCheck options and receive direct deposits.
Pricing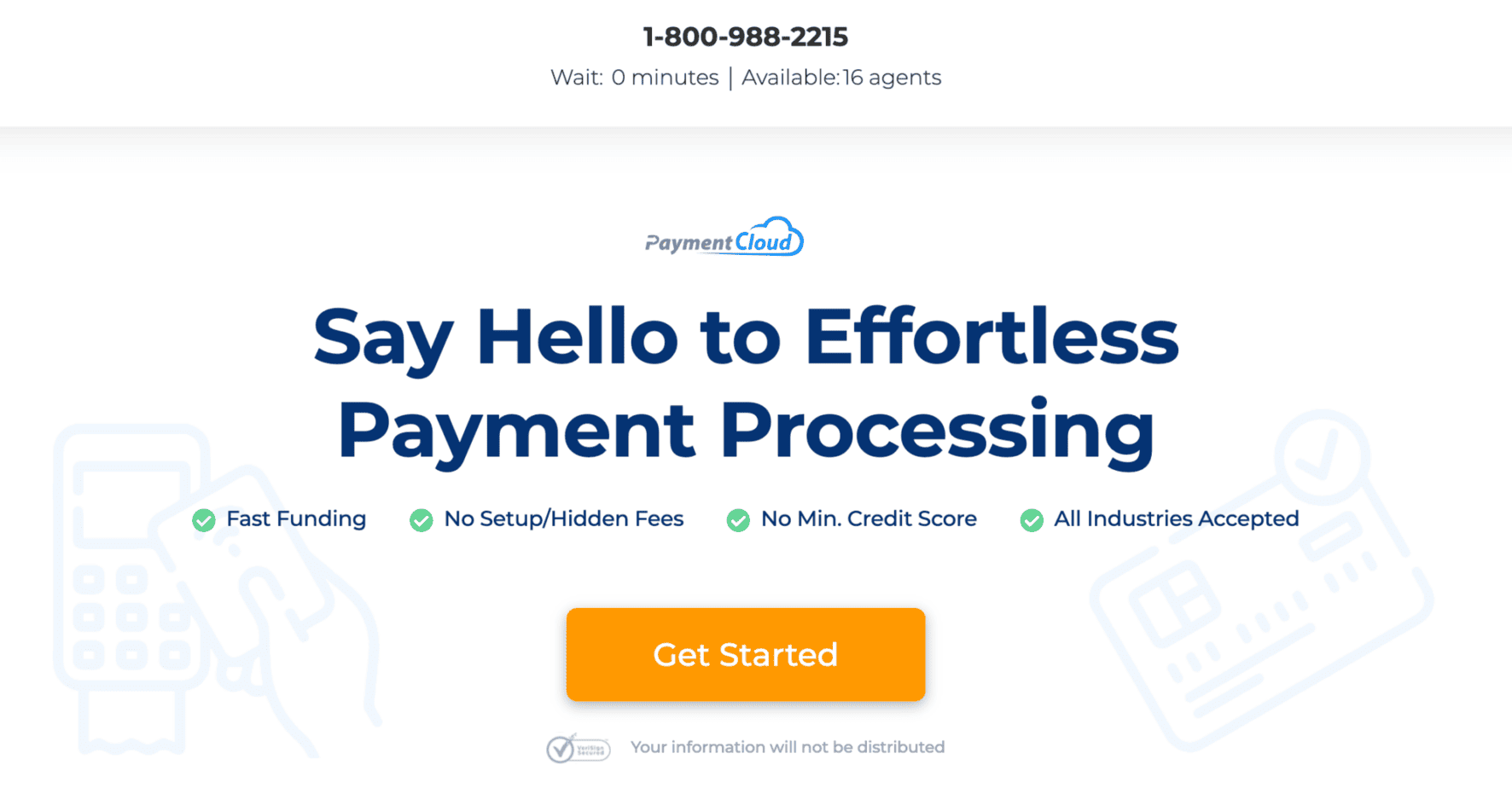 PaymentCloud's pricing is completely customized based on your business's needs. Complete the application process to get a personalized package.
Bottom Line
PaymentCloud is best for high-risk merchants who don't want one-size-fits-all pricing, plus those who may need additional funding help to continue investing in their business.
The fast funding approval, no hidden fees, no minimum credit score, and acceptance of all industries make PaymentCloud a convenient and easy-on-the-pocket high-risk merchant processor.
#3 HighRiskPay.com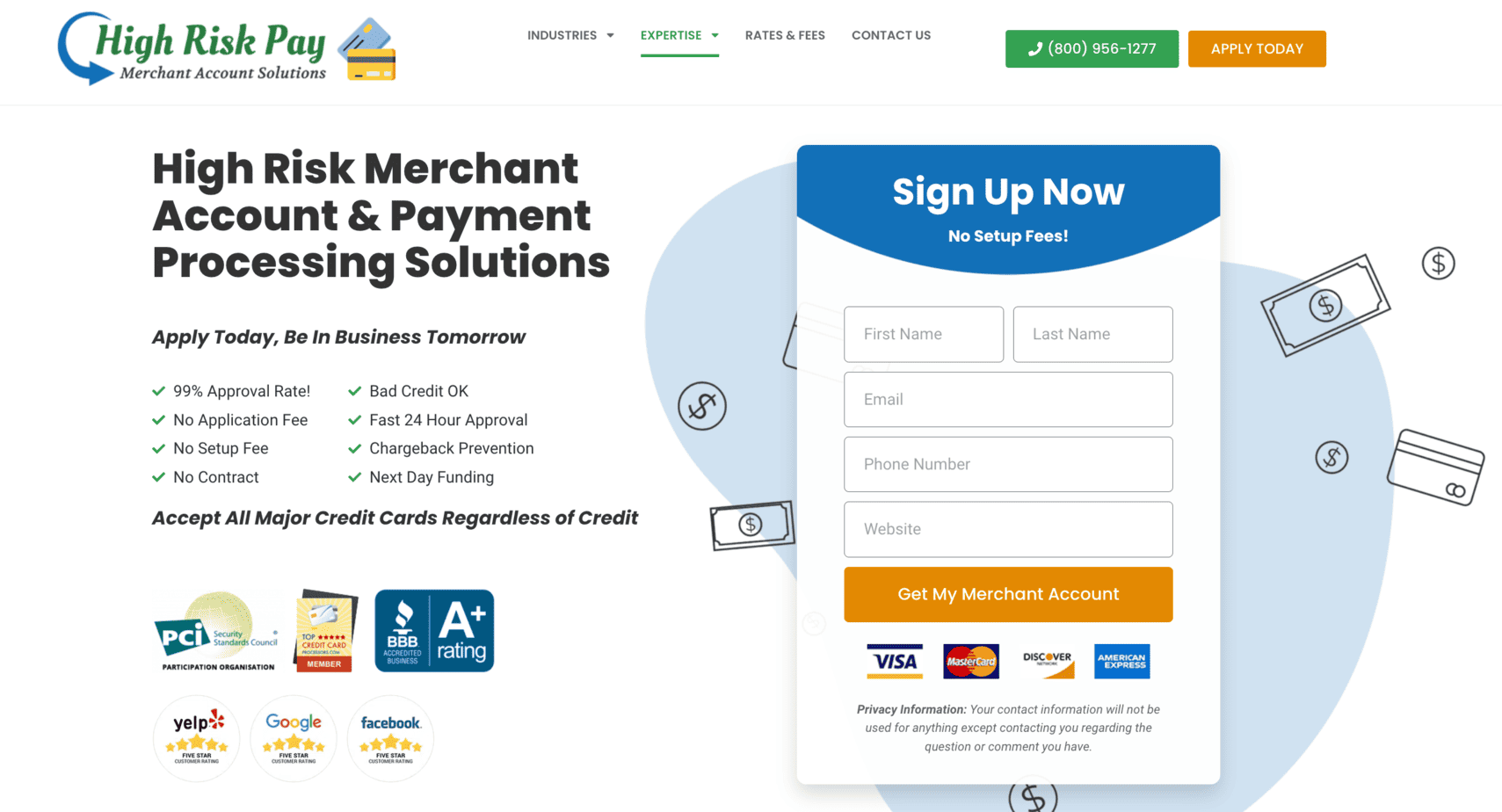 Overview
HighRiskPay.com understands the difficulty specific industries face when securing a merchant account—which is why they offer a 99% approval rate and bad credit score acceptance.
You won't sign any contracts, there are no application or setup fees, and you'll be approved in a quick 24 hours.
Plus, HighRiskPay.com offers next-day funding and chargeback prevention.
With over 25 years of experience, they've approved over 22,500 applications from high-risk merchants and completed over 4.5 million transactions.
Highlights
High-risk merchants get 24-48 hour approval, whereas most payment processors require a few extra days before potential approval. This means you can start selling today.
Accept payments from all major credit cards, even if your business has bad credit. The approvals are fast, and there are no fees for canceling or getting set up.
Take advantage of eight merchant account services: gateways, terminals, mobile, eCommerce, chargebacks, fraud, supercharging, and processing.
Save money and reduce liability with features like fraud and chargeback prevention.
Easily integrate with the following major shopping cart platforms: Shopify, Wix, WordPress, PrestaShop, Opencart, Magento, and 3DCart.
Pricing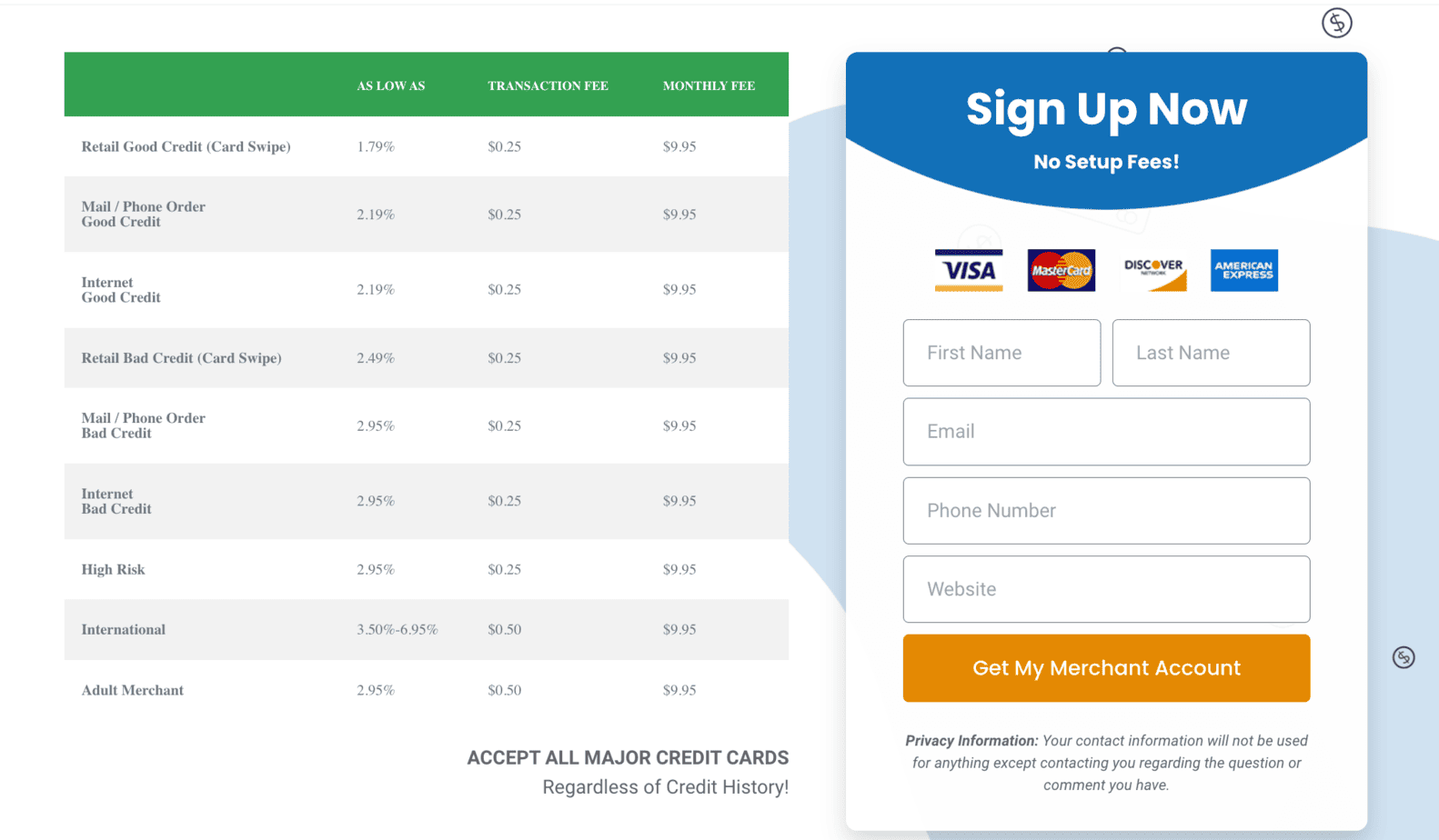 HighRiskPay.com offers pricing plans based on risk, credit, payment collection method, and other variables.
These are the nine pricing options:
Retail Good Credit (Card Swipe): 1.79%, $0.25 transaction fee, $9.95 monthly fee
Mail/Phone Order, Good Credit: 2.19%, $0.25 transaction fee, $9.95 monthly fee
Internet, Good Credit: 2.19%, $0.25 transaction fee, $9.95 monthly fee
Retail Bad Credit (Card Swipe): 2.49%, $0.25 transaction fee, $9.95 monthly fee
Mail/Phone Order, Bad Credit: 2.95%, $0.25 transaction fee, $9.95 monthly fee
Internet, Bad Credit: 2.95%, $0.25 transaction fee, $9.95 monthly fee
High Risk: 2.95%, $0.25 transaction fee, $9.95 monthly fee
International: 3.50%-6.95%, $0.50 transaction fee, $9.95 monthly fee
Adult Merchant: 2.95%, $0.50 transaction fee, $9.95 monthly fee
Bottom Line
HighRiskPay.com is the perfect payment processor for any merchant who's considered high-risk.
With a 99% approval rate, you're practically guaranteed to get accepted. And with 24-hour approval, you can start selling tomorrow if you sign up today.
And unlike other payment processors, HighRiskPay.com gives you the same privileges, equipment, features, and benefits as low-risk merchants with outstanding credit, no matter how bad yours might be.
Get started today by creating a merchant account. It takes less than 60 seconds, and all you need is your name, email, phone number, and website.
#4 Soar Payments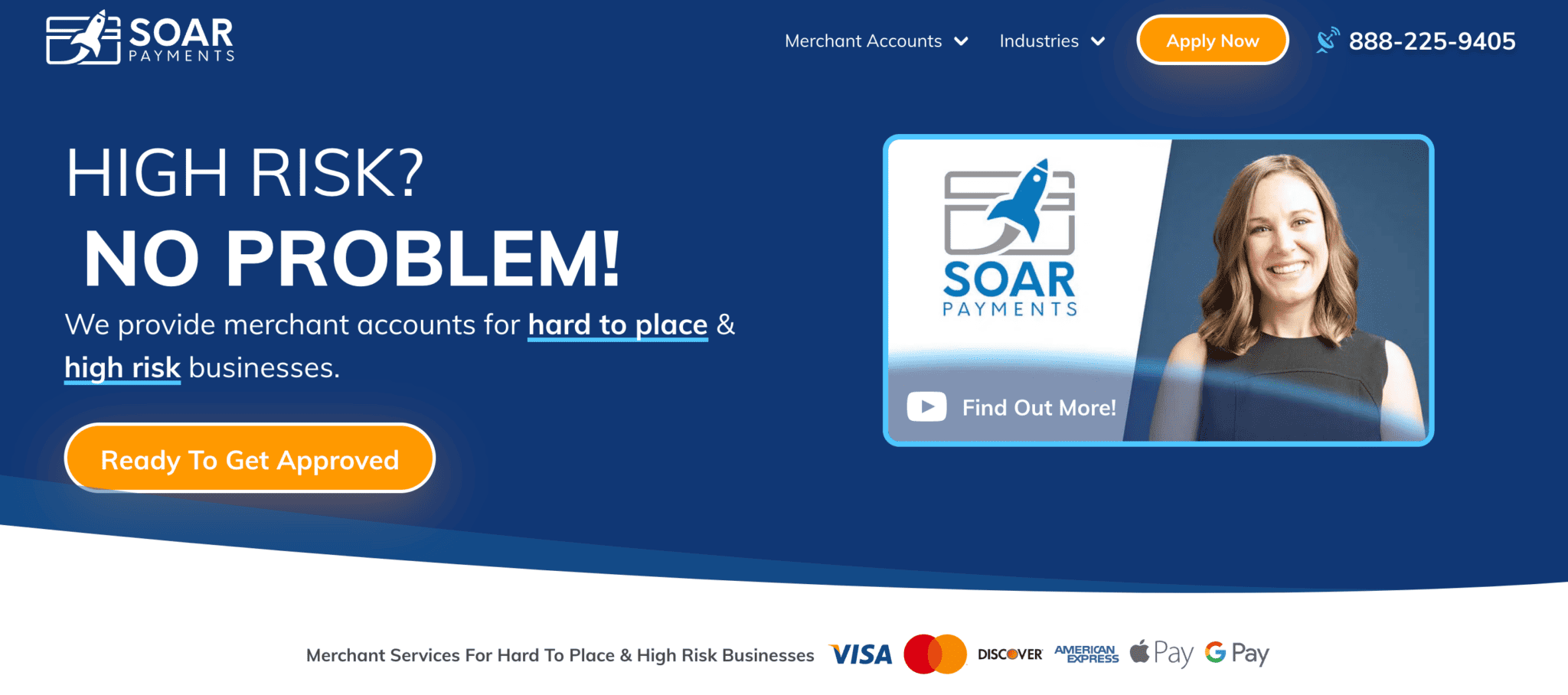 Overview
Soar Payments is a high-risk payment processor that specializes in high-risk merchants who might typically struggle to be accepted by other merchant account processors.
They offer every client three guarantees: an instant online quote, industry minimum pricing, and friendly client support.
The online quote is available immediately after signup via DocuSign and automatically includes industry minimum pricing. And you'll speak with someone from their in-house client support team every time you call.
Highlights
Get started fast with Soar Payments' smooth and easy application process. It only includes three steps: complete the online five-minute application process, get your instant quote, then start accepting payments once you've signed.
Stay up-to-date with their Payments & Fintech Podcast. Each episode dives into the latest updates in payments and fintech so you stay caught up.
Accept four major worldwide payment types: retail payments, mobile payments, virtual terminal payments, and eCommerce payments.
Each payment option comes with convenient, world-class payment methods, including traditional credit card terminals, point-of-sale systems, iPad or mobile phone card swipers, and more.
Integrate with tons of online platforms, such as Shopify, Salesforce, Quickbooks, WordPress, Woocommerce, Magento, and more.
Pricing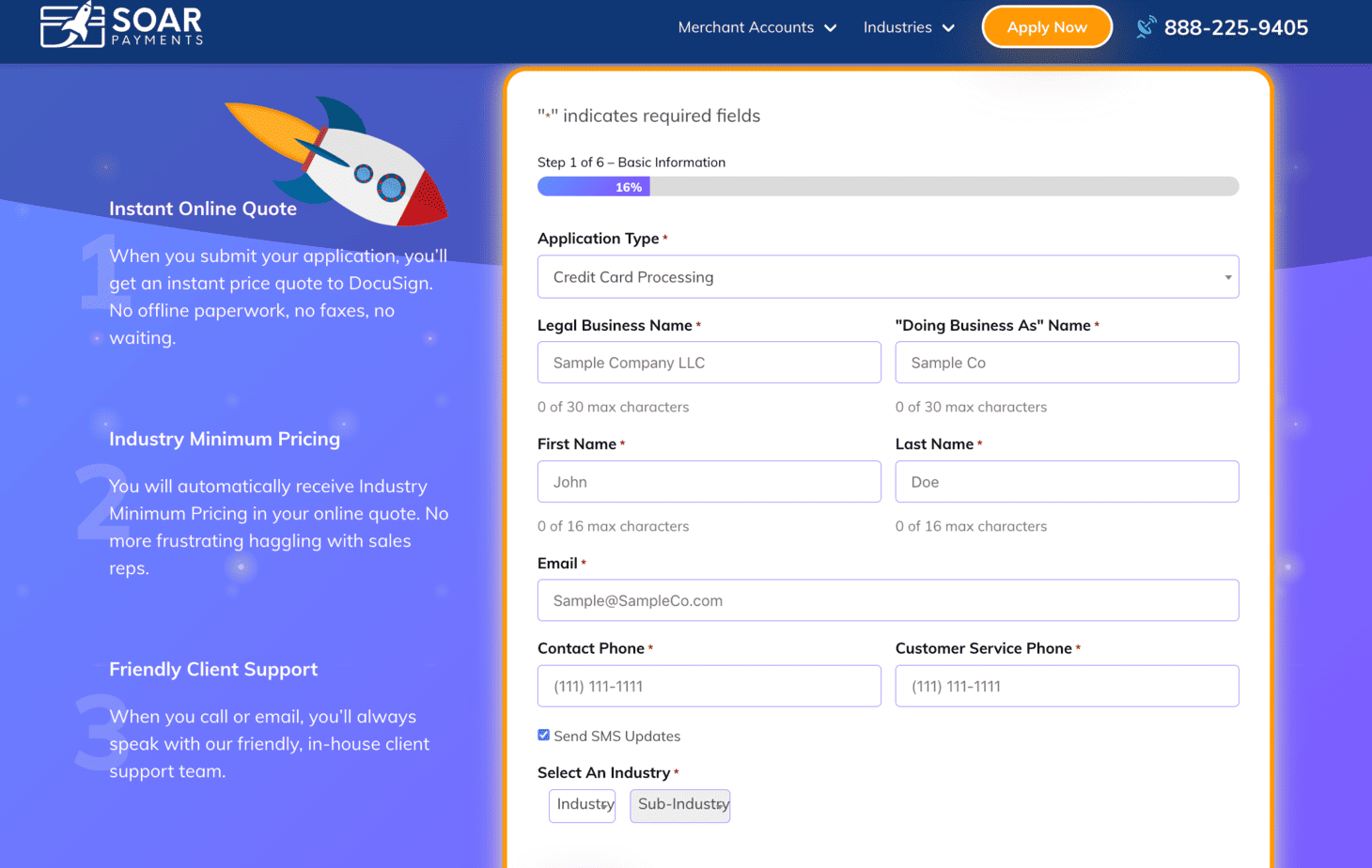 Pricing depends on your industry's minimum cost. Complete Soar Payments' five-minute online application process to get an instant quote you can then sign via DocuSign.
Bottom Line
Soar Payments is ideal for high-risk merchants who want pricing based on industry standards and need to get started fast.
The wide variety of integration options also makes Soar Payments an easy choice for eCommerce brands and businesses who accept online payments.
#5 National Processing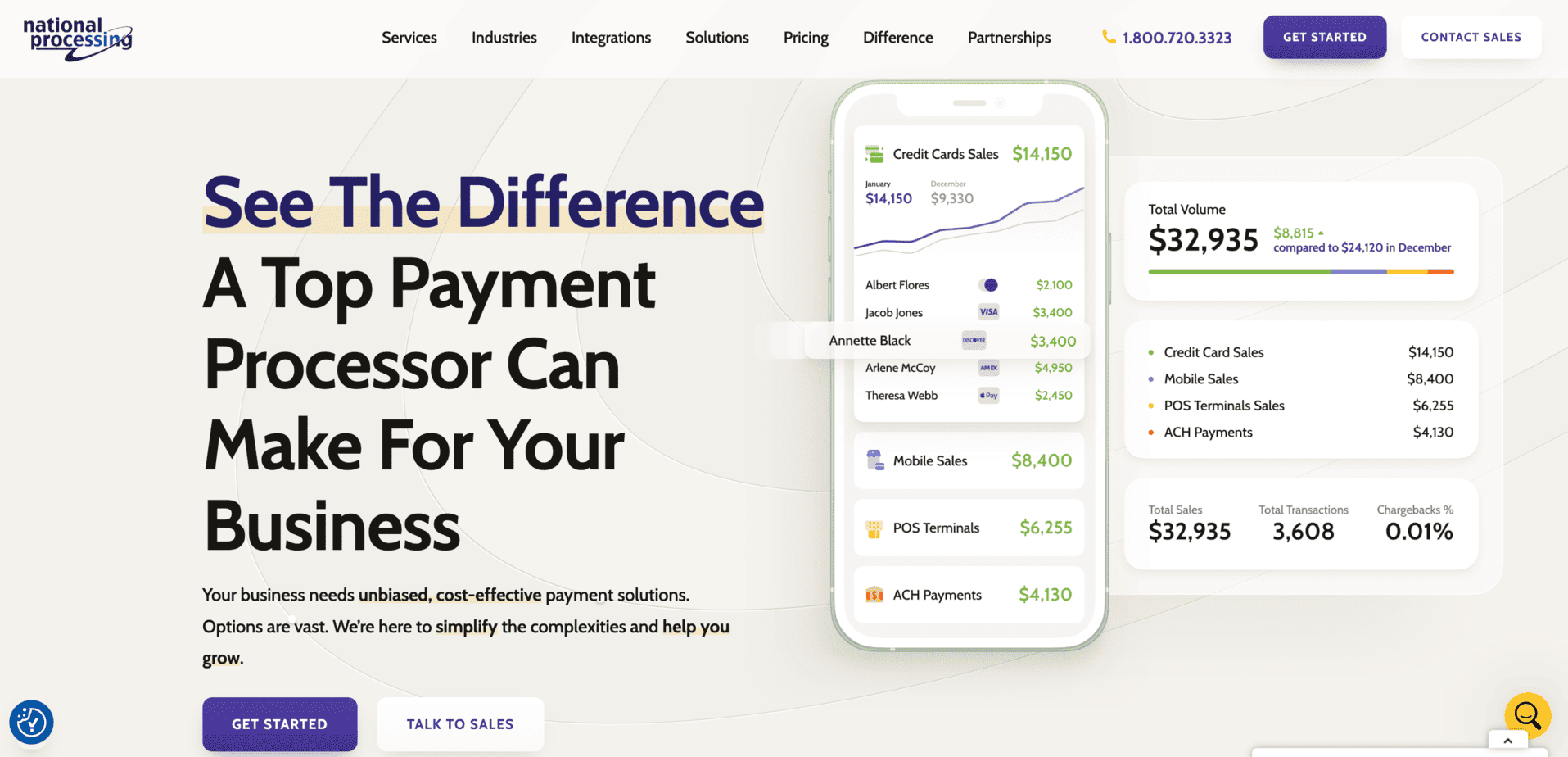 Overview
National Processing has been rated the #1 merchant processor and has appeared in world-class publications such as Forbes, Inc. 5000, Chamber of Commerce, and more.
Their mission is to provide merchants with transparent, unbiased pricing. They offer tons of options that are based on industry, merchant type, subscription models, and more.
Highlights
Their transparent pricing lets you easily compare National Processing to competitors. Everything you need to know about your cost is displayed front and center, from monthly fees to transaction costs.
Custom pricing is available for merchants who request it
National Processing offers five payment solutions, more than most merchant processors: smart terminals, mobile, point-of-sale systems, virtual solutions, and gateway.
Integrates with major eCommerce and website platforms, such as Quickbooks, Woocommerce, Zendesk, and Shopify
Get free reprogramming of your existing equipment when you start using National Processing
Prevent fraud and protect against chargebacks with top-tier customer data protection.
Simplify receiving payments with ACH processing
Pricing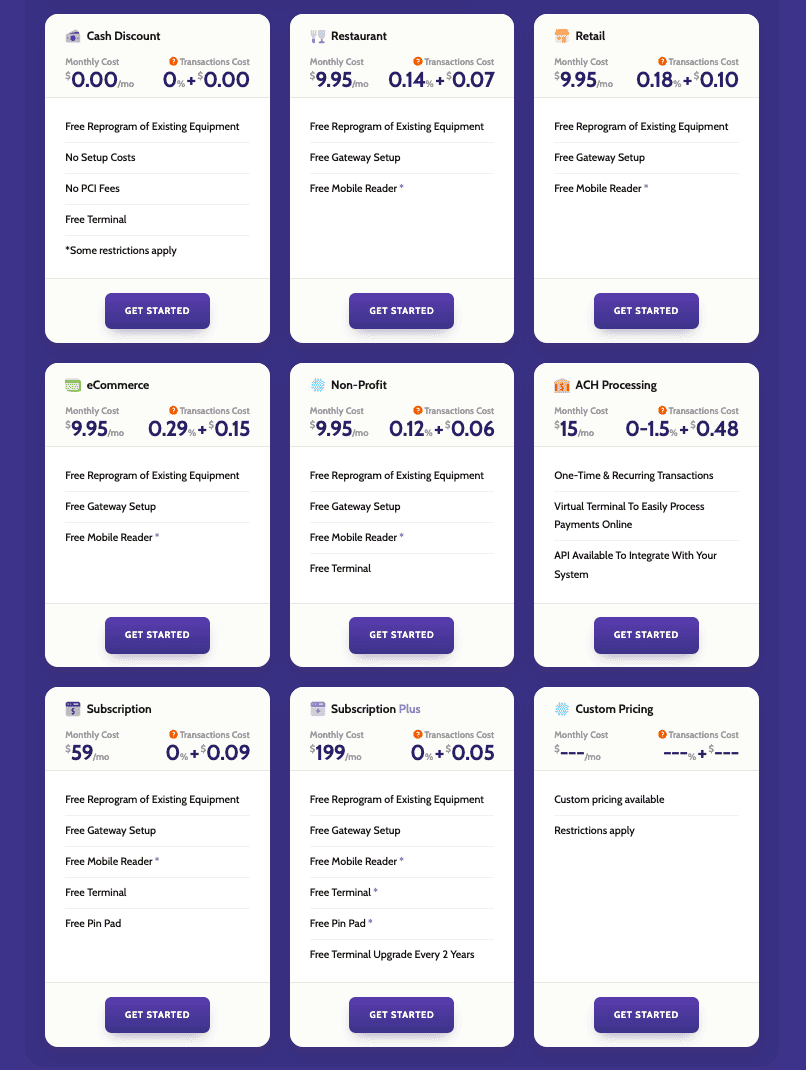 National Processing currently offers nine pricing options plus a useful processing fee savings estimator tool.
The nine pricing options are the following:
Cash discount (Free)
Restaurant ($9.95/month, 0.14% + $0.07 transaction cost)
Retail ($9.95/month, 0.18% + $0.10 transaction cost)
eCommerce ($9.95/month, 0.29% + $0.15 transaction cost)
Non-Profit ($9.95/month, 0.12% + $0.06 transaction cost)
ACh Processing ($15/month, 0-1.5% + $0.48 transaction cost)
Subscription ($59/month, 0% + $0.09 transaction cost)
Subscription Plus ($199/month, 0% + $0.05 transaction cost)
Custom Pricing
Bottom Line
National Processing is perfect for businesses looking for a reputable, globally-recognized high-risk merchant processor with transparent pricing and essential features.
They boast slightly more payment options than other processors and strongly believe they're among the most affordable solutions, promising to give you $500 if they can't beat your current rates.
Sign up to see how much you can save, lock in your rate, and get started.
#6 Payment Depot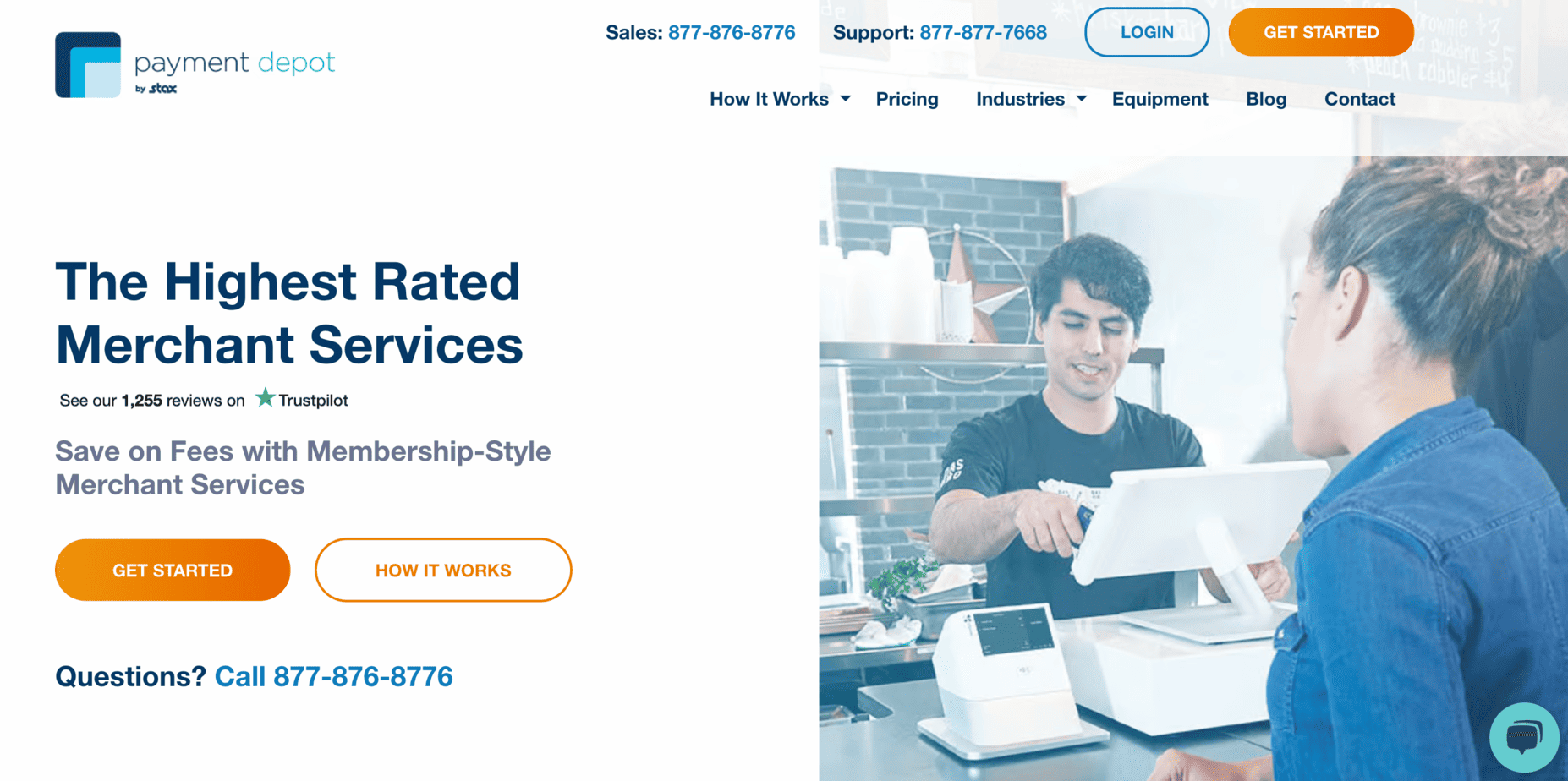 Overview
Payment Depot is another well-renowned high-risk merchant processor with over 1,250 reviews on Trustpilot. It's also used by globally-recognized brands like Subway, Sprint, and Dominoes.
They offer merchant processing services with membership-style payment options, allowing their clients to save on fees.
And they offer various equipment, including virtual terminals, POS systems, smart terminals, eCommerce, mobile payments, and more.
Highlights
Payment Depot integrates with many major platforms, such as Shopify, Opencart, Quickbooks, Zencart, Magento, and more.
Save money with low transaction fees, no hidden fees, no cancellation fees, and a subscription that saves you up to 40%.
Accept all major credit cards, including ApplePay, Google Pay, Visa, Mastercard, American Express, and Discover.
Pricing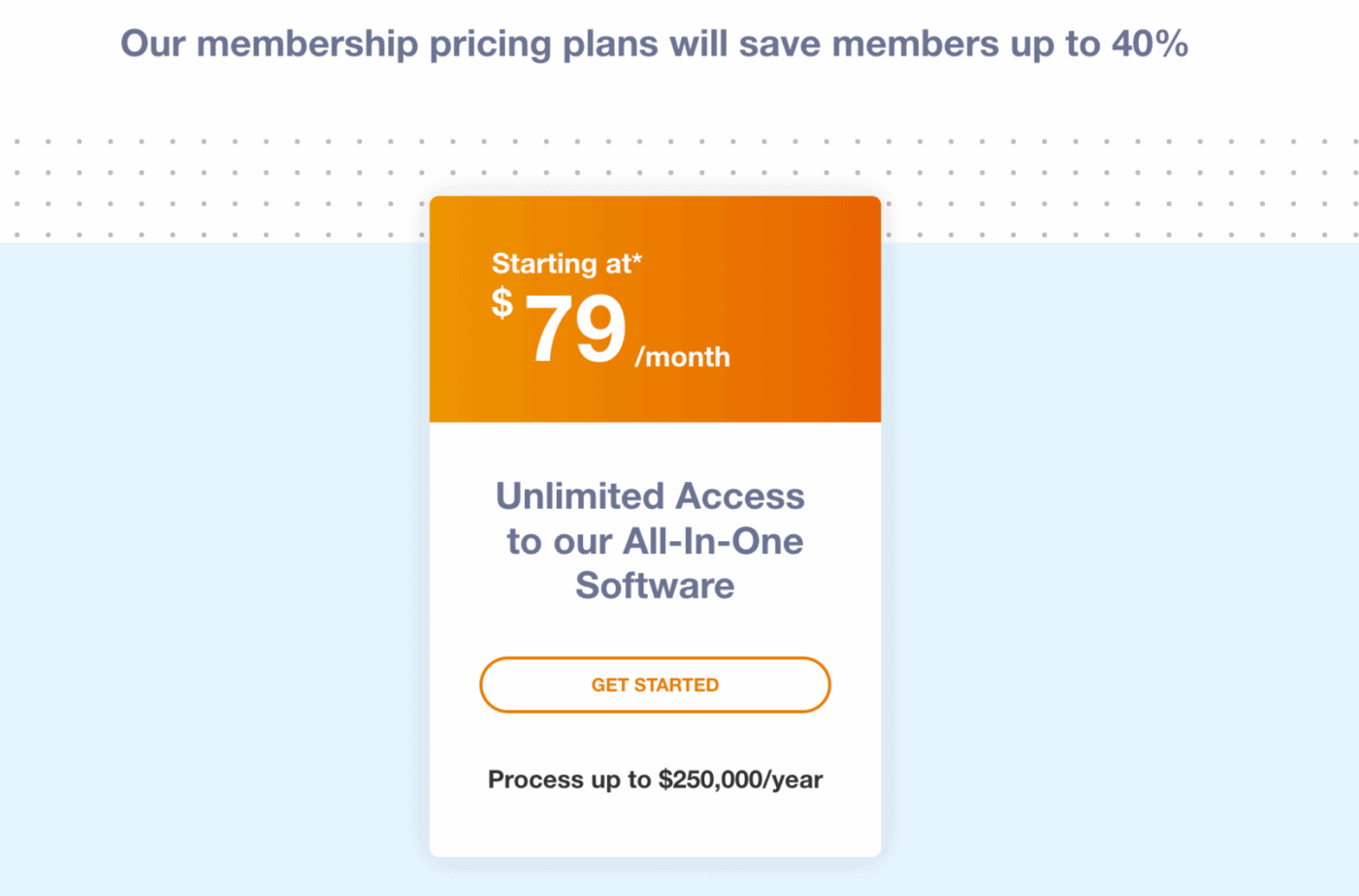 Payment Depot offers one subscription service to merchants that costs $79/month. This subscription lets you process up to $250,000 per year.
Merchants who need to process more than $250,000 per year must get a custom quote.
Bottom Line
Payment Depot is the perfect high-risk payment processor for merchants who want a straightforward, subscription-model pricing plan for the same type of equipment and accepted payment methods as other processors.
Their transparency around pricing, simple subscription, and lack of extra fees have helped merchants save up to $800 monthly. Plus, they work with a wide variety of industries.
#7 Durango Merchant Services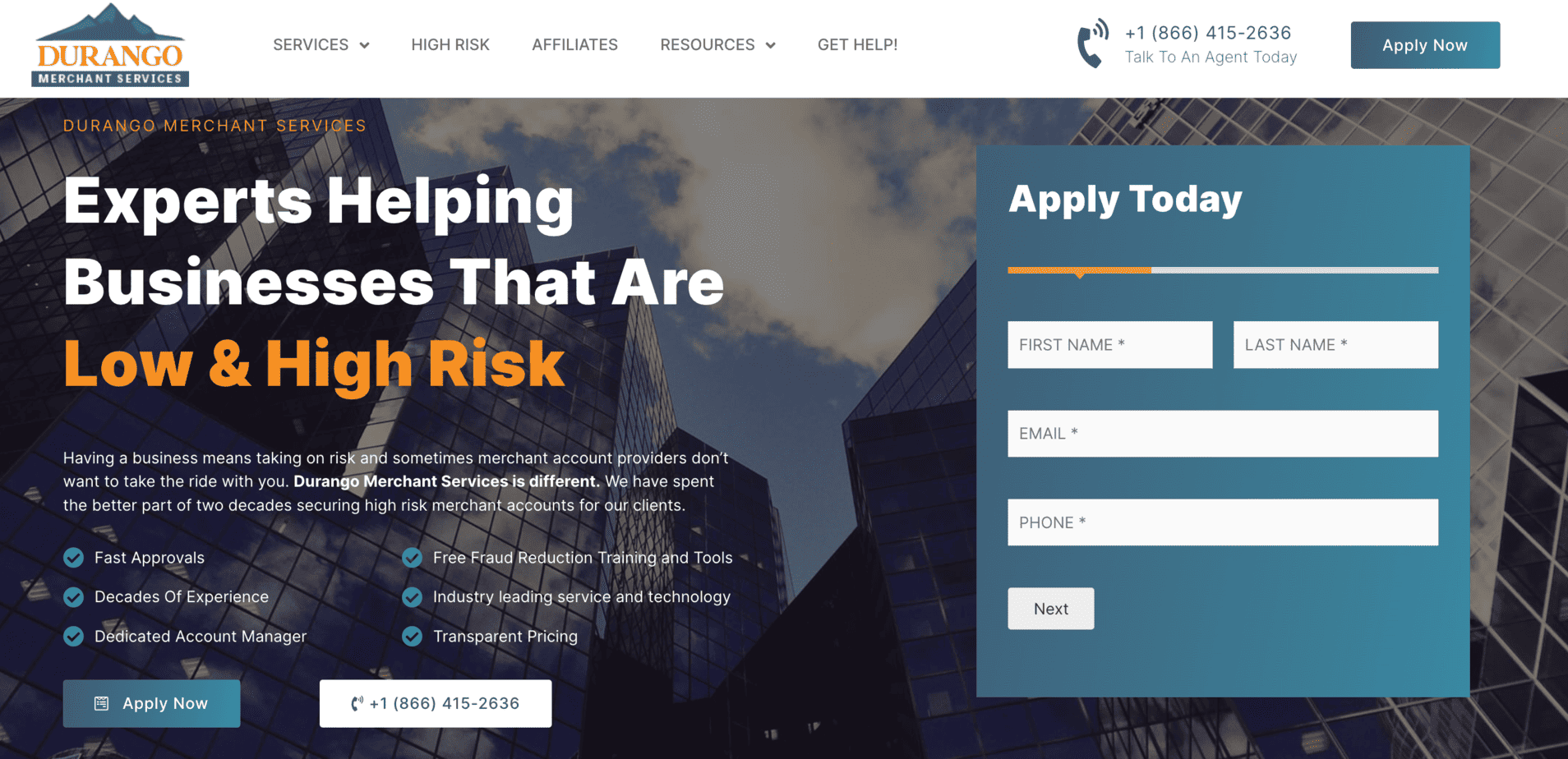 Overview
Durango Merchant Services specializes in high-risk merchants and has spent 20 years securing merchant accounts for them.
They have been featured in world-renowned publications like Forbes, Nerdwallet, Merchant Maverick, Business News Daily, and more. And, with over 25 years in business, they offer over 150 shopping cart integrations and over nine payment types.
Highlights
Durango Merchant Services works with over 100 industries. Examples of high-risk merchants they service are those in the supplements, live animal sales, multi-level marketing, and online liquor sales industries (among many others).
Use their processing features to make sales anywhere—whether online, in person, self-service, mobile, or others.
Having just one account lets you process payments, view and manage all transactions, and generate reports.
Accept 9+ major payment types, including Visa, Mastercard, Discover, American Express, China UnionPay, ApplePay, and more.
Gain powerful insights into customer behavior with data reports
Integrate with over 150 third-party shopping cart platforms with the ability to fully customize them
Pricing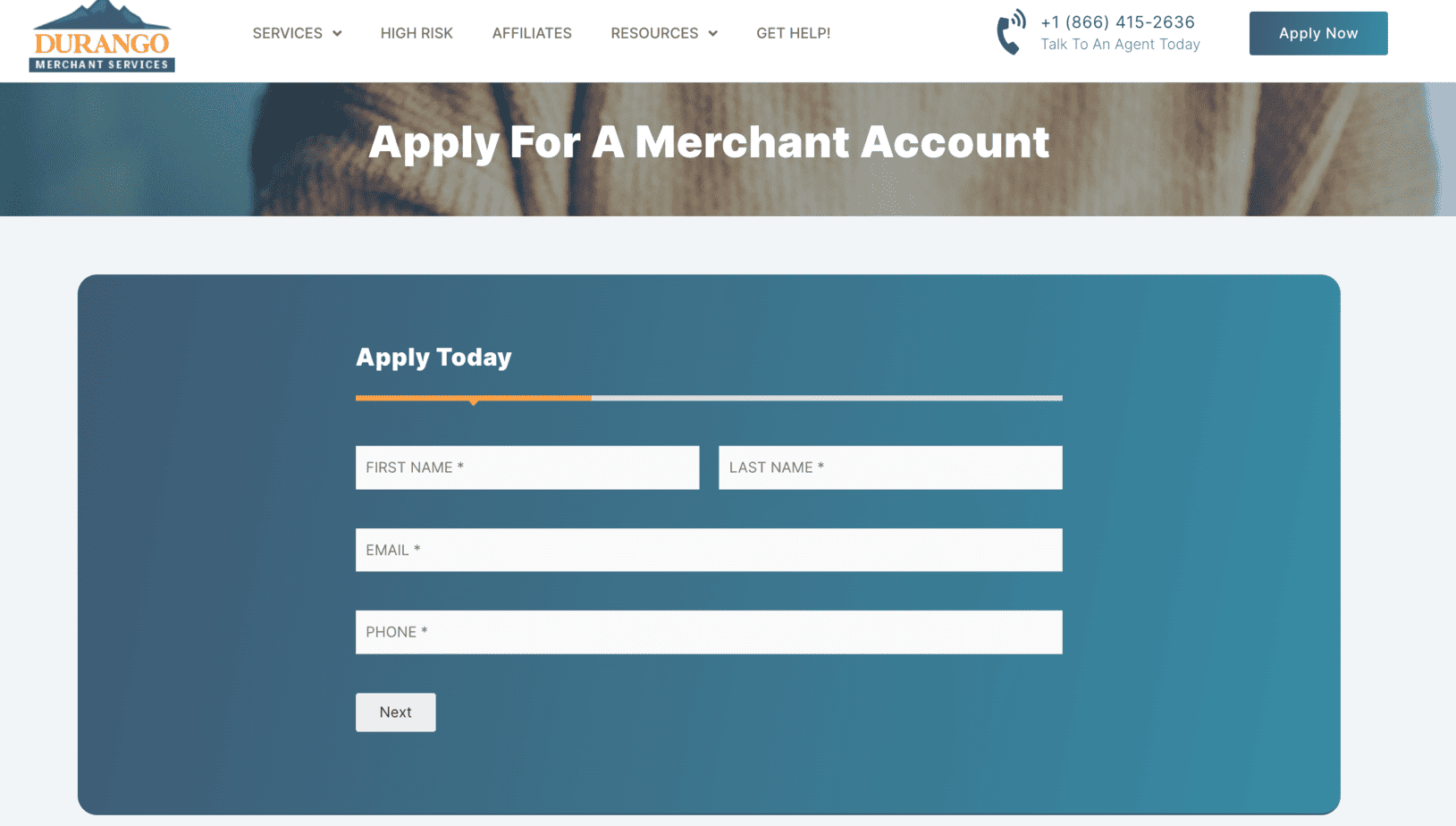 Durango Merchant Services does not display pricing on its website. Instead, you must complete a quick application form to get a customized quote.
Bottom Line
Durango Merchant Services offers cutting-edge features, more shopping cart integrations than you could ask for, and competitive payment options.
These benefits make it perfect for businesses looking for comprehensive reporting and a myriad of options.
#8 SMB Global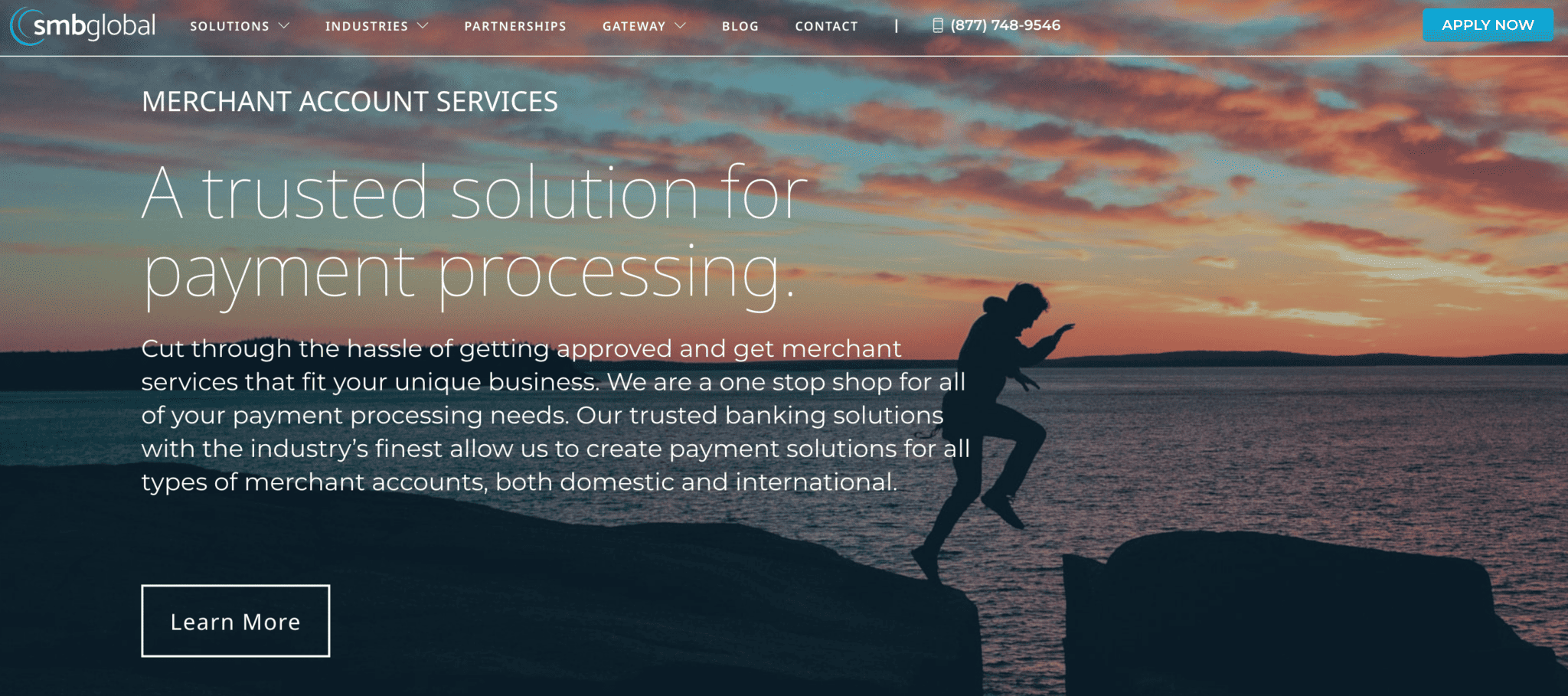 Overview
SMB Global works with international and domestic accounts and makes getting approved fast and easy.
They offer merchant accounts, international and offshore processing, chargeback prevention, and ACH and virtual check services.
SMB Global has 15 banking relationships they use to find the best rates for your business's needs.
Highlights
Secure an affordable merchant account with SMB Global's technology that finds the most affordable rates, faster approval, and faster deposit times.
Identify potential chargebacks before they happen with the chargeback prevention software.
Offer flexible payment options to customers and make processing payments smoother with ACH and virtual check services.
Get high-quality, specialized customer service for high-risk industries, including travel, debt consolidation, e-cigarettes and tobacco, supplements, and more.
In-person businesses that accept credit cards get free equipment options, such as terminals and mobile readers.
Pricing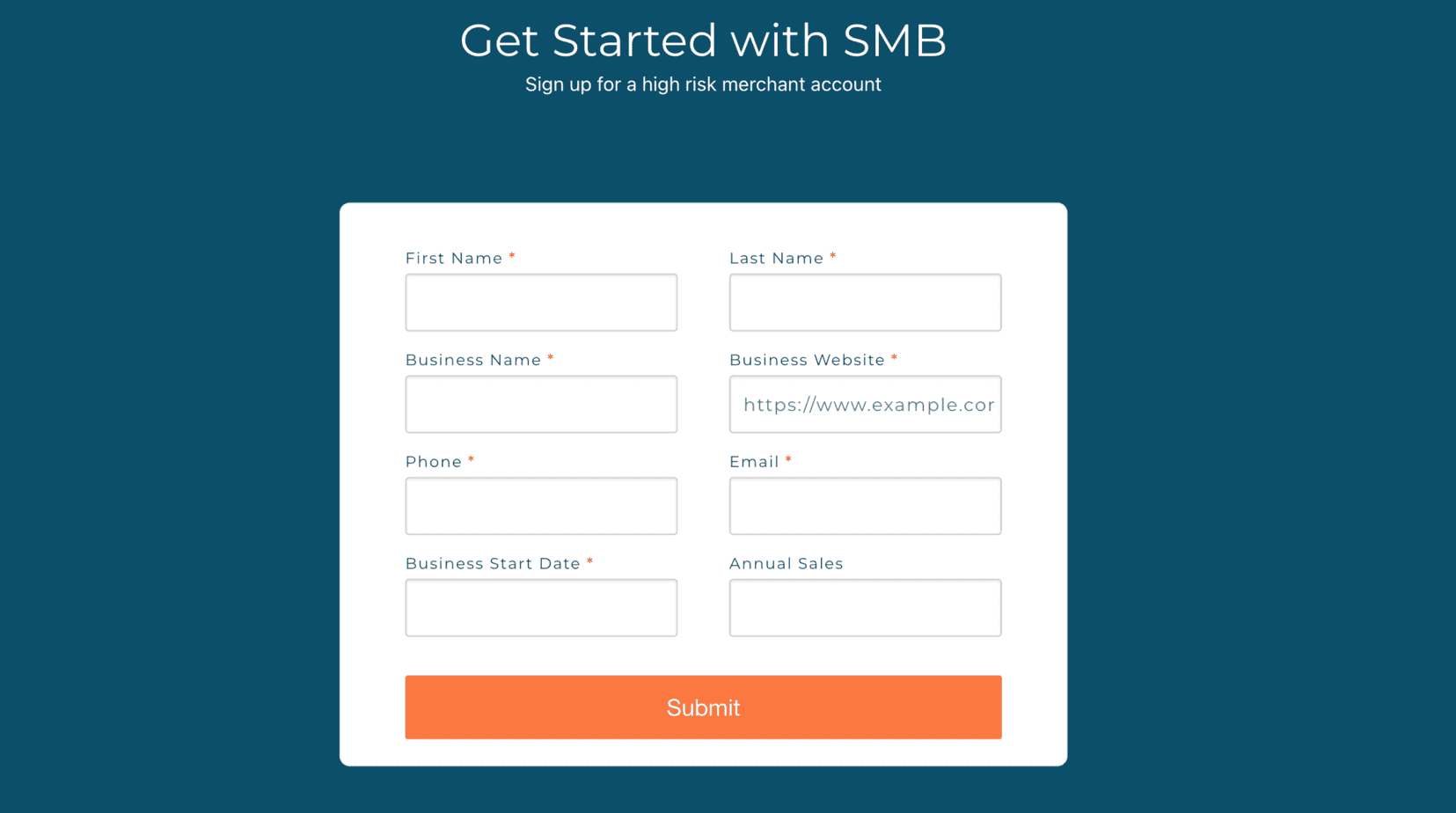 SMB Global customizes your pricing by finding the lowest rate from processors that fit your business's needs. You must sign up for a high-risk merchant account to get started.
Bottom Line
SMB Global is the ideal high-risk payment processor for businesses looking to find processors with the lowest rates and fastest approval times. It's also well-known for its top-tier customer service.
The fraud and chargeback prevention software is also perfect for high-risk merchants, and the free equipment for qualifying businesses makes signing up a no-brainer.
#9 Host Merchant Services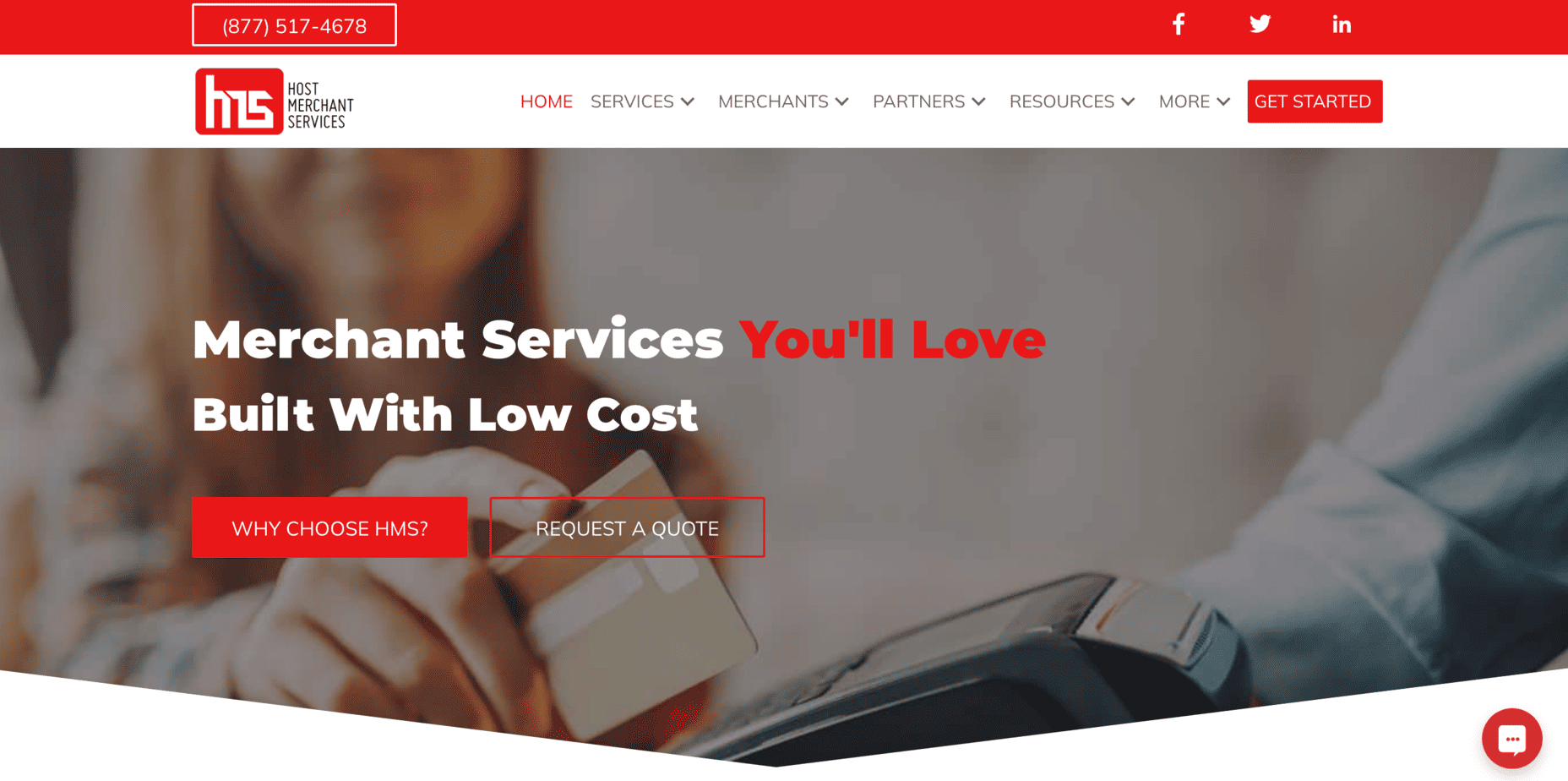 Overview
Host Merchant Services offers payment processing for multiple types of businesses, including restaurants, eCommerce, retail, and mobile.
Their credit card payment options allow merchants to collect payments via point-of-sale, mobile, EMV terminals, online, and more. They also promise to greatly reduce your merchant service fees.
Highlights
Get peace of mind when you sign up with Host Merchant Services' promise of no cancellation fees. Plus, confidence knowing there are no hidden charges or setup fees.
Qualifying businesses receive a free mobile swiper or terminal once they get approved for a merchant account.
You won't ever have to worry about your rates changing or increasing. Once you've received your merchant account, your credit card rates are locked in and won't increase.
Take advantage of the Host Merchant Business Solutions, which includes websites, email, customer analytics, and more.
Use up-to-date POS technology, including Clover POS, Vital POS, SwipeSimple, and others.
Pricing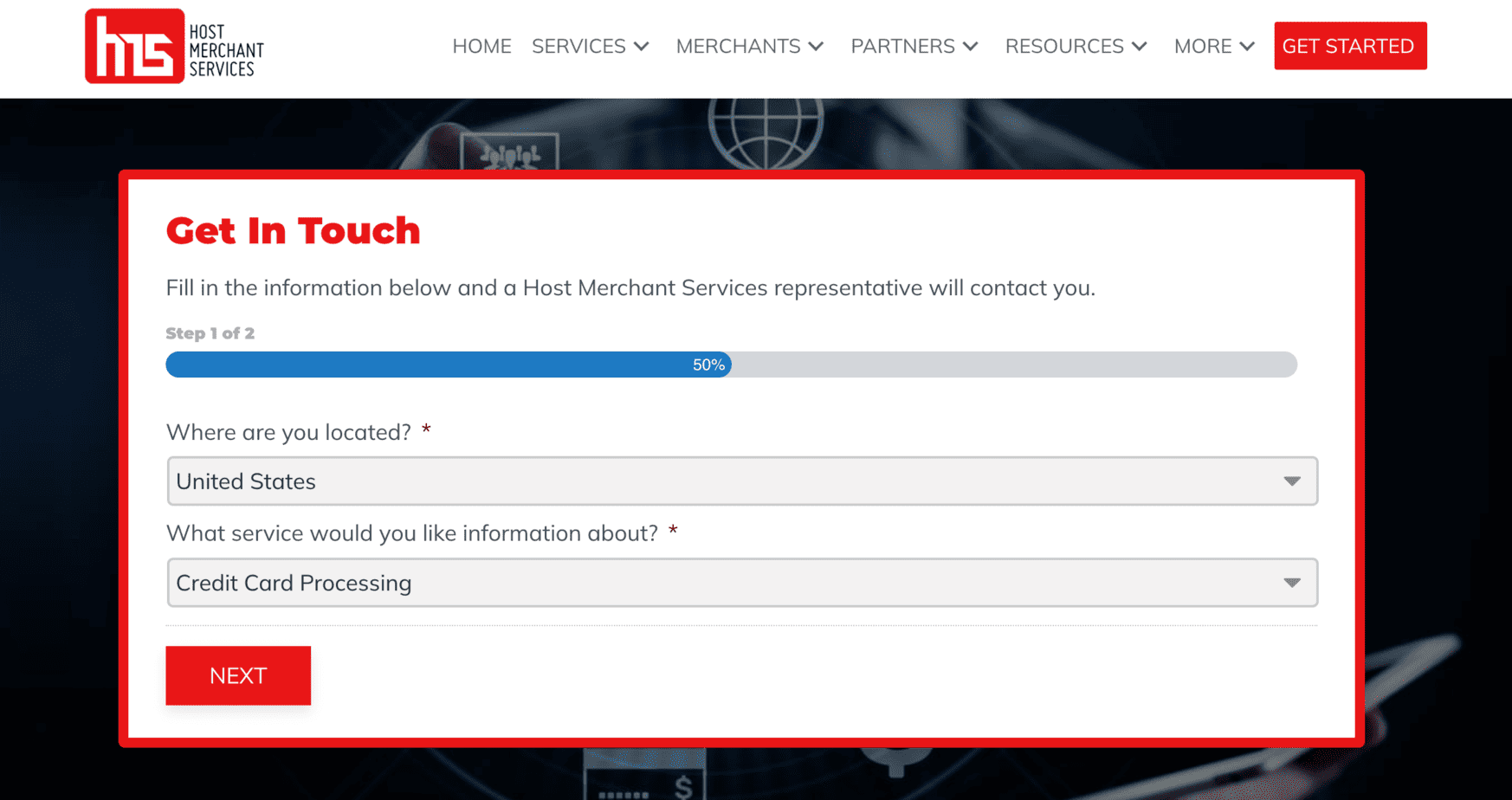 Host Merchant Services does not display pricing information or offer tiered packages. Instead, you must contact them to get a customized quote.
Bottom Line
Host Merchant Services is ideal for businesses who want a no-commitments payment processor without cancellation fees. And the peace of mind that your credit card rates will never go up.
Their Business Solutions are also unique, and their modern POS software ensures you're using world-class technology for processing customer payments.
What Are High-Risk Merchant Account Processors?
A high-risk merchant has an increased likelihood of receiving more chargebacks and returns. A high-risk payment processor understands this, so they usually allow higher chargeback thresholds.
Only some payment processors accept high-risk merchants. So, one that does is considered a high-risk payment processor.
Businesses in the following industries are examples of potential high-risk merchants:
Online dating
Gambling
Adult Industry
Multilevel marketing
Debt collection
Travel
And more
Wrapping it Up
Being in an industry that's more prone to chargebacks, fraud claims, and returns than others is already a challenge.
But with any of these nine high-risk merchant processors, securing a merchant account doesn't have to be another one.
Whether you have a poor credit history, operate in person or online, need terminals or ACH processing—you're bound to find the perfect high-risk payment processor for your needs.