Pinterest is an imperative part of getting traffic to your new blog. As a new website owner, it is without a doubt, your best bet to getting a constant stream of views.
These 6 of the best Pinterest tips for increasing blog traffic are far easier to implement than getting organic traffic in the beginning.
Let's face it- Google is not going to pay much attention to your website right off the bat. You are going to need to build your traffic using other methods.
It is not just me that thinks Pinterest is the key to more traffic. It is just about any blogger who has been in the game longer than a month. It just works!
Pinterest is often written off as a platform that only moms use for food recipes. Big Mistake. I should know, I made that mistake. I put all of my energy into Twitter and Facebook. It was only after I saw little to no returns,which is when I thought 'Well, I might as well give Pinterest a go.'
Once I started researching the platform and reading about other bloggers' experiences, I realized how stupid I had been to not use it earlier.
Why does Pinterest convert users to buyers?
The answer to this question is pretty simple actually. The reason 55% of users use Pinterest to shop is because of the type of audience Pinterest attracts.
Users on Pinterest are two times more likely to say their time on the platform was well-spent as compared to users on other platforms.
Why is that? Because unlike Facebook, Pinterest is not a platform where users are socializing. It is where they have come to get new ideas.
If you still think Pinterest is only for moms creating scrapbooks, let me proceed to tell you otherwise:
Mavrck, a Boston-based influencer marketing platform, created the Pinterest Influencer Marketing Playbook.
Here are some really cool Pinterest Facts that Mavrck unearthed:
90% of Pinners say that Pinterest helps them decide what to buy.
72% of Pinners say that Pinterest inspires them to shop even if they did not aim at buying anything.
66% of Pinners buy a product after seeing brands' pins.
If you are sat there thinking your niche won't work with Pinterest, please do not listen to that little voice in your head.
Daniela Uslan tripled her traffic with Pinterest and Pauline Cabrera uses Pinterest as her number one social media referral for traffic.
Not to mention my own website here.
When I first started this website, getting traffic was a nightmare. I had no idea what I was doing and extremely frustrated because I kept putting in effort with no reward.
Once I started really gearing my efforts towards Pinterest, I could not believe the results. I was so scared it was a fluke I did not tell anyone for a while but I am still getting traffic and it is only growing.
That is the best part about Pinterest. The longevity of a pin is much more than a tweet or a Facebook post. You will see returns on your pin for months to come. According to TechCrunch, a good pin will generate half of its orders two and a half months after pinning.
While 78 cents is the average, it is certainly not the limit!
*Some of the links below are affiliate links. You can read my full disclosure here.
Before we get started, here are a few Pinterest terms you should understand:
Pins: Much like a post on Facebook, it is a piece of content that contains an image, a description, and a link.
Board: Pinterest users create boards where they keep pins that are similar so they can look for them easily. For eg, a board called 'Blogging' would have all of your pins about that topic.
Repin: To share someone else's pin to your profile.
Group Board: A board that has several users posting their pins on to the board. Normally this is done to reach a bigger audience.
1. Create a Pinterest Business Account
Image via Pinterest
If you already have a Pinterest account or are creating one for the first time, make sure you create a Pinterest Business Account. A business account is far more appealing than a personal account because it gives you a couple of additional features:
Rich Pins (Rich Pins gives you the ability to add extra info to your pin)
Pinterest Analytics- Information about how your Pins are behaving
Advertising Options
Better Layout
If you would like to create a business account, simply create your Pinterest account and then go to Edit Settings by selecting the three dots on your top right-hand side corner. Once you are on your settings page, go ahead and select Account Settings. Scroll down and select 'Covert Now.'
You will then have to fill out some information regarding your website. Make sure you enter your website information so that people can visit your website via your profile!
Just so you know, converting your personal account to a business account is free! It will not cost you a penny!
2. Get Your Pins to go Viral!
Remember what I said earlier about how a pin will on average give you 2 site visits, 6 Page Views, and 78 Cents. Whoever said you should aim at average?
Here is an example of a pin of mine that is doing really well, for example( way more than 2 site visits!):
So getting a pin to perform that well has nothing to do with how long you have been on Pinterest. You just need to take care of a few things.
Here are a couple of things you need to do to get your pin to go viral:
1. Create an amazing looking pin for starters. If you pin has dull colors and nothing pops out to the user, they are going to scroll right past it.
-I use Canva to design my pins for free and it is absolutely amazing. When designing your pin, make sure you do not use more than two fonts. You should also use colors that work well together like blue and white or pink and black. Try using red, pink or orange in your pins because these are the colors that get the most repins!
-If you have the time, create an infographic using PiktoChart. Infographics are in!
-Keep your pins simple and light. You do not want to blind your users.
-Make sure you use text in your pins. Never post an image without text!
-Make sure your pins are a good size as well. About 80% of Pinterest users use their phones so think about that! My pin size is 700 x 1300 pixels and I suggest you follow the same size because it works.
2. Use keywords…a LOT! That is what will get your pin to rank. Do not make the same mistake I did and leave your pin description blank. As you can see above, I have made sure my Pin's heading uses a lot of keywords that people will search for like 'Make Money Online Ideas.'
Do the same thing for your description:
As you can see, I have used hashtags and tons of keywords. Use at least three hashtags in all of your descriptions and if you do not know what keywords to use search your main keyword in the Pinterest search bar. Here is what you will see:
All of those words in the colorful boxes that you normally scroll past are actually very important.
They are similar terms users searched for when they were trying to find 'how to start a blog' pins.
These are the main things I do to get my pin to rank higher which helps me get more traffic.
Recommended
A course that I recommend that can really help you when you are trying to figure out how to get more traffic and generate more sales is Carly's Pinteresting Strategies.
The reason why I promote her course over the thousands of other ones available is because she actually has knowledge to give you that isn't rehashed or expensive.
Most pinterest courses are the same old tips stuffed together in a pretty format on a well-formatted website being sold for a crazy $200. You buy a book like that and wind up regretting it because NOTHING improves.
Pinteresting Strategies' no BS approach and $57 price tag is a lot more trustworthy.
I highly recommend taking the course if you are looking for an all-in-one to help you boost your traffic.
I have taken so many courses that only had tiny pieces of information rather than the whole package.Carly's Pinteresting Strategies actually adds to your knowledge bank.
3. Create Great Pinterest Boards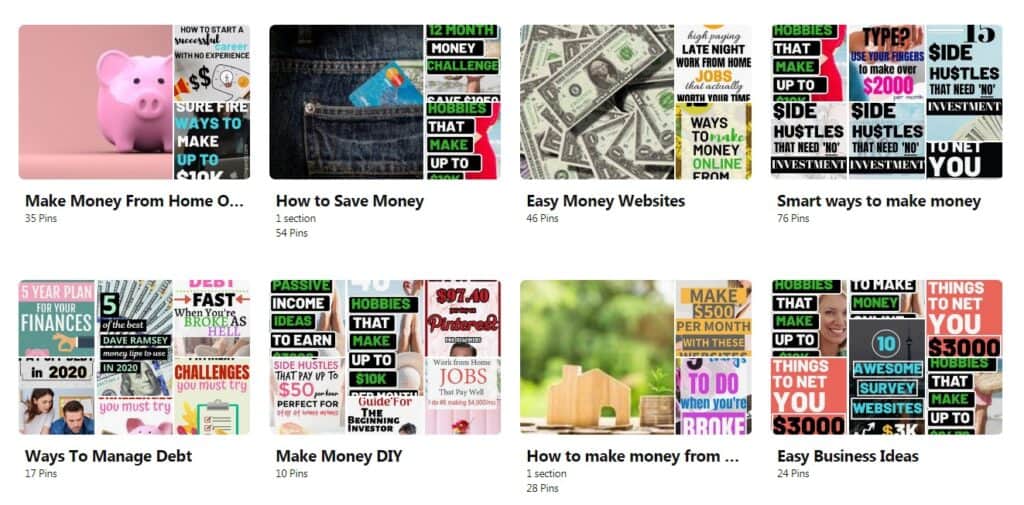 Look at the image up top of all of my boards. Now, look at the names. Notice anything?
They do not have super abstract names like 'Blog Stuff' or 'My Ideas.'
Your board names will affect how your pins rank. Remember that tip I mentioned about the keyword?
Use those keywords we found to name your boards.
Think of it this way. Pinterest is going to rank your boards based on what users are searching for. So, if someone has searched for 'Blogging' and you have named your board ' Sarah's Ideas', it may not be the best idea.
Not only do you have to have a great pin, but you also need to optimize the names of your boards to help the pin ranking even more.
4. Do NOT use group boards
As of 2020, I do not recommend group boards. Pinterest is not rewarding pins on group boards anymore and it is more about building up strong boards of your own.
Instead of wasting time applying to group boards and wasting pins on them, create boards of your own and make them strong by pinning regularly.
A big reason why group boards have lost of their usefulness is because pinterest is focusing more and more on narrowing niche.
This means that they like boards that are about one topic only. The more niched down a board is- the better. So, if you are part of a group board with multiple pins from multiple different topics (home decor, personal finance, food), chances are your personal finance pin is not going to do well.
If you want to join a group board, make sure these boxes are ticked:
The name of the board should be a keyword not something abstract like 'best pinners'. A keyword could be something like 'make money'.
The description of the board should be keyword rich. A lot of group boards have descriptions that say 'best pins from personal finance pinners. Email me at -this email- to get added on to the board'. This is not a description that is going to do anything for the SEO of your pin.
Make sure all of the accounts that are members of the board are in the same niche. If there are too many accounts to check, just check the first 5-6 to be sure.
5. Is Tailwind worth it?
With Pinterest, it is really important to be consistent. The more you pin, the more views and attention you will receive.
If you have not heard about Tailwind already, it is essentially a pin scheduler that helps you pin your pins at the best times and consistently. While a lot of people do recommend Tailwind, I do not.
Yes, I would love for you to use an affiliate link and purchase it BUT I do not believe it is necessary and I will not convince you to waste your money.
Manual pinning is the way to go. I create about 10 new pins every day with brand new descriptions because I think 'scheduling' it via Tailwind does no good.
Tailwind can help you maintain your Pinterest account if you are on holiday but that is about it. Contrary to what a lot of articles tell you, buying Tailwind is not enough. Most of those articles just want you to buy the product so that you can earn them a tiny commission.
I want to confirm that it is not all you should do. Pinterest loves new content. Visual content. I mean new pins when I say that.
If you have read other guides like this, you have probably got advice that essentially says you should put in 20 mins a week on Tailwind and that is it. I do not agree.
That will get you some traffic but not the amount you should aim for.
Tailwind is your pinning helper (an unnecessary one at that) not something that can 100% take over. I used it for 6 MONTHS before realizing manual pinning is the way to go.
If you have decided you want to use Tailwind, go for it but the results you want are going to need manual pinning in my humble opinion.
I have added a screenshot of what my Tailwind scheduling screen used to look like (before I stopped using it):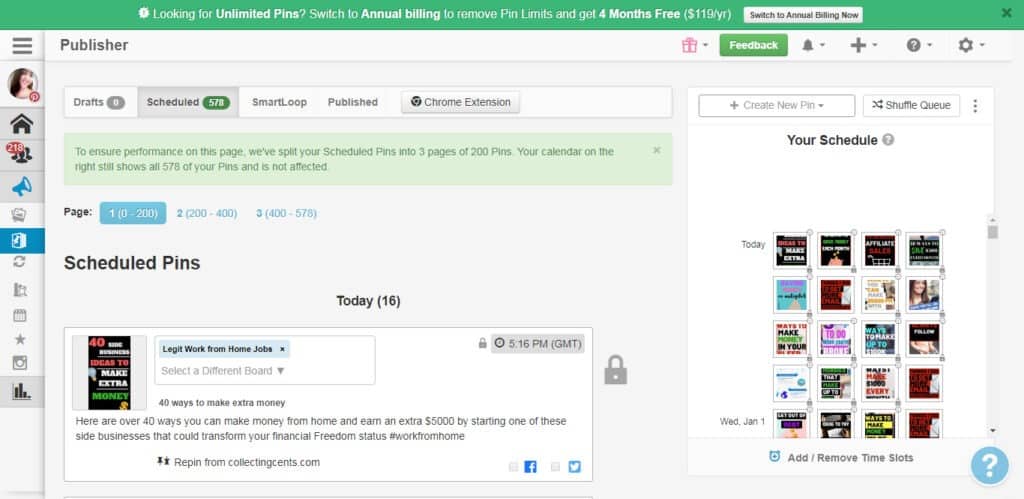 At the end of the day, of course it is up to you but consider trying manual before you dedicate your time to Tailwind.
6. Use a Social Sharing Plugin on Your Blog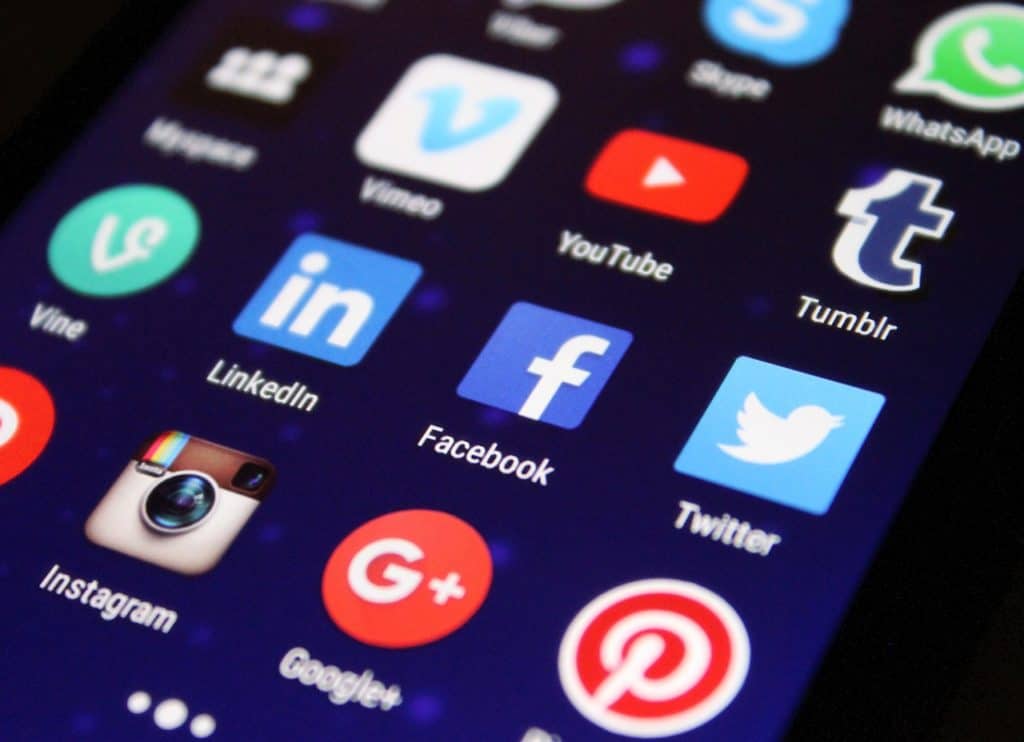 Make sure you are using a social sharing plugin like Shareaholic or Social Warfare. (Social Warfare is a paid plugin and Shareaholic is free)
This way your readers can pin your articles and images easily which will mean more traffic for you.
Quick Tip: Do not run two social sharing plugins together because this will do more harm than good. Narrow down on one you like and use it all the time.
You can also add on the Pinterest Widget for free- head over to the Pinterest Widget Builder Page and add it on to your blog. It will take you 5 minutes at best.