35+ Budget-Friendly Meal Prep Ideas That Will Make Your Life Easier
One of the most effective ways to keep a tab on your food budget is to prepare your meals ahead of time. You will be able to eat healthier and have far more time to yourself every morning by doing some simple meal prep.
As complicated and cumbersome as meal prep sounds, it is actually as easy as pie. If you are looking for a cheap service to help you out in the meal prep department, the $5 meal plan is a great option.
Before we get started on the meal prep recipes, here are some tips that you should keep in mind when meal prepping:
Some of the links below are affiliate links. You can read my full disclosure here.
Meal Prep Tips to get you started:
1. Start Small
Start small, to begin with. If you try to prepare 7 days' worth of meals all at once, you will probably never do it again. Work up to it. You could for instance start by preparing lunch for the next day of work the night before.
2. How long do meal prep recipes last? How much in advance should I meal prep?
Try not to meal prep more than 4 days at a time so that your food tastes fresh and you are enjoying every bite even with the advanced prep. If you are eating seafood, anything more than 2 days and you are cutting it fine.
This would mean that you should be meal prepping twice a week on average.
3. Meal prep formulas that work
Your meal prep should include protein, grain, and some vegetables as much as possible even if you load all of that into one dish.
Everything and anything including cooked meats, grains, cut fruit, cooked beans, veggies, cheese, and some sauces alongside any of that will work well for your meal prep.
You will be packing ingredients all together so it is best to use any of the above options and stay away from things that are fried that may get soggy.
4. Use a shopping list
A ready-made shopping template can be found online and you should use one of those while doing your meal prep shopping so that you cover everything and do not go nuts trying to remember what you have forgotten.
You can normally write down what you need in terms of ingredients one meal at a time so that you do not get confused.
These shopping lists will also help you stay healthy and keep your budget in check as well since you will be less likely to get all those unnecessary items.
5. Containers are your new best friend
You are going to need loads of containers but that is okay. You probably have at least one or two at home and if you don't they are pretty cheap to buy from Amazon. This option from Amazon is super durable and can be stored just about anywhere.
6. Remember why you are doing it all
A great way to stay focused is to remember why you started meal prepping in the first place. Every time you are exhausted, think about your end goal so that you do not go back to ordering in that deadly takeout.
Whether it is to save money or lose weight, you need to remember why you are putting in all this effort sometimes.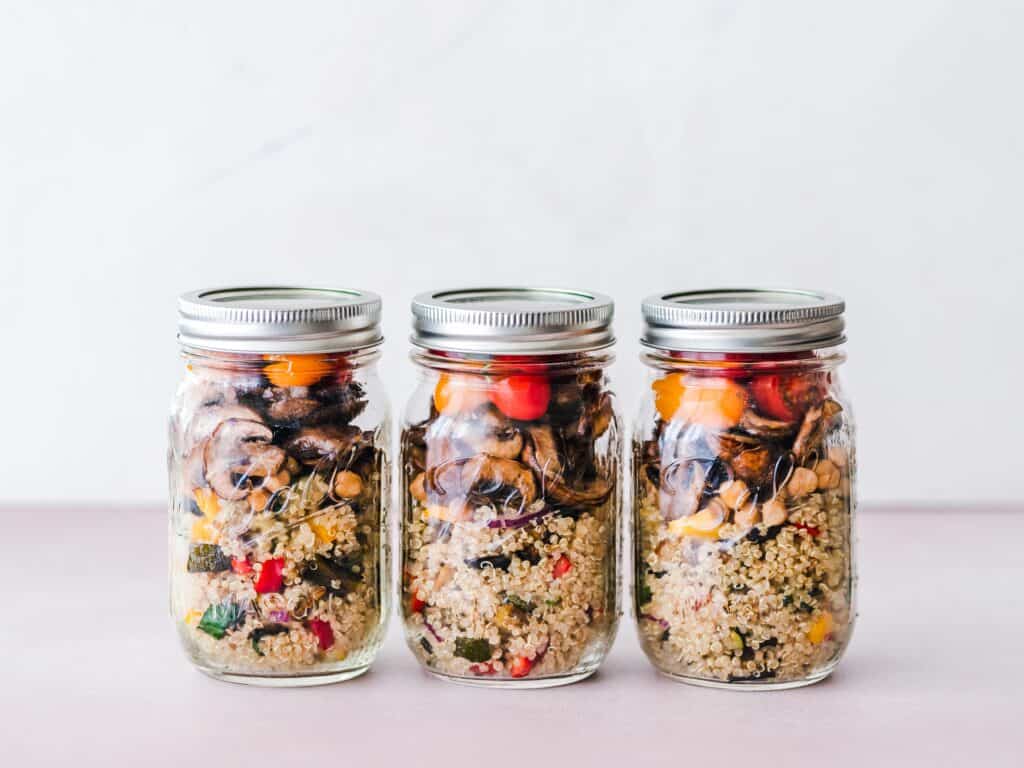 7. Mason jars work too!
If you do not want to buy containers and do not have any at home, you could use mason jars since they work really well for meal prepping too.
Meal Prep Tools
Now that you have got your basics down, let us talk about some meal prep tools that could help you out and make your life easier-
This option is great if you have no time on your hands. Freshly lets you select the dishes you want, gets it made fresh by their cooks, and sends it to you ready to eat but still as good as a homemade meal. All you have to do is heat it up.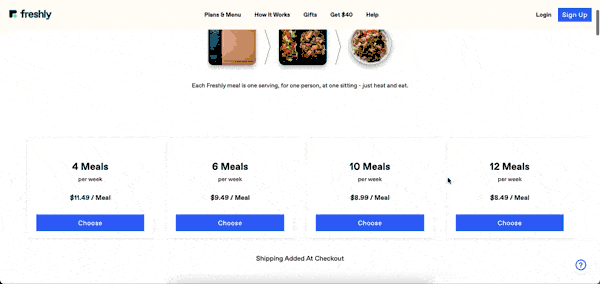 Hello Fresh is the perfect balance between meal prep planning and cooking your own dinners. This amazing company is one of my favorites because it allows users to pay for ingredients rather than actually cooked meals.
Plans include meal kit boxes that come with easy-to-follow recipes, all of the ingredients you will need for that dish, and nutritional information. It allows you to be part of the cooking process minus all the bad bits like grocery shopping and figuring out what to cook.
Plans can be personalized by the number of people eating and the type of food ( healthy, veg, quick, family-friendly, etc.).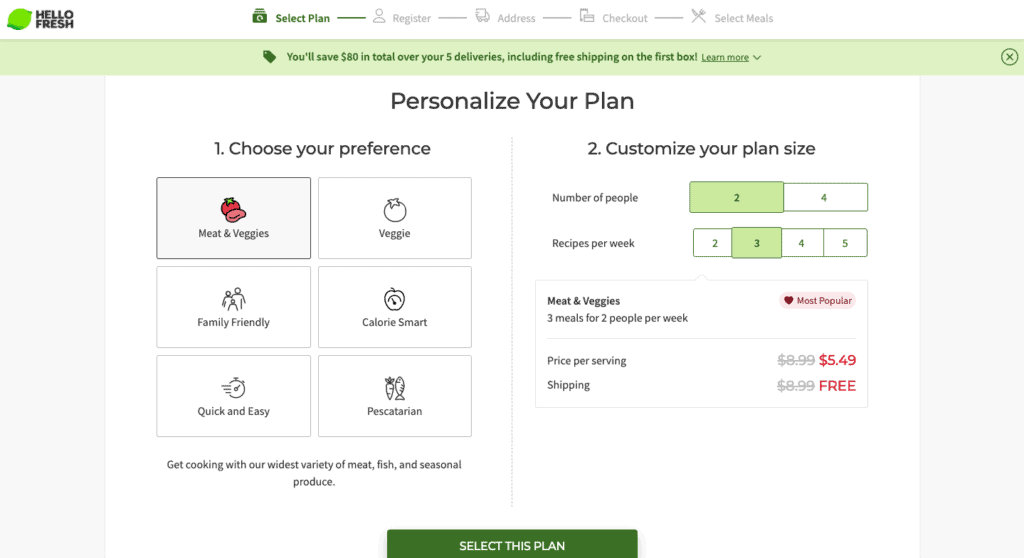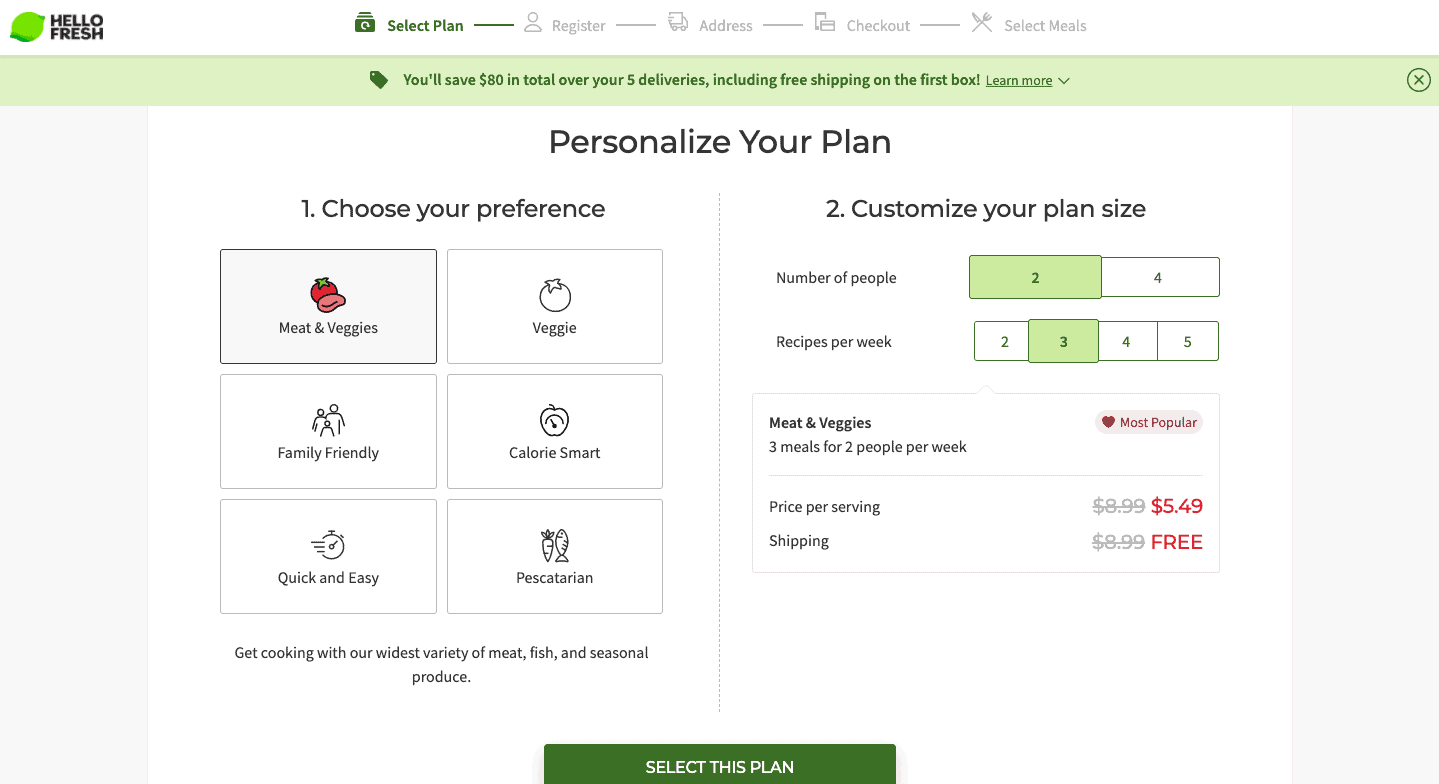 You can get started with Hello Fresh by clicking this link. At the time of writing, you can also get up to $80 off and free shipping on the first box.
The cheapest and most hands-on option- $5 Meal Plan. It sends over meal plans and shopping lists every month for just $5.
Healthy Meal Prep Ideas
Now that we have gone through the basics, let us get on with the meal prep ideas. These meals can be made in under 30 minutes by just about anyone- no culinary talents needed!
These ideas will quickly become your family's favorite recipes.
Breakfast Meal Prep Ideas
Most important meal of the day prep? You need to get this one right.
Here are my favorite easy breakfast meal prep recipes:
Lemon Berry Yogurt Breakfast Bowl
5 Mins Prep Time
Vegetarian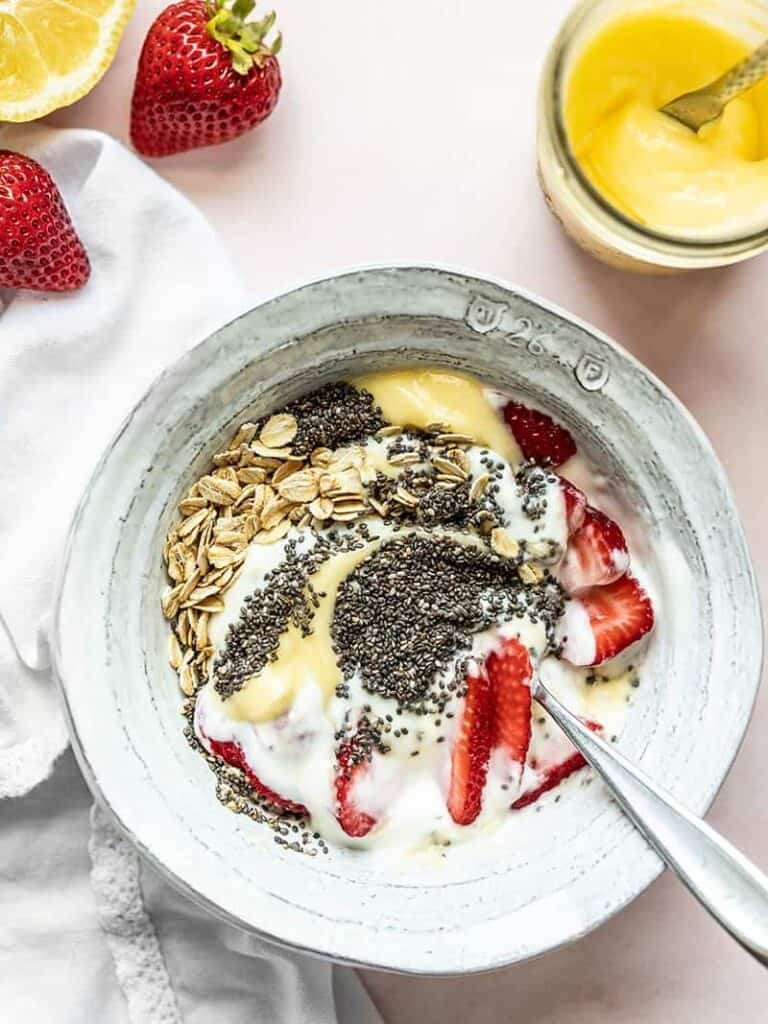 Found on Gathering Dreams
This one is super easy but so tasty! It includes some yogurt, lemon curd, oats, and tons of fruits of your choosing.
Most people go with strawberries but everything from blueberries to grapes can work! 5 mins prep time!
Fruit and Greek Yogurt Parfait
10 Mins Prep Time
Vegetarian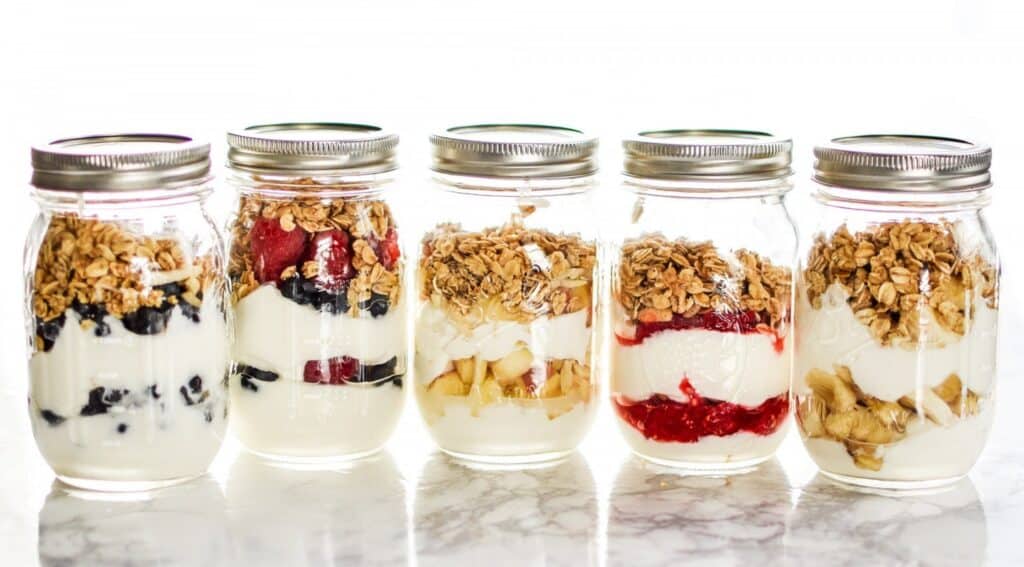 Found on Project Meal Plan
Remember those mason jars? You are about to use them!
These fruit and yogurt parfaits are super healthy and will give you a burst of protein each morning through that Geek yogurt.
A top layer of granola gives you a great crunch if you would like to try that idea. Most people use mixed berries, granola, and yogurt layered in a mason jar as their go-to.
Breakfast Burritos
30 Mins Prep Time
Non-Vegetarian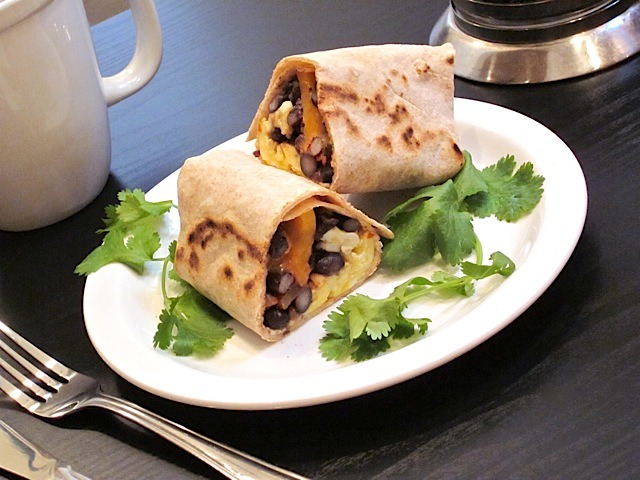 Found on Gathering Dreams
These super-simple breakfast burritos are also super yum. They include black beans, eggs, cheese, and some salsa.
You can pop them into a microwave and they are good to go in a matter of minutes. Also, did I mention they taste amazing?
Tofu Scramble and Breakfast Sweet Potatoes
15 Mins Prep Time
Non-Vegetarian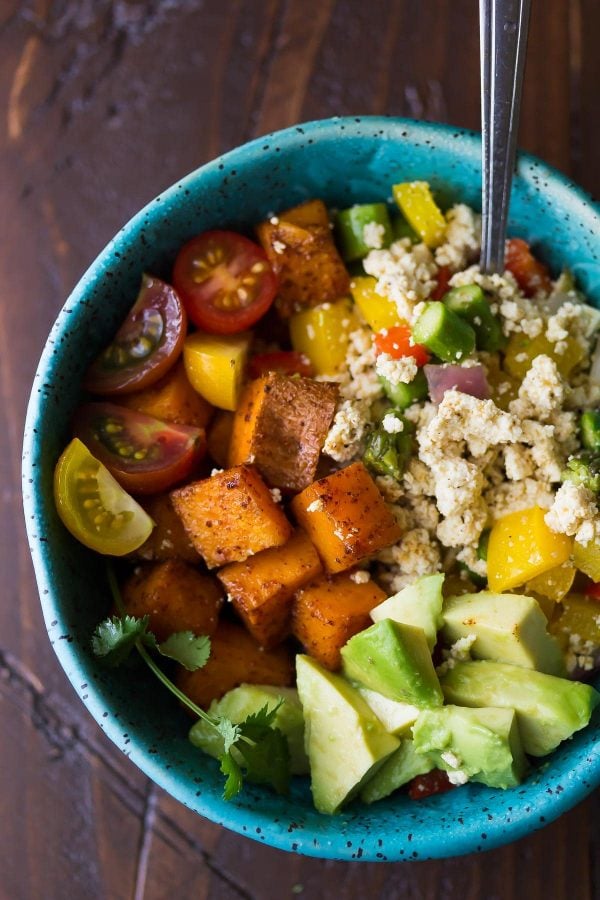 Found on Sweetpeasandsaffron
This tofu scramble and sweet potato mixture is perfect for anyone looking for a healthy start to their morning.
It's a barely-there 185 calories full of healthy protein and veggies.
It includes some peppers, onions, tofu, yogurt, sweet potato, and asparagus as core ingredients.
You could also add avocado if you like.
Vegan Omelet
5 Mins Prep Time
Vegetarian, Gluten-Free, Vegan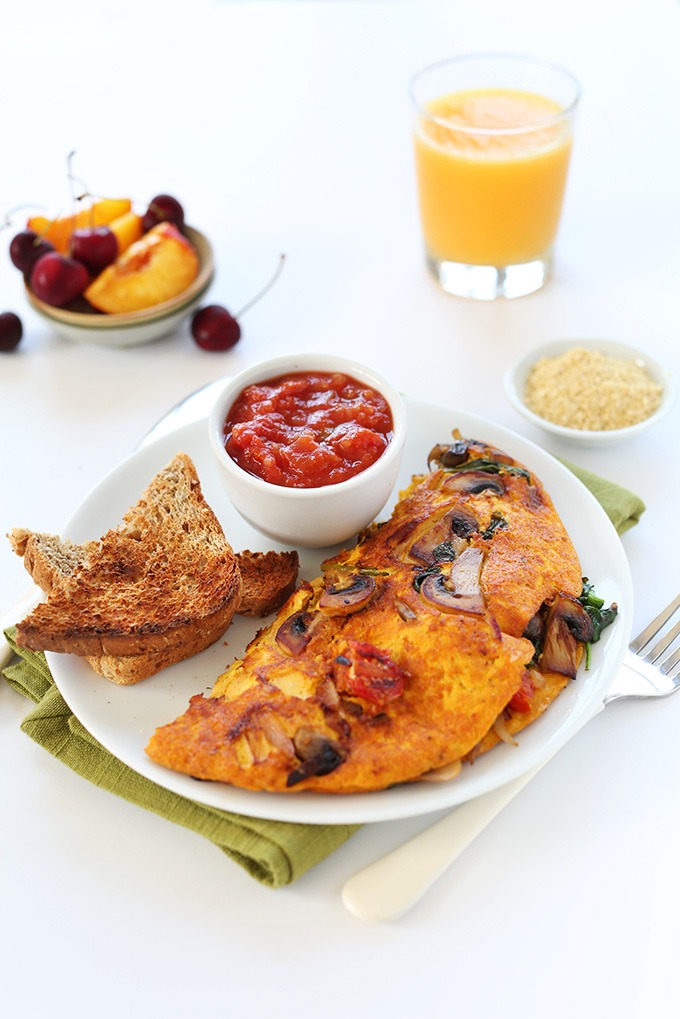 Found on MinimalistBaker
A vegan omelet made with tofu, hummus, black pepper, garlic cloves, paprika, and cornstarch contains an impressive 22 grams of protein and has a 5 minute prep time. What is not to love?
You mix it with a heap of veggies to prepare your delicious, vegan breakfast that can be topped with salsa or cheese.
Make-Ahead Breakfast Bowls
12 Mins Prep Time
Non-Vegetarian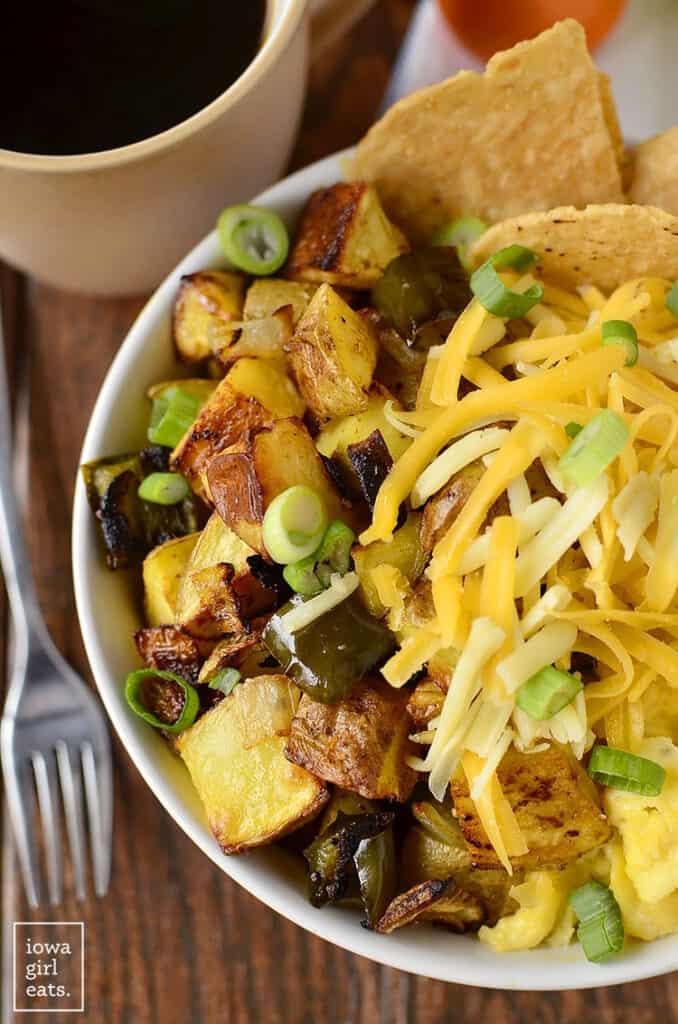 Found on iowagirleats
A mixture of shredded cheese, scrambled eggs, green onions, and Yukon gold potatoes make for a great breakfast bowl that is freezer-friendly. You can get a kick of protein, fat, and carbs first thing in the morning to make sure you are off to a good start.
These bowls can also include salsa or tortillas depending on what you want. Try this recipe!
Egg Muffins
10 Mins Prep Time
Paleo, High-Protein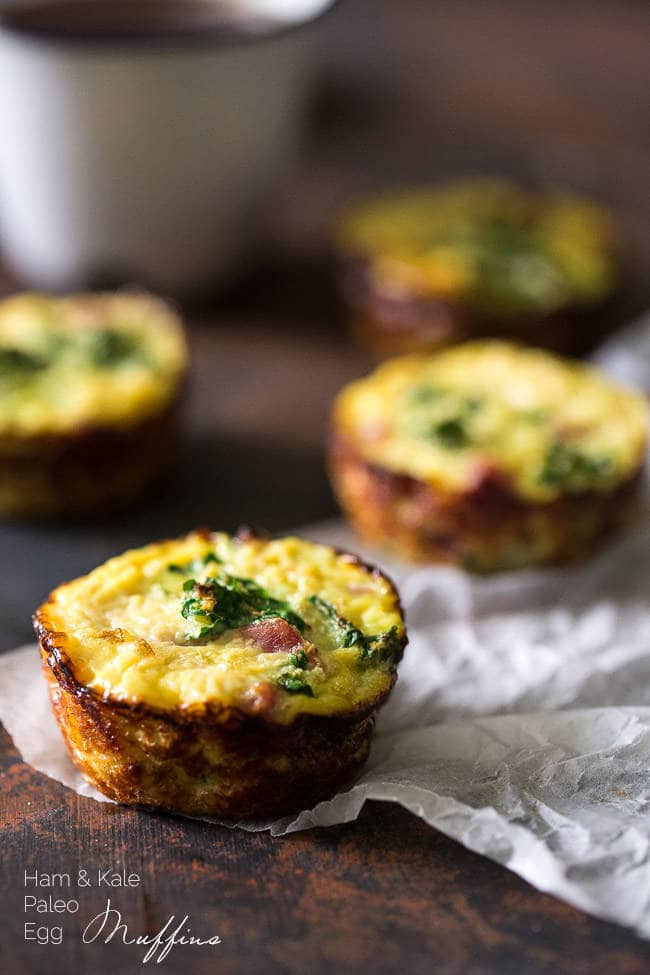 Found on foodfaithfitness
At 76 calories, these paleo-friendly ham and cauliflower egg muffins are to die for. They are super easy to make and you will be off to a healthy start.
They also look amazing and are easy to store and bring along to work.
Simple Quinoa Breakfast Bars
10 Mins Prep Time
Vegetarian, Vegan, High-Protein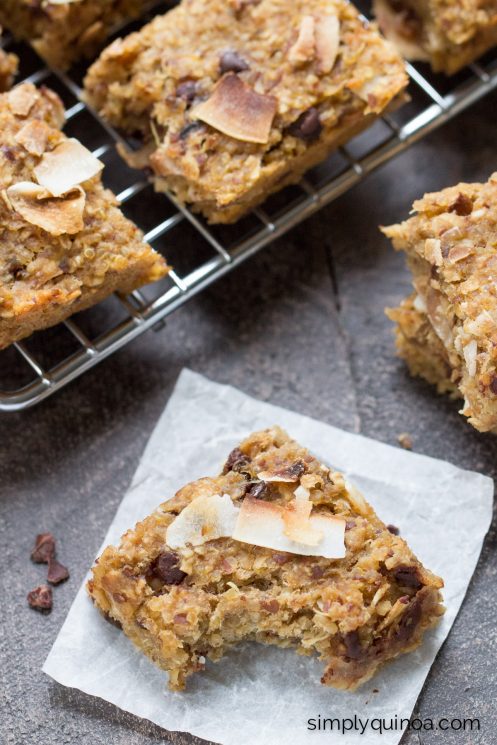 Found on superhealthykids
These bars are low in sugar and high in protein. The quinoa ingredient is what makes it protein-rich while also being 100% vegan friendly.
The best part about this option is they are super portable and you can carry them to work and even have them on the train!
There is no gluten, dairy, or soy but they taste super nonetheless.
They have coconut sugar and coconut chips that make them yummy. The total calorie count is only 223 calories!
Banana Egg Pancakes
5 Mins Prep Time
Non-Vegetarian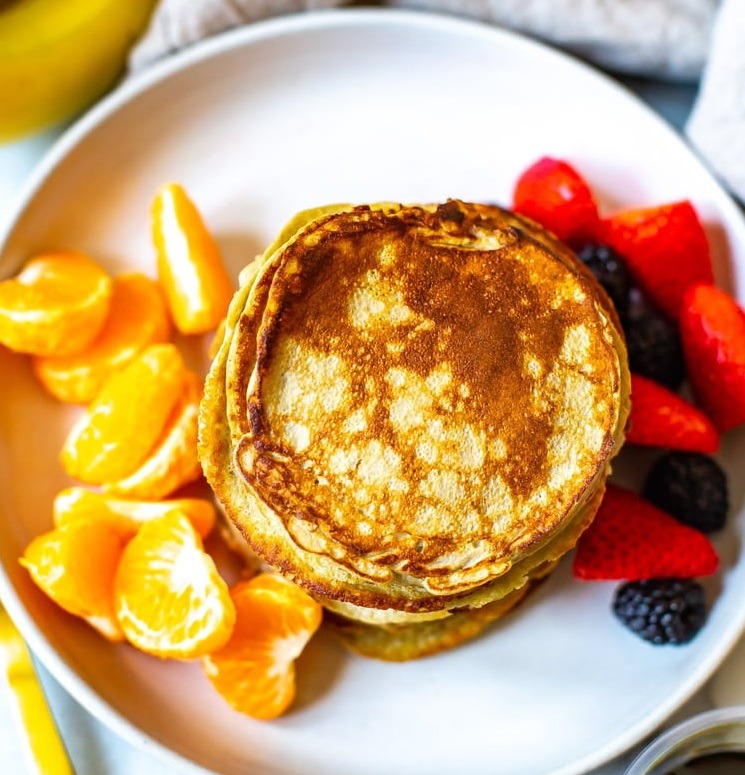 Found on thegirlonbloor
Banana Egg Pancakes from thegirlonbloor are awesome and super tasty. While you may love your traditional pancakes with loads of whipped cream, they are not exactly healthy but these give you the yumminess without the guilt.
They are flourless and are packed with protein, fiber, and potassium. These pancakes are also freezer-friendly.
Pina Colada Instant Pot Steel Cut Oats
5 Mins Prep Time
Non-Vegetarian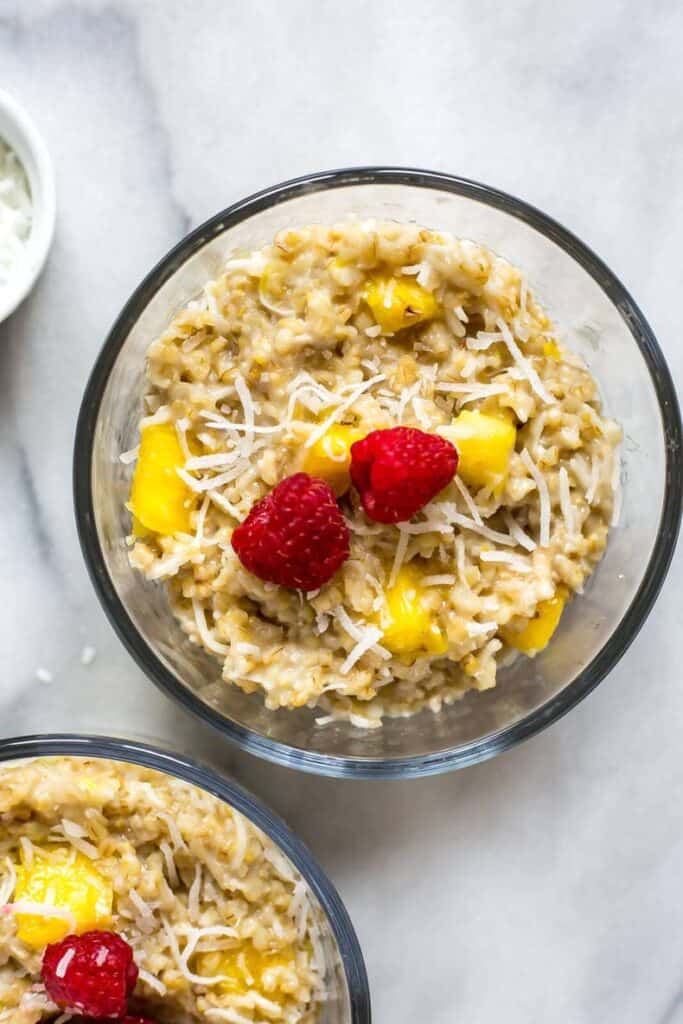 Found on thegirlonbloor
This healthy breakfast is made in a pressure cooker and takes barely any time since there is little clean-up that follows. These creamy pina colada oat pots can be eaten hot or cold and are pretty easy to store as well.
It has only five ingredients and you simply dump them all into a pressure cooker. Super simple and tasty! Try it here.
Fruit or Veggie Breakfast Smoothies Meal Prep
Does it get any easier than tossing some fruits or veggies into a blender? These easy as hell recipes are exactly what you need to start your day in less than 5 minutes of meal prep.
Here are my favorites:
Pina-Colada Green Smoothie Prep Packet
5 Mins Prep Time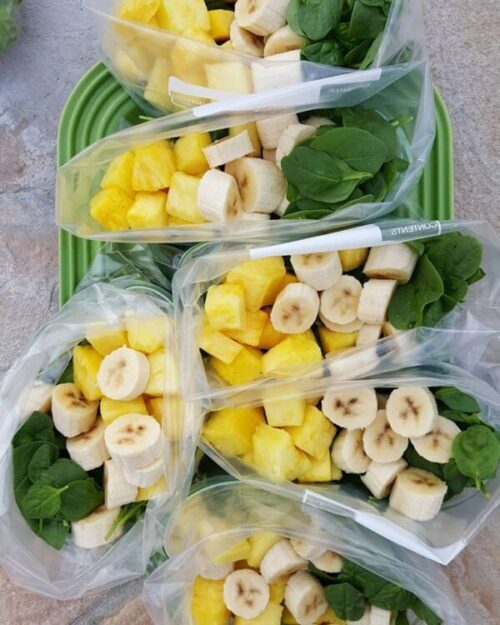 Found on cleanfoodcrush
So normally a smoothie prep packet essentially consists of the necessary fruits or veggies chopped up in preparation.
This one consists of bananas, pineapple, spinach, coconut milk, and some honey. If you make a large proportion of these ingredients altogether, they can be stored in the freezer for up to a week.
You just pop them into a mixer when you need them.
Berry Smoothie Prep Packet
5 Mins Prep Time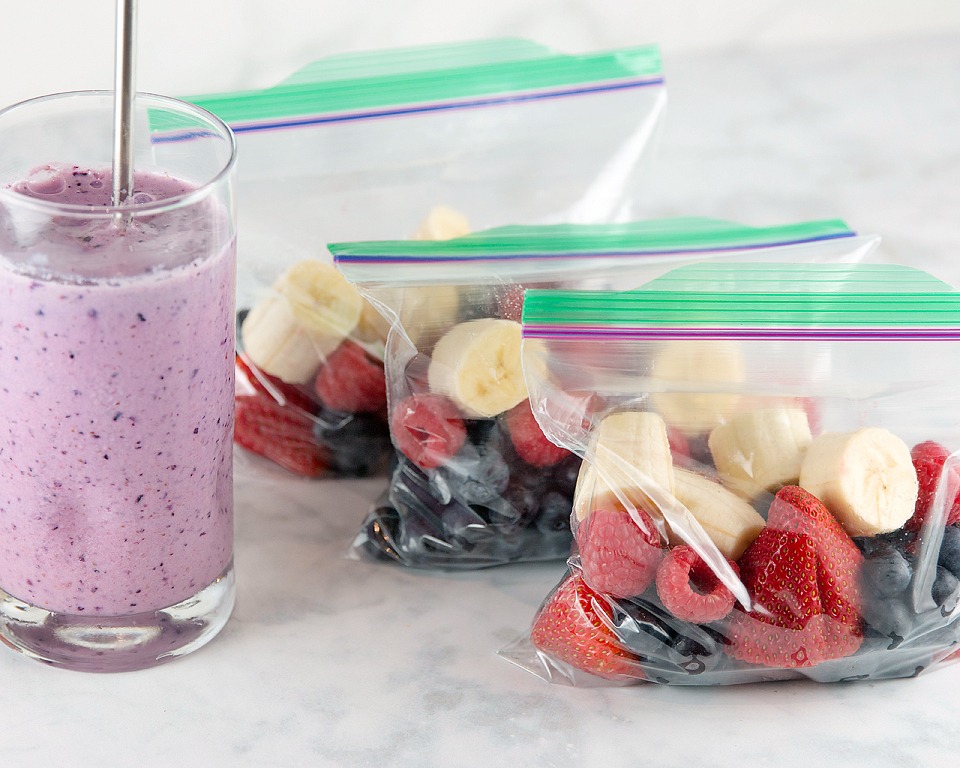 Found on xoxobella
These berry smoothies are so easy to make. I just throw in various berries and some milk into the NutriBullet and done! Healthy breakfast for the day
It is so easy to do and so much healthier than a Starbucks coffee.
Coffee-Banana Smoothie Prep Packet
5 Mins Prep Time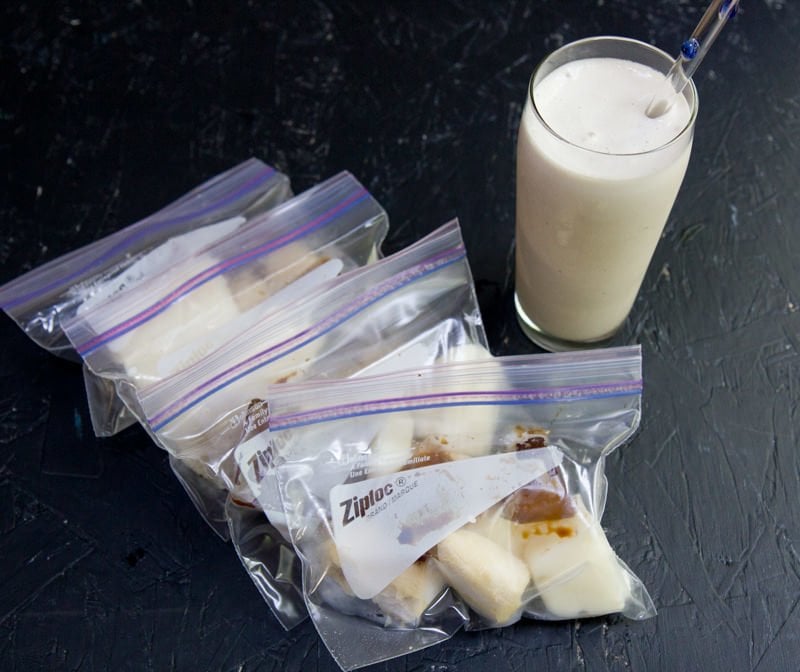 Found on wholefully
Missing your coffee with all this fruit smoothie talk? Why not mix it into your healthy smoothie?
These healthy banana-coffee smoothies are amazing and give you the much-needed kick to start the day. Keep them refrigerated and use them any time!
Strawberry Banana Spinach Smoothie Prep Packet
5 Mins Prep Time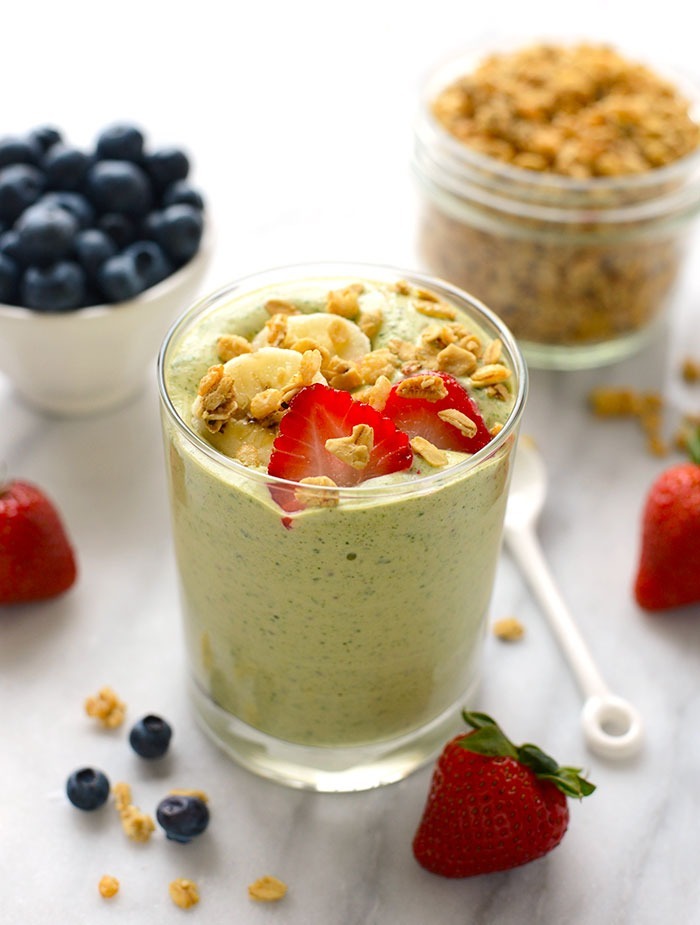 Found on fitfoodiefinds
This mix of fruits and veggies from fitfoodiefinds makes for a healthy morning start and is pretty simple to make since you probably have all of the necessary ingredients.
There is a total of 6 ingredients and you need to freeze your fruits to make them last longer. Then just pop them into the nutribullet and give it all a whirl to get your smoothie brekkie ready.
Strawberry Peach Smoothie Prep Packet
5 Mins Prep Time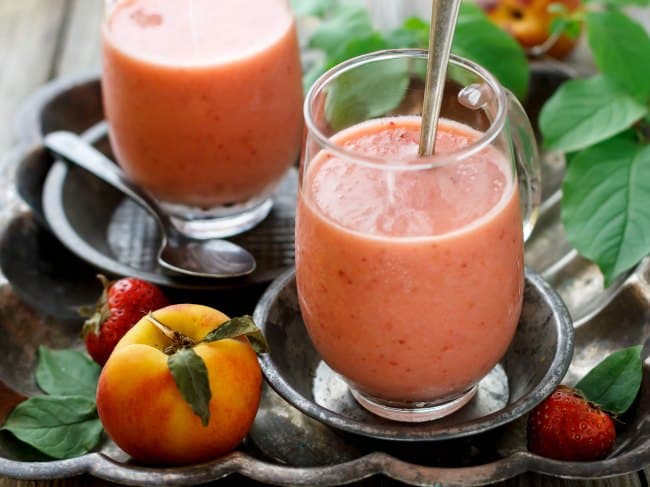 Found on eathealthyeathappy
Strawberry and peach go together like peanut butter and jelly. If you have a sweet tooth but want to keep it healthy, this option is for you.
It is ridiculously easy and you can get creamy smoothies in a matter of minutes. Only 5 ingredients! Get the full recipe here.
Lunch & Dinner Meal Prep Recipes
This list of recipes can work for either lunch or dinner depending on what you want. We will cover soups, salads, and various core meat dishes one by one so that you have plenty of options to choose from!
Salad Meal Prep Recipes
Let's start with something light and fresh. Salads.
These salads can be made in advance with a little meal prep and work perfectly for anyone looking for a light dinner that takes little to no effort.
Cobb Salad Meal Prep
15 Mins Prep Time
Non-Vegetarian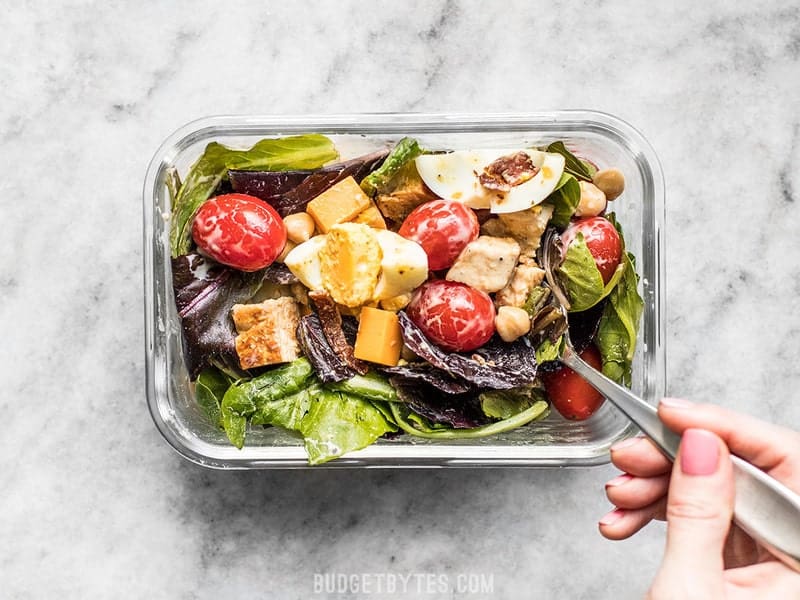 Found on budgetbytes
This simple and fresh cobb salad recipe has a barely-there 15 minute prep time and is stuffed with healthy ingredients like chickpeas, shredded chicken, romaine, and grape tomatoes.
With some bacon and chicken to keep it exciting, this salad is perfect for a light dinner.
Sashimi Tuna Salad With Carrot Ginger Dressing Meal Prep
25 Mins Prep Time
Non-Vegetarian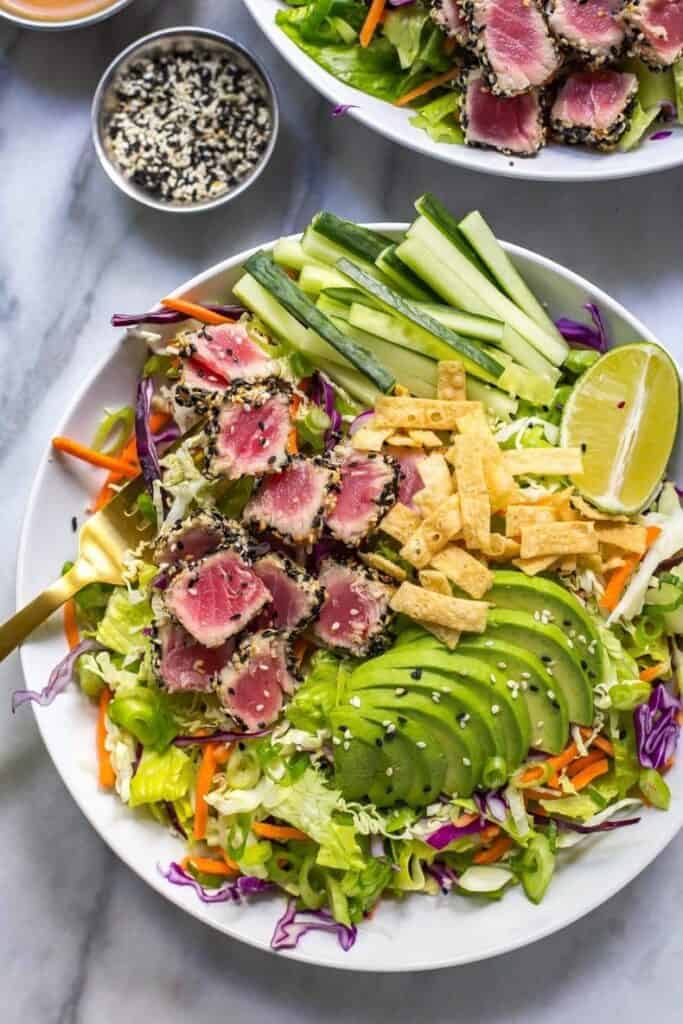 Found on thegirlonbloor
A little more complicated than anything we have covered so far, this tuna salad takes a little while to prep and spoils more easily since it is seafood.
It makes up for this with its awesome taste explosion. Thegirlonbloor has some amazing recipes and this is one of my favorites by far.
Mason Jar Salads Meal Prep
10 Mins Prep Time
Non-Vegetarian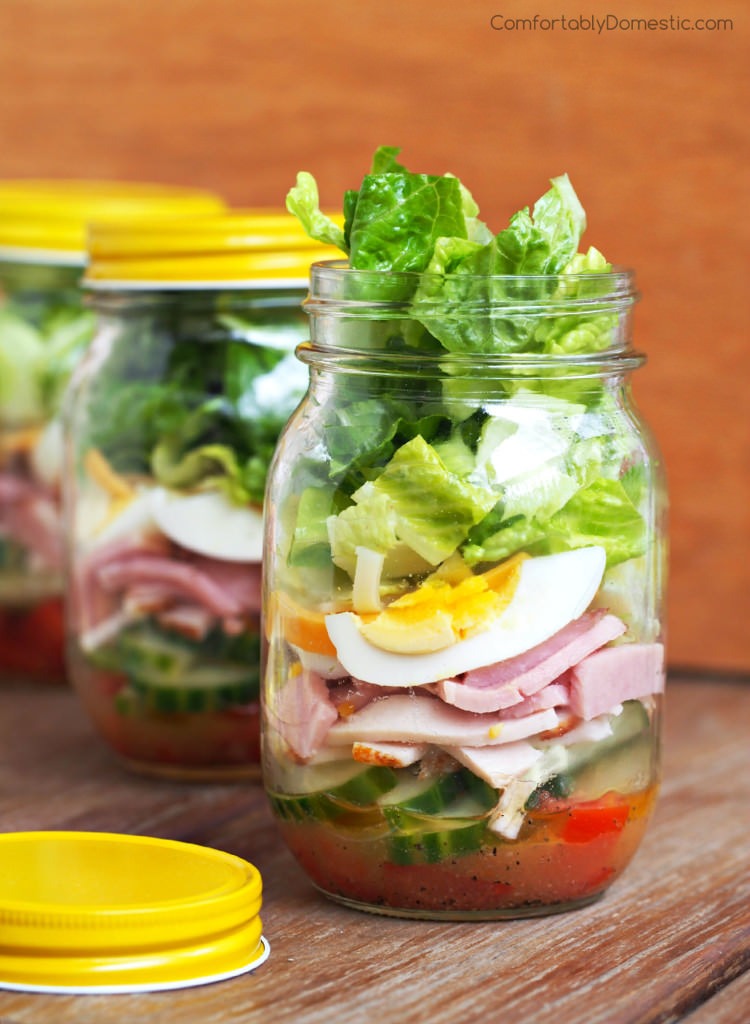 Found on comfortablydomestic
Some of us have jobs where we are constantly on the go and if you are one of those people, being able to eat while you walk is a gift.
These mason jar salads are easy to store, carry and eat while also being amazingly tasty.
Nourish Buddha Bowl with Harissa Tahini Dressing Meal Prep
15 Mins Prep Time
Vegetarian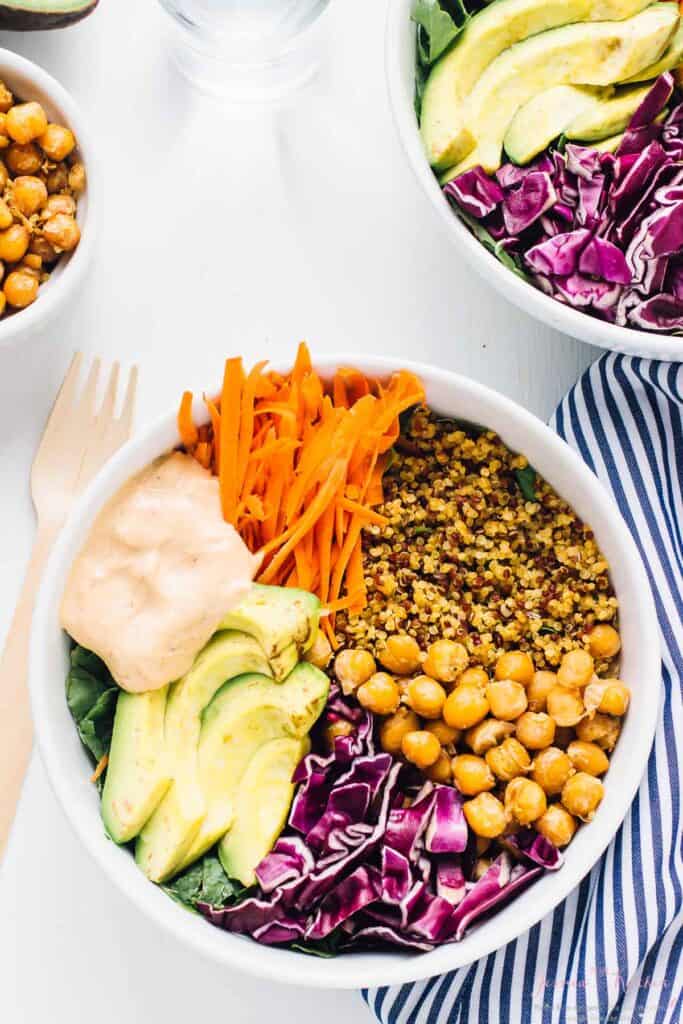 Found on jessicainthekitchen
This nourishing and tasty salad is stuffed with veggies and grains and then topped with a tasty tahini sauce.
Not only is it really healthy and good for you, but it is also incredibly tasty.
You won't be able to put your bowl down.
Thai Chicken Coleslaw Meal Prep
20 Mins Prep Time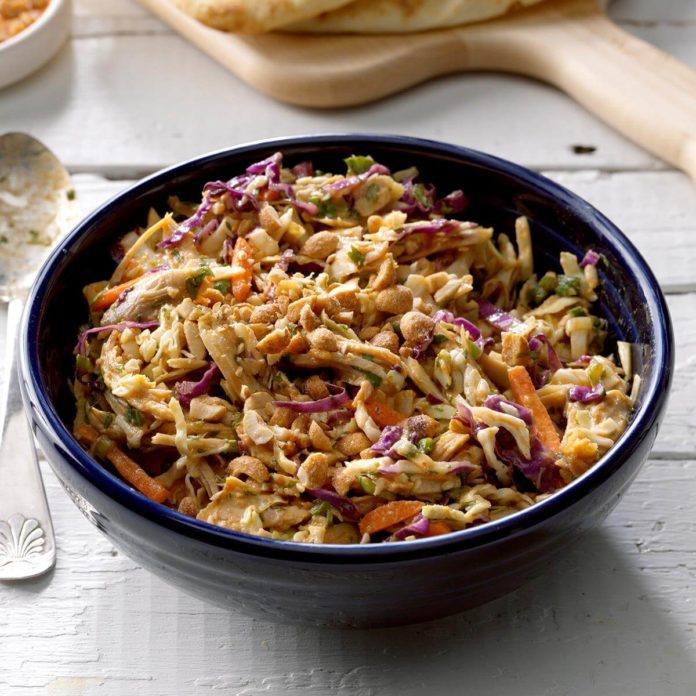 Found on tasteofhome
If you love Thai peanut sauce, this one is for you. You can make it with or without chicken depending on what you want.
It can either serve as a light dinner with chicken or a great side without.
Soups Meal Prep Ideas
These quick and easy soups are perfect for a portable dinner and they do not take long to make. These big bowls of healthy and warm soup can make any tummy rumble.
Tuscan Style Chicken Soup Meal Prep
20 Mins Prep Time
Non-Vegetarian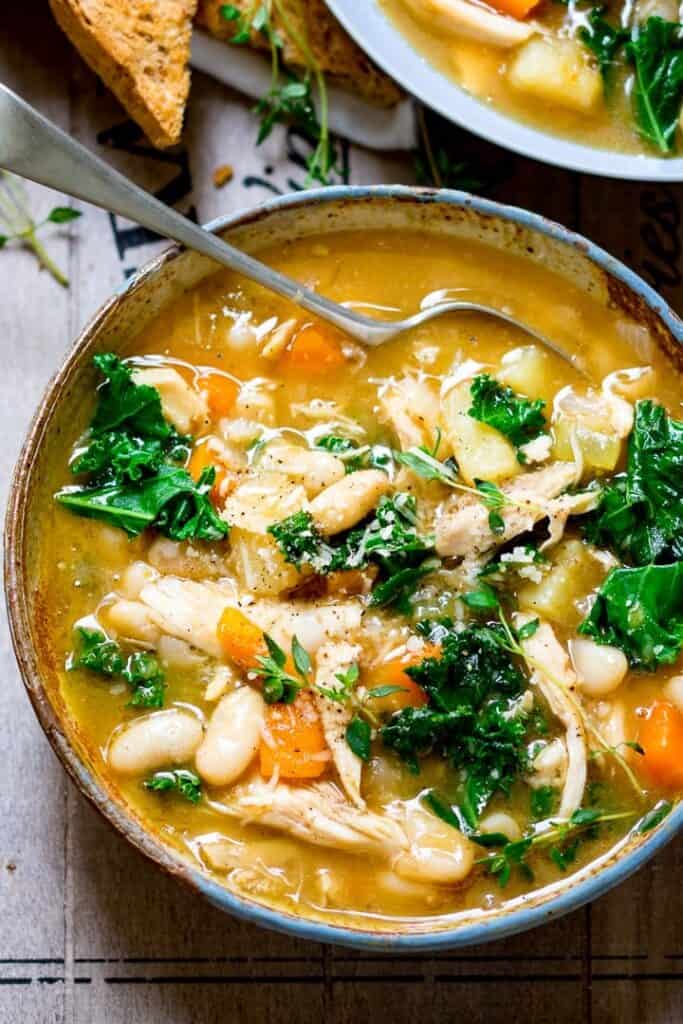 Found on kitchensanctuary
This Tuscan-style chicken soup goes really well with granary toast on the side. You can carry it to work in a thermos flask.
This Italian- style soup consists of some chicken, veggies, beans, and kale so overall it is pretty healthy and tastes pretty yummy too.
It also goes really well with some garlic bread.
Moroccan Turmeric Chicken Soup Meal Prep
20 Mins Prep Time
Non-Vegetarian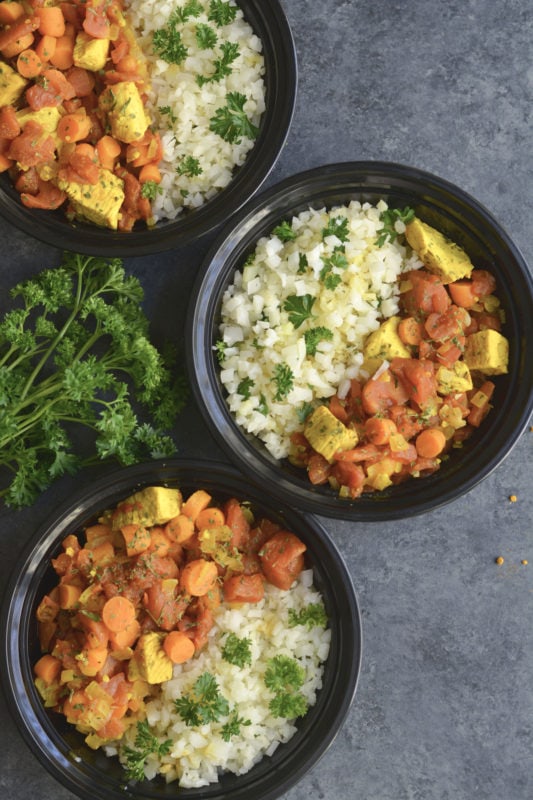 Found on mealpreponfleek
This sweet and simple Moroccan turmeric chicken soup can be made in under half an hour and used as a meal for the entire week to come.
It has just the right kick of spice and is full of yummy veggies.
Kale, White Bean and Chicken Soup Meal Prep
30 Mins Prep Time
Non-Vegetarian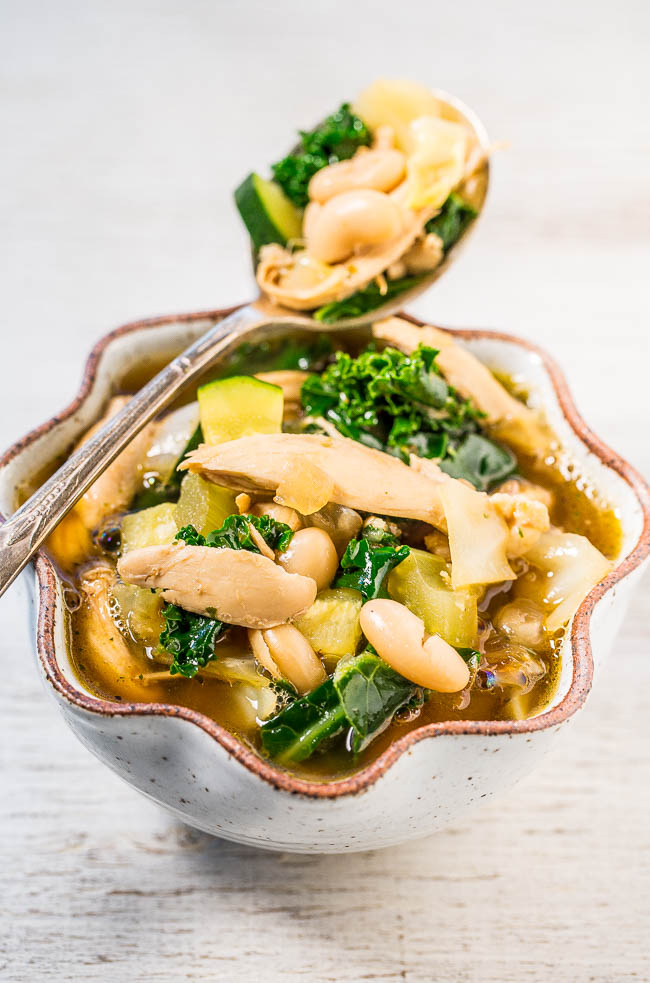 Found on averiecooks
This easy white bean soup is full of flavor and can be stored with ease. It is also super filling so it makes for the perfect meal with shredded chicken and kale.
With ingredients like chicken, kale, cabbage, and zucchini, this soup is full of protein and texture.
It can then be kept airtight in the fridge for up to 7 days.
Slow Cooker Chicken Potato Soup Meal Prep
15 Mins Prep Time
Non-Vegetarian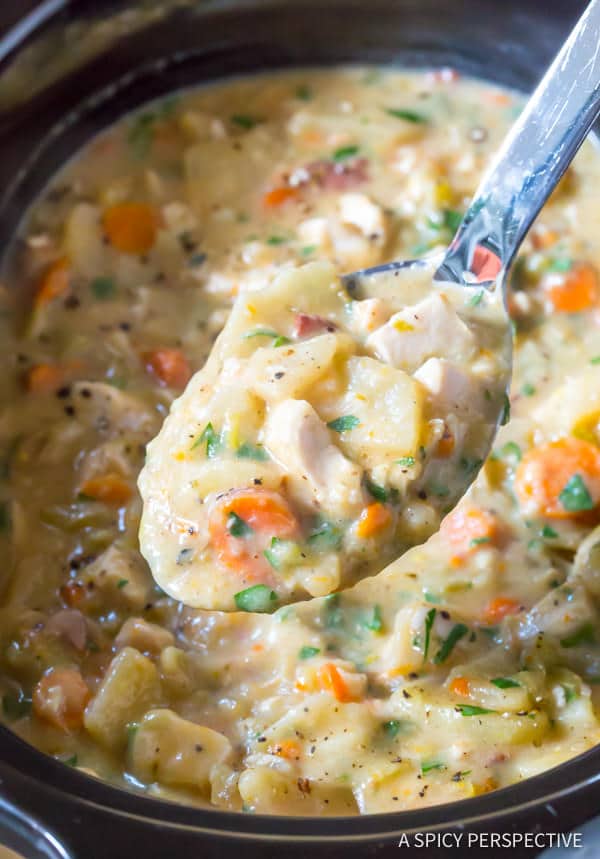 Found on aspicyperspective
This soup is veggie-packed and has tons of soft potatoes along with some chicken to make it as filling as possible. A spicy perspective has loads of amazing dishes and this is my favorite one by them since it makes for such a great dinner with little to no effort on my part.
You can also take it along with you pretty much anywhere weeks after it is made as long as you store it well in an airtight container in your freezer.
Meal Prep Chicken Recipes
This is probably the most common meat people use when cooking and it is also the healthiest. We are also going to cover sausage and fish as core meats but I am going to start with my personal favorite.
Chicken Meal Prep Dishes
Sweet Chili Chicken Stir Fry Bowls
15 mins Prep Time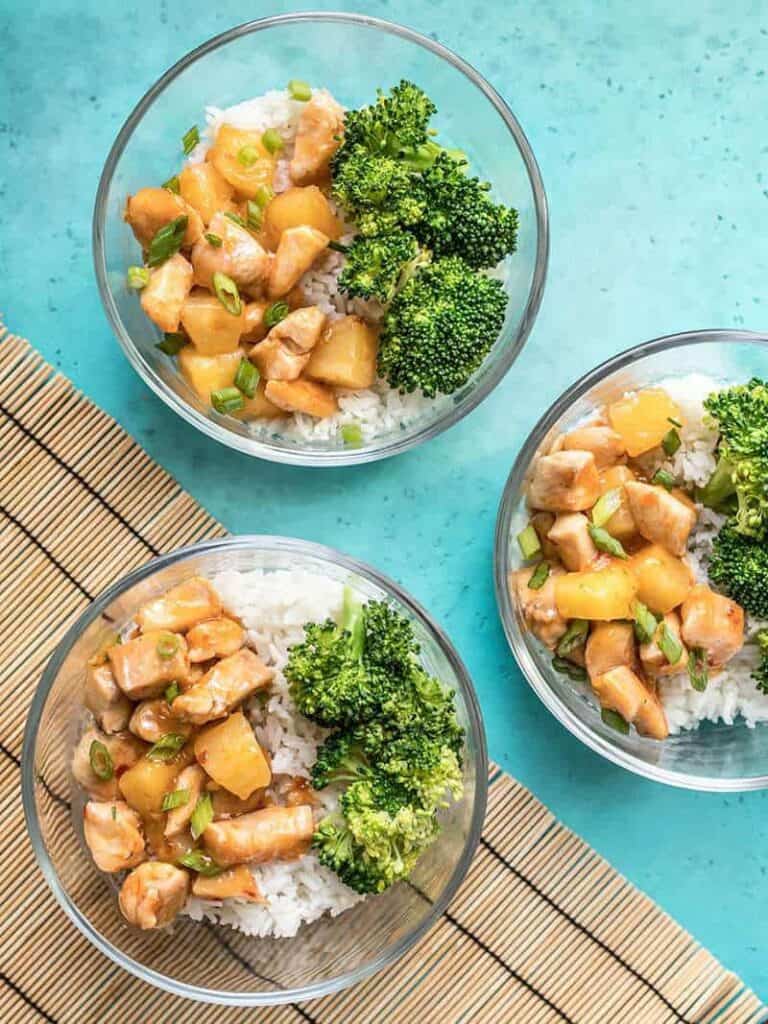 Found on budgetbytes
This uncomplicated but very tasty sweet chili chicken stir fry bowl will make dinner the part of the day you look forward to.
Beth from budgetbytes says the formula for her recipe is to simply fry some form of protein like chicken, add a sauce of some kind onto a freshly made bowl of rice and then add a steamed vegetable of your choosing.
This formula can be used countless times over to form various other stir fry bowls of your choosing.
Roasted Chicken and Veggies
10 mins Prep Time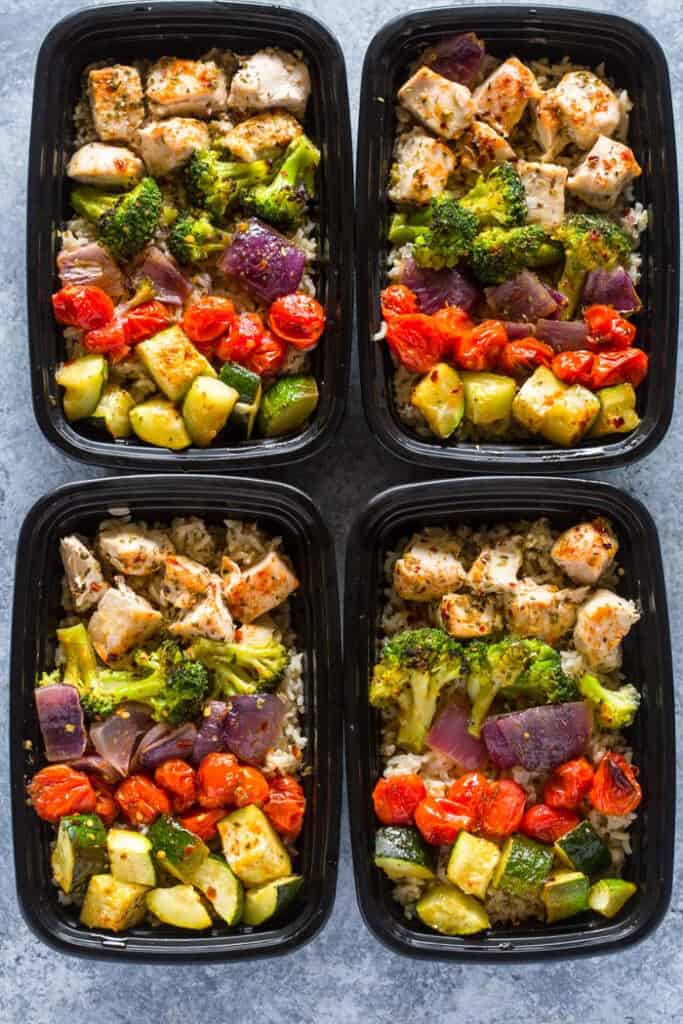 Found on gimmedelicious
Sprinkled with spices and garlic while being cooked in olive oil, this simple dish of roasted chicken and veggies is perfect for meal prep.
After baking your veggies and chicken for 20 minutes you can add it to some rice in your meal prep containers and store it for a couple of days.
Pineapple Chicken Meal Prep Bowls
5 mins Prep Time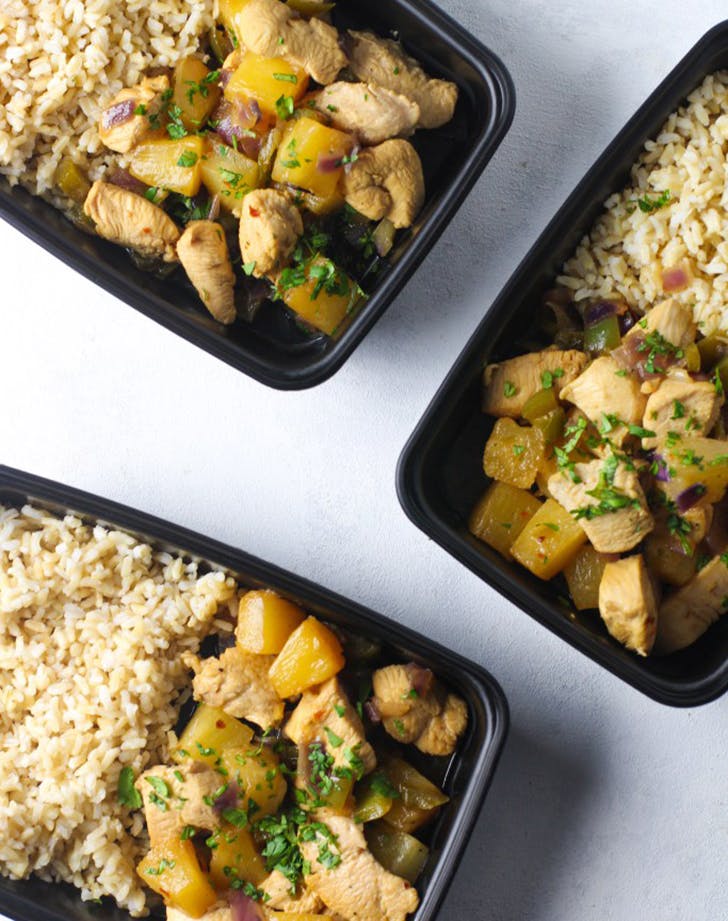 Found on theculinarycompass
These full of flavor pineapple chicken bowls will put pineapple pizza to shame with how tasty they are. Not to mention crazy simple to make.
With a side of brown rice, this healthy meal will last you up to a week if stored well in a freezer.
Chicken Fajita Meal Prep Bowls
10 mins Prep Time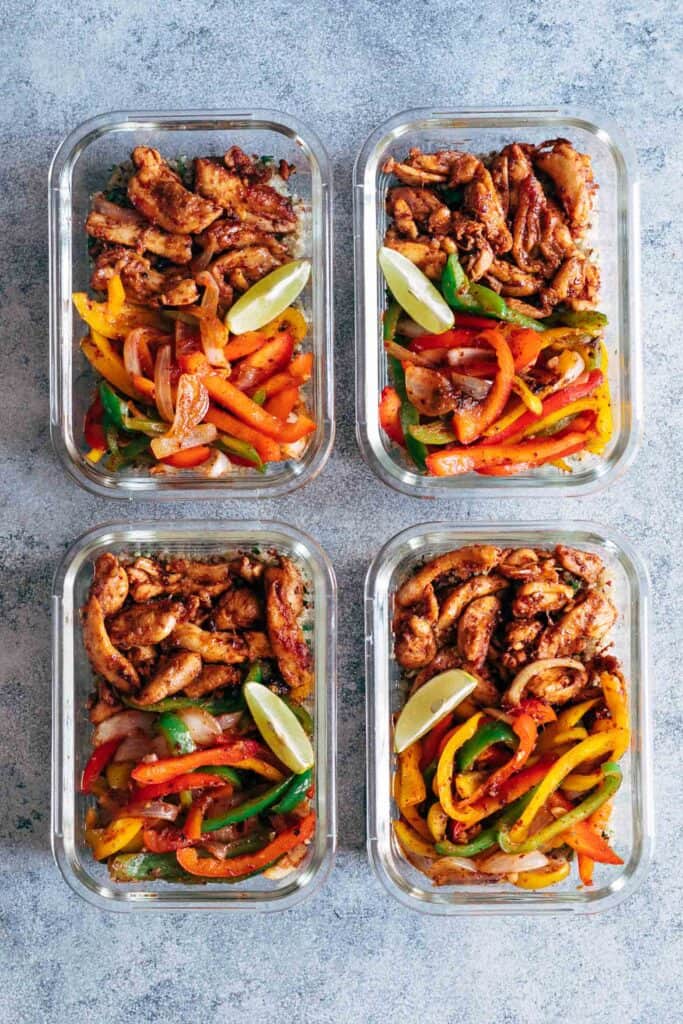 Found on myfoodstory
Chicken fajita with cilantro lime quinoa may sound super fancy but it is actually pretty easy to make AND carry.
After your grill your chicken fajitas, simply add them to your prep bowls along with some grilled veggies and they should keep well for a few days if you store them well.
Fish Meal Prep Recipe Ideas
If you are trying to be a little healthier, I have got your back.
Try these super easy fish recipes for your next meal prep box.
Salmon and Green Beans Meal Prep
10 mins Prep Time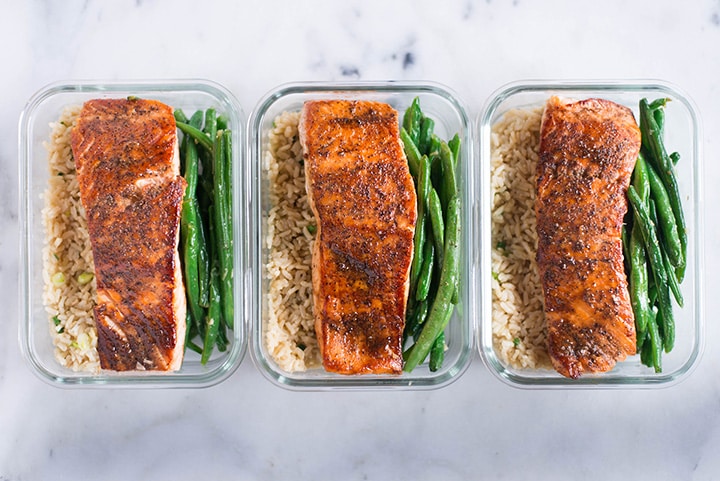 Found on asweetpeachef
Salmon and green beans along with some brown rice is one of those simple and healthy recipes that taste amazing and keep well in the fridge as well. The softness of the salmon goes amazingly with some asparagus.
You can keep to your diet while keeping your taste buds happy!
Pecan Crusted Orange Roughy Meal Prep
10 mins Prep Time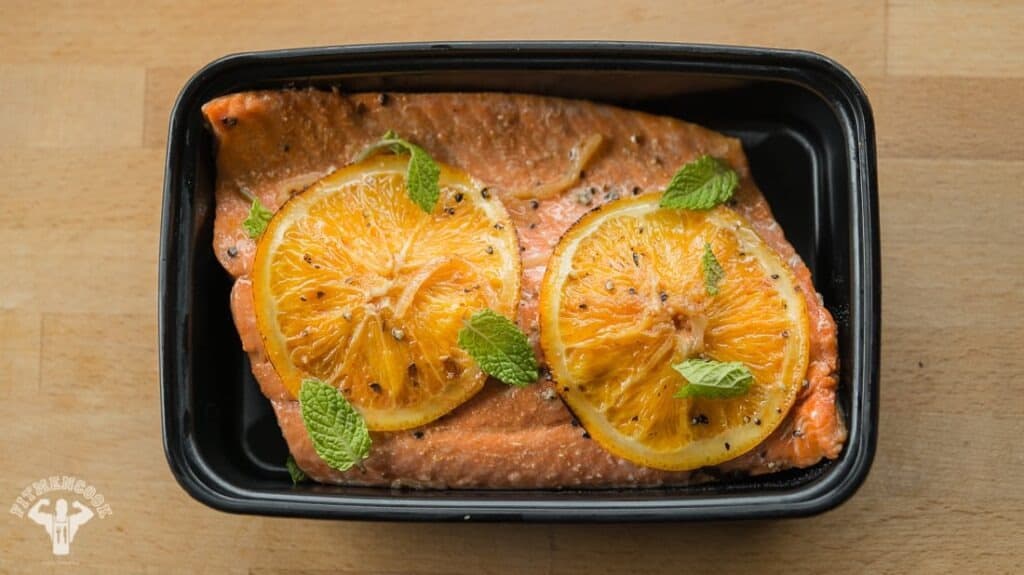 Found on fitmencook
Caught pecans and some orange roughy fillets are easy to cook and can last for a couple of days at a time.
Along with some cumin, garlic, parmesan, and parsley, this dish makes for a pretty neat meal prep idea
Easy Quinoa Fish Taco Bowls Meal Prep
15 mins Prep Time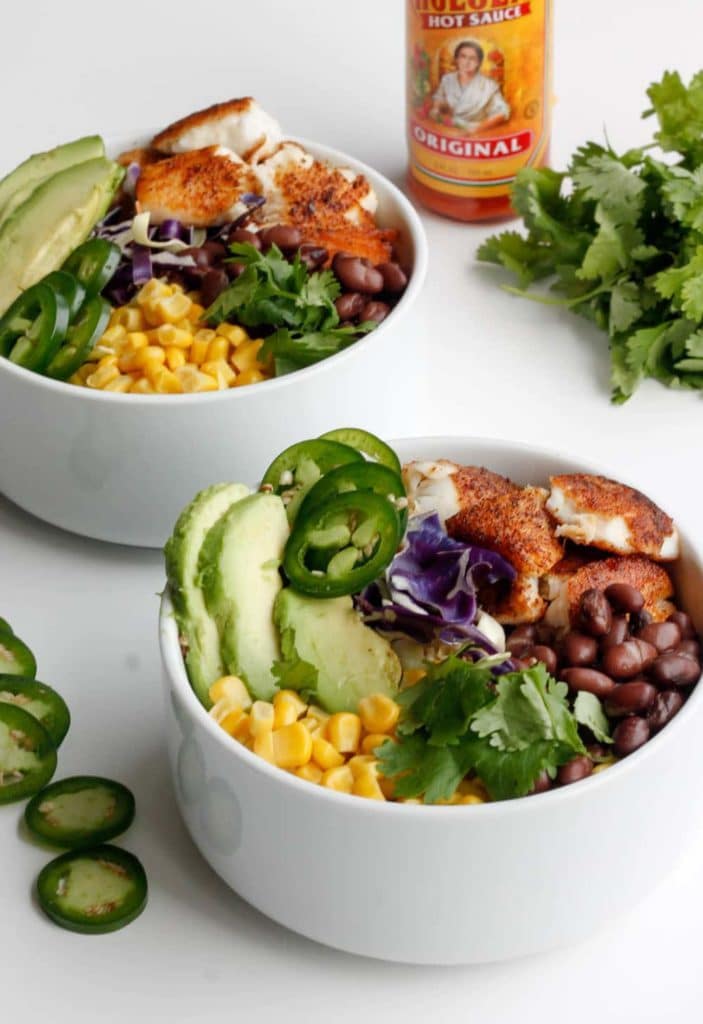 Found on smilesandwich
Layered with avocado, quinoa, black beans, and tons of tuna, this fish bowls will brighten up your day with a burst of taste.
It is one of my new favorite meal prep ideas and the fact that it includes fish is a major bonus for my diet.
Sausage Meal Prep Ideas
Sausages are super easy to work with and so in my meal prep list full of ideas that will not take much time, I just had to add a few sausage recipes to the mix.
While these recipes do specify the meat of the sausage, you can just swap it for your favorite.
One-Pan Italian Sausage Meal Prep Bowls
5 mins Prep Time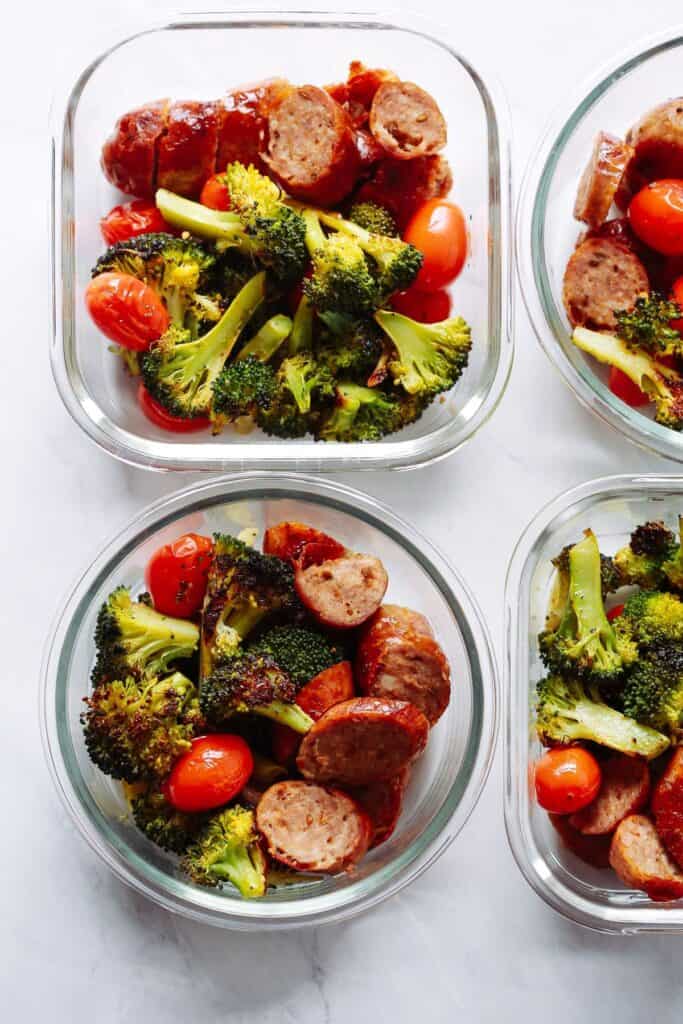 Found on primaverakitchen
Stuffed with cherry tomatoes and broccoli, primaverakitchen knows how to make sausages healthy.
Pork sausages work best for this recipe but you can even swap it for shredded chicken.
Sausage Peppers and Onions
15 mins Prep Time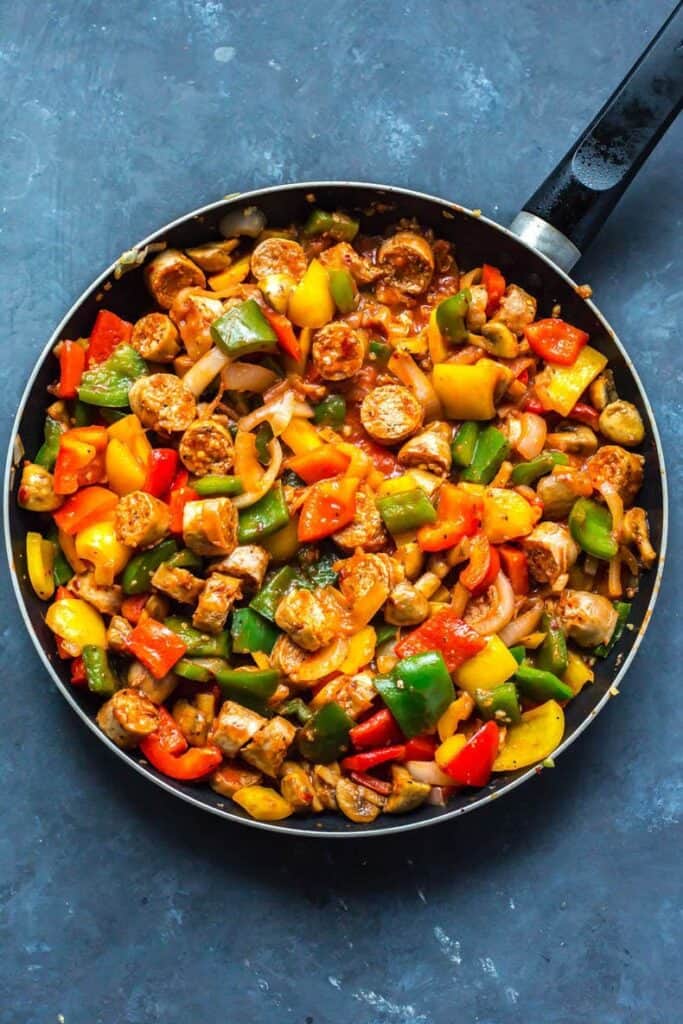 Found on thegirlonbloor
This mixture of peppers, turkey sausages, onions, and mushrooms topped with a yummy sauce is great for a night in watching Netflix.
It also works well as a last-minute option for you if you are late for work or just do not want to cook on the weekend.
The good part about this idea is that if you pre-cook the sausages, you can cook the veggies in no time and have a fresh dinner any day of the week. You can also just freeze the entire recipe and that will work as well if you really want to save time.
Sheet Pan Chicken Sausage and Veggies
10 mins Prep Time Paleo, Whole 30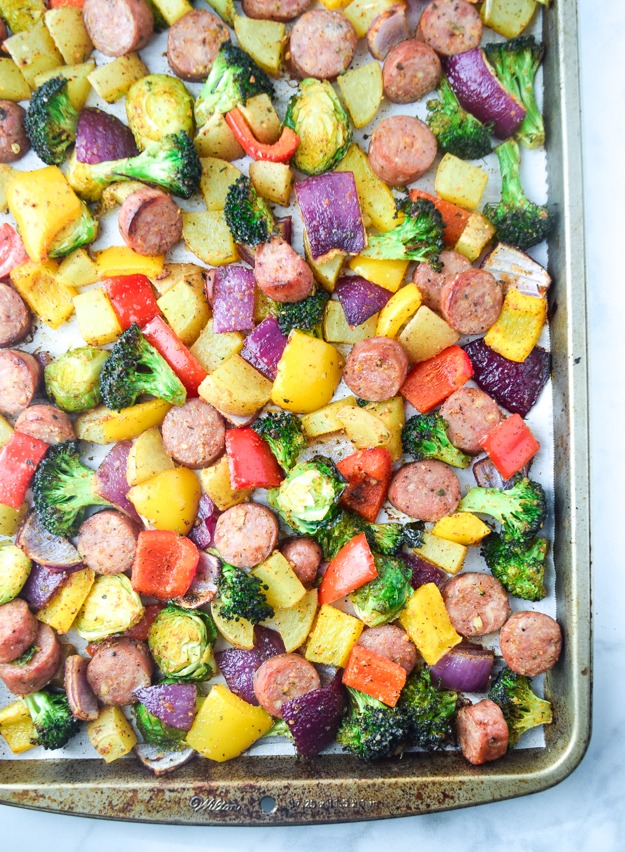 Found on tastythin
Chicken sausage, peppers, broccoli, potatoes, and Brussel sprouts all mixed together makes this one of our healthier sausage options.
All of the ingredients are mixed and baked together which means it is also a good day for cleaning with barely any utensils needed.
Chicken Sausage Meal Prep Bowls
15 mins Prep Time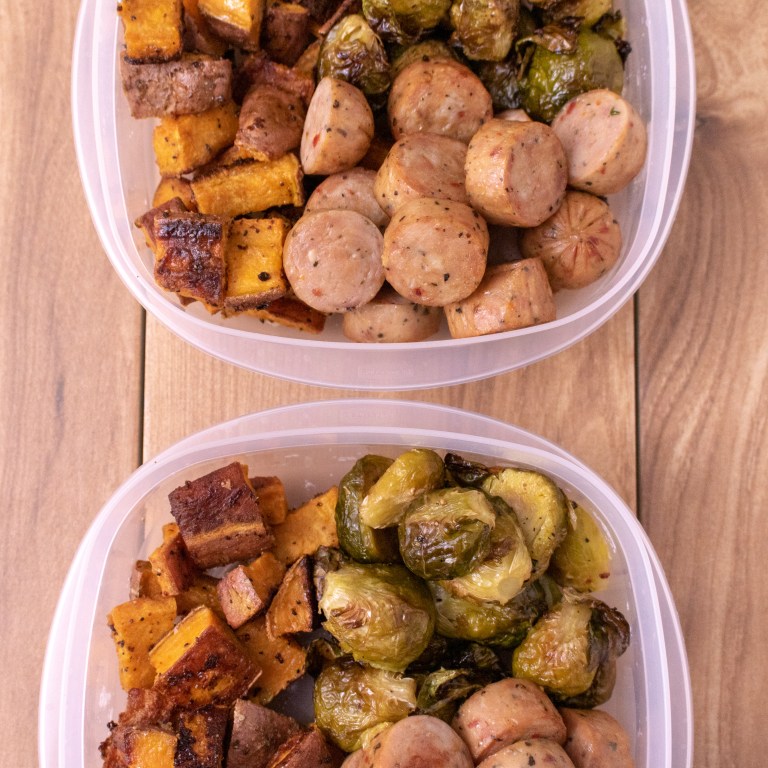 Found on smackofflavor
Italian dressing, olive oil, sausages, and some peppers keeps this one simple and easy to get together in a matter of minutes.
How delicious does this look? It is low-carb and filled with tons of healthy veggies.
This one is loved by many since it has such a low meal prep time making it a collectingcents favorite.
So there you have it- your new favorite collecting of meal prep recipes that will keep mealtime interesting and cooking time short. Follow a simple formula like sauce+protein+rice+veggie and you can have a new dish every day of the week.
If you want even more recipes sent straight to your email inbox every week to keep you on top of meal prep, try the $5 meal plan.
Meal prep makes your life every so much easier and this list will hopefully bring you a step closer to stress-free cooking.
Swagbucks pays you to take surveys online and is one of my favorite survey websites because of its countless survey options and trustworthiness. They pay you via PayPal or gift cards if you take surveys through their website. You also get a $5 welcome bonus using this link.
CIT Bank offers high yield savings accounts and term CDs that are great for people who are looking to invest their cash and earn interest. One of the reasons they are so famous among savers is because they have one of the nation's top rates- 6x the national average (your typical savings account earns you just 0.09%).
FlexJobs is great if you are looking for remote work opportunities. The team at FlexJobs monitors every job posting to make sure the standard is maintained so you will find well-paying job opportunities and zero scammy ones.
For wise parents with their children's futures in mind, an early tax-advantaged investment account specifically tailored for children is a fantastic idea. Programs such as UNest are designed to help you achieve this goal of
crafting a better future for your children.
Credit Saint is my top pick when it comes to credit repair agencies. It has a 90-day money-back guarantee, an A+ rating from the BBB, affordable pricing and it has also been voted the best credit repair company by consumer advocate. Credit Saint